Are you looking for the best side hustle ideas to make money online?
Starting a side hustle is one of the best ways to make money online if you're looking for more flexibility. Most of them allow you to set your hours and days!
In addition, they can be a great source of side income. Some of them can even provide you with a completely new career! There are so many different side hustles that you could start today.
Now, are you ready to make extra money from side hustles?
Here's our list of the best side hustle ideas.
Quick and Easy List of Side Hustle Ideas
1. Blogging
If you want to set yourself up with a platform for passive income, then building your blog should be at the top of your list. But, of course, it's not going to make money that fasts. Still, if you deliver enormous amounts of value and stay consistent in posting great content every week, it'll give you an excellent foundation on which to build a sustainable side gig.
We put blogging as the #1 on the list because this is what we do – we blog at Venturer to provide the best business tools and side business ideas for our readers. We generate income from affiliate programs and display ads. And there are still many ways you can make money from your blog. Here are some of them:
Sponsored posts
Selling ebooks
Selling online courses
Public speaking at events
Paid membership
Host a paid webinar
Become a coach or consultant
Selling merchandise like stationary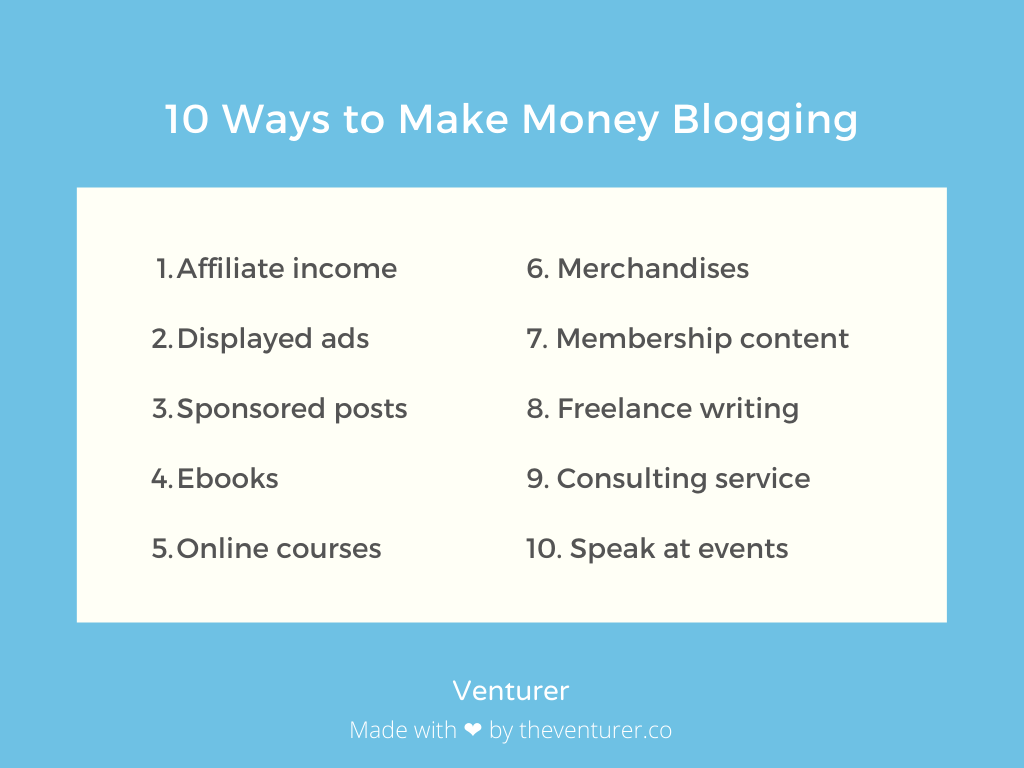 The best part about blogging as a side hustle is that the passive income won't stop growing once you start making money blogging! I still remember the first time I made $100 from Venturer, then $200, $500, $2000, and so on! There's no limit on how much you can make from blogging. Some blogs make $200,000+ per month!
It costs us $2.95 only to start Venturer. And you can do the same by using Bluehost to build your first blog with WordPress.
2. Dropshipping
Dropshipping is an e-commerce model where a business doesn't maintain any inventory. The latest trend of online stores allows you to make money without ever holding and shipping products yourself!
So, how does it work?
Dropshipping is a retail fulfillment model where online retailers do not keep goods in inventory but transfer customer orders and shipment details to wholesalers or manufacturers.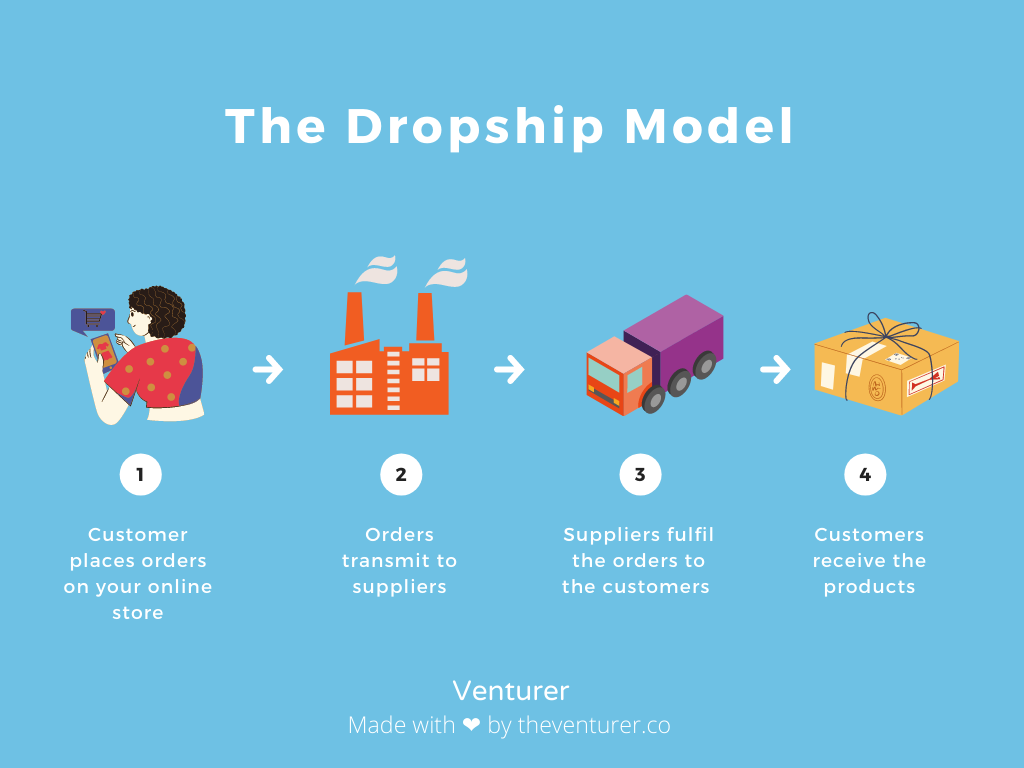 This saves the retailer time on warehouse management, storage fees of unsold items, packaging material costs, etc. In addition, many dropshipping platforms like Spocket streamline the process so you can start a dropshipping business in minutes! It's one of the best side hustle ideas that require minimal investment and can get started quickly.
Related articles:
Dropshipping 101: How to Start Dropshipping
10 Best Dropshipping Suppliers
3. Sell online courses
Becoming an online course creator is a great way to use your skills and expertise to build new revenue streams.
With platforms like Thinkific and Teachable, you can create courses that deliver value for learners and earn healthy income by leveraging your skills!
Becoming an online course creator is a fantastic way for busy professionals with interesting knowledge sets (like yourself!) to earn passive income on the side. Depending on how much you invest your time into the course, this could lead to substantial income that will last for years.
Related articles:
7 Best Online Course Platforms (Free and Low Cost)
How to Teach Online Courses that Make 7 Figures
4. Make money as a tutor
Making money as a tutor is easier than you think!
While it's not easy to find the time, effort, and energy needed for tutoring jobs in high school or college courses, many people are turning to the internet.
Online schools have been popping up, giving students access from any device with an Internet connection anywhere.
The best part of online tutoring as a side hustle? You can work on your schedule, including nights, weekends – even during those long holiday breaks too!
You can get students on tutoring platforms like Preply. It's free to sign up!
5. Make money on YouTube
Some people turn to YouTube for their side hustle. They have the option of working from home and having tons of creative freedom and the possibility of generating a substantial income!
There are many ways to make money on YouTube. One way is by monetizing your videos, which can be done through ads and sponsorships.
You may also want to join an affiliate program for brands or products you like. When people purchase through your affiliate links, you receive a commission at no extra cost to your audience!
Related articles:
How to Start a YouTube Channel for Beginners (Profitable)
How to Make Money on YouTube Without Making Videos
9 YouTube SEO Tools to Get More Views and Subscribers
6. Affiliate marketing
Affiliate marketing is a highly lucrative and creative side hustle to make money.
Affiliate marketing is commission-based advertising where you earn by promoting products and services made by other retailers or advertisers. It's an easy way to monetize your site, blog, YouTube channel, etc., without having to spend money on inventory!
Related articles:
Best Affiliate Programs (High Paying for Beginners)
7. Sell on Fiverr
With Fiverr, it's easy to sell your service online. Sellers can choose from more than 160 categories, so you're bound to find something that fits your skills!
The Gig Economy allows anybody with an internet connection to earn money in unique ways – whatever skills or expertise you have, you can sell them to make cash as a side hustle!
Although services start at $5, it's not uncommon to see Fiverr sellers making six figures by providing high-quality services to the buyers through the marketplace!
Related articles:
Fiverr Review: Top Tips to Hire Quality Service
8. Become a virtual assistant
Virtual assistants (VAs) are the wave of the future and for a good reason. These remote specialists offer a wealth of knowledge in their respective fields while making suggestions from afar on how work can be done more efficiently.
Virtual assistant services include customer service, writing, email response, appointment scheduling, research, data entry, and social media management. You can make $35 to $100 per hour, depending on your location and experience.
Related articles:
Virtual Assistant Services: Service List, Best VA Company, and Fees
9. Rent your spare space on Airbnb
Airbnb is a great way to make some extra money on the side. You can rent out your apartment or spare room and get paid for it right away!
Here are the steps to get started running a successful Airbnb business:
Create your listing – describe your space, location, and nearby things with photos
Select your price range and set prices for each holiday you offer (Airbnb recommends pricing at 80% of what guests would pay in hotels)
Post it on the website!
Get paid – via PayPal, wire transfer, or direct deposit, among other ways.
Rent your spare space on Airbnb.
10. Sell on Etsy
Etsy is an online marketplace platform where artists can sell their handmade items. So when you're looking for a wedding gift from your bridal party or decorations, the first place to go after Pinterest is Etsy!
The income earned varies, but some people make up to 6 figures by selling on this site. Here are the best things to sell on Etsy!
11. Flip domains
Flipping domains mean you buy a domain and sell it at a higher price to make a profit.
Good domains are valuable assets and hard to get. Often when businesses go online, they have a specific desired domain that is usually their business name. For example, Elon Musk spent $11 million and took an "amazing amount of effort" to buy tesla.com in 2014.
If you're interested in flipping domains, you can get started by checking domain availability below.
Investing in domain names is an excellent side hustle idea if you have a busy schedule and can set aside capital for the investment.
12. Become an Airbnb experience host
Becoming an Airbnb Experience host is one of the best side hustles to do what you love while making money! You'll share your in-depth knowledge and show off your passion for the local culture.
Visitors love finding ways to interact with locals so that they can get that truly authentic experience on their vacation. With this program, travelers have access to information and unique experiences from local hosts – whether cooking classes in Paris or surfing lessons in Bali.
You can set up your Airbnb experience page and make money during your free time!
13. Proofreading
Proofreading might be one of the best side hustles for you to try if you cringe when someone uses the wrong verb tense. In addition, proofreaders are responsible for polishing written content, which can help bloggers and other writers improve their work tremendously.
Proofreading is an essential process in writing. It ensures that the piece of written work is error-free, professional, and grammatically sound. What's more? You can do it from your home!
To get freelance proofreading jobs, you don't need to leave your house at all – just set aside a few hours for yourself every day on this task; it will be fun too!
What's more, you can use proofreading tools like Grammarly to make your work more efficient!
14. Freelance writer
Freelance writing can be a lucrative side hustle for you. According to PayScale, a part-time freelance writer can earn $24k to $115k a year!
You can write many types of content, such as blog posts, emails, website content, product description, marketing content, social media posts, etc.
You don't work for a specific company but are hired by different clients to meet their business needs. You can join freelancer platforms to find clients!
15. Start a podcast
Podcasting is a great way to meet like-minded people, learn new things, and make some cash. All you have to do is talk about topics that engagingly interest you – from giving your opinion on current events or interviewing guests who share their thoughts with the world.
And if you can build up enough of an audience for yourself? Well, then there are plenty of companies willing to offer sponsorship deals! You can set up your podcast quickly with Buzzsprout.
Related articles:
How to Start a Podcast: The Ultimate Guide for Beginners
10 Best Podcast Hosting Platforms Reviewed and Compared
16. Sell print-on-demand products
You can sell many print-on-demand products, like T-shirts, mugs, notebooks, etc., with the help of companies like Printful and Printify!
And if you're more interested in starting your clothing brand as a side hustle, then you might want to start a t-shirt business. 
Starting a T-shirt business doesn't seem new or exciting, but you can do it without any hassle with today's technology. With on-demand printing companies such as Teespring, all the legwork is done for you–you just have to be creative enough and come up with some fantastic designs that people will want to buy!
Related articles:
Printful vs Printify: Which is the Best for Print on Demand?
Printful Alternatives: Guide to Print-On-Demand Companies
17. Photography
Photography is one of those creative fields that provides freedom for self-employed individuals. There are many ways to make good money, such as:
selling photos on websites like Getty or Shutterstock;
starting up your photography blog where you can share all the things you love about taking pictures and what inspires them;
18. Build websites
Building websites as a side hustle is one of the most common and creative ways to make money nowadays. A web design side hustle allows you to start up with very little or no upfront costs, work at your own pace, and give yourself more control over your lifestyle.
All you need is a computer and high-speed internet connection, plus some software if you plan on building websites. Most tools are low-cost, with monthly subscription programs that allow for small investments while getting started!
Webflow is one of the best tools that web designers and agencies use to build websites for clients.
Related articles:
Webflow Review: Build Your Website with Ease?
Webflow Pricing: Prices and Plans Explained
Webflow vs WordPress: Which is Better? [Ultimate Comparison]
19. Become a consultant
You may be surprised that many experts start consulting as a side business, providing services like marketing consulting, strategy consulting, IT consulting, personal branding consulting, and more!
If you have professional knowledge in a particular field, you can start a consulting business too!
Related articles:
Marketing Consultant: The Ultimate Guide to Salary, Jobs, and Services
Best Side Hustle Ideas: Conclusion
When it comes to finding the perfect side hustle, there are a lot of great options. I hope these insights help you. And this list of the best side hustles is a good starting point!
Which side hustle idea appeals to you the most? Did we miss any fantastic side job that pays well? Let us know in the comments below!