When it comes to choosing the perfect business phone system, there are a lot of different factors that need to be considered. One of the most important factors is whether you want a traditional phone system or a VoIP-based one.
If you want a VoIP solution for your business, you can choose from several different options. Dialpad and Zoom phones are two of the most popular virtual phone solutions. They offer several benefits that make them great options for businesses of all sizes.
In this article, we will look at two of the most popular options – Dialpad and Zoom, and compare them to decide which is the best.
Dialpad vs Zoom: Similarities
Both phone systems offer free plans.
Both support a wide range of integrations with all major software such as Slack, Microsoft, Google, and Salesforce.
Both phone systems provide their customers with robust technical support, including a customer base, community forum, 24/7 chat support, and audio calls.
Both offer a host of advanced communication channels, including cloud video meeting apps, team chat, voice, and SMS/MMS.
Dialpad vs Zoom: Differences
Dialpad integrates with more software compared to the Zoom phone system
Zoom provides an easier system setup compared with the steeper learning curve of Dialpad talk
Zoom offers more cost-effective pricing plans for small and mid-sized companies
Free plan Zoom customers enjoy better benefits, including 40 minutes and up to 100 meeting attendees compared to Dialpad's 10 attendees.
What Is Dialpad?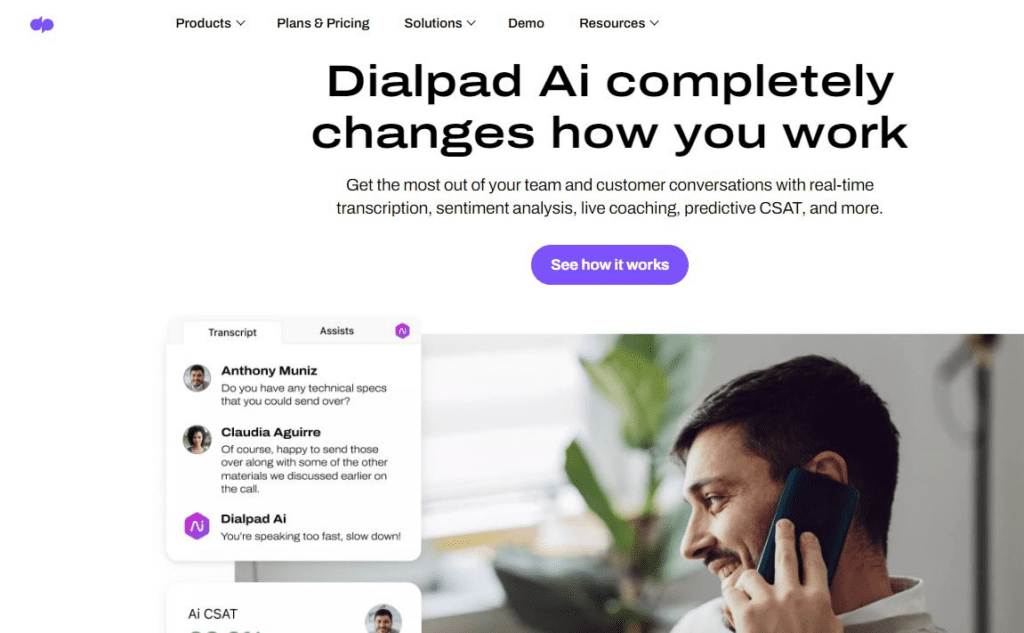 Dialpad is a cloud-based unified communications platform offering various advanced features across 50 countries worldwide.
Dialpad provides convenient contact and calls management tools for both inbound and outbound calls in supported countries. Users can access features across multiple devices, from mobile phones, and other Android devices, to a desktop app.
Dialpad Key Features
Integrates with all major apps such as Salesforce, Zendesk, and Google Workspace.
Dialpad offers 100% uptime on all domestic and internal calls.
Ability to create ring groups alongside real-time transcription of calls through natural language understanding AI.
The basic plan provides video meetings with up to 10 meeting attendees.
Auto attendant call reception with AI-based contact center.
Who Is Dialpad For?
Dialpad talk is a great option for any business keen on deploying an efficient phone system. It is especially excellent for small and mid-size companies that want quick conference calls with team members, client meetings, and collaboration with suppliers.
What is Zoom?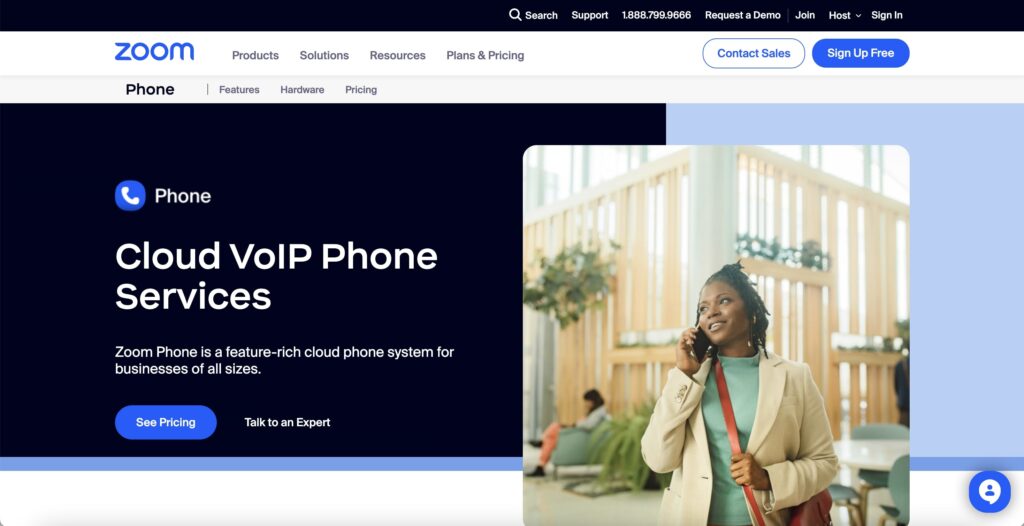 The Zoom phone has become synonymous with video calling because of its phenomenal growth in video and voice.
It is an all-in-one business phone service that encompasses many features providing plenty of benefits for any enterprise wanting to scale its business communication needs.
It is a versatile tool that conveniently enhances video meetings and voice calls across multiple devices, mobile apps, android, and desktop apps.
Zoom Key Features
Robust team chat messages with team members and external meeting attendees, with various participation options for Zoom meetings.
Supports virtual background to mask unwanted sections of Zoom room during online meetings, along with customization options.
Audio meeting calls and voicemail transcriptions for future call logs and meeting analysis.
Unlimited auto attendants contact center to enhance call routing across ring groups.
Omnichannel workspace experience with an intuitive dashboard with simple clicks to view calls on any supported device.
Who Is Zoom For?
Zoom phone service best fits enterprises looking for an affordable video conferencing platform as their main communication tool. The platform offers a user-friendly communication solution from startups to large corporations, government agencies, and IT firms.
Dialpad vs Zoom: Features
Zoom and Dialpad are communication tools with excellent similarities. But they differ in their functionalities which we will analyze below.
Call Queueing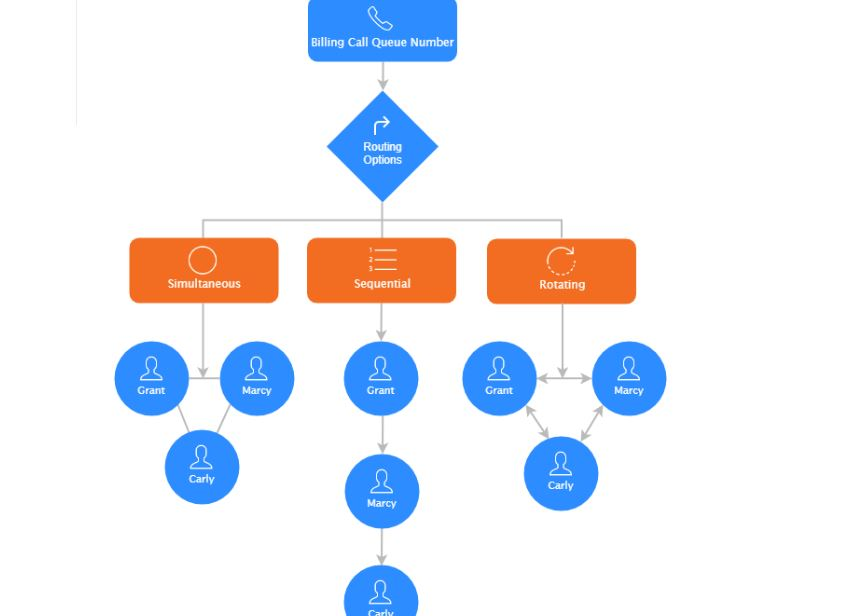 Both have several similarities in call queuing features. You can create call queues to hold calls to allow allocation to the next available phone operator or route to voicemail during peak calling periods.
You can create queue size, waiting duration, welcome greetings, and melodies. However, call holding is limited to 50 calls and is only available on the pro and enterprise plans on Dialpad talk and the pro, and business and education on Zoom phone, respectively.
However, their key difference is in their call queuing options. Zoom phone offers more call distribution options than Dialpad talk, such as simultaneous, sequential, rotating, longest idle, and ring groups rotating.
Internal Communication
Both platforms offer excellent internal communication features to their users. With Zoom phone, team members can hold meetings from within and communicate remotely via mobile and desktop apps.
Dialpad talk also provides a unified tool that enhances internal collaboration for remote teams, making working from anywhere a reality.
From chat messaging, voicemail handling, and video, you can efficiently hold meetings courtesy of its superb internal communication features.
Dialpad offers better quality communication thanks to Dialpap AI, which can offer real-time analytics and optimize call flows for better voice quality.
Customer Satisfaction

Both platforms phone offers terrific service to their customers. But judging from various online reviews, Zoom phone has the upper hand.
According to reviews from Gartner Peer Insights, most people had higher customer satisfaction with Zoom Phone than with Dialpad talk.
Approximately 94% of users of Zoom-based phone services would recommend it, compared to 92% of Dialpad users.
User Friendliness
Both offer easy-to-use call management solutions to their customers, but Zoom phone comes off as a more intuitive platform.
Users report fast deployment and one click to start or join meetings, even for the technologically challenged staff. Consequently, this makes it the best fit for small companies looking for a seamless service without needing a full-fledged IT department.
Security Features
Regarding security functionality, both platforms have made stringent measures to ensure users' data is secure. Dialpad has a host of measures towards this end. It includes enterprise-grade security features and end-to-end encryption.
Zoom phone also has terrific data security tools; end-to-end encryption for calls, voicemail, chat messages, screen sharing watermarks, and audio signatures.
Nonetheless, Zoom voice calls, video meetings, and chat messaging have previously faced unauthorized access from non-shared applications.
Zoom phone wins on features
From the above-detailed comparison, both platforms provide superb features making any of them a great choice for call management.
But considering user-friendliness, customer satisfaction, and call queueing, Zoom phone has a slight edge in quantity and quality of features, making it the winner in features.
Zoom vs Dialpad: Integrations

The number and types of software tools each phone system integrates with are critical. It improves efficiency by enhancing an omnichannel communication solution experience. Let us see how each of the platforms stacks on this functionality.
Both companies integrate with different apps. Zoom phone provides seamless app integration with all major software tools such as Google Calendar, Google Drive, Dropbox, Microsoft One Drive, and more.
That means one can easily share files from Google Drive, One Drive, Dropbox, or use Google calendar to schedule meetings.
Dialpad also supports most major tools as well. These include Google calendar, and Microsoft 365, for video meeting scheduling, to CRMs such as Salesforce for tracking customer interactions.
Additionally, Dialpad talk integrates with Miro for seamless whiteboarding. On this feature, Zoom phone has an on-site whiteboarding functionality, offering up to 3 whiteboards for the basic plan user.
Zoom Wins on Integrations
Unlike Dialpad, Zoom has more integration with third-party apps and internal ones, making it the winner in this feature.
Dialpad Talk vs Zoom Phone: Pricing
The VoIP providers offer different pricing plans to fit different user needs, ranging from the basic free plans to the premium ones. Here is a detailed pricing comparison.
Dialpad Pricing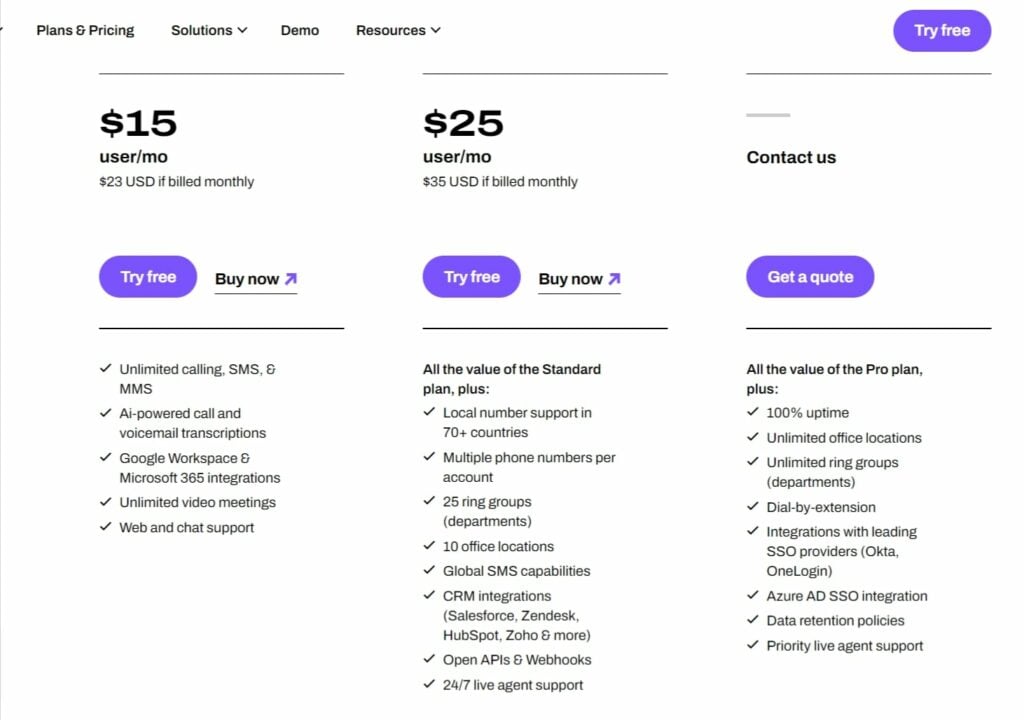 Standard: $23/user/month, offering unlimited calling, unlimited SMS and MMS, unlimited video conferencing, AI calls, voicemail transcription, Google workspace, and Microsoft 365 integration
Pro: $35/user/month for all the features in the Standard plan, plus multiple phone numbers per account, local phone number support in 70+ countries, open API and webhooks, call logs, and 24/7 live support.
Enterprise: Price undisclosed, providing unlimited office locations, Azure AD SSO integration, priority live agent support, call logs, and more.
Zoom Pricing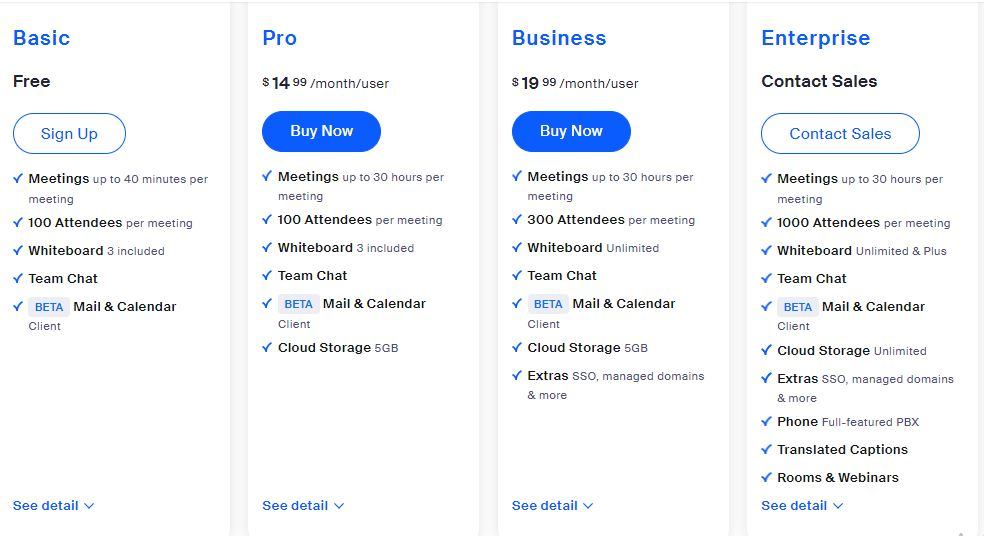 Basic: Free for 40 minutes for a maximum of 100 attendees, with entry-level features such as team chat and whiteboards.
Pro: $14.99/user/month, with up to 30 hours per meeting, for a maximum of 100 attendees, team chat, and 5Gb cloud storage.
Business: $19.99/user/month for up to 30 hours per meeting, 300 attendees max, unlimited whiteboards, unlimited messaging, and a dedicated account manager.
Business Plus: $25.00/user/month for accessing the unlimited regional Zoom Phone feature.
Enterprise: undisclosed cost, for up to 1000 attendees per meeting, unlimited whiteboard, team messaging, unlimited cloud storage, translated captions, rooms, and webinars.
Zoom Wins on Pricing
Comparing the pricing plans of both providers, Dialpad is more expensive. Not only does Zoom have a free basic plan, but its other plans are also more affordable. Zoom wins on pricing.
Zoom Phone System vs Dialpad Phone: Customer Support

Like other factors, customer support is essential when determining the best option. You need a well-established customer support backup for when you run into technical issues.
Dialpad provides varying levels of customer support depending on the pricing plan. The basic plan gets only 24/5 support through chat and the web, while the pro and Enterprise plans offer 24/7 live chat, phone support, and access to the Dialpad help center.
When it comes to Zoom, there is a whole slew of support backups. In addition, to Live Chat and phone help, customers get access to the learning center, community, and developer forum.
Zoom Wins on Customer Support
From the above analysis and customer reviews, Zoom has better customer support than Dialpad. For this, Zoom Meetings is the clear winner.
Dialpad vs Zoom: Conclusion
Both Zoom and Dialpad are two of the best phone system providers. They are designed with robust features to suit companies' communication needs.
That means both are versatile communications tools for modern businesses keen on leveraging virtual phones to scale. Therefore whichever of the two is your option, your business is the winner.