Customer Relationship Management (CRM) is essential to any business, and choosing the right system is crucial to success. CRM software helps you manage your customers, sales leads, and projects. It also helps your business increase customer lifetime value and retain more customers.
Here's a look at the two leading CRM systems on the market today: Keap and HubSpot. We'll discuss each system's key features and pricing options and show how each can help you grow your business.
Keap vs HubSpot: At a Glance
| Feature | Keap | HubSpot |
| --- | --- | --- |
| Pricing | Starts at $149/month | Starts at $45/month |
| Contact Management | Yes | Yes |
| Lead Scoring | Yes | Yes |
| Marketing Automation | Yes | Yes |
| Sales Pipeline Management | Yes | Yes |
| Integrations | 200+ | 1000+ |
| Customer Support | Phone, Email, Chat, Knowledge Base, Dedicated Account Manager | Phone, Email, Chat, Knowledge Base |
| Free Trial | 14 days | Free Plan Available |
| Landing Pages | Yes | Yes |
| Email Marketing | Yes | Yes |
| Social Media Management | Yes | Yes |
| Reporting and Analytics | Yes | Yes |
| Mobile App | Yes | Yes |
| Ease of Use | Moderate | Easy |
| Customization | High | Low |
| Scalability | Low | High |
Keap vs HubSpot
hen it comes to pricing, HubSpot has a slightly lower starting point compared to Keap. However, it's important to note that Keap's pricing includes more features out of the box, such as marketing automation and sales pipeline management.
Both platforms offer robust contact management and lead scoring capabilities. They also provide marketing automation tools to help businesses create and execute targeted campaigns.
When it comes to integrations, HubSpot offers a wider range of options with over 500 integrations compared to Keap's 200+. However, Keap still offers a decent selection of integrations to cover most business needs.
Keap vs HubSpot: Similarities
Both CRM solutions include excellent marketing automation functionalities.
Both CRM tools handle quotes and payments.
Both platforms are highly easy to use.
Both tools offer lead scoring.
Keap vs HubSpot: Differences
Keap covers more out-of-the-box marketing automation functionalities.
Keap handles custom promo codes and upsells, unlike HubSpot.
HubSpot CRM covers a free plan, whereas Keap does not.
HubSpot includes significantly more integrations.
What is Keap?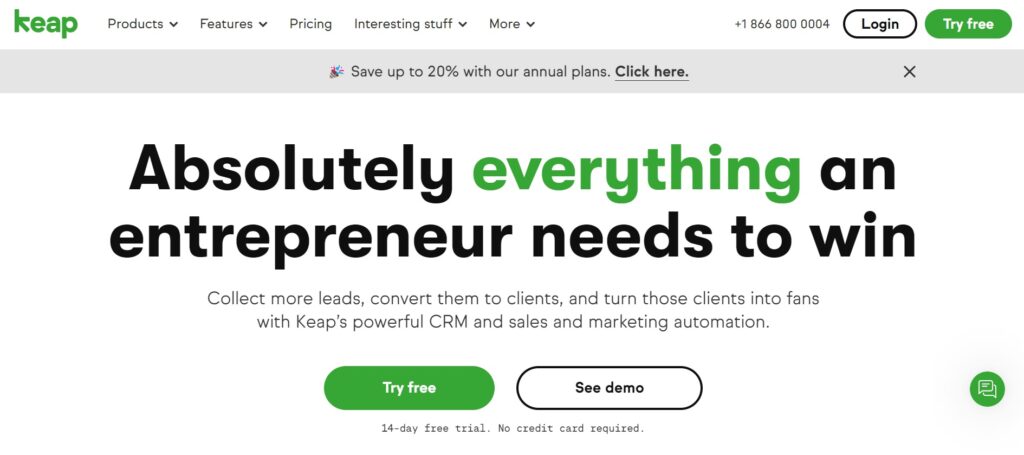 Formerly Infusionsoft, Keap is an all-in-one sales and marketing automation platform that aims to bring marketing and sales teams under the same roof. This helps you save time, improve productivity, and ultimately, attract and close more deals.
The platform blends CRM-specific functionalities like lead, contact, and sales pipeline management with text and email marketing tools, the ability to set up landing pages, A/B testing, and more.
Keap Key Features
Reports and sales/marketing analytics
Lead scoring and lead source tracking
Customizable checkout forms
Landing page builder
Email A/B testing
Who Is Keap For?
Keap is an excellent option for midsized businesses looking to manage sales and marketing processes within a single system. Your marketing team has all the features necessary to attract and nurture leads, while your sales team can further improve customer relationships and convert more customers.
What is HubSpot?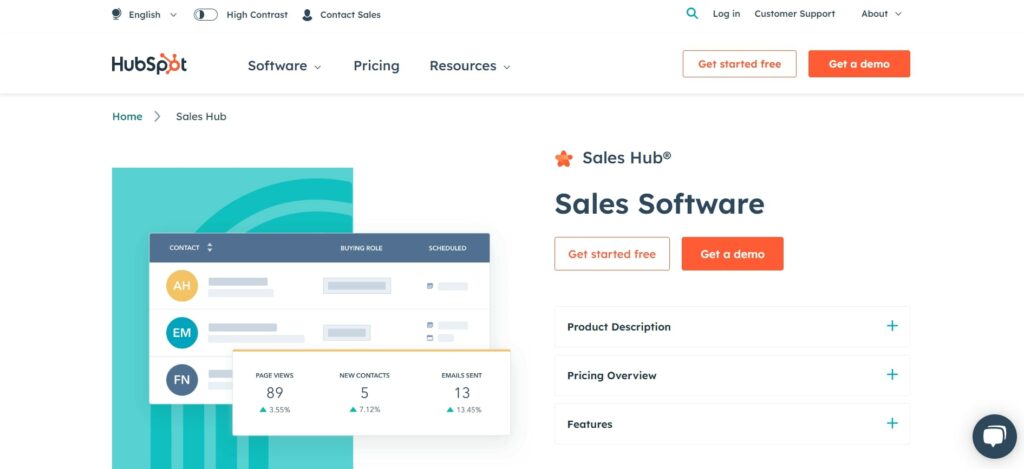 HubSpot's CRM is part of the Sales Hub, a software solution suitable for all types of companies. The platform's pricing plans are designed to accommodate both small businesses and enterprise-level organizations. There's also a free plan available.
The Sales Hub includes all the functionalities necessary to manage and streamline sales processes – from lead/contact management and lead scoring to built-in live chat, chatbots, custom reports, sales analytics, etc.
Although the Sales Hub includes some marketing functionalities, you'll need to use HubSpot Marketing Hub to access more features. These include a landing page builder, ad management, omnichannel marketing, and more.
HubSpot Key Features
Automatic lead distribution and conversation routing
Email marketing automation tools
Custom reports and analytics
Deal/company scoring
Predictive lead scoring
Who Is HubSpot For?
The HubSpot platform is ideal for small businesses seeking a highly scalable CRM tool. Users can get started with the free plan and gradually move up through paid pricing plans once their business needs expand.
Companies can also use CRM and other HubSpot products, like the Customer Service, CMS, Operations, and Marketing Hub, to help them manage all business processes within a single platform.
HubSpot CRM vs Keap CRM: Features
Sales Automation Tools
Keap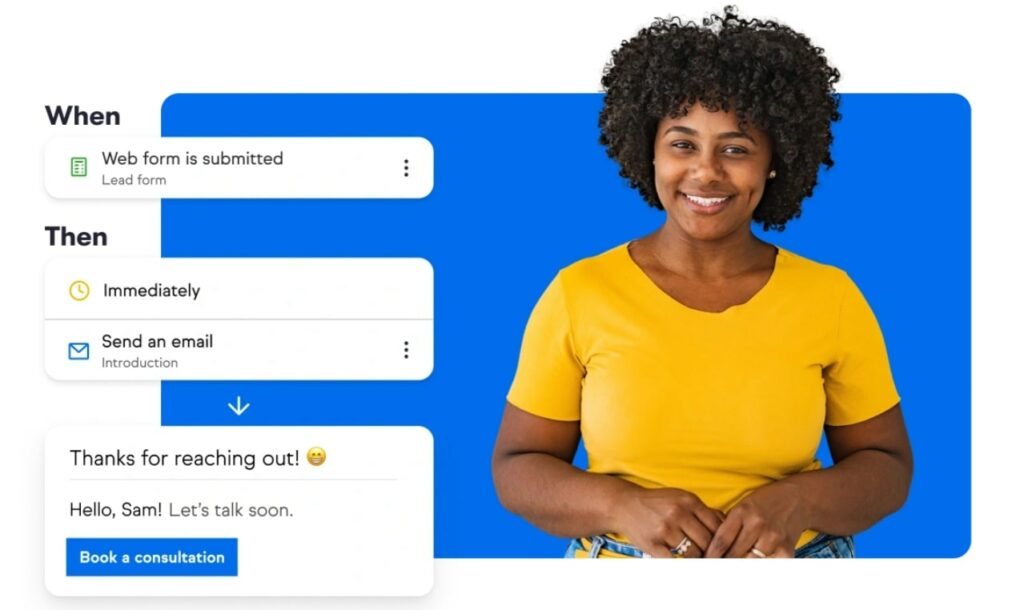 Keap comes with various sales automation tools. For one, the platform handles automated email follow-ups, lead scoring, and lead distribution.
You can also set up automatic notifications and custom internal forms. The latter allows users to submit forms on behalf of the contacts within your database. Consequently, you'll get to streamline the data collection process.
Secondly, Keap facilitates two types of automation: Easy and advanced. The former is a straightforward builder that allows you to automate basic processes, like sending welcome emails or assigning tasks to the appropriate team members. This is done through when/then parameters.
The advanced automation builder is suitable for complex processes. You can use it to automate all aspects of your sales processes: From nurturing leads to capturing potential customers, converting prospects into buying customers, and more.
HubSpot

HubSpot offers similar features in terms of automation. You can use the platform to handle lead scoring, notifications, task assignment/creation, deploy email marketing campaigns, and more.
Additionally, HubSpot also relies on a visual drag-and-drop automation builder. However, HubSpot takes a more systematic approach, making it slightly more intuitive. It covers various workflow templates built for specific use cases.
For instance, the platform allows you to select deal-based, contact-based, or quote-based workflows, which you can customize through if/then parameters.
Marketing Tools
Keap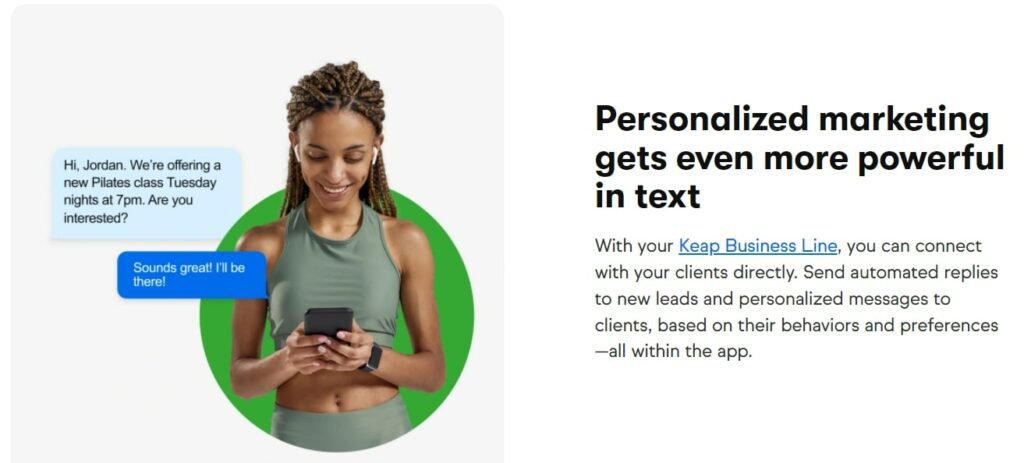 Marketing tools are one of Keap's main strengths. Firstly, Keap offers email marketing, allowing users to easily craft high-converting marketing emails through its vast selection of templates, built-in A/B testing, segmented lead lists, and more. Users can also set up automatic text marketing campaigns.
Additionally, users can integrate Keap with major eCommerce platforms. This allows them to create checkout forms with the option to insert promo codes and one-click-upsell offers within their websites.
Lastly, Keap allows users to create branded landing pages to aid companies in their lead-generation and inbound marketing efforts. The platform will also add the option to set up various sales funnels.
HubSpot

HubSpot CRM's email marketing tools give users access to various templates, email scheduling, tracking, and the ability to create automated email sequences. HubSpot can track open, click-through rates, replies, and more.
Additionally, the CRM can track marketing event data, integrate natively with Facebook Messenger, and monitor website activity. However, HubSpot's marketing tools are brought to full capacity through the Marketing Hub.
The free plan gives users access to a landing page builder. It allows them to manage ad campaigns/retargeting, create pop-up/standalone/embedded forms, and send automatic emails upon user form submission. There's also the CMS Hub, perfect for inbound marketing strategies like content marketing.
Reports and Analytics
Keap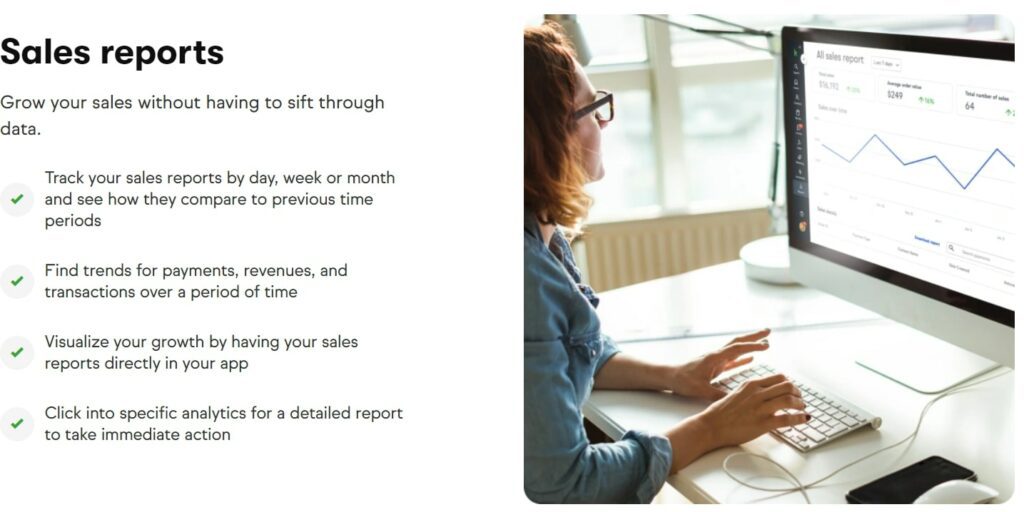 Keap covers a vast selection of sales and marketing reports. In terms of sales, the platform allows users to easily identify trends in one-time and recurring payments, revenues, transactions, and more.
As for marketing, Keap reveals email click-through rates, marketing campaign performance, and conversions through each sales process step. The platform allows users to visualize crucial business metrics via a customizable dashboard.
HubSpot

HubSpot goes a little more in-depth. In terms of sales analytics and reports, the platform also includes sales forecasting, unlike its counterpart. Moreover, there's Conversation Intelligence. This functionality uses Artificial Intelligence to monitor phone calls, identify terms of interest, take notes, and identify coaching opportunities for your sales team.
HubSpot's marketing analytics will help you track email clicks, opens, replies, website contact activity, and more. Email health reporting tracks bounce, unsubscribe, and spam report rates to determine your overall email reputation and give you the insights necessary to improve deliverability.
Another unique feature is the ability to track your sales team's productivity. Lastly, each report is customizable via a straightforward report builder.
Verdict: Both Win in Features
Overall, the winner comes down to your personal preference. HubSpot offers slightly more sales-oriented functionalities, while Keap covers a perfect blend of sales and marketing features.
However, remember that you can use HubSpot CRM along with the free marketing tools in the Marketing Hub. This allows you to build landing pages, manage ads and inbound marketing strategies, etc.
You can access more advanced marketing functionalities by choosing one of Marketing Hub's paid plans.
HubSpot vs Keap: Ease of Use
Keap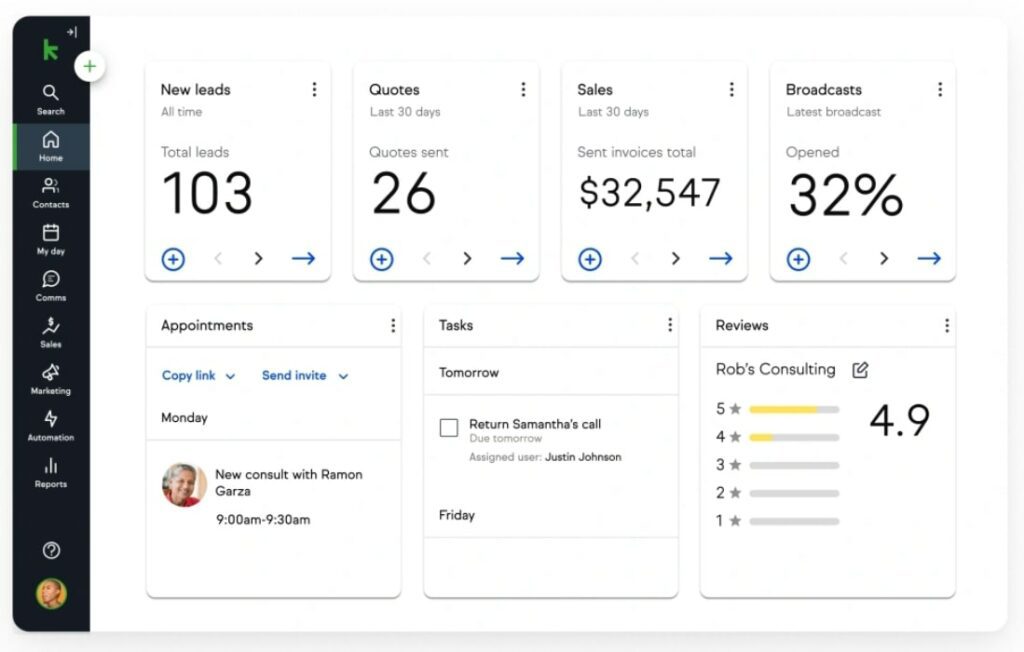 Keap is highly intuitive. Its dashboards are straightforward, and you can easily customize them through a drag-and-drop interface. All essential functionalities are placed within a click's reach, making navigation trouble-free.
Additionally, you can handle processes like segmenting lists, scheduling appointments, sending texts or emails, and making calls with just a click. Keap is ideal for a business with no prior CRM experience.
HubSpot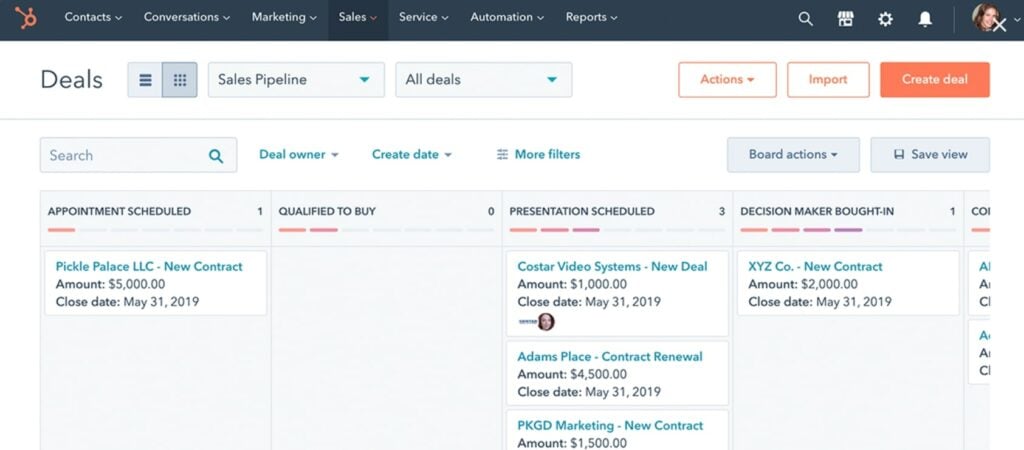 HubSpot is also highly user-friendly despite its complexity. The platform allows quick access to all essential functionalities, while its dashboards are highly visual.
Most of HubSpot's customization is done through a drag-and-drop interface. There are also various templates available. This spares you from building reports, workflows, or emails from scratch. However, keep in mind that HubSpot is still a rather complicated platform.
As such, some functionalities may hide behind menus, while using more advanced features effectively will require documentation.
Keap is Easier to Use
Although both tools are highly intuitive, Keap takes the winning edge. It's slightly simpler, allowing businesses to quickly get used to and make the most of what it offers.
HubSpot vs Keap: Integrations
Keap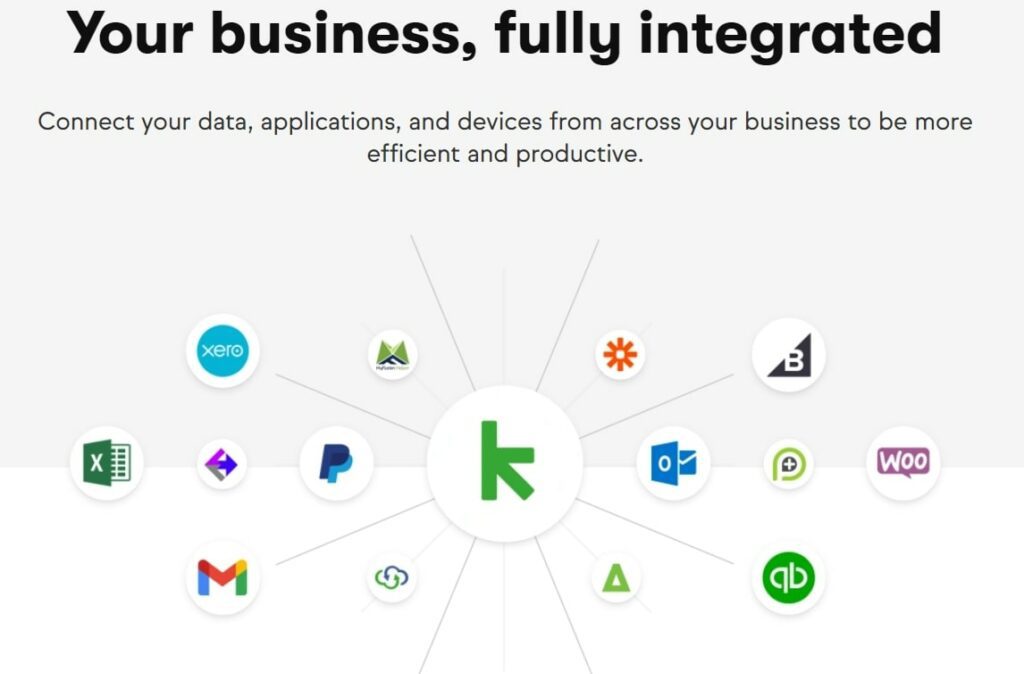 Keap offers native integrations with around 30 applications, including BigCommerce, QuickBooks, Instapage, and more. The platform also links with Zapier, giving users access to thousands of other third-party apps.
HubSpot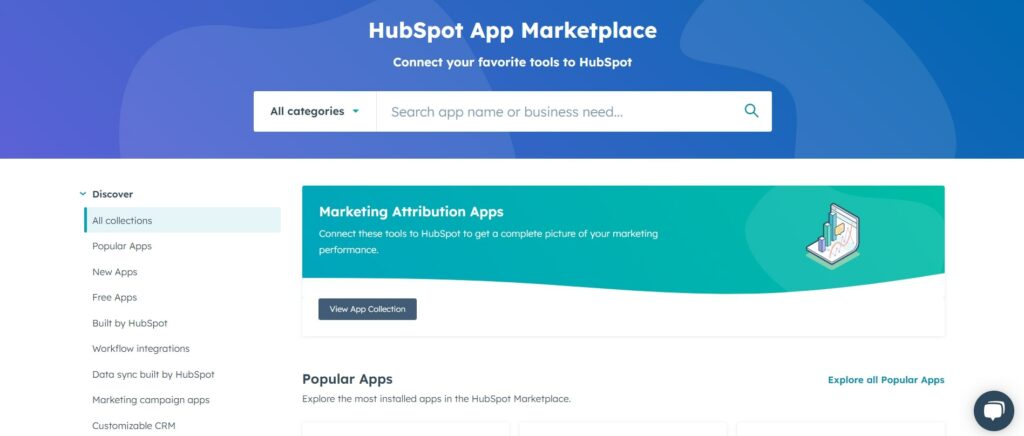 The story is quite different from Keap. HubSpot offers an app marketplace where you can find integrations with 1000+ applications. These apps range from productivity tools to finance, customer service platforms, and much more.
You can also use the CRM along with other products within the HubSpot platform, like the Operations, CMS, Marketing, and Customer Service Hub.
HubSpot wins in Integrations
Keap's lack of native integrations is one of the platform's main disadvantages. Although the software makes up for it through Zapier, linking third-party apps to the platform is still an extra headache.
HubSpot offers much more versatility in this regard.
HubSpot vs Keap: Pricing
Keap Pricing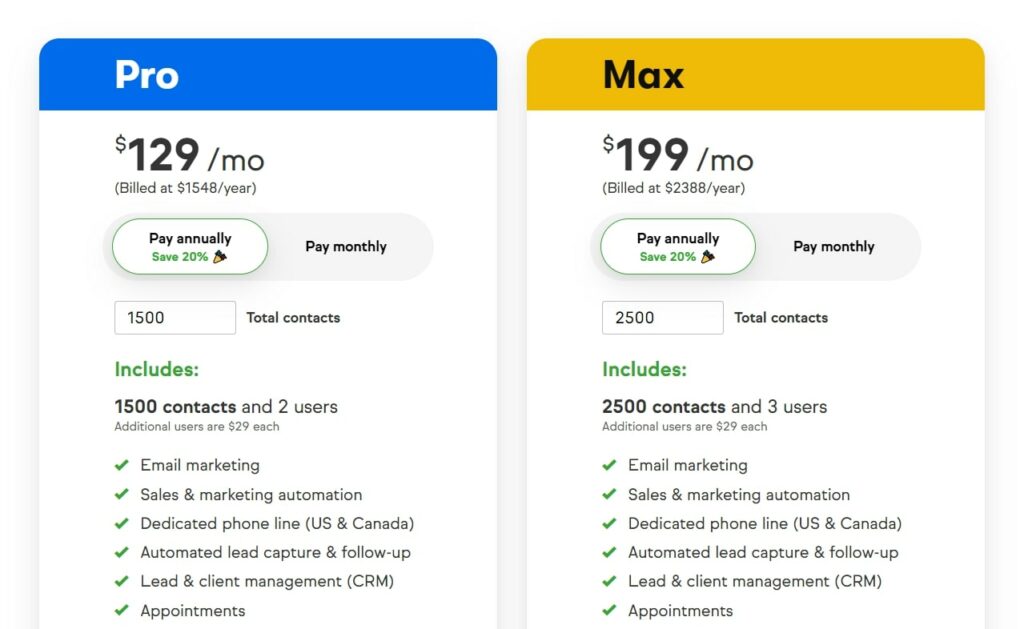 Pro (two users and 1500 contacts) – $129 per month (yearly): Create landing pages, manage contact lists, quotes, and sales pipelines, get access to the platform's email/text marketing, A/B testing tools, and reports, a dedicated phone line (Canada and USA), etc.
Max (three users and 2500 contacts) – $199 per month (yearly): Unlock marketing analytics, handle promo codes/upsells, and unlock lead scoring.
Max Classic – upon request: Access automated lead distribution, lead source tracking, and set custom user roles.
Note that pricing plans vary based on the number of users and contacts. If you'd like to add more users, each one costs an additional $29 for the Pro and Max plans. There's also a 14-day free trial available for the first two pricing plans.
HubSpot Pricing

Free (unlimited users): Access basic CRM functionalities, including website activity tracking, HubSpot-branded live chat, five email templates, custom user roles, and more.
Starter (two users) – $45 per month (yearly): Access more features, like automated sales processes, unlock goal tracking, conversation routing, phone calling functionalities, access 5000 email templates, etc.
Professional (five users) – $450 per month (yearly): Unlock custom reports, automatic lead rotation, unlimited email templates, email send time suggestions, a sales and marketing playbook, sales analytics, deal/company/contact scoring, etc.
Enterprise (ten users) – $1200 per month (yearly): Access predictive lead scoring, conversation insights, recurring revenue tracking, set advanced user permissions, and more.
Each additional user costs an extra $23, $90, and $120 per month, respectively.
HubSpot wins in Pricing
HubSpot is more affordable across the board. For instance, the Enterprise plan comes down to $120 per user per month, $79 cheaper than Keap's Max plan. Not to mention that HubSpot offers free tools across all of its products.
However, keep in mind that if you'd like to use HubSpot and access marketing features similar to Keap's, you'll also likely have to opt for the Marketing Hub's paid plan, which can significantly bump the price.
Keap vs HubSpot: Customer Support
Keap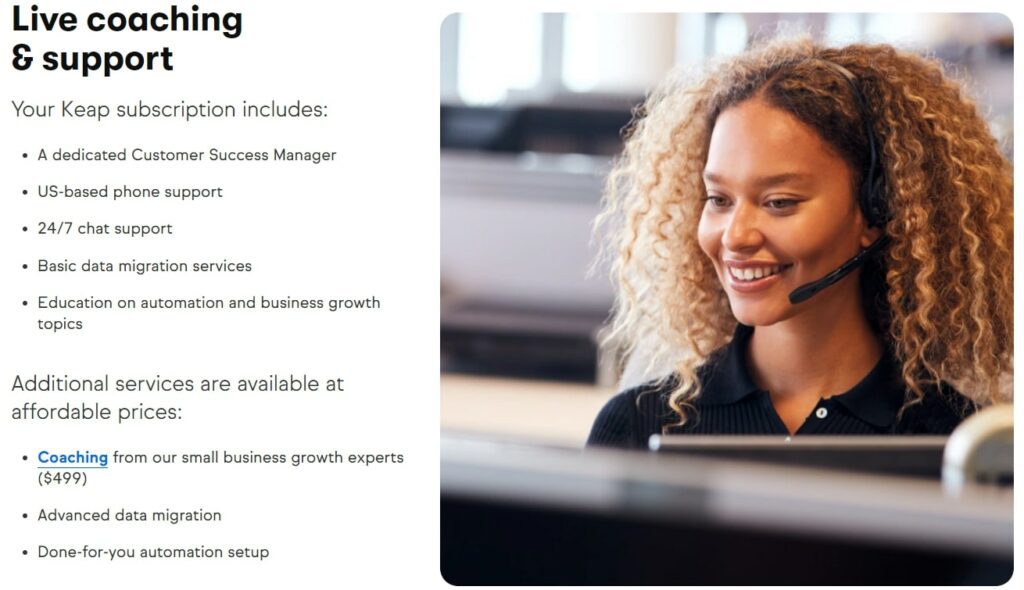 Keap offers phone, 24/7 chat, and data migration support across all pricing plans. You'll also be assigned a dedicated customer success manager.
Additionally, most customers share positive opinions regarding Keap's customer service teams.
HubSpot

HubSpot offers live chat support, access to the HubSpot Community, and a self-serve knowledge base across all plans.
Paid packages also include 24/7 in-app and email support. There's also the HubSpot Academy, where you can get certified HubSpot training for customer service, inbound marketing, and more.
As for user reviews, customers are also happy with HubSpot's service teams. They report that customer service is prompt and genuinely helpful.
Both win in Customer Support
Overall, both platforms offer excellent customer support. You won't need to worry about getting stuck once you encounter trouble.
HubSpot vs Keap: Pros and Cons
Now that we've covered both platforms in detail, let's quickly summarize with a brief list of the CRMs' pros and cons.
HubSpot Pros
A broad set of advanced functionalities
Highly versatile and scalable
Excellent customer support
Cost-effective
HubSpot Cons
The Sales Hub does not offer marketing functionalities as advanced as Keap's
Entry-level plans are rather limited
Keap Pros
Excellent sales and marketing functionalities
Email A/B testing included
Great customer support
Highly easy to use
Keap Cons
Limited native integrations
Rather expensive
HubSpot vs Keap: Conclusion
Overall, both platforms are highly capable. However, choosing between HubSpot and Keap is not as easy. HubSpot Sales Hub is more sales-oriented, including more advanced CRM-specific functionalities than Keap but lacks marketing tools.
Moreover, HubSpot offers more room for scalability. Its pricing plans are designed to accommodate all business sizes, and you can also use the CRM with other products within the HubSpot platform.
That said, HubSpot is suitable for those seeking a highly flexible CRM that can unify all their business processes further down the road.
Meanwhile, Keap is an excellent tool for those looking to blend sales and marketing functionalities into one platform, allowing them to simultaneously improve marketing efforts and customer relationships.