Nowadays, project management tools are more important than ever for organizations of all sizes. Businesses can no longer afford to use outdated methods for managing projects, as this can lead to costly mistakes and delays.
Thanks to tools like Asana and Teamwork, businesses are now empowered to take control of their projects and deliver outstanding results to their clients on time, every time. But which tool is best for your business?
This comparison guide will look at Asana and Teamwork to see which offers the best user experience and overall functionalities. By the end of this guide, you should have a better understanding of both tools and how they can be used to improve the effectiveness of your project management processes.
Asana vs Teamwork: Similarities
They both offer a forever-free plan.
Asana and Teamwork integrate with third-party apps like Zapier and Slack to improve productivity.
Both Asana and Teamwork lets you visualize your project as Gantt Chart, Kanban board, timeline, and calendar view.
They allow you to automate your workflow by setting rules that trigger in response to specific actions.
Asana vs Teamwork: Differences
Teamwork allows you to assign tasks to multiple users, whereas Asana limits you to one assignee per task.
Teamwork has an in-app budget and time-tracking ability, while Asana does not.
Teamwork comes with built-in add-on features, whereas Asana does not.
Asana's free plan gives you access to many advanced features, including integration with third-party apps. On the hand, the Teamwork free plan has limited features and does not allow integration with other apps.
What is Asana?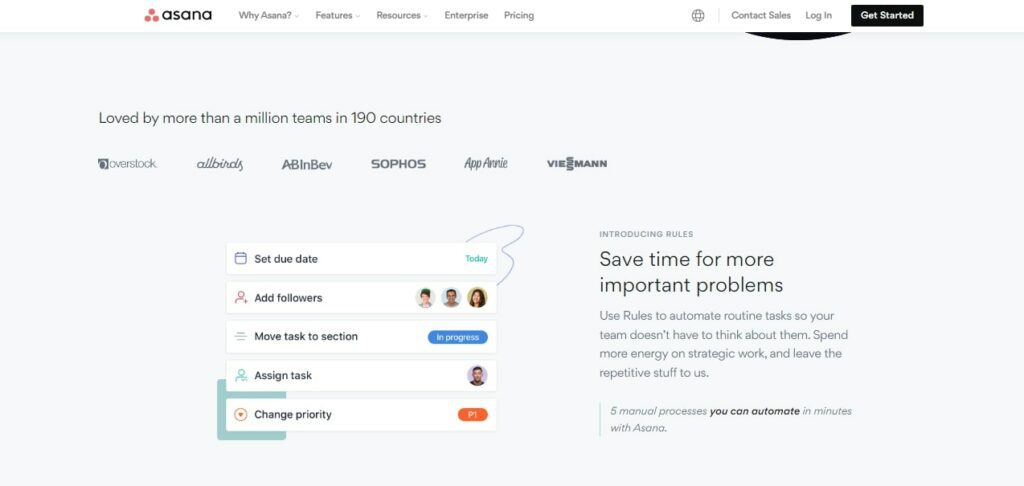 Asana is a project management software that helps you manage your task lists and keeps you connected with your team members. It was developed by a former Facebook employee who saw the need to create a better tool for project management. Asana has made it easier for team members to work on a project and to keep track of their progress.
Asana Key Features
Asana has an impressive feature set that effectively helps you manage your tasks list. Let's take a look at some of these features.
Project Management
Asana is a project management solution center that provides the resources you need to scale your business. You can organize and manage complex projects the way you want them. On top of that, you can break them into subtasks and assign each to individual users.
The platform allows you to create multiple custom fields for collecting necessary data and project templates for automating your workflow. Plus, you can set due dates for every project and monitor them from start to finish.
Workload Management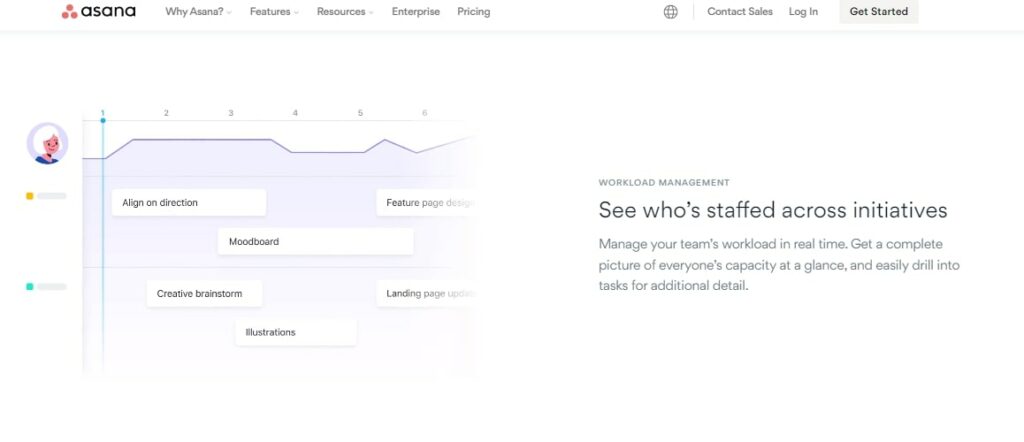 Asana's workload management helps ensure that no one on your team is overworking or underperforming. You can visualize everyone's workload at one glance for fast decision-making from your dashboard. You can decide who needs more effort and what task to assign each team member.
This feature also allows you to create project milestones, track your team's time input, and check off the milestones as they get completed.
Automation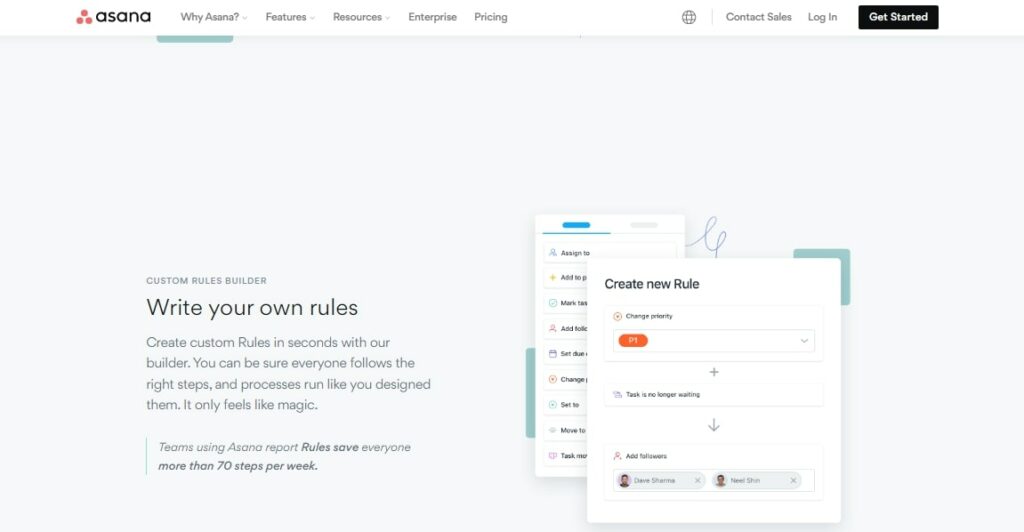 Automate your workflow to save time and effort. Asana helps you automatically handle repetitive processes while you focus on essential tasks. All you need to do is to set custom rules that trigger in response to specific activities like assigning tasks, changing due dates, modifying project priorities, and more.
Setting up these rules to improve your workflow management takes a few minutes. This project management tool makes automation easy by providing pre-made project templates that cater to diverse categories of projects.
Integration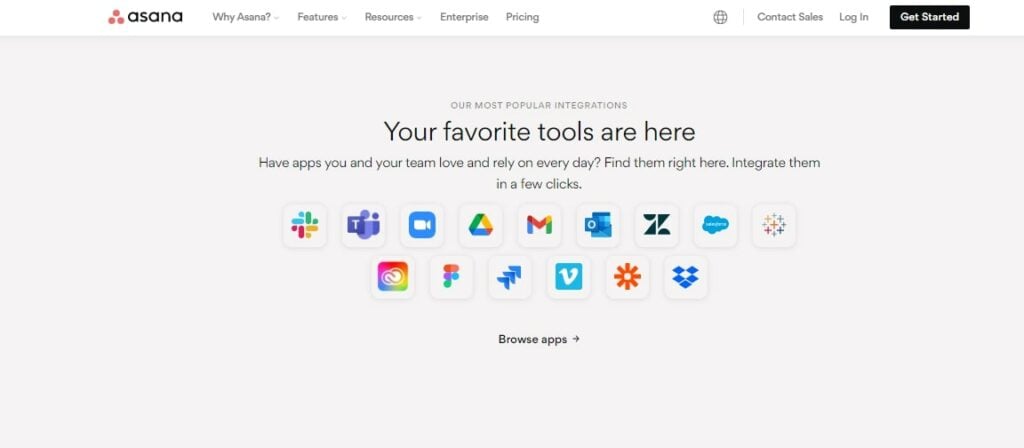 With Asana, you can manage your projects and work with as many applications as you need in one platform. You can add unlimited collaborators, communicate with your team, and connect your devices in a way that works for you. Asana integrates with over 200 apps to make work easier. These apps are classified based on collections, categories, and partner types.
Some apps include Zendesk, Slack, Google Calendar, Salesforce, and more.
What is Teamwork?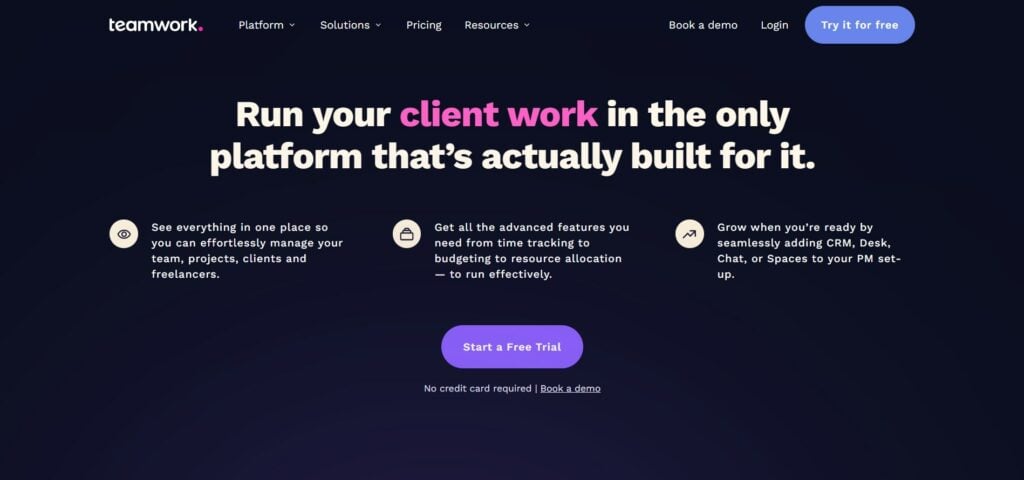 Teamwork is a project management software with an impressive feature set to help creative teams, agencies, and organizations effectively collaborate on a project. It provides all the project management tools you need to scale your business. Plus, you can see all your activities from one dashboard.
Teamwork Key Features
Project management
Teamwork provides all the resources you need to manage projects efficiently. It allows you to create as many projects as necessary, assign multiple employees to a task, and monitor the workflow. Also, Teamwork allows you to break down a project into smaller bits, making it easy for assignees to execute.
You can create a new project from scratch or use available templates. Using a template gives you an idea of what you need to include in your project plans, plus you can add several custom fields in one template.
Workload and Resource Management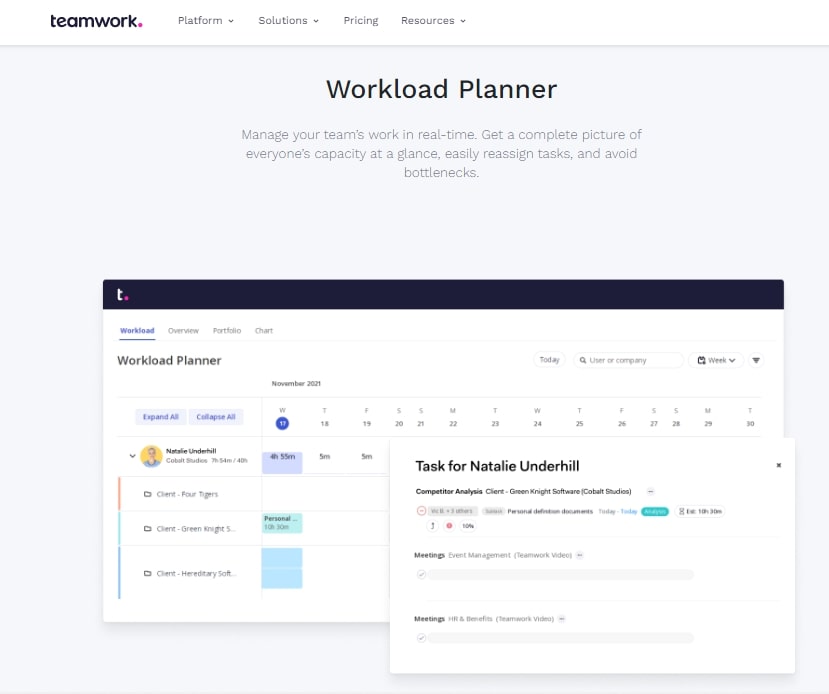 The workload and resource management feature lets create short and long-term task lists and manage your resources accordingly. The Workload Planner gives you an overview of your team's performance and the capacity of each team member, enabling you to make informed decisions. You can quickly change deadlines and assignees with a drag-and-drop button.
On the other hand, the Resource Scheduler helps you plan your projects in a way that is convenient for your team without disappointing your clients.
Automation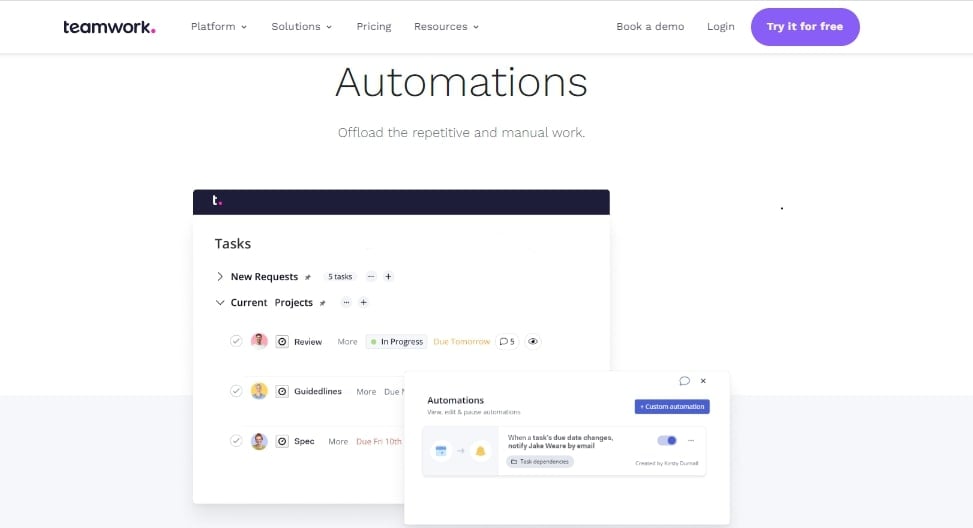 Spend less time on minor projects to focus on the important ones. The automation feature in Teamwork helps you to cut down on manual work by automating repetitive processes. Teamwork provides a gallery of pre-made templates for different categories of projects.
You can select any of the templates or customize your own workflow. This project management tool allows you to set rules that trigger based on timing or events.
Project Time Tracking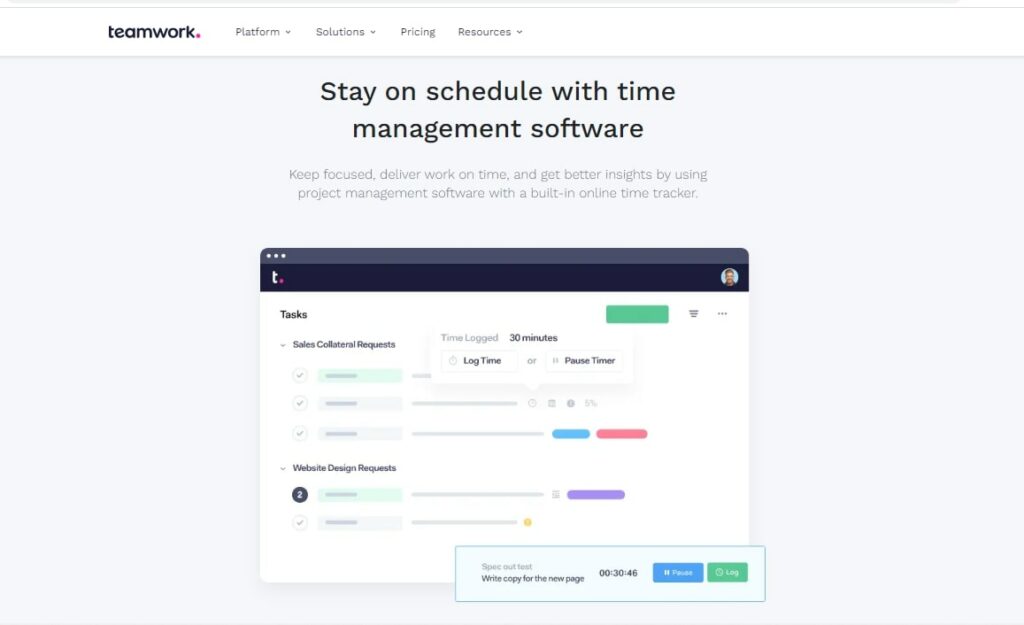 One way to analyze your project performance and avoid exceeding deadlines is to keep track of your timing. Time tracking in Teamwork lets you measure the time spent on each project and how long it takes each team member to complete a task. Tracking billable hours helps you determine the cost and profitability.
Asana vs Teamwork: Features
let's compare their features to find out which one is better.
Project & Task Management
Teamwork and Asana make it easy to manage your business activities and keep track of all ongoing activities from one place. You can break down your projects into milestones and check off one at a time. On top of that, you can use project templates to create task lists, set due dates, and assign tasks to users. Both lets you view projects as a board, list, calendar, or Gantt chart.
However, Asana does not permit you to assign one task to more than one user. On the other hand, Teamwork allows multiple people to work on one project. The benefit of having several people on a project is that it increases productivity as everyone on board gets to pull their weight.
Workflow Automation
One impressive thing about using Asana and Teamwork is workflow automation. Automation reduces your workload and helps you focus on essential tasks.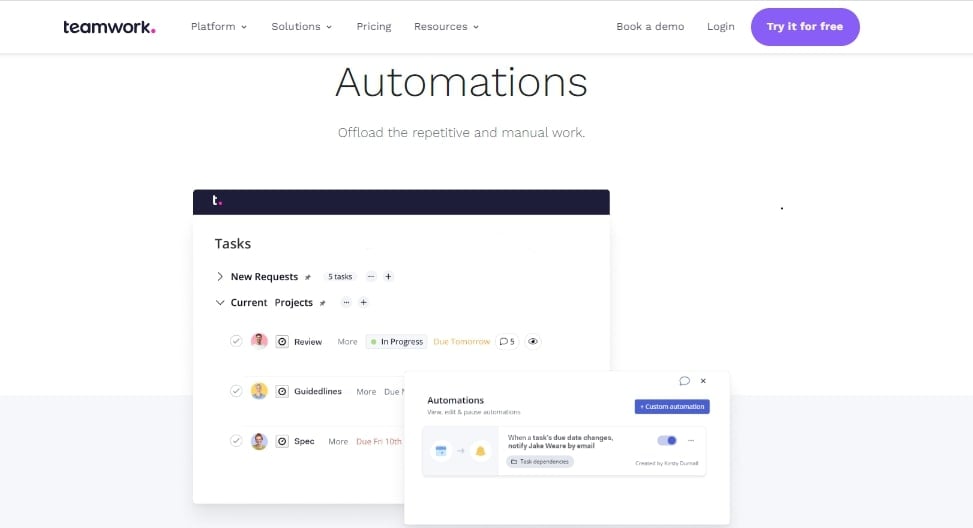 Both project management platforms empower you to automate all the repetitive processes that could take your time, from setting end dates to assigning tasks, changing priorities, creating request forms, and more. You can also create your own rules or use available custom rules.
Teamwork permits you to create rules that trigger based on events and time. On top of that, you can also combine existing triggers to create custom automation.
Workflow automation with Asana is similar to Teamwork, except that it offers more features. You can save up to 70 steps with Asana and set up rules within minutes. Asana has several categories of pre-made templates with custom rules to make automation easier.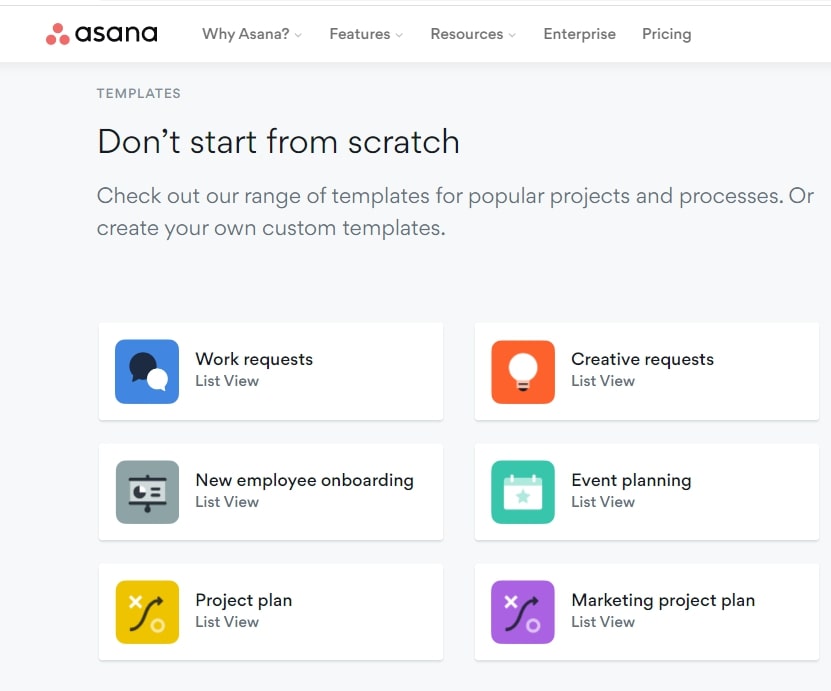 Kanban Board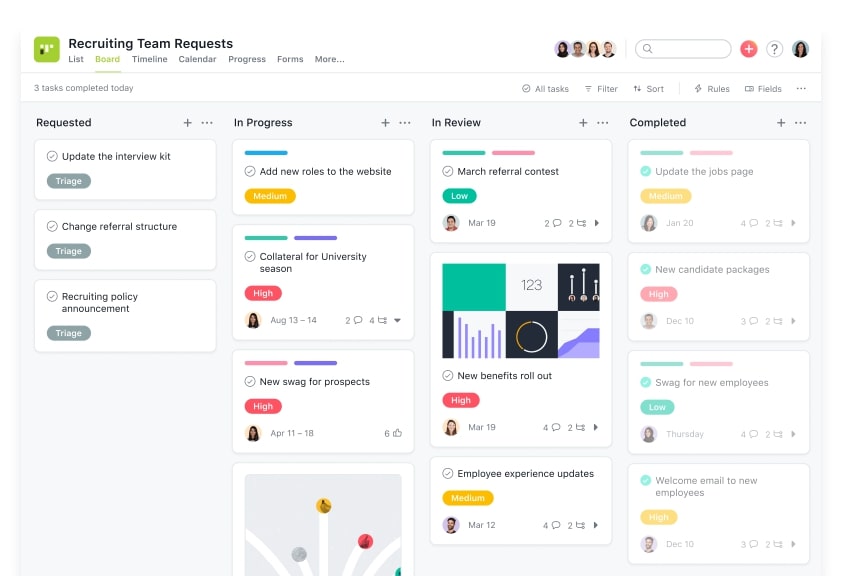 Both Asana and Teamwork provide a Kanban board view. A Kanban board works like the traditional board where you can move items from to-do, doing, and done. The Kanban board view is a great way to visualize your progress in real-time at a glance. It is the best tool that helps agile teams prioritize their project tasks list and spot errors immediately.
This tool functions alike in Asana and Teamwork, making them excellent for managing projects.
Features Verdict: Asana
A complete analysis of their features shows that Asana provides a wide range of features that allows you to perform more activities.
Teamwork vs Asana: Ease of Use
Asana and Teamwork are excellent project management tools that provide resources for effective task management. However, both have a bit of a learning curve. It could take a while to understand how they work. But, once you've understood how they function, using them becomes easy.
To further decide their ease of use, we ran a comparison test on notable sites like G2, Trust Radius, and Getapp to see what other users say. The result shows that both of them are easy to use.
Easier to Use: Both Win
There is no winner when comparing for ease of use. Both are easy to use once you get the hang of them.
Teamwork vs Asana: Integrations
let's compare Teamwork and Asana to find their differences or similarities in terms of integration.
Teamwork Integration
Teamwork provides up to 80 tools that can help improve your overall productivity. It integrates with notable tools like Hubspot, Slack, Zapier, and more. Integrating with Zapier makes connecting your software to other tools easy without writing a single code.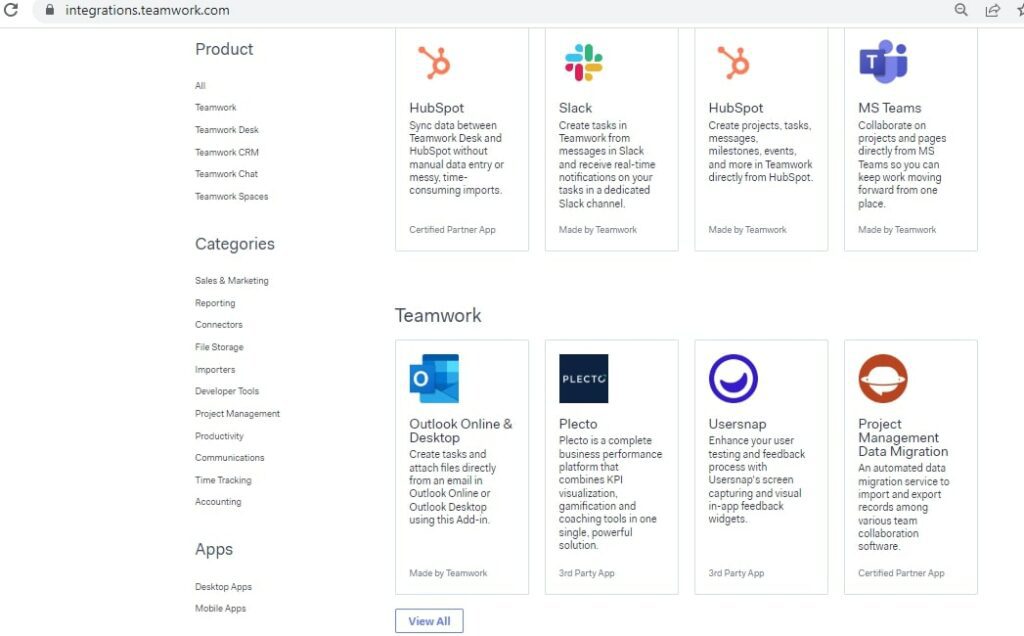 Note that the in-app features in Teamwork let you perform activities like time tracking without third-party apps. However, you can only enjoy these perks, including integration with other apps on a paid plan.
Asana Integration
Asana, on the other hand, offers over 200 tools. Plus, you can access over 100 of them for free. Asana integrates with Zapier, Salesforce, Slack, Outlook, and many others. The presence of Adobe Creative Cloud in Asana Integration puts it ahead of Teamwork because of how valuable it is in terms of creativity.
Integrations Winner: Asana
Asana takes the lead when it comes to integration. It provides multiple options and gives you access to several tools for free.
Asana vs Teamwork: Pricing
let's compare Teamwork and Asana in terms of pricing to find out which is best.
Teamwork Pricing
Teamwork offers four pricing plans plus a free trial on each plan with no credit card commitment.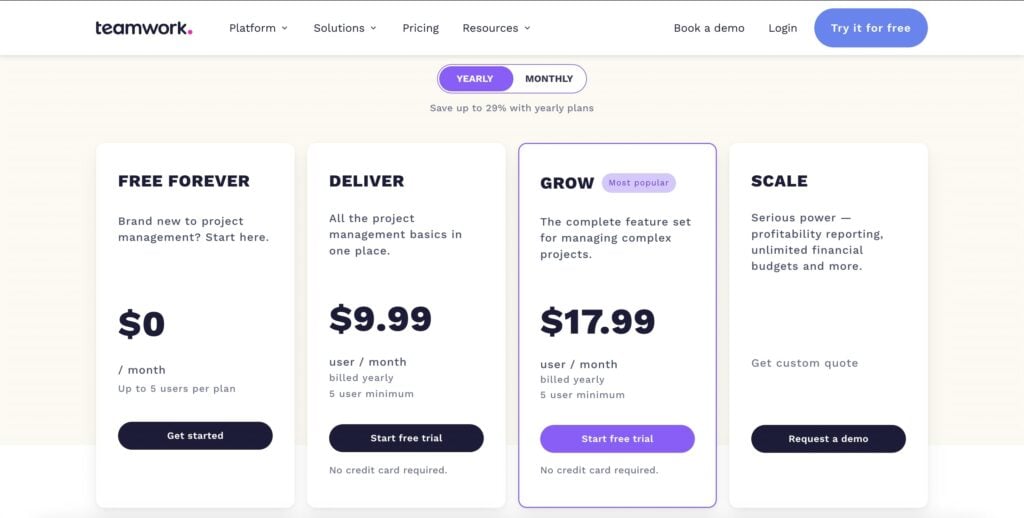 Forever-free plan: costs $0 and is for businesses new to project management.
Deliver plan: costs $9.99 per month and offers basic management features.
Grow plan costs $17.99 monthly and offers the feature you need to manage complex projects.
Scale/Enterprise plan: pricing depends on what you want.
The prices mentioned above are billed annually. You can also decide to pay monthly for your services.
Asana Pricing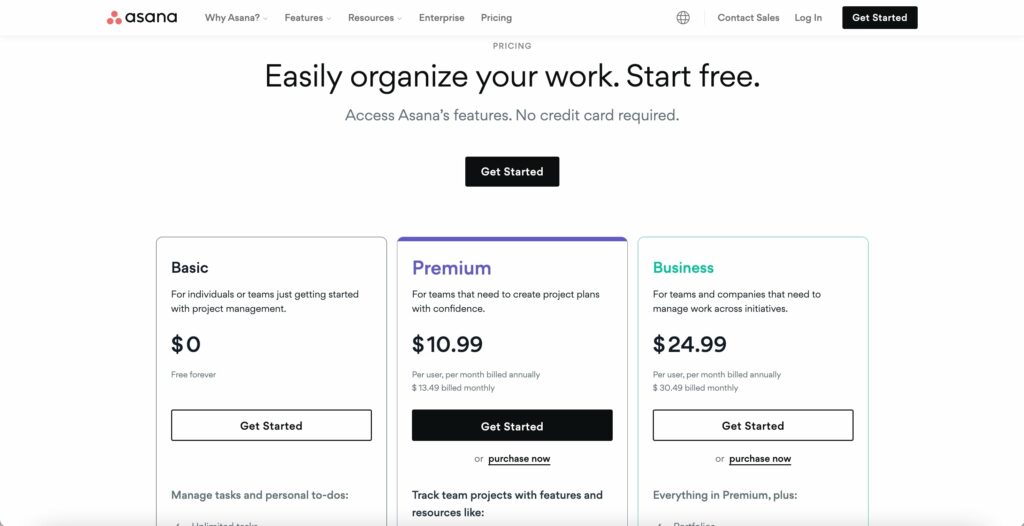 Basic Plan: this plan is ideal for teams getting started with project management.
Premium Plan: lets you add unlimited collaborators, and it costs $10.99 per month, billed annually.
Business Plan: costs $24.99 per month, billed annually.
Enterprise Plan: The enterprise plan does not have a fixed plan, and it is for organizations that need additional security, control, and support.
Pricing Verdict: Teamwork Wins
Teamwork wins in pricing because Teamwork's overall plan is cheaper than Asana's.
You can read our article to see other free project management tools.
Teamwork vs Asana: Ease of Communication
One way to ensure you get the best result when handling a project is through communication.
Asana Communication
Communication within Asana is quite elaborate. After creating task lists, you can add your team members as followers to the task to commence work. Furthermore, Asana permits you to send private messages to teams and individuals concerning any task and get instant replies. You can also do that if you would rather comment directly on a task. Also, you can create a space for teams to collaborate on a project and discuss what needs to be done.
Teamwork Communication
Communication within Teamwork is more basic than in Asana. You can only write messages with notebooks to carry everyone along on recent development. But the Team chat feature allows you to create groups and invite team members to partake in the conversation.
Communication Winner: Asana
Asana wins in team communication because it promotes effective communication with or without a third-party app.
Teamwork vs Asana: Customer Support
If you are wondering how efficient the customer support team of Teamwork and Asana is, keep reading to find out.
Teamwork Customer Support
Teamwork has a library of courses in the form of videos and documents that teaches you everything about the software and how to make the most of it. In addition, it provides Information about the add-on features that comprise Teamwork, Desk, Chat, CRM, and Space.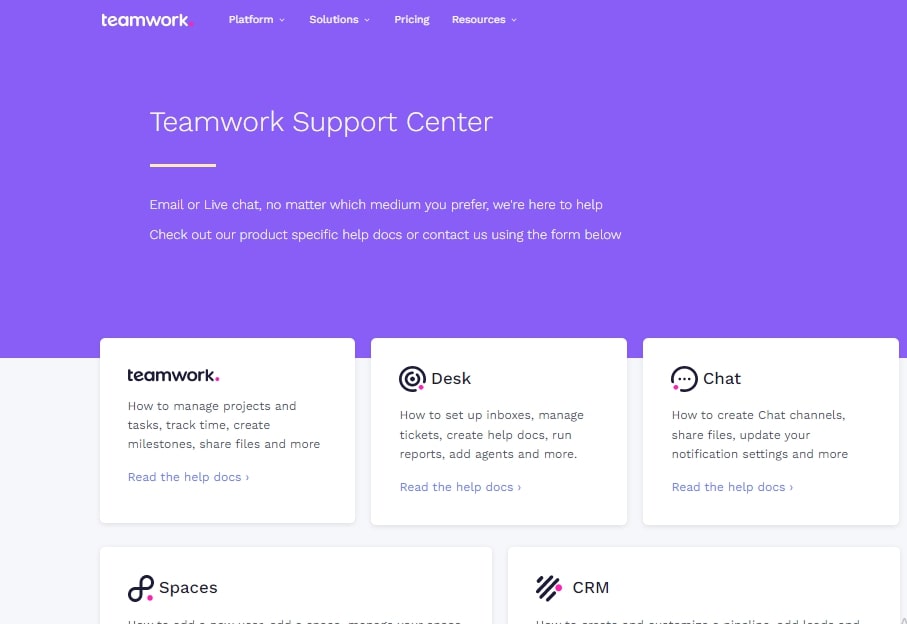 It also hosts webinars where they share recent developments that can help improve your business performance. Also, the FAQ section answers most of the questions you could ask.
However, if you need more assistance, you can contact the customer support team via email, live chat, or phone on any device. The support team is available from 7:00 am to 12:00 am IST, Monday to Friday. While weekend coverage is limited.
Asana Customer Support
Asana provides several self-learning materials for first-time users and existing customers. The support center gives you a head start if you want to search for articles by categorizing these articles based on what your needs could be.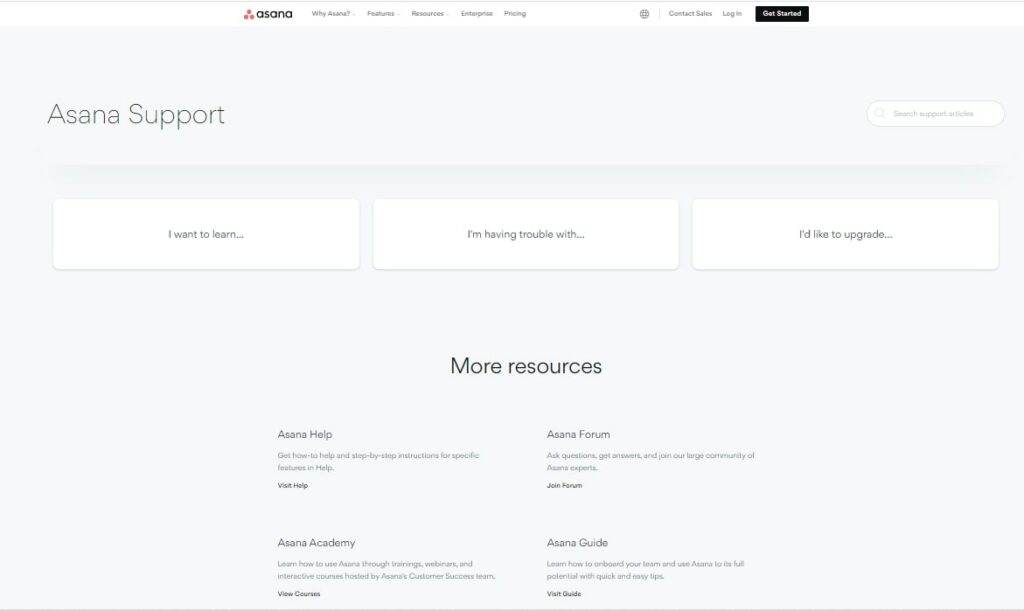 You can visit the Asana academy to see all the available courses put together for you.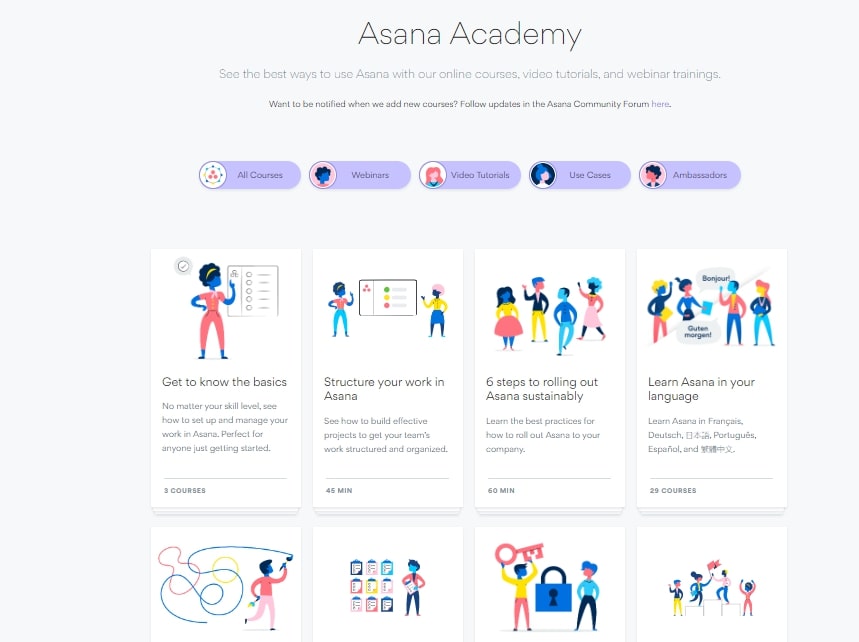 Furthermore, you will find a forum to connect and interact with users like you. You can ask questions and get in-depth answers from members with a better experience.
However, you can only contact the Asana support team via chat or by filling out a contact form, and they will get back to you almost immediately.
Customer Support Winner: Teamwork
Teamwork wins in customer support. Though both software provides a wealth of learning resources, Teamwork sees that customers can contact them via multiple channels.
Asana vs Teamwork: Pros and Cons
After reviewing most of the features, it is only right to point out their advantages and disadvantages. Below are some of the pros and cons of both software.
Asana Pros
The basic plan gives you access to advanced features to help you get started
Asana is ideal for team communication and collaboration.
Asana Cons
Asana paid plans are more expensive when compared to Teamwork
It requires you to integrate many third-party apps to yield maximum results
Teamwork Pros
Track time and budget with in-built apps
it offers a forever-free plan
offers affordable add-ons that can improve productivity
Teamwork Cons
Teamwork has a learning curve
Teamwork vs Asana: Conclusion
Teamwork and Asana are excellent task management tools that help you manage your business and deliver your client's work on time. However, Teamwork offers in-app features lacking in Asana, such as add-ons, multiple assignees, Burndown reporting, and a time tracker. Asana compensates for it by giving you access to many features for free and providing a wide range of features for team communication.
This makes it a bit difficult to pick a clear winner. Since both platforms are free, the best way to decide which works better for you is to give each a try.