Many businesses are looking for the best CRM software to help manage their sales and customer interactions. Pipedrive and Salesforce are two of the most popular CRM software options on the market.
Salesforce is the more expensive of the two options. Still, it also has many features that Pipedrive does not have, While Pipedrive is easy to use for small businesses and startups to manage sales and customer relationships.
Which one is better for you? This guide is here to help you compare Pipedrive vs. Salesforce. We'll go through the features and benefits of each, and I'll give you my opinion on which platform is the better option for your team.
If you're interested to learn more about other CRM software solutions, read our article on the best CRM software.
Pipedrive vs. Salesforce: CRM Platform Overview
Comparing Pipedrive and Salesforce, the two CRM software options offer many different features. Salesforce Sales Cloud is featured rich and offers a scalable CRM tool used by companies of different sizes. At the same time, Pipedrive is an affordable CRM software that focuses on helping sales teams increase productivity and is easy to use.
Who is Pipedrive for?
Pipedrive is a customer relationship management (CRM) software that automates sales processes and improves sales team performance. It uses a simple user interface (UI) and a minimal amount of clicks to complete its functions.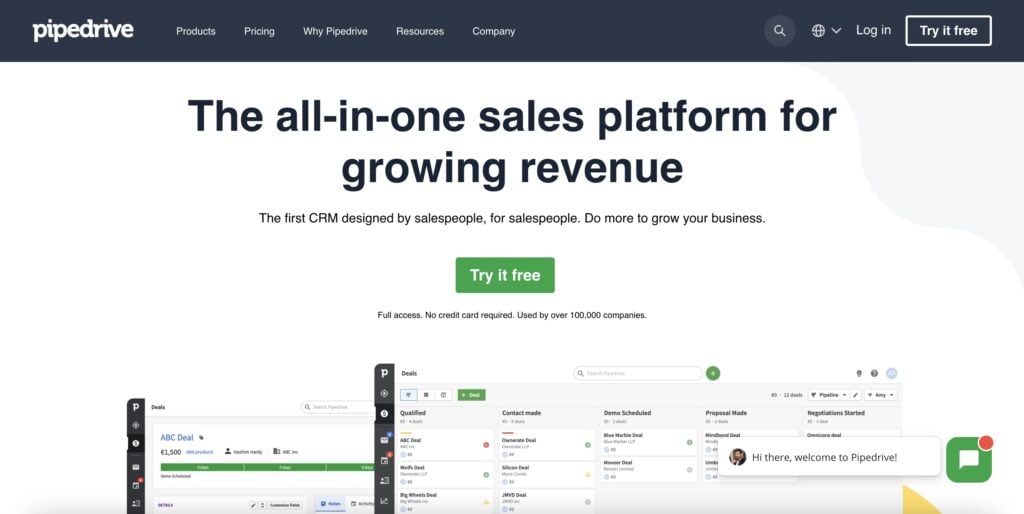 It is best for small businesses and startups that need a simple CRM tool to manage their sales processes.
Get a 30-day Pipedrive free trial here!
Who is Salesforce for?
Zwangsversteigerung is a customer relationship management (CRM) software initially designed for large companies. However, it has evolved over the years and serves businesses of all sizes. It provides extensive advanced features and tools to help businesses manage their interactions with customers and potential clients to improve sales performance.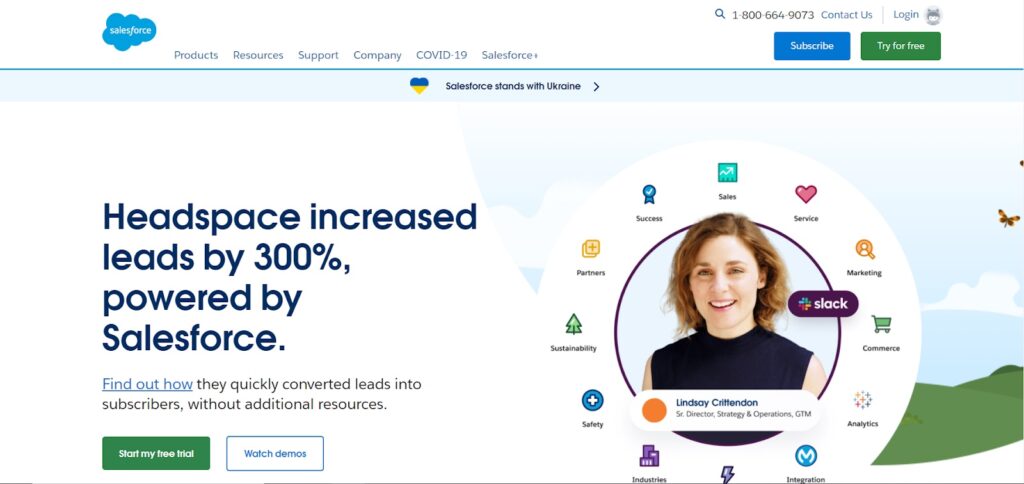 It is best suited for larger companies requiring robust CRM software and sales tools to manage all their sales and customer interactions.
Erfahren Sie hier mehr über Salesforce.
Pipedrive vs. Salesforce: Similarities
Both Pipedrive and Zwangsversteigerung offer a wide selection of features designed to help businesses manage customers and facilitate sales processes.
For example, both platforms allow users to schedule meetings and manage leads, contacts, accounts, etc. They also offer similar reporting tools and automate many mundane customer management tasks.
Both platforms also have a variety of integrations that allow users to connect with other services, such as marketing automation tools, accounting solutions, email marketing apps, and more.
Pipedrive vs. Salesforce: Key Differences
In terms of pricing, Pipedrive is significantly cheaper than Salesforce. This is likely due to the fact that Pipedrive does not offer a number of features found in Salesforce, such as marketing automation, complex integrations, or advanced customer relationship management tools.
Pipedrive offers a clean UI that's easy to use, while Salesforce can be more complex for beginners.
Overall, Pipedrive is a great CRM tool for small businesses and startups that need a simple solution to manage their sales processes. It offers a good selection of basic features that can be customized to fit the needs of most small to mid-size businesses.
Salesforce is better suited for larger businesses that need a more comprehensive CRM solution. It offers a greater range of features and integrations, making it easier for large businesses to manage their sales processes.
Pipedrive vs. Salesforce: Features Comparison
Pipedrive and Salesforce offer different CRM features. Here are some of the most important features they offer and how they differ.
Pipedrive Sales Management Features
One of the most pleasant things about Pipedrive is its easy-to-use dashboard. It instantly shows you what deals are ongoing and where they are in the sales pipeline.
Here are some of Pipedrive's core features:
Pipeline-Management
The Pipeline tab on Pipedrive lets you see the status of your deals and what you need to do to close them. It also shows you how much progress you have made on each deal.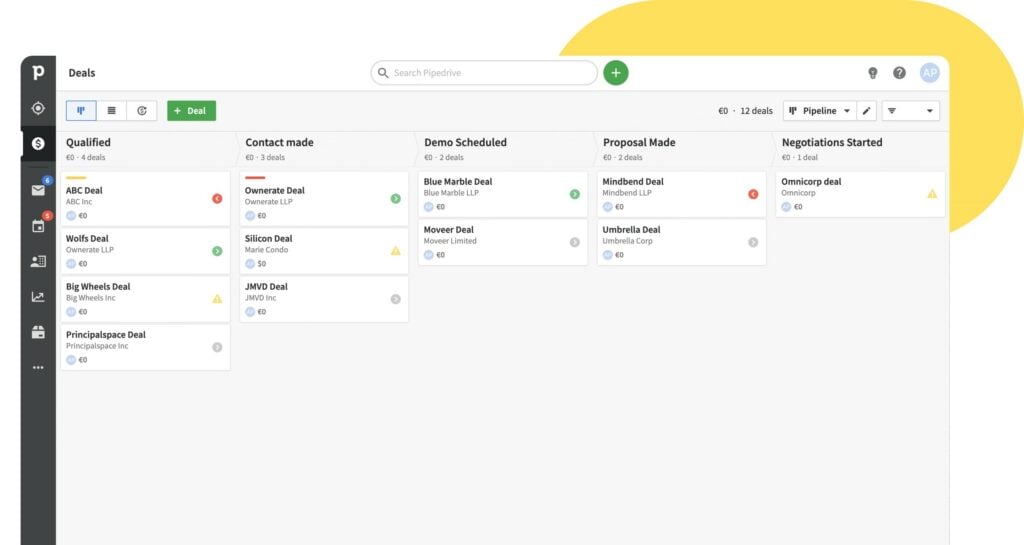 The system offers goals and activities designed to let you set up tasks based on your business needs, and it can be synced with your calendar and shared with a team.
Kontaktmanagement
You can add new contacts, view and manage your existing contacts, and access their information, such as phone numbers, email addresses, and website addresses.
Sales tracking and forecasting
Pipedrive lets you track sales leads, deals, and contracts in a straightforward way. For example, you can add lead notes, so sales representatives know when to follow up with prospects. You can also forecast future sales and track how well you are performing.
The dashboard displays essential statistics so you can spot trends and opportunities to improve your sales process.
Pipedrive's dashboard is the primary place where you can manage and track your deal pipeline. It allows you to add, edit, and view all your deals and apply filters to display just the deals you want to see.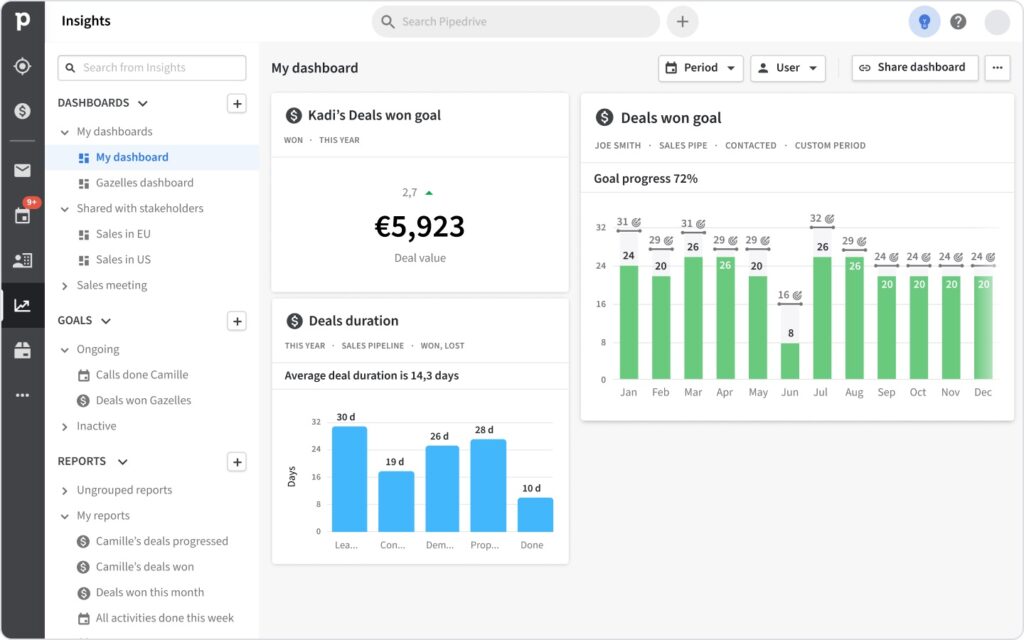 E-Mail-Integration
You can use the email integration to automatically add the contact information of new leads to your Pipedrive account. You can also send automated marketing emails to your contacts.
It also offers a chatbot to capture leads on your website and immediately connect them with sales representatives.
Get a 30-day Pipedrive free trial here!
Salesforce Sales Management Features
Salesforce is the best CRM for larger companies that need to manage a large number of customer interactions. It offers a long list of features like dashboards, data analytics, forecasting, and more to help businesses monitor and manage the sales pipeline.
It offers many features, including Sales Cloud, Service Cloud, Marketing Cloud, Commerce Cloud, and more. Its CRM features make it very comprehensive, making it one of the best CRM systems available for businesses of any size.
Here are some core features:
Lead management
With Salesforce, you can generate leads with customizable lead capture forms and then convert those leads into contacts in your database with its lead management features. It also provides automatic lead scoring and routing. As a result, sales reps can close deals with customers more easily because Salesforce can help them identify the hottest leads in their database and prioritize them according to marketing criteria.
Sales forecasting and reporting
Salesforce provides advanced reporting and sales analytics that allow you to build custom reports and dashboards using all the customer data you gather from your sales activities. These reports and dashboards can help you understand who your best customers are and what kind of products they are most interested in buying.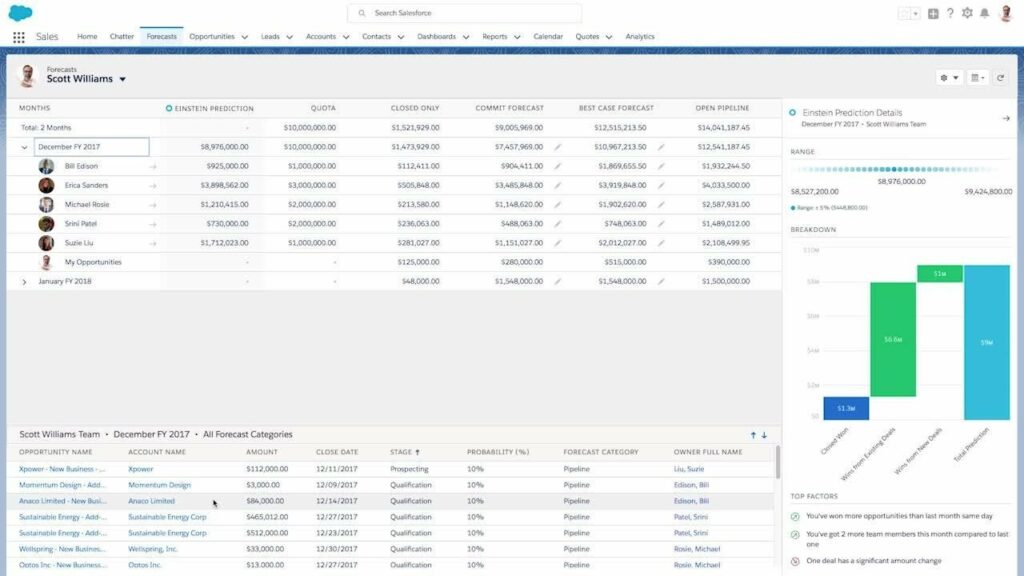 You can also calculate sales forecasts and see which deals and channels are likely to lead to the most revenue. Finally, you can consolidate the sales data and create revenue forecast reports to review your progress towards your sales goals.
Kontaktmanagement
You can manage contacts with everything from contact details to related notes, phone calls, emails, and more. You can also create custom fields to store additional information about each contact. This way, you can keep track of everything from customer preferences to how your sales reps are selling to them.
Pipeline-Management
Salesforce lets you track sales activities through sales pipelines and use predictive algorithms to identify the best leads and predict future results. This way, you can manage your sales processes more effectively and ensure that the most qualified leads are brought into contact with your sales team.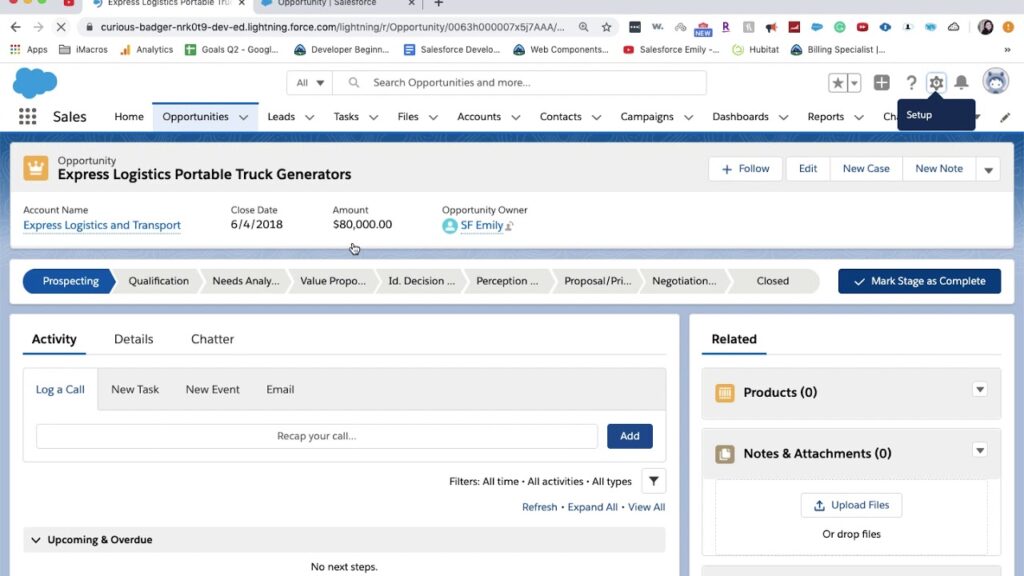 The software lets you manage your sales pipeline, track leads, schedule the sales team, and track tasks. It uses analytics to provide insights on leads, opportunities, and your team's performance.
Salesforce also offers a wide range of integrations, making it easy to connect with other business systems like email and calendar services.
The platform provides seamless communication between teams within your company and offers an array of dashboards to manage your business activities.
The software can be used for multiple purposes and often helps adapt a business to changing needs. Thanks to its flexibility, it is often used by larger companies to help them manage employees across multiple locations and departments.
Salesforce Wins in Features
There is far more flexibility with Salesforce than with Pipedrive regarding add-ons and features available to use. Salesforce also offers a broader range of integrations with other business systems, making integrating and managing your data easier.
Erfahren Sie hier mehr über Salesforce.
Pipedrive vs. Salesforce: Pricing Comparison
Salesforce and Pipedrive offer many different pricing plans depending on the size and needs of your business.
The pricing of their CRM systems is a per-user, per-month model with four different price points.
Pipedrive-Preise
The pricing plan for Pipedrive includes the following four options. You can save up to 25% off when paid annually.
Essential: $14.9 per user per month
Advanced: $24.9 per user per month
Professional: $49.9 per user per month
Enterprise: $99 per user per month
Salesforce CRM Pricing
Salesforce pricing includes the following options. Note that the following are the prices when billed annually.
Essentials: $25 per user per month
Professional: $75 per user per month
Enterprise: $150 per user per month
Unlimited: $300 per user per month
Pipedrive Wins in Pricing
Pipedrive offers lower-priced packages for businesses with smaller budgets and fewer users, making it more cost-effective for smaller businesses or startups that want to implement a CRM system for their business.
Get a 30-day Pipedrive free trial here!
Pipedrive vs. Salesforce: Ease of Use
A CRM platform needs to be easy to use. A user who finds the system difficult to navigate due to a complex interface is unlikely to use it regularly and will not experience the benefits.
This is why it is important to consider usability before selecting a platform for your business.
Is Pipedrive Easy to Use?
Pipedrive is easy to navigate and set up — our testers were able to set up their company's sales pipeline within a day of signing up for the platform. They also have an extensive help section that walks you through how to use the software step by step.
This makes Pipedrive an excellent choice for businesses with limited IT staff or no experience in using a CRM system.
Is Salesforce CRM Easy to Use?
The Salesforce interface is easy to use for people with some experience in using CRM software.
However, if you are not familiar with Salesforce, it can be challenging to find the features you need. This is because the interface is complex and has a lot of features. It offers lots of customization options, so the setup can be confusing.
Pipedrive Wins in Ease of Use
Because Salesforce offers more customization for features, it might not be as user-friendly for people who aren't already familiar with the platform. On the other hand, Pipedrive is easier to use, and its drag-and-drop interface makes it easy for users to add new contacts, deals, etc., to their contact lists.
Get a 30-day Pipedrive free trial here!
Pipedrive vs Salesforce: Automation
Automation is an important feature in CRM software. It allows you to automate tasks so that you don't have to do repetitive work.
Pipedrive Automation
Pipedrive provides different automation options, including Automation Builder and Task Management. These tools allow you to create custom scripts or tasks that can be run automatically when certain conditions are met. For example, you can set up a script to automatically assign leads or deals to a sales representative when the lead status changes to a certain value.
Salesforce Automation
Salesforce also offers automation tools, such as Salesforce Automation and Einstein.
Einstein is an AI sales assistant that helps sales reps find new leads, prioritize hot leads, and determine the best way to close a deal based on similar previous deals and customer activity data.
These tools allow you to automate various tasks in your sales process, including lead scoring, creating and sending quotes, closing deals, and setting up meetings.
Salesforce Wins in Automation
The tasks and actions that are available for automation in Zwangsversteigerung are more extensive than in Pipedrive. They also include more advanced features such as automated email responses and lead follow-ups.
Erfahren Sie hier mehr über Salesforce.
Pipedrive vs. Salesforce: Customer Support
Customer support is essential when selecting a CRM platform. The platform should be easy to contact, and the support team should be able to help you with your questions.
Pipedrive Customer Support
Pipedrive offers 24/7 customer support, which is great for businesses needing help at any time. Their live chat support is easy to initiate and allows you to get in touch with a representative immediately without waiting for an email response. They also have extensive FAQs on their site, so you can search for answers to common questions without waiting for a response.
Salesforce Customer Support
Salesforce provides several different methods of contacting their support department, including phone support, email support and online knowledge base articles. One great feature is the Trailblazers Community, where you can ask questions to other users of the platform and view answers from Salesforce representatives and community members.
Salesforce Wins in Customer Support
Salesforce offers better customer support than Pipedrive by offering several different options for you to contact the company's customer support team and receive prompt responses, especially with phone support available. There are also additional online resources to help you with any questions about the platform.
Erfahren Sie hier mehr über Salesforce.
Pipedrive vs. Salesforce: Third-party Integrations
Integration is an underrated aspect of CRM software. Integration makes data between systems more accurate, up-to-date, and complete. A good CRM provider will have multiple third-party integrations so you can add any additional tools your company needs without switching platforms or manually entering data yourself.
Pipedrive and Salesforce both offer software integration with other applications.
Pipedrive Integration
Pipedrive integrates with various third-party applications, including Gmail, Outlook, and Google Calendar. This allows you to easily manage your contacts, deals, and calendar events in one place.
The Pipedrive App Marketplace is where you can find all of the different third-party apps available for Pipedrive. It offers 350+ third-party apps for integration. For example, Slack, Google Meet, Zoom, Asana, Zapier, Xero, HubSpot, and more.
Salesforce Integration
Salesforce offers third-party application integration through more than 5000 applications available in the AppExchange marketplace. This includes tools like MailChimp, Sprout Social, and more. Integrating with these apps will allow you to import lead lists from popular marketing platforms and email marketing campaigns into Salesforce so your sales team can follow up with leads in a timely manner.
Salesforce Wins in Third-party Integration
Salesforce offers more third-party integration options than Pipedrive, making it easier for you to get the data you need. You can integrate existing data with the software and add additional tools to the platform with little work on your part.
Erfahren Sie hier mehr über Salesforce.
Pipedrive vs. Salesforce: Pros and Cons
Pipedrive-Profis
Pipedrive has an easy-to-use interface that is perfect for people who are new to CRM software.
Easy to navigate with Drag & Drop Functionality.
Can also access data from the mobile app.
Pipedrive's knowledge base is extensive and helpful.
In-depth sales reporting
Pipedrive-Nachteile
Advanced customization options are very limited compared to Salesforce.
Not as feature-rich as Salesforce.
Salesforce Pros
Salesforce has a wide range of features that are perfect for businesses of all sizes.
Detailed sales reporting and forecasting.
Salesforce offers a variety of packages for small businesses to large enterprises at price points to fit the needs of every business.
Extensive integration with other software and systems
Salesforce Cons
Steep learning curve: it can be overwhelming and difficult to learn for first-time users.
Salesforce is more expensive than Pipedrive.
Häufig gestellte Fragen
What's better, Salesforce or Pipedrive?
Salesforce is a more expensive solution than Pipedrive and has many more advanced features, making it better suited to large businesses, while Pipedrive is better suited for small to mid-size businesses.
Which CRM software is better than Salesforce?
Pipedrive is better suited for growing businesses that need a simple and easy-to-use CRM tool without all the unnecessary bells and whistles.
Which CRM software is better, Salesforce vs. Pipedrive, for real estate projects?
Salesforce is better suited for real estate projects because it offers a wide range of features that are perfect for businesses in the real estate industry. However, if you're a small to mid-size real estate business, you may benefit from using Pipedrive because it is less expensive than Salesforce, and it has a simpler interface, making it easier to use.
Is Salesforce better than Pipedrive?
Because Salesforce has a more complicated user interface and requires a higher level of technical knowledge than Pipedrive, it is not as simple and intuitive to use as Pipedrive. Therefore, Pipedrive is a better choice for users who need a simple and easy-to-use CRM software that they can start using immediately with minimal training.
However, if you have more sophisticated CRM needs, such as advanced customization options and powerful sales reporting, then Salesforce is the better choice.
What is better than Pipedrive?
In terms of price and ease of use, Pipedrive beats out most other solutions on the market. Its pricing is also very competitive compared to other solutions like Hubspot Sales und Zoho CRM. Moreover, Pipedrive is easier to learn and use than comparable solutions because its user interface is less cluttered and easier to navigate.
Overall, if you are looking for a simple and easy-to-use CRM software that is affordable and fits your budget, Pipedrive is the best option available. However, if you need more advanced features for large or complex businesses, then Salesforce is the better choice.
How Pipedrive and Salesforce CRM Compare
Zwangsversteigerung is very difficult to beat when it comes to the sheer amount of overall features and customer support.
However, Pipedrive does a great job regarding ease of use and lower prices.
Overall, Pipedrive is best for small to mid-sized businesses that need a system they can use immediately with little to no training. Salesforce is better suited for businesses with more complex needs.
Get a 30-day Pipedrive free trial here!