Project management software has come a long way in recent years, with both Wrike and Teamwork offering robust platforms that handle various project requirements. Task management, file sharing, and time tracking are just some of the tools these platforms provide to help you stay organized throughout your project. But is one of these solutions better than the other?
In this article, we'll compare both products based on key functionality, support options, and pricing plans to help you make an informed choice. Keep reading to learn more!
Wrike vs Teamwork: Similarities
Both platforms come with desktop and mobile apps for convenience
Both platforms have features that help with resource management
Both platforms ensure security by providing two-factor authentication
Both platforms have a free version for personal use
Wrike vs Teamwork: Differences
Teamwork is client-focused, while Wrike focuses on internal teams
Teamwork offers billing and invoicing options, while Wrike does not
What is Wrike?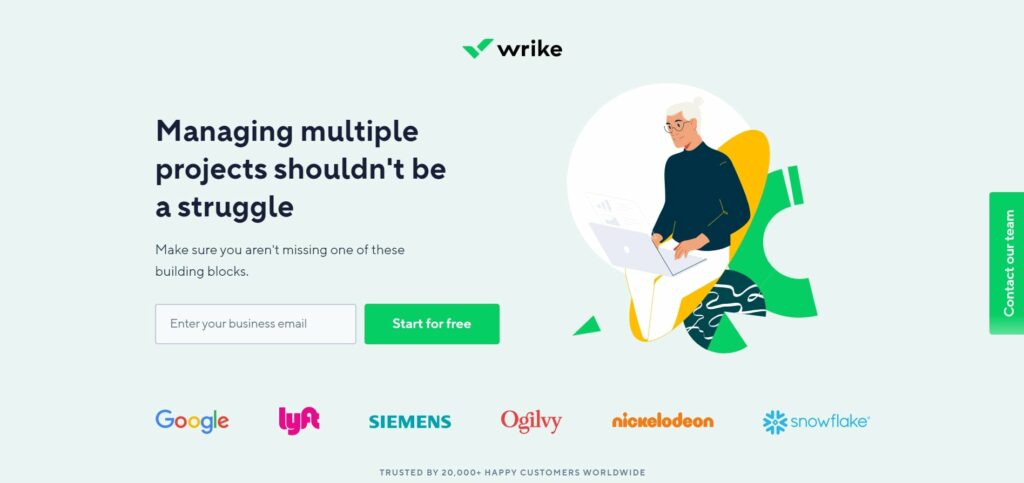 Wrike is a project management tool that helps individuals or teams create tasks, collaborate, and track time. Wrike is available as a web-based project management solution making it easy for users to log in and work from anywhere across the globe.
Wrike is also available as a desktop application for Windows and Mac systems. If you are thinking of staying productive on the go, you'll be pleased to know that this particular tool is also available as a mobile app for Android and iOS devices.
Wrike Key Features
Project resource management features
Time tracking
Custom workflows
Advanced integrations
Gantt charts
What is Teamwork?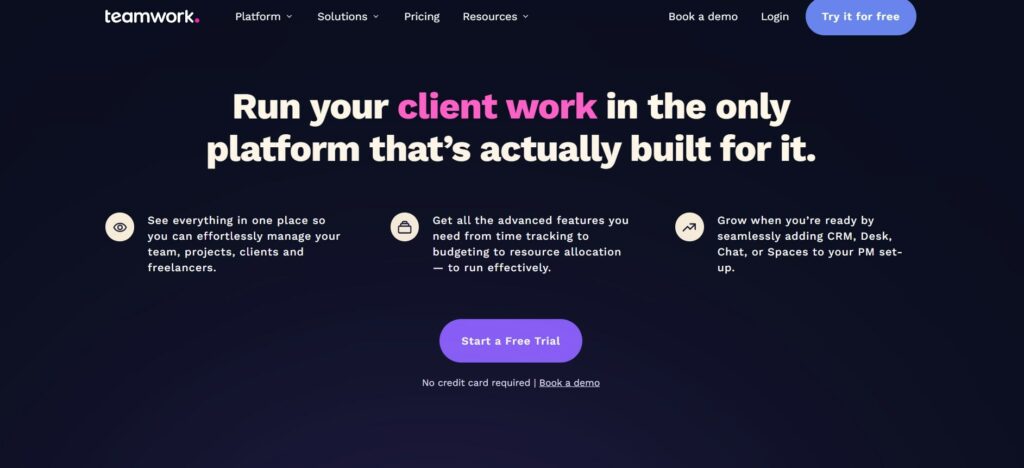 Teamwork is a work management platform allowing individuals and teams in organizations to create tasks, collaborate, track time, and plan projects in a convenient manner. Like Wrike, Teamwork is available as a web-based service, enabling people to access it from any location.
It is also available as a desktop app for Mac and Windows systems. Individuals who want to continue using the app on the go can download it and install it on mobile devices running Android or iOS systems.
Teamwork Key Features
Resource management
Advanced integrations
Interactive Gantt charts
Project scheduling
Workflow management
Wrike vs Teamwork: Features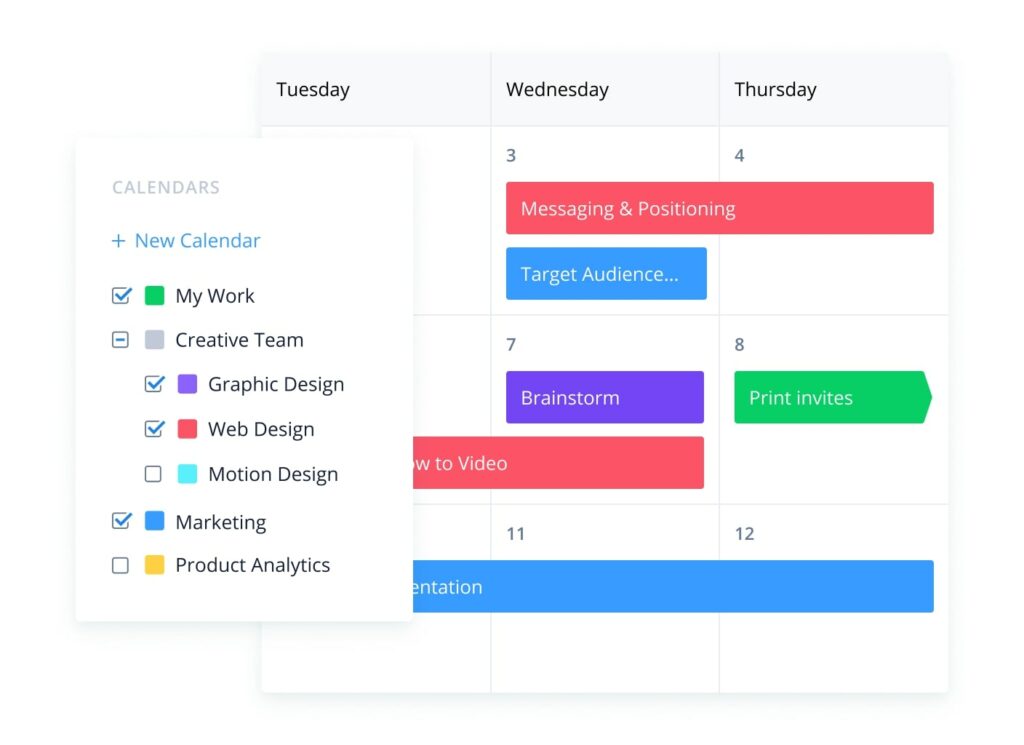 The features available on any work management platform should form the basis for you to make a decision. Some features are designed to streamline communications within teams and customers, while others are designed to ensure a seamless flow of work.
There are also features designed to help with resource management and reporting. Below is a closer look at some of the features you can expect to find in Wrike and Teamwork.
Project & Task Management
The best project and task management tools are often packed with features and functions that take the guesswork out of many processes. A look at all the features available for those purposes should reveal which of the two platforms is the most ideal.
Teamwork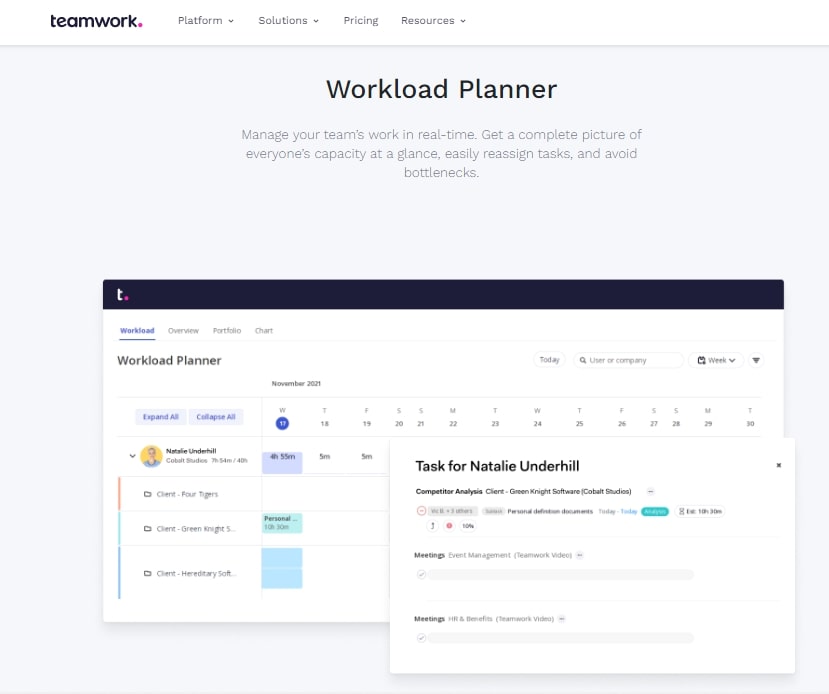 Teamwork includes various features and functions that help individuals and organizations manage projects more effectively. For starters, you can pick and use various templates to create and assign tasks.
You can also monitor the time each user takes to complete their assignment. Teamwork allows you to create reports and compile data to help predict possible task and project outcomes.
With this task management solution, you can determine due dates and promote better collaboration thanks to interactive boards and live chat. Note that you can also interact with customers directly from the Teamwork platform.
Teamwork's simple dashboard design and different views give users full visibility so that they know exactly what is expected of them at any given time.
Wrike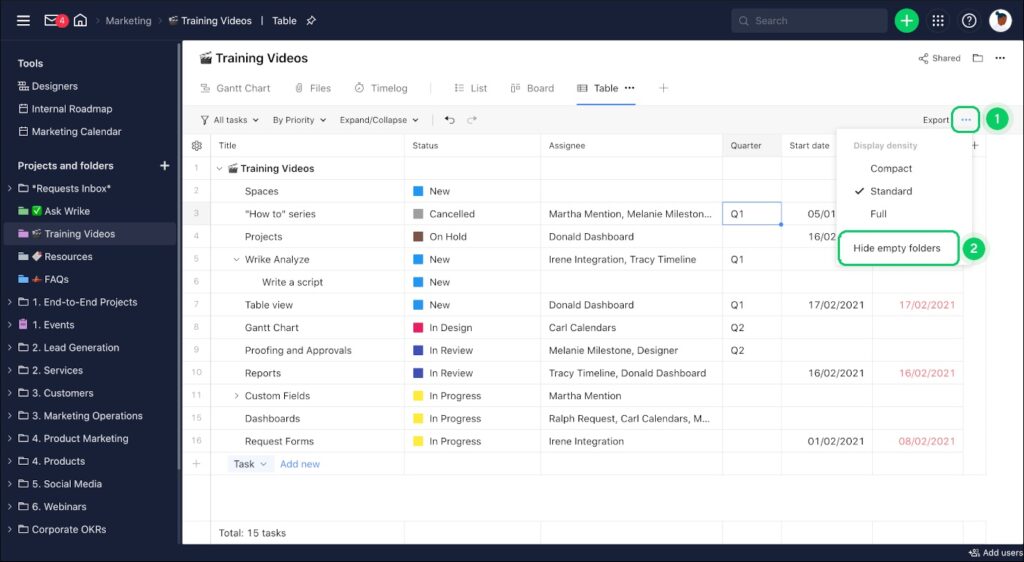 Wrike is a good teamwork alternative because it offers an almost similar experience in project and task management. It has a wide array of pre-built templates for you to choose from. That makes it easy to use a template most relevant to the type of project you are dealing with.
Wrike also allows you to utilize add-ons to simplify processes such as time tracking, team collaboration, and customer relationship management (CRM). Like Teamwork, Wrike has intuitive boards that give users an overview of their project or task obligations.
The simple dashboard design allows project administrators to monitor workflow and workload so that no user is overworked. This project management tool also offers enterprise-level security in the form of a Wrike lock so that you can rest assured that all your sensitive data is safe.
Wrike and Teamwork Tie in Project and Task Management
A close look at both platforms reveals that they offer state-of-the-art project and task management solutions. They allow individuals and organizations to enjoy better resource management while ensuring they stay within budget and deliver promptly.
Workflow Automation
Workflow refers to the process of creating a project, executing it, and then closing it. There are a number of individual processes that often occur repetitively, which is why it makes sense to automate them rather than have someone do them manually over and over again.
Wrike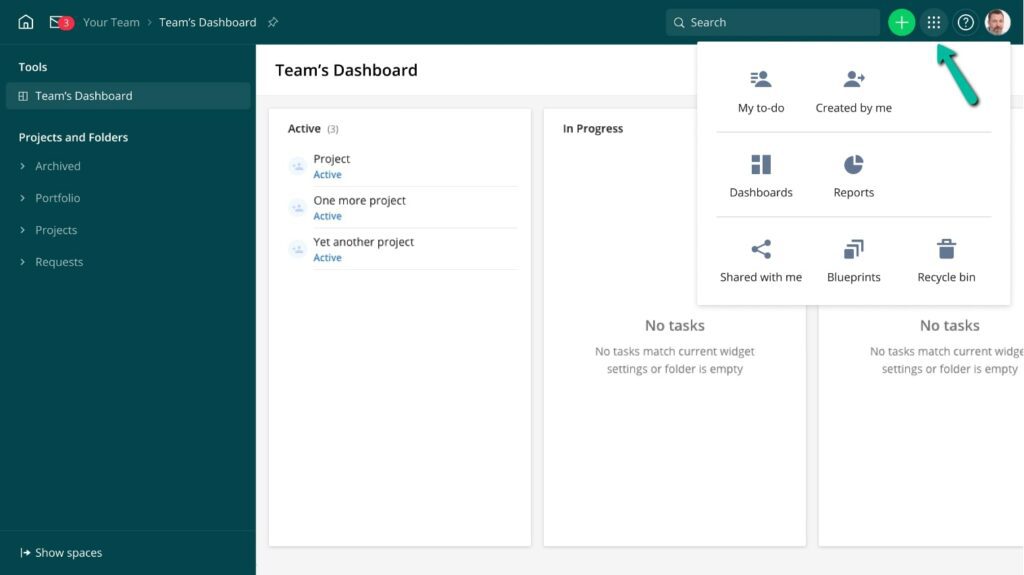 Wrike offers default workflows that are available for everyone on the platform. These default workflows make it easy for individuals or team members to get an overall view of the stages involved in any project.
Workflows make it easy for users to know exactly what stage of the project they are dealing with and the expected timelines to execute each task.
Wrike also features custom workflows allowing users to include add-ons or create more specific stages for the projects they are dealing with. Customized workflows can be created by account admins and then shared with other users on the same platform.
Teamwork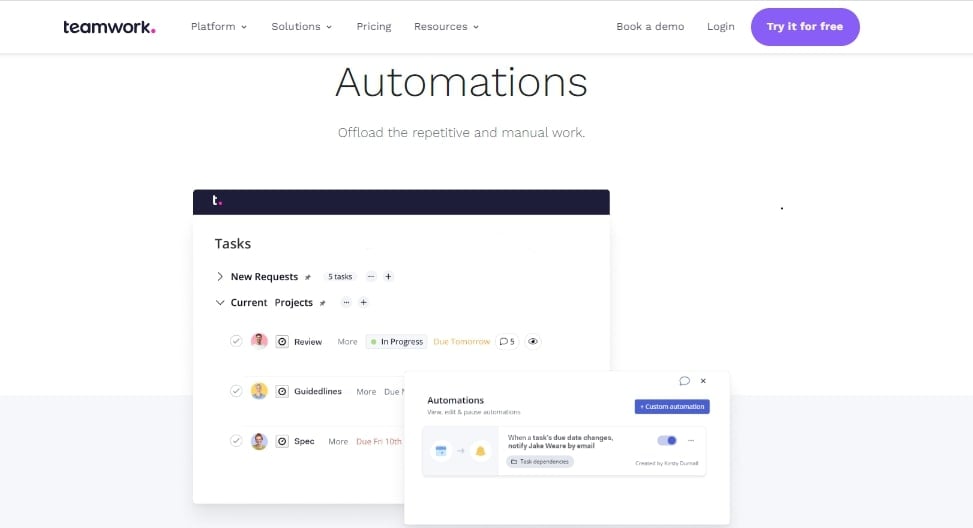 Teamwork also allows users to enjoy default workflows designed for various industries. These workflows are mainly controlled by account administrators but can be viewed by everyone with the necessary access levels.
Teamwork also allows users to customize workflows in such a way that they reflect the type of project and tasks at hand. Some of the things you can do with Teamwork's workflows include onboarding new users, raising incident reports, creating recurring tasks, and sending out notifications.
Teamwork and Wrike Tie in Workflows
Both platforms allow users to automate different types of workflows, which frees up a lot of resources while also saving time. It is worth pointing out that users can also customize workflows on both platforms, making it easy for people in different industries to enjoy effective workflows.
Mobile and Desktop Apps
Both platforms come with mobile and desktop apps. However, they may differ slightly in certain aspects.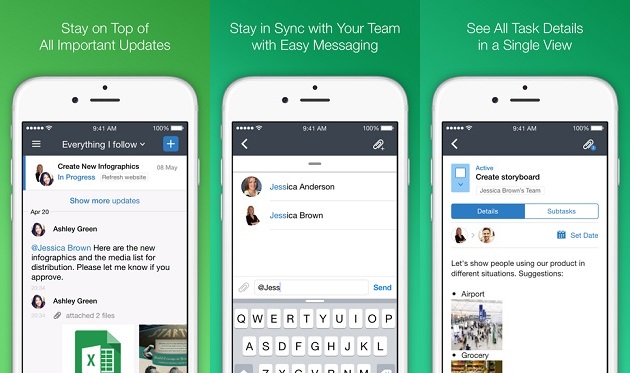 Teamwork
Teamwork Desk is a mobile application that users can download and install. It is compatible with both Android and iOS devices. With this app, users can monitor tickets and respond accordingly instead of letting things pile up while they are on the move.
Teamwork also comes with a desktop application compatible with Mac and Windows systems. You can pin it on your toolbar so that you have an easy time accessing it anytime you want to.
Both the mobile and desktop apps feature a simple interface with an intuitive design making it easy for just about any user to navigate.
Wrike
Wrike also comes with a mobile application compatible with iOS and Android devices. This app allows users to assign or accept tasks, share files, and monitor task progress. Users can also send and receive messages or read updates on boards.
Wrike also offers a desktop application compatible with Mac and Windows systems. On this app, you can enjoy all the features and functionalities available on the web-based platform. You can create and assign tasks, monitor workload, send and receive notes, share files, and collaborate with other team members.
Wrike Wins on Mobile and Desktop Apps
While both platforms offer mobile and desktop applications to ensure you can stay productive on the go, Wrike's options are more powerful.
That is because Wrike's desktop and mobile apps are easy to use. Additionally, they can work offline, meaning you do not always have to be connected to the internet to stay productive.
Wrike vs Teamwork: Ease of Use
Understanding the general outlook of any project management platform and how it works can be key to appreciating whether it is easy to use.
Wrike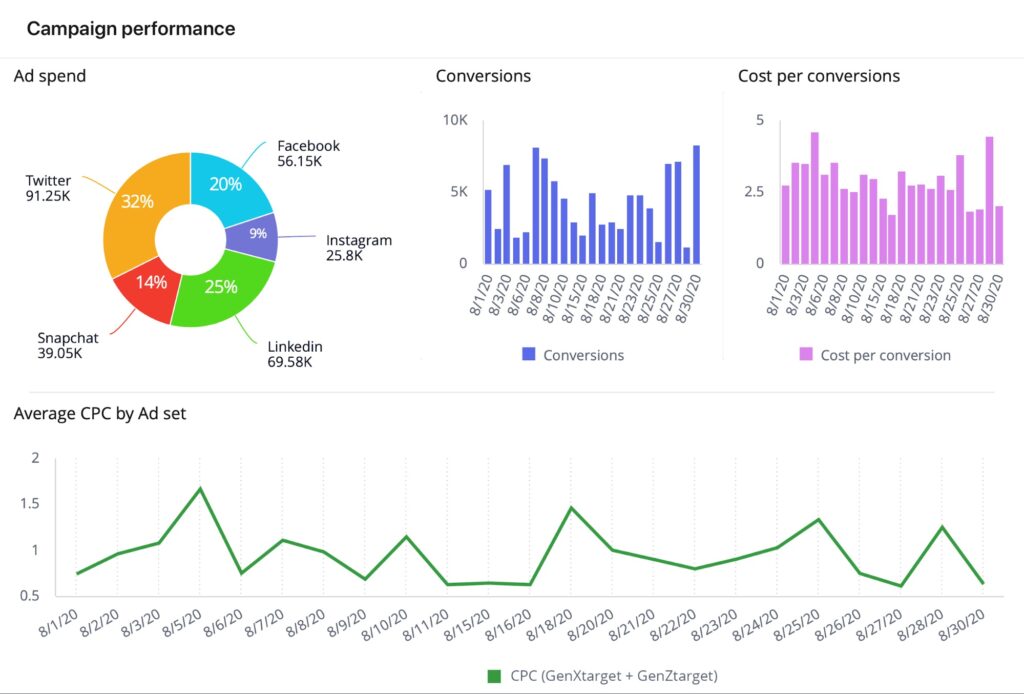 In the past, many customers complained about Wrike's cluttered interface, which led to a steep learning curve. However, after improvements, Wrike now has the new Lightspeed interface with a minimalist outlook.
This has completely eliminated the steep learning curve and made it easy for just about anyone to start using Wrike. The interface only includes essential elements or features.
Users can customize the interface by adding other features or functions. Users can also switch through different views to get the most ideal. Some options available include the Gantt chart view, board view, Calendar view, and simple spreadsheet view.
Navigating from one section to another is relatively easy and team members can also enjoy improved collaboration thanks to the available tools. Collaboration can even be in the form of shareable dashboards.
Teamwork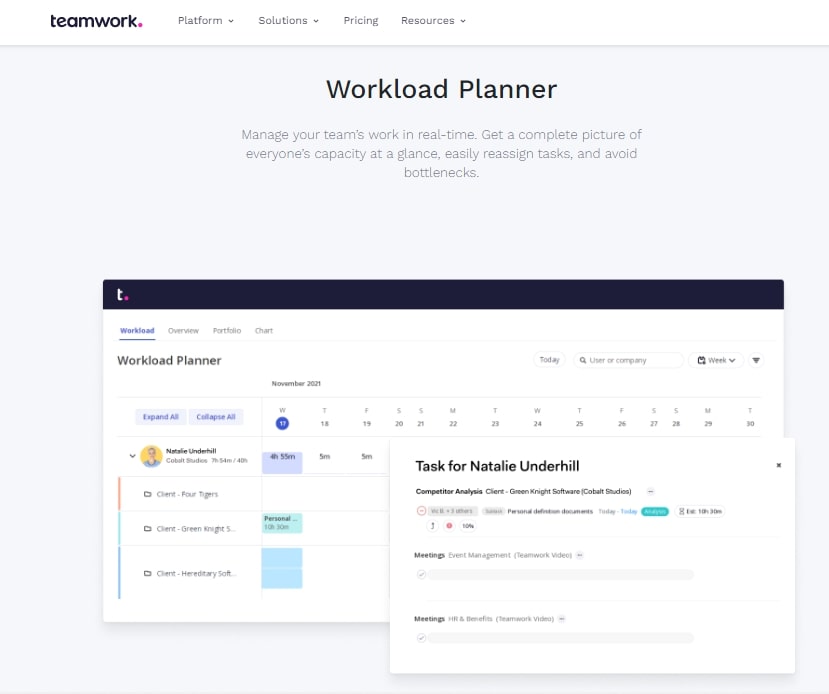 Teamwork is also designed with the user in mind. That is why a new team member will likely notice a minimalist interface with only the most critical features and functions available.
Like Wrike, Teamwork is also pretty customizable, making it possible for team members to tweak it to their preference. For instance, new members can add color coding to help them distinguish different sections.
On this platform, individuals can also share dashboards, monitor team workloads, organize tasks, break them down into subtasks, and enjoy various views. Some views you enjoy include Gantt charts, Calendar views, spreadsheet views, and task lists.
Any team member can also attach files easily and share them with others as long as they have the necessary access permissions. Teamwork also includes a variety of project templates for different organizations to choose from.
Teamwork and Wrike Tie on Ease of Use
It's easy to understand that both service providers have given much thought to designing their project management tools.
They have simplified the process of onboarding new members and even allowed them to get acquainted with the platform through interactive training and other resources on the website.
Whether you choose Wrike or Teamwork, you'll enjoy an intuitive interface easily customizable to suit your personal preferences. Both project management tool options have multiple project templates to suit different industries.
Teamwork vs Wrike: Integrations
Good project management software often integrates with other tools and applications to ensure individuals and teams enjoy convenience and efficiency.
Teamwork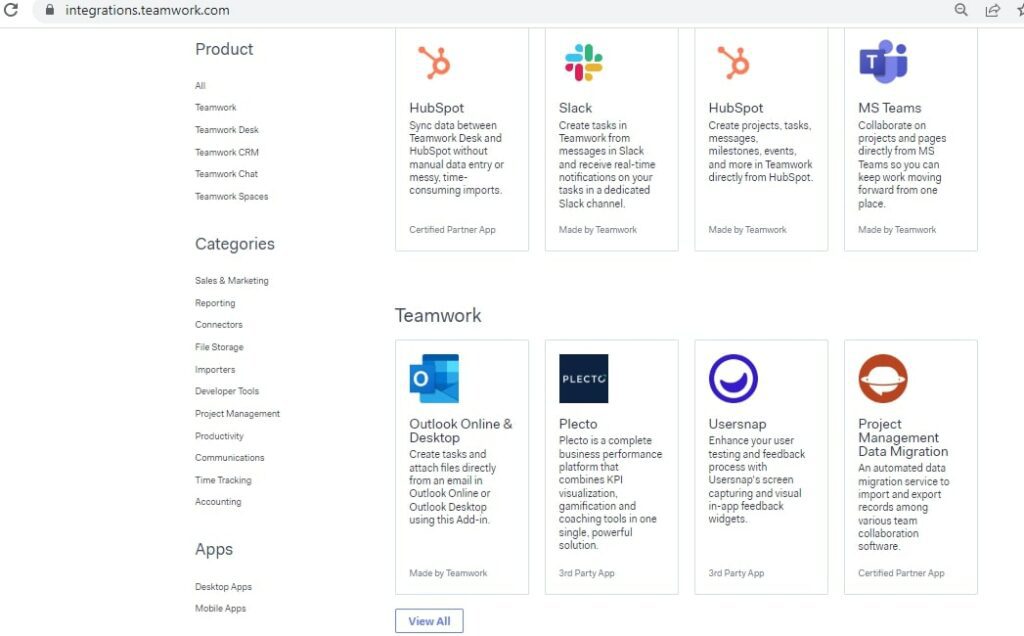 Teamwork is designed in such a way that it allows users to integrate with other tools. The good news is that connecting this particular project management tool with other apps is quite simple. In certain cases, you only need to download and install add-ons.
You can connect Teamwork with tools that help you create better time budgets and intake forms, boost time tracking and even simplify team collaboration. Below are some examples of the tools you can connect to Teamwork,
MS Teams
Slack
Teamwork Chat
Elevio
Basecamp
Outlook
Microsoft Office
Sentry
Wrike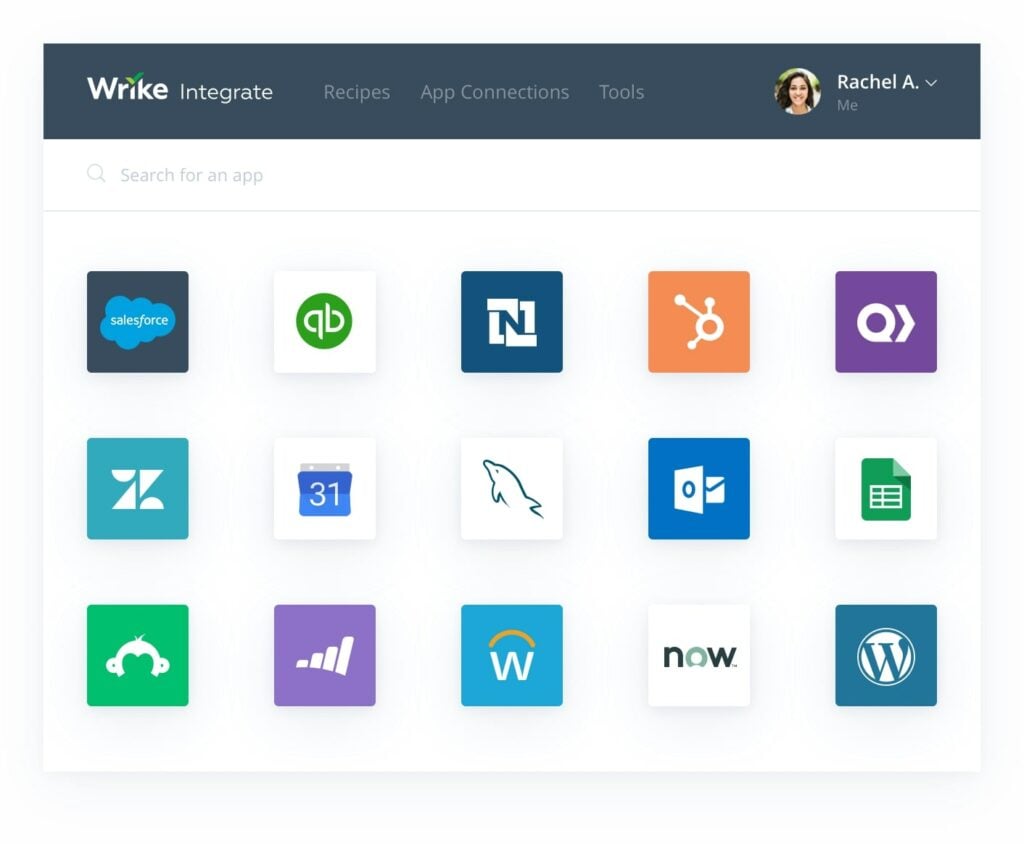 Like Teamwork, Wrike allows creative teams and individuals to connect their project management software with other tools to increase productivity.
Some benefits of integrating with other tools include better time tracking, improved team collaboration, simplified task management, or ensuring that you can manage multiple projects easily. Some examples of the tools you can connect to Wrike include,
Automation Engine
GitHub
MS Project
JIRA
OneLogin
Wrike and Teamwork Tie in Integrations
Both tools integrate with other applications making it possible for different organizations to manage projects more efficiently. Whether you choose Wrike or Teamwork, you can rest assured of enjoying easy integrations.
Wrike vs Teamwork: Pricing
To truly understand the difference between Teamwork and Wrike, it is important to look at each pricing plan. Each plan is depicted on a per-user basis rather than on a general basis.
Wrike Pricing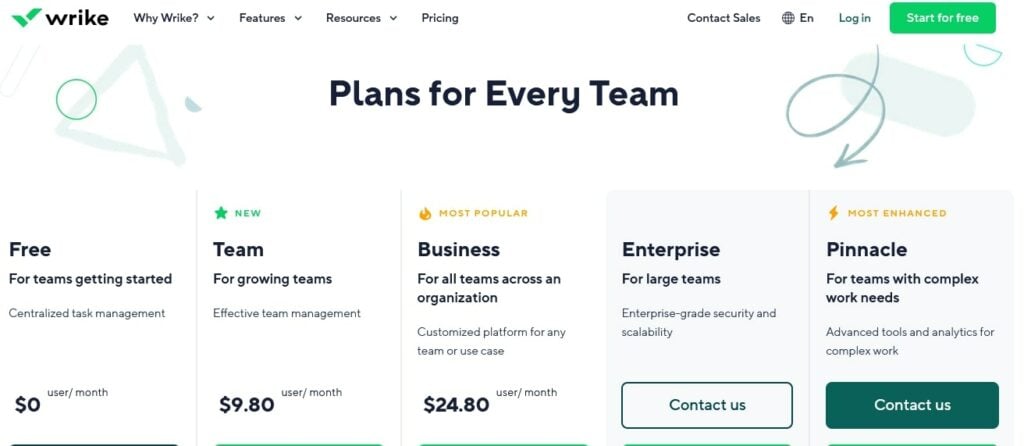 Free plan: this particular plan costs nothing and is ideal for individuals or teams that are getting started with simple project or task management obligations
Team: costs 9,80 per user per month billed annually and is ideal for teams that are growing
Business: costs 24,80 per user per month, charged annually, and is ideal for multiple teams within an organization
Enterprise: requires direct contact with the Sales team and is ideal for bigger teams working on multiple or complex projects
Pinnacle: this plan also requires direct contact with the Sales department and is ideal for enterprises or established firms dealing with complex projects and tasks
Teamwork Pricing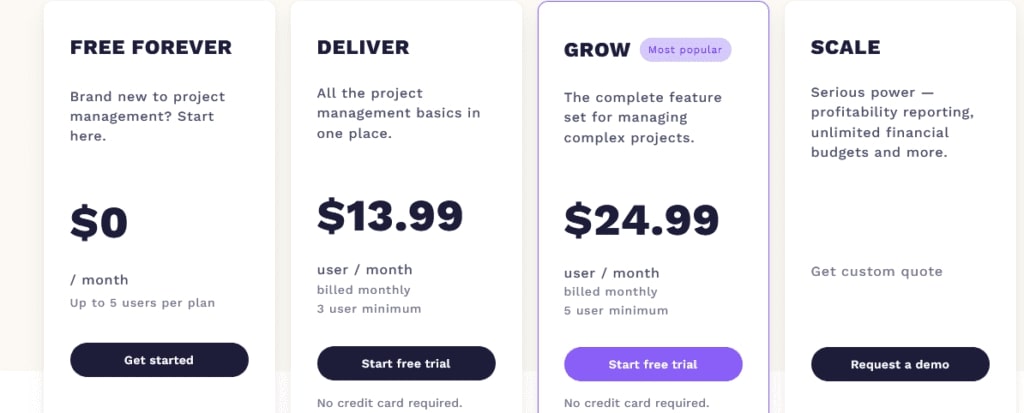 Free plan: like Wrike, Teamwork offers a free plan ideal for individuals or teams that are just getting started with task management software
Starter: this particular plan costs 5,99 per user per month billed annually and is ideal for small teams or organizations that are growing gradually
Deliver: costs 9,99 per user per month billed annually and is ideal for any team that wants digital tools for robust project management
Grow: costs 17,99 per user per month, charged annually, and is ideal for large teams handling complex projects
Scale: requires direct contact with the Sales department and is ideal for enterprises dealing with multiple teams or projects and complex tasks
Teamwork wins in Pricing
Teamwork and Wrike offer free plans for new users, making them a good place to go when you want to get acquainted with how project management tools work.
However, looking at the two lower tiers of the paid versions from both platforms reveals that Teamwork is slightly cheaper than Wrike.
In that regard, Teamwork is the best option for anyone who wants to organize tasks, track time, monitor workload and improve overall project management without spending too much money.
Wrike vs Teamwork: Customer Support
Customer support is important to consider when trying to pick the right work management software to use. Below is a deeper look at what both platforms have to offer.
Wrike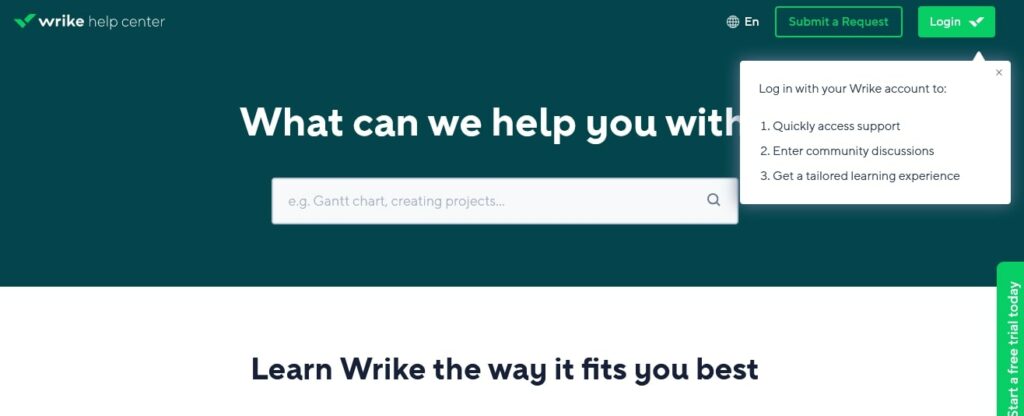 Wrike offers basic and premium support options for its clients. Basic support is offered to those who use the free account or hold a lower-tier subscription. With the basic support package, you can contact the support department on a 24-hour basis from Monday through Friday.
If you are enrolled in the premium support package, you are free to make contact on a 24-hour basis every day, including on the weekends. Premium support packages offer priority response, with most issues getting a response within an hour.
Contact can be made through a support ticket, live chat, or telephone calls. It is worth pointing out that Wrike has a massive database of information on its website. This includes guides and frequently asked questions.
There is also a blog where you can read about different aspects of the platform. If you want help from other people, you can head to the community forum and raise a question or join in ongoing discussions.
Teamwork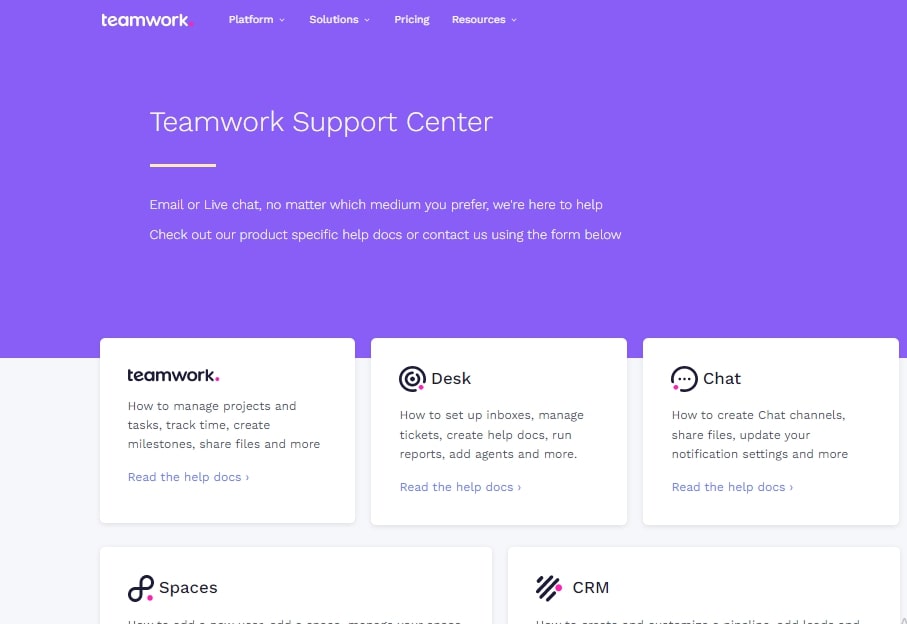 Teamwork also allows users to get in touch with the support department in various ways. You can make contact through the live chat or place a voice call if that is what you prefer. There is also the option to fill out a support ticket or email a detailed description of whatever you need to resolve.
Teamwork's customer support department is available from Monday to Friday and operates between 7 am and 12 am daily. There is limited support over the weekends, mainly for users who hold paid subscriptions.
Teamwork also includes a database with a lot of information to help you learn about the workings of the platform. From user guides to frequently asked questions, you can expect to find answers to most of the issues that commonly arise without necessarily having to make direct contact with the support team.
Wrike Wins in Customer Support
Wrike offers an array of methods you can use to resolve common problems. For instance, you can easily join the community forum and have fellow users help you resolve many problems.
You can also contact the customer support department anytime or day, provided you are covered with the premium support package.
Wrike vs Teamwork: Pros and Cons
Below is a look at some things that make these two work management options stand out and those that may still require some improvement.
Wrike Pros
Flexible enough to accommodate different teams in an organization
Handles small and large teams
Integrates with many apps and productivity tools
Has robust desktop and mobile apps
Wrike Cons
Does not have a note-taking feature
Relatively more expensive than some alternatives
May sometimes load slowly
Teamwork Pros
Easily handles multiple projects
It is a user-friendly work management platform
Ideal for customer relationship management
Relatively cheaper than most alternatives
Teamwork Cons
Not the best for team collaboration
Does not have an offline mode for mobile and desktop apps
Updates do not occur in real-time
Wrike vs Teamwork: Conclusion
Wrike and Teamwork are two of the most popular work management platforms today. They are packed with features that allow people from all walks of life to collaborate and execute different obligations seamlessly.
If you are therefore looking for cheap work management software, it may be prudent to choose Teamwork. However, if you want something that can accommodate large teams, boost communications and improve workflow, Wrike should be among your top picks.