Are you looking for a better way to manage your small business? Do you feel like something is missing? Keap can help! Keap is a cloud-based customer relationship management platform that allows you to manage your business and connect with customers more efficiently and personally.
With Keap, you can maintain customer relationships by tracking leads and nurturing them until they become paying customers. When you need help running your small business, you can use Keap's powerful reporting and analytics tools to monitor the health of your business and make smarter decisions to grow your company.
However, there are plenty of other alternatives to Keap on the market that you may want to consider. In this article, we'll look at some of the top Keap alternatives and compare them to Keap to help you decide the best solution for your business.
Why Keap?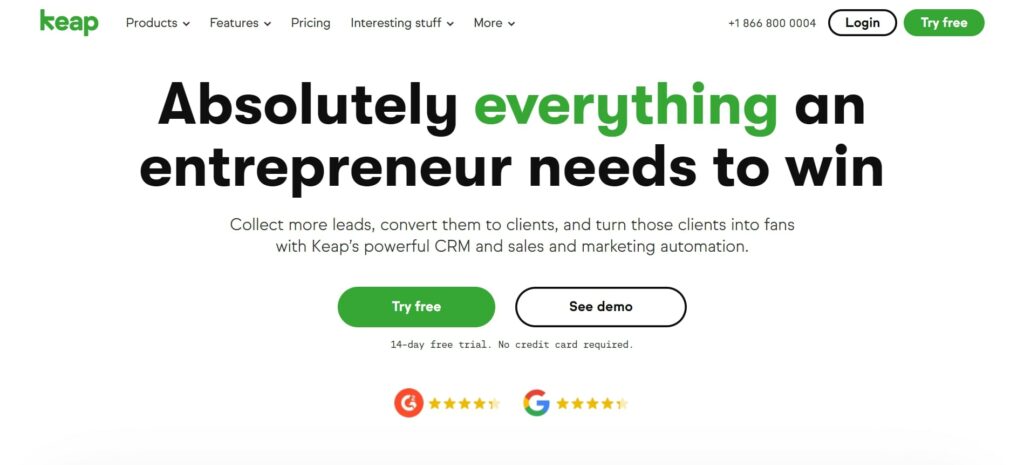 Formerly Infusionsoft, Keap is a full-featured, cloud-based sales and marketing solution with robust customer relationship management (CRM) software, sales automation, contact management, marketing automation, and e-commerce functionalities under a single suite.
This platform empowers small businesses across the globe to streamline their sales and marketing while managing customer experiences. You can use Keap to track customer interactions, segment contacts, and send emails while running marketing campaigns with personalized communication triggers.
Businesses choose Keap because it allows them to automate nearly every stage of their sales cycle, generate advanced custom workflows using drag-and-drop tools, and use a wide array of workflow templates to streamline marketing activities.
Keap's key features include the following:
Easy and Advanced Automations – Keap's sales and marketing automation software gives you access to easy automation, such as new lead capture, sales nurturing, appointment reminder, and purchase follow-up. Its advanced automation builder allows you to customize your marketing and sales processes to yield repeatable growth with advanced personalization response triggers, nurture sequences, and more.
CRM Reporting and Analytics Tools – Keap features a CRM analytics dashboard that enables you to obtain valuable insights into sales stats and information to make smart business decisions. Its marketing reporting software sifts through millions of data points to generate in-depth reports on your contact action, conversions, campaign performance, form completion, and more.
Integrated Email Builder – Keap's drag-and-drop email templates and tools make email marketing a painless process. By pairing email automation with its built-in list segmentation tools, you can boost your lead generation rate as it enables you to tailor your emails to the right recipients at the right time.
Built-in E-commerce Automation functions– Unlike other platforms that require third-party integrations to manage e-commerce, Keap features built-in automated eCommerce functions, making it a viable choice for online businesses. This platform can manage your inventory and purchases, send invoices, quotes, and receipts, establish online shopping carts, and track digital storefront activity.
Sales Pipeline Management – This platform gives your sales team an all-in-one solution for tracking the status of your sales deals, moving leads faster, and closing more sales with a customizable dashboard. Keap's analytics gives you greater visibility into your sales pipeline performance.
Even though Keap offers numerous benefits, including unlimited email automation and a user-friendly interface, some businesses and CRM users looking for advanced customization and functionalities may not find it a good fit; hence they look for Keap alternatives.
Some qualities that can make a CRM user seek a Keap alternative include more affordable pricing, scalability, robust integrations, customizable reporting, and more distinct marketing and sales tools. Besides, Keap works perfectly for small business needs; thus, larger companies may hit a roadblock with this CRM platform.
Best Keap Alternatives and Competitors
Here are some of the best alternatives to Keap to help you grow and manage your small business more effectively.
Read on as we dive deeper into these alternatives.
Pipedrive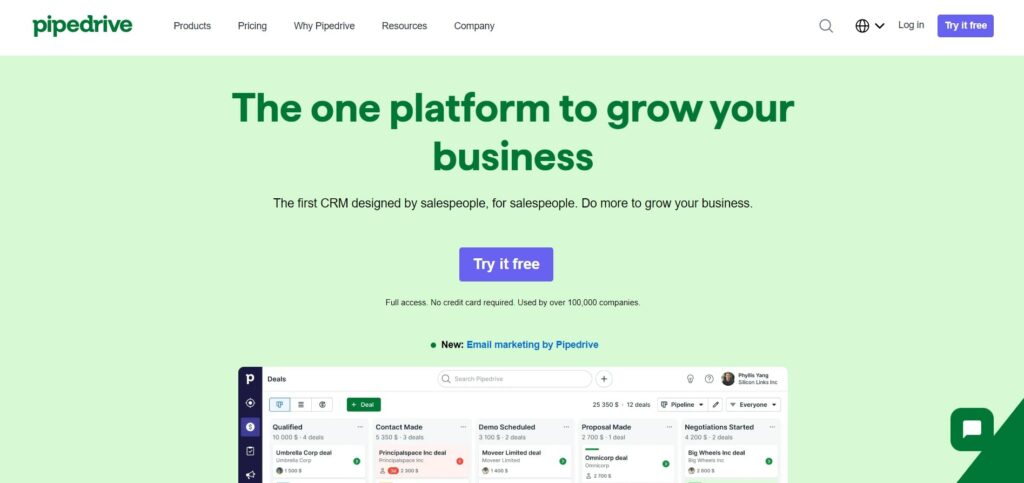 Pipedrive is one of the leading Keap alternatives that strives to make relationship and sales-building processes more efficient than before.
This cloud-based sales CRM software makes it easy for small sales teams to manage lengthy and intricate sales processes while directing their energy on actions that close deals. Pipedrive features a clean visual interface with robust features like goal tracking, email integration, forecasting, and reporting.
Pipedrive Key Features
Pipedrive's key features include the following:
Automation – Pipedrive allows you to leverage task automation, open API, webhooks, one-click contact data collection, and AI-powered sales assistant to automate repetitive tasks and streamline the sales process.
Customization – This highly customizable CRM software lets you standardize sales strategies and processes to suit your needs. You can add custom fields, customize pipelines, and multiple currencies.
LeadBooster Tool – The add-on has a chatbot, live chat, prospector, scheduler, and web forms, among other tools, to help you capture and manage leads.
Smart Docs Feature – The tool allows you to centralize your entire sales documentation process, which enables you to send trackable proposals, contracts, and quotes. You can also receive notifications through the feature when customers open the documents and request eSignatures to close more deals.
Marketplace Integrations – Pipedrive's marketplace comprises more than 300 integrations to perfect workflows and win customers. They include Xero, Google, Slack, and Asana.
Pipedrive Pricing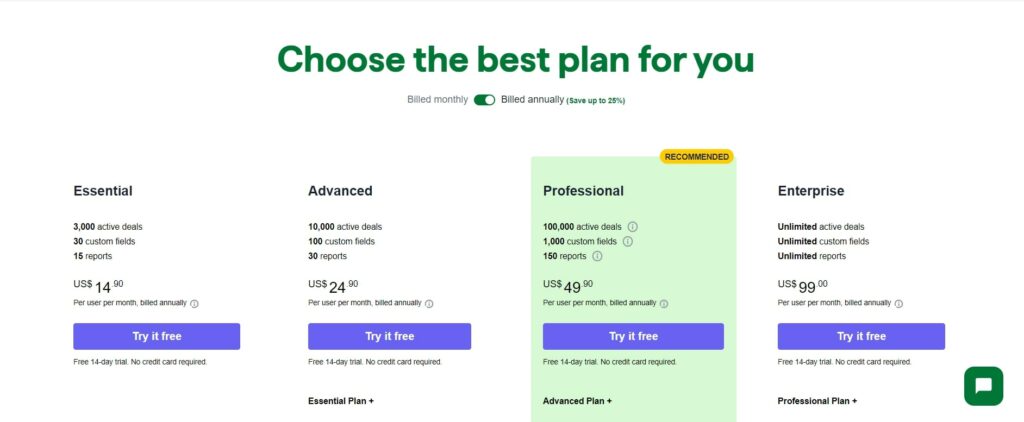 Pipedrive's pricing plans are as follows:
A 14-day free trial for all its plans.
The Essentials plan: $9.90, per user, per month, billed annually.
Advanced plan: $19.90 per user per month, billed annually.
Professional plan: $39.90 per user per month, billed annually.
Enterprise plan: $59.90 per user per month, billed annually.
Pipedrive vs. Keap: Why is Pipedrive Better?
Even though both Pipedrive and Keap bring numerous advanced features and benefits, Pipedrive outperforms Keap in certain aspects.
Pipedrive wins in ease of use
Pipedrive has a user-friendly interface with easy-to-use features, making generating your sales funnels easy.
Who is Pipedrive for?
Pipedrive is best for entrepreneurs, sales professionals, and business owners seeking an all-inclusive platform for visualizing sales processes.
Monday.com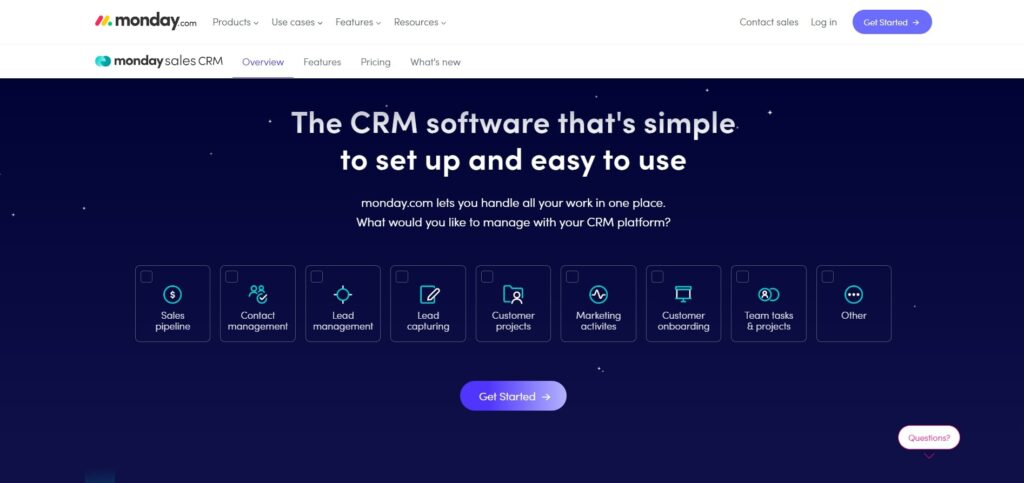 Monday.com is a customizable mobile and web work management platform tailored to help organizations and teams with operational efficiency. You can rely on this platform for marketing automation, task management, collaboration with teams, sales & CRM, project management, and tracking workflows.
Monday.com Key Features
200+ Ready-made Customizable Templates-These includes basic CRM, project portfolio management, and powerful campaign planning.
Data Tools – The tools help you to collaborate smartly by assigning and prioritizing tasks, managing marketing teams, and sharing files.
Customizable Boards – The feature helps keep your team psyched and focused on the same goal.
Inventory Tracking – You can use a QR code to scan inventory into this CRM software and update statuses.
Automations – Monday.com allows you to automate email notifications, status updates, progress updates, time tracking, due date alerts, and dependencies, to mention a few.
Monday.com Pricing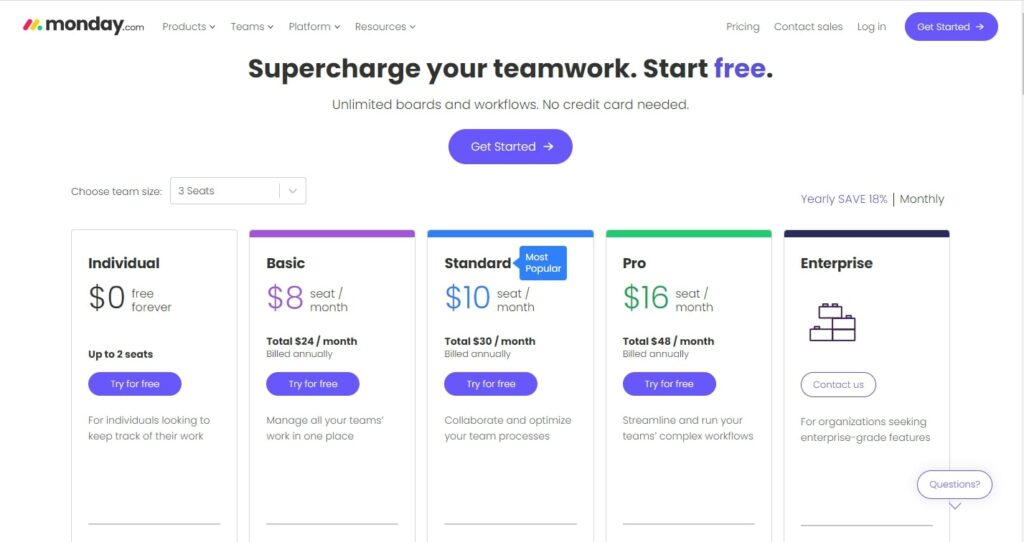 Monday.com has a free plan offering up to two seats and three boards.
The Basic plan: $8/seat/month.
Standard plan: $10/seat/month.
The Pro plan: $16/seat/month.
Enterprise plan: Custom pricing is provided upon request and offers enterprise-scale automations, tailored onboarding, and advanced reporting.
Monday.com vs. Keap: Why is Monday.com Better?
Here is how monday.com and keap compare:
Monday.com wins in Work Management
Monday.com empowers you to manage complex processes, workflows, and tasks at scale without a hassle, something that may not be possible with Keap.
Who is monday.com for
Monday.com is perfect for project managers, developers, marketers, and business people because of its extensive data tools and customizable templates and boards.
Salesforce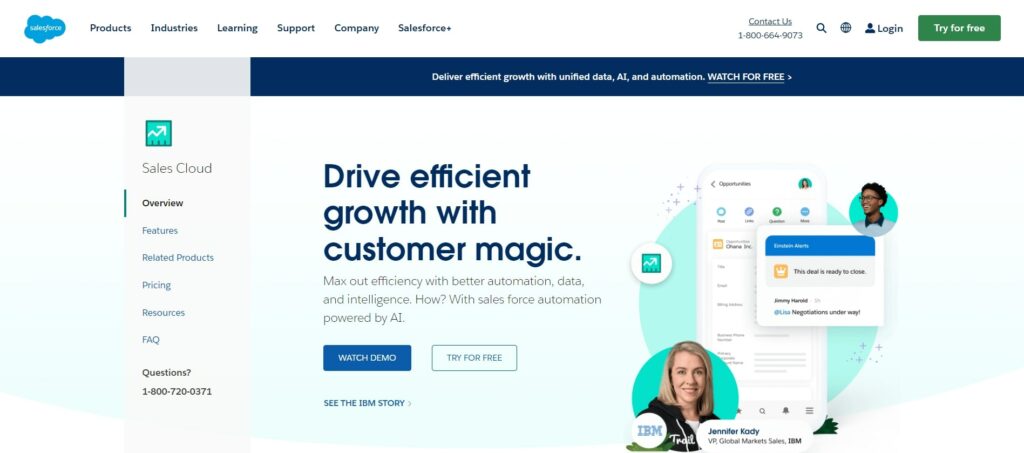 Salesforce is a cloud-based integrated customer relationship management (CRM) software that helps commerce, IT, marketing, and sales teams easily collaborate from anywhere. You can enable marketing automation, manage customer data and commerce, scale your service, and allow sales automation, all under a single platform.
Salesforce Key Features
Contact Management Tools – The feature lets you track customers' activities, key contacts, history, internal account discussions, and customer communications.
Lead Management – With salesforces, you can track your marketing campaigns and establish automatic lead scoring and routing to ensure you turn more leads into customers and increase sales.
AI-powered Commerce – You can develop highly personalized customer journeys with the software's commerce cloud. It allows you to deliver one-on-one product recommendations, data-driven insights, and tailored search results with a few simple clicks.
Multisite Management and Localization – Salesforce's multisite architecture helps you to manage all your sites under a single platform.
Reports and Dashboard – Its dashboards give users real-time pictures of their businesses. This solution also features CRM analytics software that updates you with customized sales forecasting reports.
Salesforce Pricing
Salesforce product pricing depends on the CRM solution you want to explore.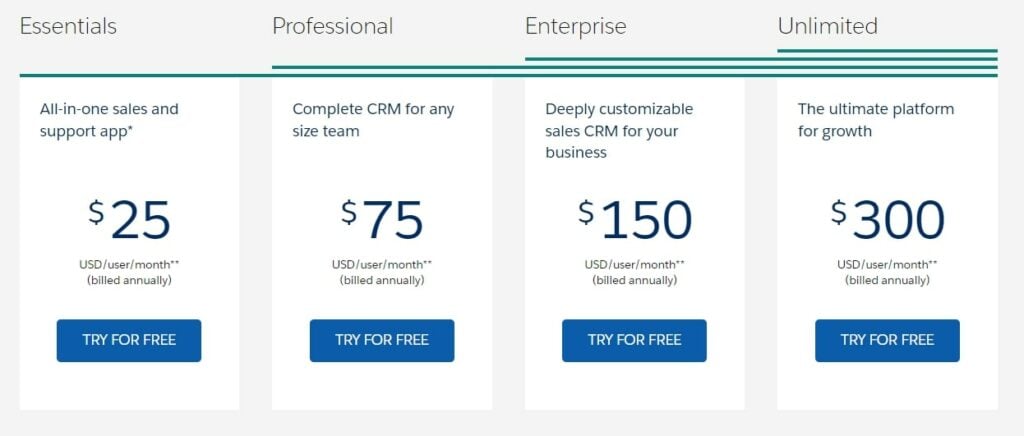 The small business solutions pricing is as below:
Essentials: $25/user/month, billed manually.
Professional: $75/user/month, billed annually.
Enterprise: $150/user/month, billed annually.
Unlimited: $300/user/month, billed annually.
Salesforce vs. Keap: Salesforce wins in Scalability
Unlike Keap, which only caters to small businesses, Salesforce is highly scalable, and you can rely on it to attract mid-market and enterprise-level customers.
Who is Salesforce for
Salesforce is best for eCommerce business owners, sales teams, and marketers because of its powerful AI-powered commerce platform and contact management tools.
HubSpot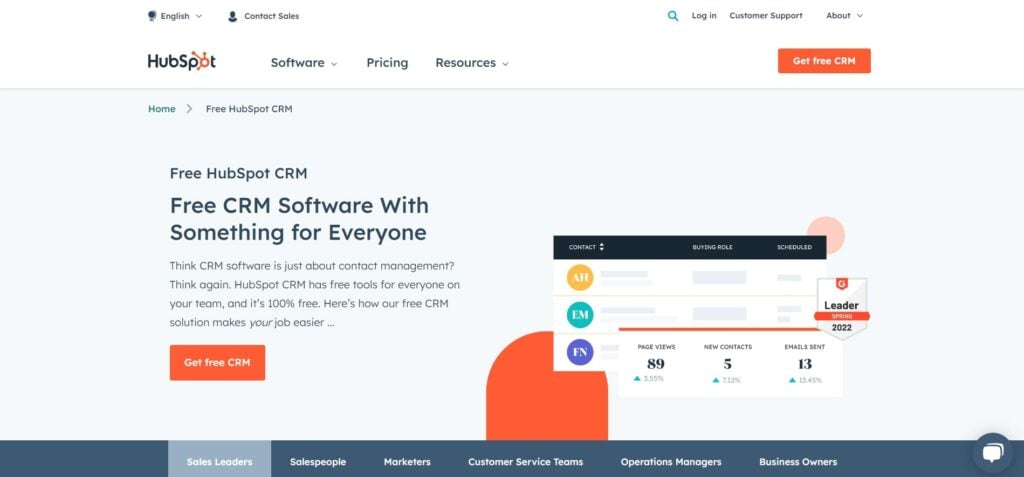 HubSpot is one of the top alternatives to Keap, with all the tools, software, resources, and integrations needed to connect content management, customer service, sales, and marketing. The CRM platform's powerful products include the marketing, sales, service, CMS, and operational hub.
HubSpot Key Features
Lead Management Tools – HubSpot offers a centralized database for managing and organizing lead records. It also offers tools to help you streamline outreach, score leads, generate segmented lists, and more.
Built-in Marketing Tools, Analytics, and Reports – HubSpot features an all-in-one inbound marketing software with all the CRM solutions for marketing automation, partitioning, and analytics.
Sales Email Automation – HubSpot allows you to automate email tracking, scheduling, sequences, and follow-up to streamline your email campaigns and attract more leads. Besides, you can use email templates to create your emails faster.
Free Landing Page Builder – The tool helps you create personalized landing pages to convert your website visitors into leads quickly. The platform also provides SEO suggestions and conversion analytics to enable you to optimize your landing pages.
Social Media Tools – You can use these tools to prioritize your social interactions and use a central location to run your social media campaigns.
HubSpot Pricing

HubSpot pricing depends on the product solution you need. The pricing for the marketing hub is as follows:
Starter plan: Starts at $45/month, billed at $540/year.
Professional plan: Starts at $800/month, billed $9600/year.
Enterprise plan: Starts at $3600/month, billed $43,200/year.
HubSpot vs. Keap: Why is HubSpot Better?
HubSpot Wins in Marketing Functions
HubSpot provides more tools for lead management, landing pages, search tracking & optimization, lead nurturing, and more, which enhances marketing efforts.
Who is HubSpot for
HubSpot is best for marketing and sales teams due to its reporting dashboard, deal tracking, company insights, and pipeline management features. It is also an ideal choice for small business owners looking for an all-inclusive tool for sending bulk emails, automating administrative tasks, and tracking contacts.
Zendesk Sell

Zendesk Sell is a sales CRM that helps its users maintain pipeline visibility, maximize productivity, and grow revenue.
Zendesk Sell Key Features
Email Integration – It gives you access to email templates, alerts, and automatic tracking.
Sales Engagement Tools – The tools enable you to generate customized email sequences and targeted prospect lists to follow up leads automatically.
Advanced Performance Metrics – The features give you access to pre-calculated sales performance metrics, like loss reasons, deal source performance, and more.
Custom Dashboards – You can use ten drag-and-drop widgets to track your sales performance goals, tasks, and deal activity.
Pipeline Analysis – The feature allows you to analyze deals and lead progression to identify bottlenecks across pipeline stages.
Zendesk Sell Pricing
Zendesk Sell has pricing plans for service and sales.
The pricing plans for sales are: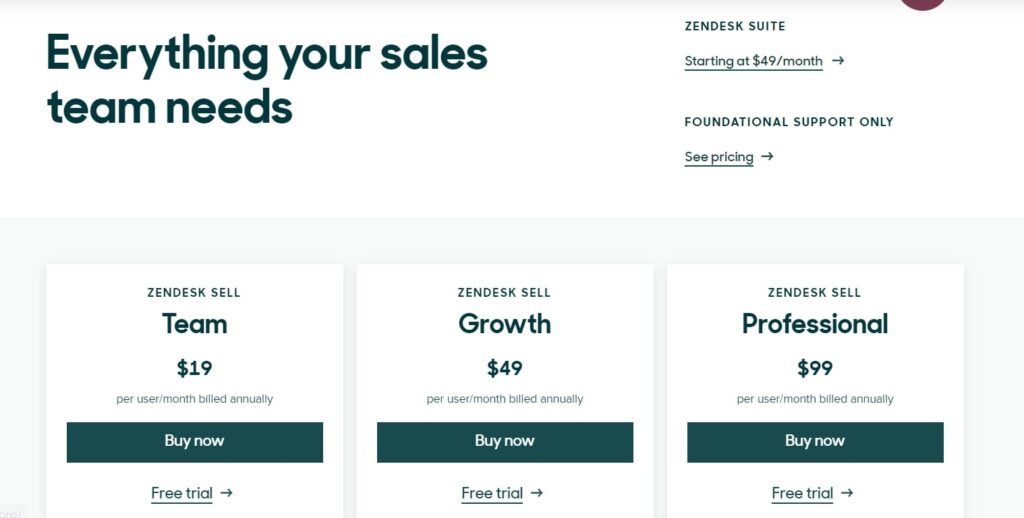 Team: $19 per user/month billed annually.
Growth: $49 per user/month billed annually.
Professional: $99 per user per month, billed annually.
Zendesk Sell vs. Keap: Why Zendesk is Better?
Zendesk Wins in Pipeline Analysis
Zendesk Sell is better in pipeline analysis as it offers more tools to track pipeline stages and generate in-depth pipeline development reports to give you a view of your deals.
Who is Zendesk Sell for
Zendesk Sell is best for service teams, sales professionals, and enterprise owners looking for an all-in-one solution for increasing business productivity.
Maximizer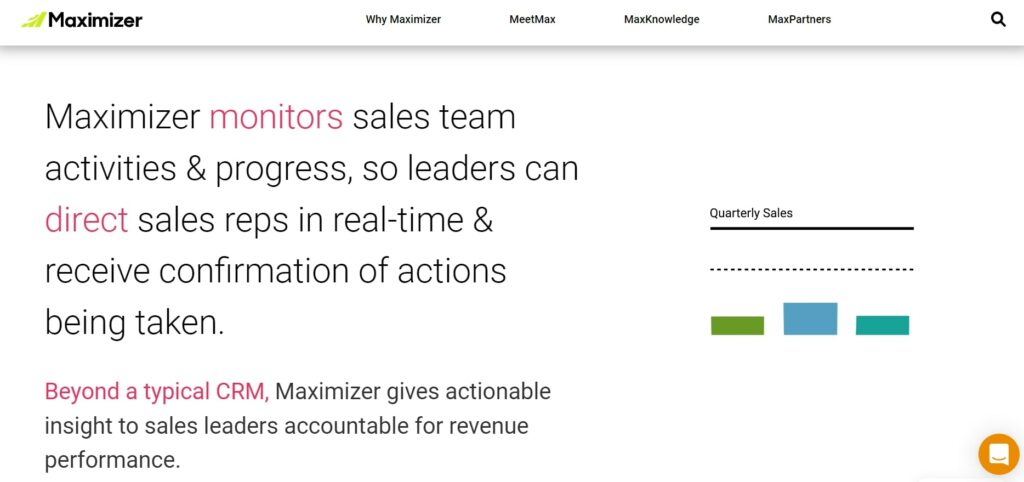 Maximizer is an integrated CRM platform with contact management solutions for small businesses, entrepreneurs, and large companies to track clients and leads. This software also helps users maximize their marketing campaigns with its fully customizable CRM tools and templates.
Maximizer Key Features
Email Marketing Tools– Maximizer gives you all the tools you need to generate targeted and personalized promotions and track drip campaigns and new users.
Powerful Web-to-lead Form Builder – The feature allows you to generate HTML forms and embed them in your websites.
Data Management Tools – The tools eliminate the tedious work of checking data entries by hand. They also make it easy to highlight mandatory fields and identify duplicate entries to enhance accuracy in forecasting and reporting.
Results Tracking – Maximizer's feature-rich mobile-friendly CRM lets you track your campaigns, prepare for meetings, and manage calendars anywhere.
Branded Email Templates – You can include custom fields and signatures and insert footers and headers to customize your brand's feel and look.
Maximizer Pricing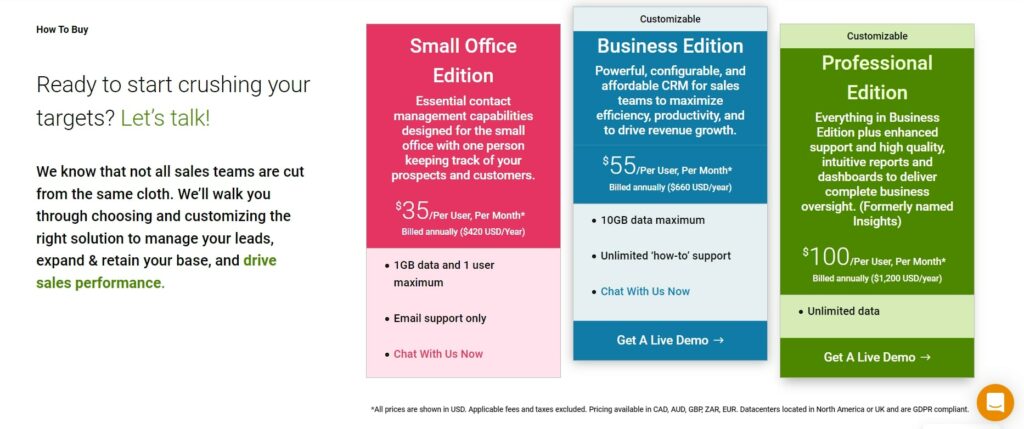 You can book a demo before subscribing to a Maximizer plan.
Base Edition plan: $55/user/month, billed annually.
Sales Leader Edition – $75/user/month, billed annually.
Maximizer vs. Keap: Why is Maximiser Better?
Maximizer wins in drip campaigns
Unlike Keap, Maximizer has unmatchable features for creating and tracking drip campaigns. They include alerts, automated follow-ups, analytics, and personalized emails.
Who is Maximizer For
Maximizer is a great tool for revenue and sales leaders as it offers ready-made analytics and advanced insights into pipeline potential. It is also best for renewals managers, financial advisors, and insurance advisors as it can help them focus on the right clients and activities to take their companies to the next level.
ACT!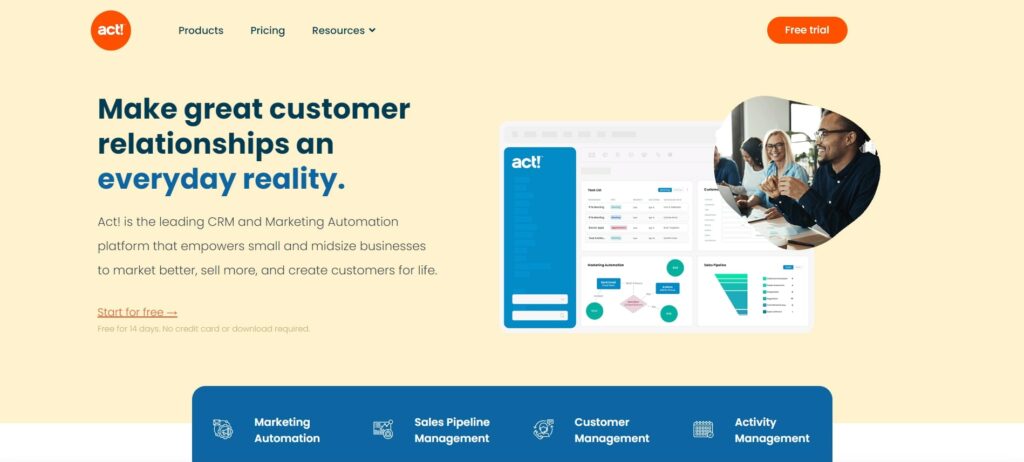 Act! is one of the best Keap alternatives with a robust CRM and marketing automation toolset to enable small and medium-sized businesses to sell more, market better, and attract customers for life.
Act! Key Features
Centralized Consumer Data – The platform collects data about your emails, activities, calls, notes, and documents in a single, organized place.
Opportunity Tracking – Act! ensures you have your sales opportunity details at your fingertips.
Real-time Metrics – This lets you identify what's working instantly to prioritize follow-ups.
Personalized Campaigns – You can customize the templates to suit your target audience and maximize impact.
Calendar and Email Integration – The feature lets you sync communications and appointments at all times.
Act! Pricing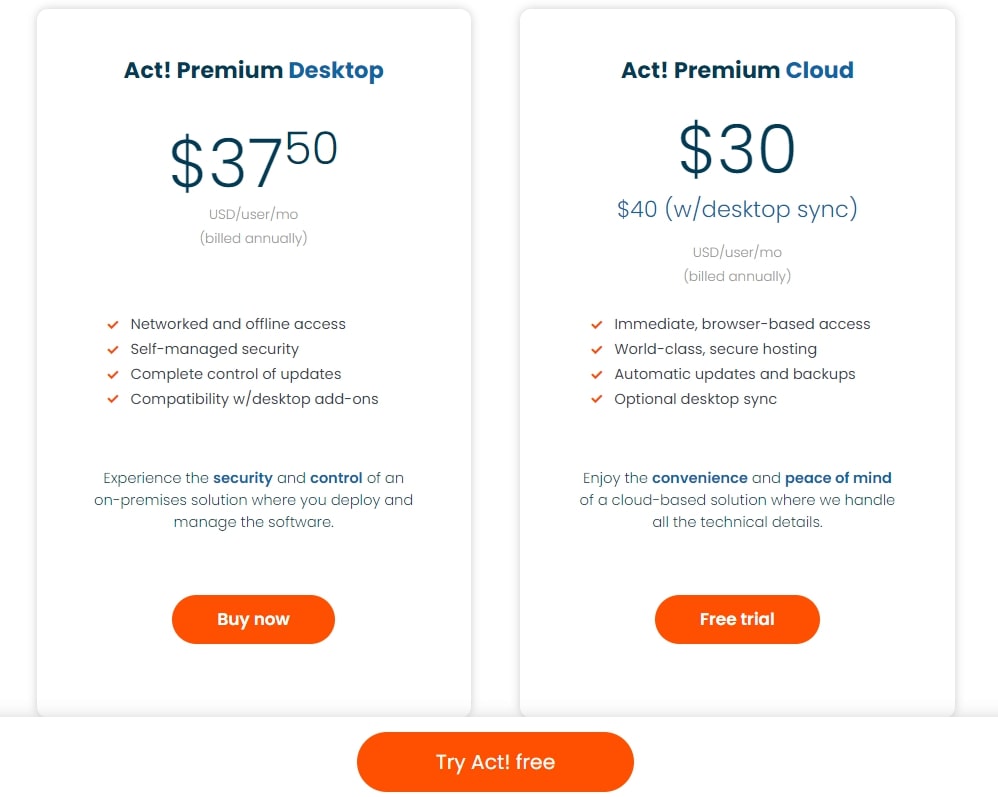 On-premises: billed manually, $37.50/user/month.
Cloud-based: $30/user/month.
Act! vs. Keap: Why is Act! Better?
Act! wins in Ease of Setup
It is easy to get started with Act! than Keap. Act! is one of the easy-to-use Keap alternatives. Its user interface is intuitive and does not require a steep learning curve.
Who is Act! For
Act! is best for small and medium-sized business owners because of its user-friendly interface and easy-to-use marketing features.
ClickUp CRM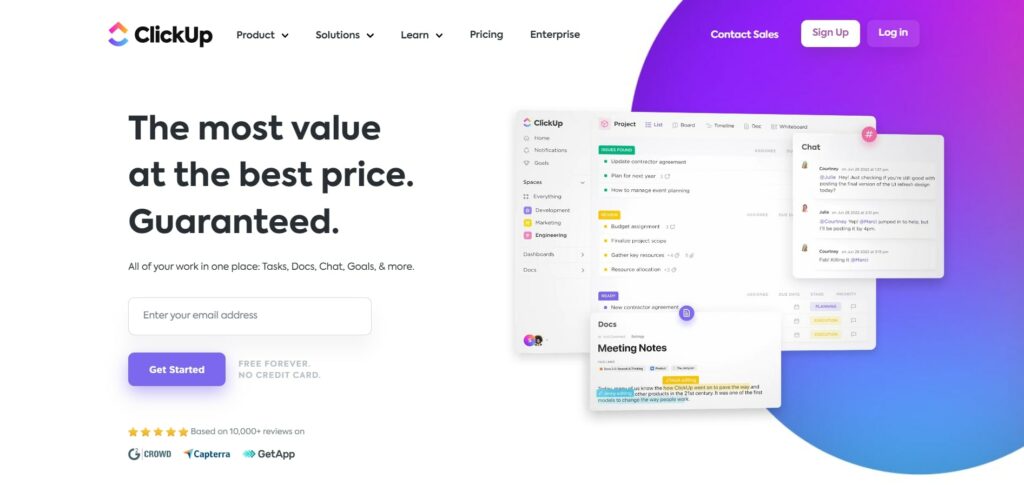 ClickUp CRM combines data visualizations, communication tools, sales pipelines, and account management to help you create and grow customer relations all under a single platform.
ClickUp CRM Key Features
Automations – ClickUp allows you to automate task assignments for your pipeline stages, switch priorities, trigger status updates
Customizable Tasks – The platform features 35+ ClickApps to help you customize task management for your project.
Hundreds of Templates – Saves time for team use cases, checklists, views, and Docs.
Integrations – ClickUp connects to more than 1000 of your favorite tools.
Real-time Reporting – You can use the software's robust reporting features to track progress, set goals, and manage resources.
ClickUp CRM Pricing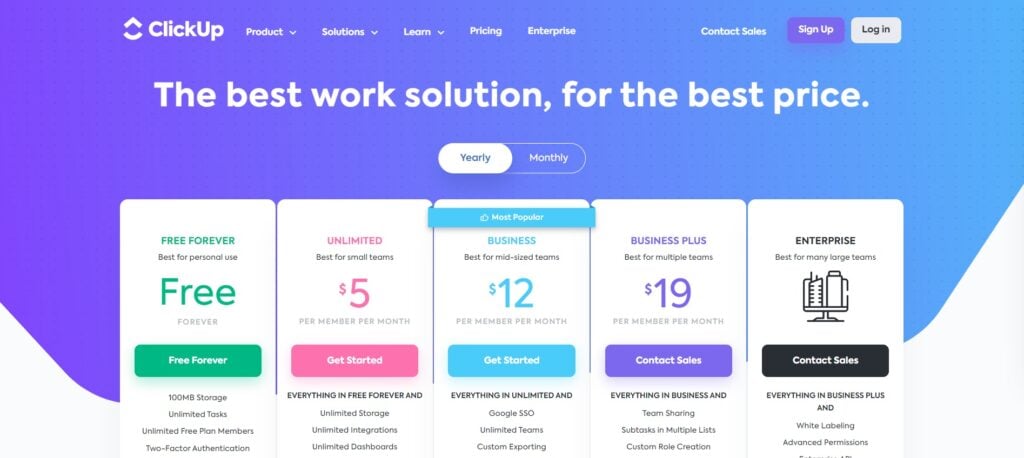 Free Forever plan: offers unlimited tasks, 100MB storage, and native time tracking.
Unlimited plan: $5 per monthly member.
Business plan: $12 per member per month.
Business Plus: $19 per monthly member.
Enterprise plan: Subject to enterprise needs.
ClickUp CRM vs. Keap: Why is ClickUp Better?
ClickUp wins in mobile CRM and project management
ClickUp offers the best solutions to deliver client projects on schedule while managing interactions with existing and prospective customers.
Who is ClickUp For
ClickUp CRM is ideal for startups, freelancers, small businesses, and enterprises, as it has the tools to help them manage all levels of their marketing functions, projects, and client data.
Freshsales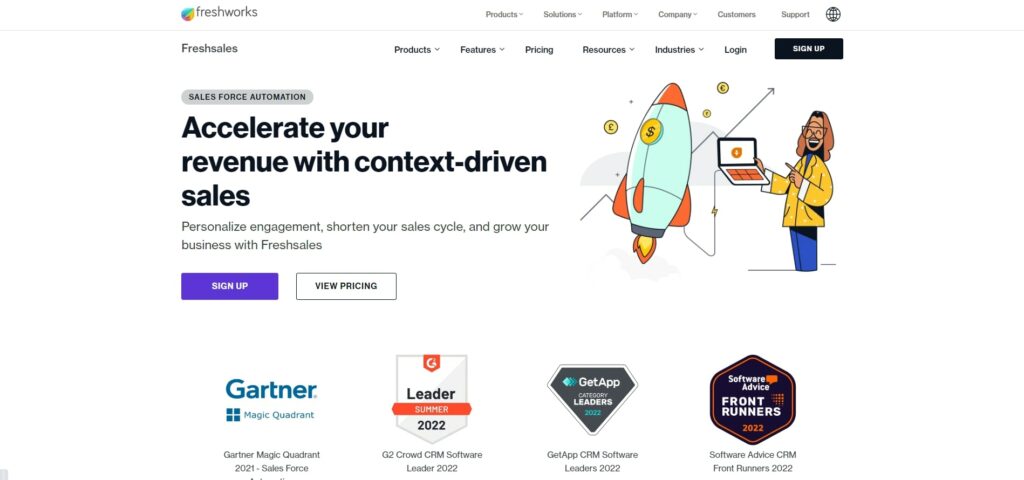 Formerly Freshworks CRM, Freshsales is a cloud-based CRM software that empowers businesses across industries to manage interactions, shorten the sales cycle, and personalize engagement.
Freshsales Key Features
Contact Scoring – Users can use Freddy AI-assigned scores to prioritize sales-ready prospects.
Product Catalog lets you organize product inventory and configure tax brackets and pricing models.
SMS integration – You can link Freshsales with an SMS provider to share regular updates to improve team productivity.
Pre-built Visual Dashboards and Reports – The tools keep you updated about critical metrics.
Deal Insights – You can use Freddy AI insights to predict deal closure.
Freshsales Pricing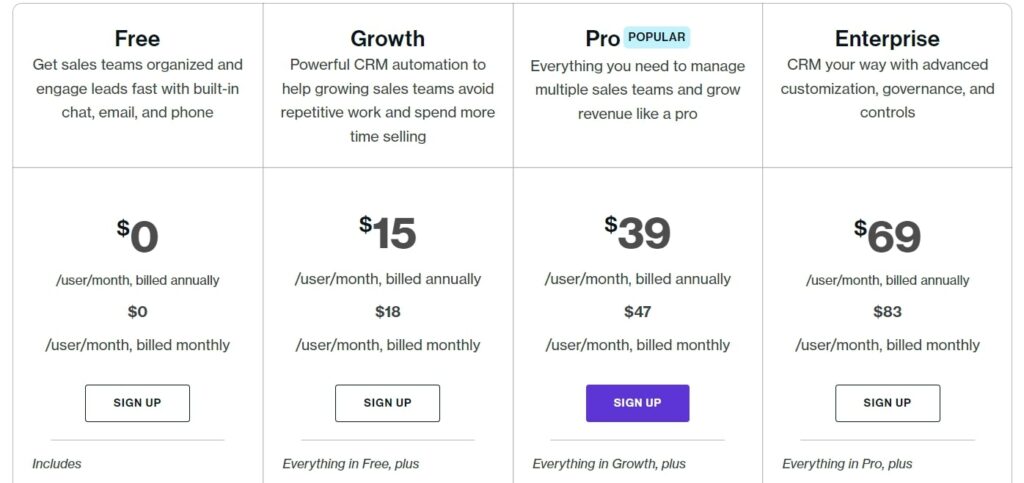 Free plan: Includes built-in chat, phone, and email.
Growth plan: $15/user/month, billed annually.
Pro plan: $39/user/month, billed annually.
Enterprise plan: $69/user/month, billed annually.
Freshsales vs. Keap: Why Freshsales is Better?
Freshsales wins in SMS integration
Freshsales allows you to connect it to an SMS service provider for regular updates, a feature not available with Keap
Who is Freshsales For
Freshsales is best for sales leaders, companies, and content creators who need to manage interactions and personalize engagement.
Zoho CRM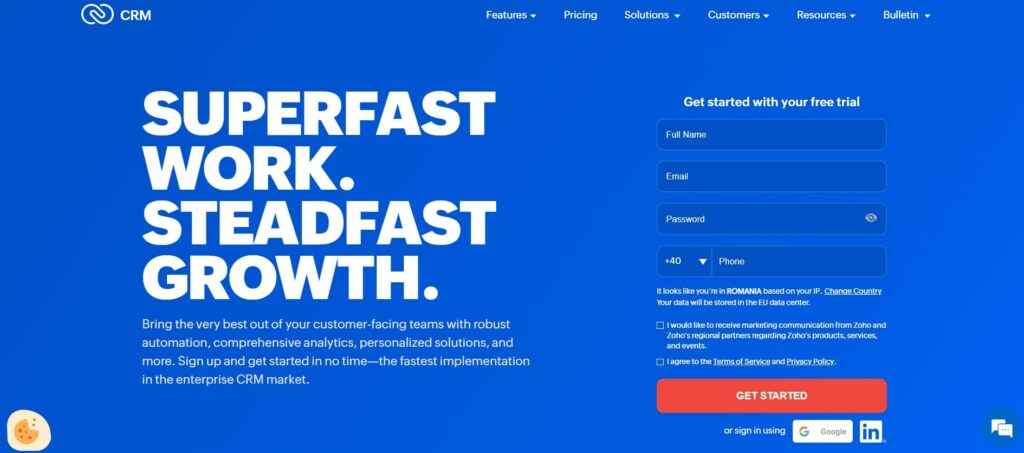 Your company can rely on Zoho CRM to engage with customers, convert more leads, and grow revenues. Its easy-to-use user interface lets you do more in one place, from sales and marketing efforts to customer support activities.
Zoho CRM Key Features
Lead Management Tools – They help identify and capture leads that convert, as well as automated lead scoring.
Deal Management – Use less time to close deals.
SalesForce Automation – You can automate routine support functions, sales, and marketing.
Workflow Automation – It helps streamline operations.
Contact Management – You get all the tools to follow up on clients and build strong relationships.
Zoho CRM Pricing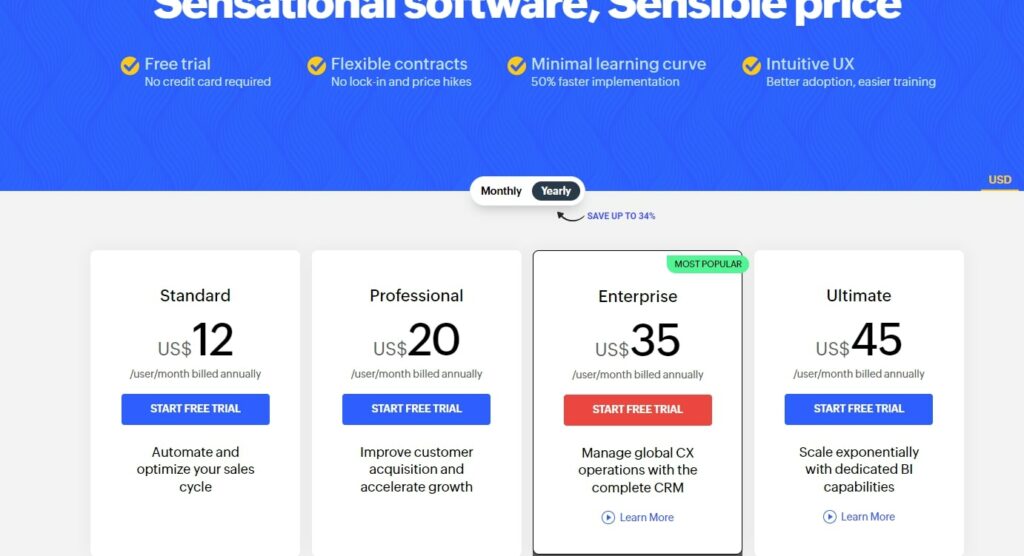 Standard: $12/user/month, billed annually
Professional: $20/user/month, billed annually
Enterprise: $35/user/month, billed annually
Ultimate: $45/user/month, billed annually
Zoho CRM vs. Keap: Why is Zoho CRM Better?
While both Zoho and Keap can drive much-needed results, Zoho has a slight edge over Keap in pricing.
Zoho CRM wins in pricing
Zoho Pricing plans start as low as $12/user/month, billed annually, and give you more of the same features in Keap. Keap, on the other hand, is pricier, with its Pro plan costing $129/month, billed yearly at $1548.
Who is Zoho CRM for
Zoho is best for B2B owners, B2C business owners, SMBs, and enterprises due to its advanced CRM features, such as territory management, workflow management, and advanced analytics.
Top Keap Competitors: Conclusion
All Keap alternatives above have unique features that set them apart. Some are best suited for small businesses, while others are scalable, and you use them for mini and large enterprises.
It is best to identify your business needs to determine whether you will work with Keap or choose an alternative. Your budget will also dictate which CRM tool you will use.
Best Keap Alternatives: FAQs
Let's answer some of the frequently asked questions available:
Are Keap and Infusionsoft the same?

Keap and Infusionsoft are the same product. Infusionsoft was the name for Keap's flagship product.
What is Keap best for?

Keap is best for small business owners, freelancers, and marketing teams, as it provides all the tools needed to create predictable business growth.