Asana vs Monday … which one should you choose for project management?
The digital world is changing, and so are the tools we use to manage projects. asana en Maandag offer two of the most popular projectmanagementtools on the market today. With many features that make them both user-friendly, it can be challenging to decide which one will work best for your company.
We use maandag.com. We love its user-friendliness and effective project management. Its free plan gives you access to pretty much all of its features, so you should use this plan to try its features out. No credit card is required, so you don't need to worry about being charged.
Still, Asana is a fantastic project management tool. Asana and Maandag are very close competitors who offer similar features. We chose Monday because it suits our needs more. So which one to choose depends on your needs.
This article will discuss the pros and cons, pricing, and user reviews of Asana vs. Monday to provide you with more information to help you decide!
Let's begin with a quick overview of both Asana and maandag.com.
Gebruik Monday.com hier gratis!
Get your 30-day free trial with Asana here!
What is Asana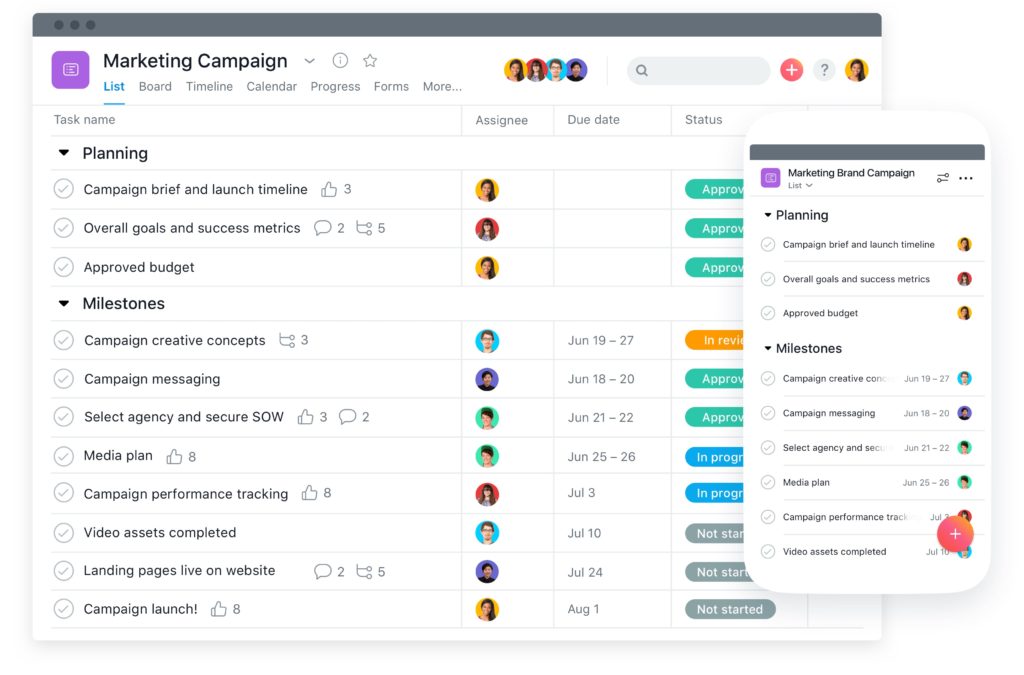 Asana is a cloud-based project management software for startups, small and medium-sized businesses. It offers unique task management and collaboration platform that allows team members to work smarter and more efficiently. Here are a few of its features highlight.
Get your 30-day free trial with Asana here!
Project Views
Boards, list, timeline, and calendar view help you visualize your tasks and projects in your preferred way.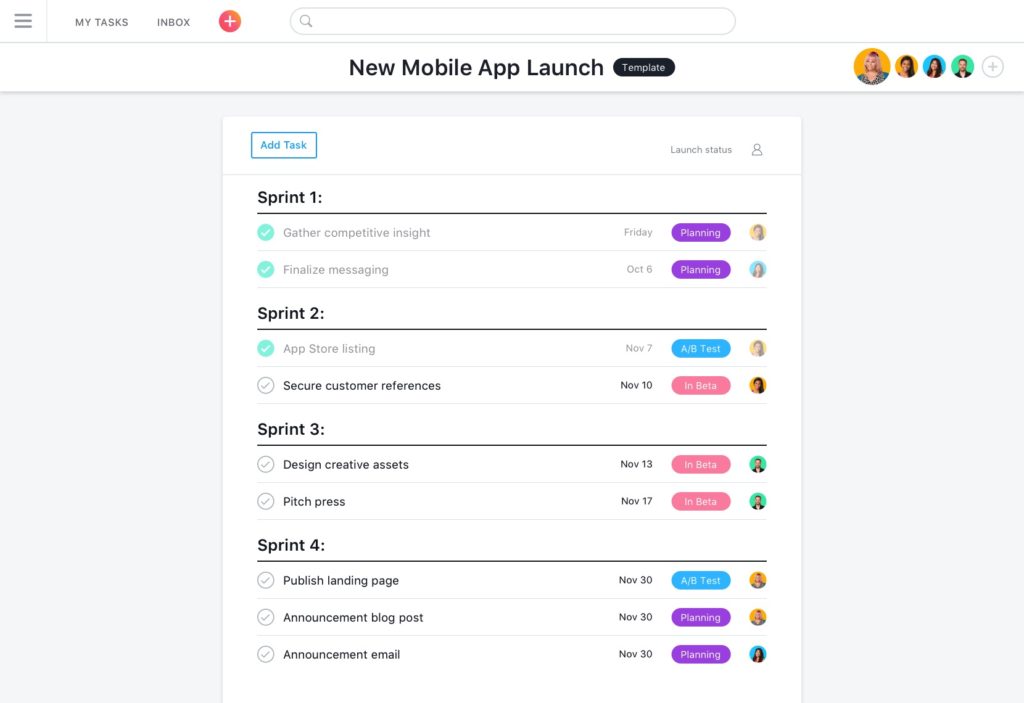 Project management
Fields include projects, tasks, subtasks, milestones, assignees, due dates, attachment, sync, and a fully customizable field to help you manage your projects from start to finish.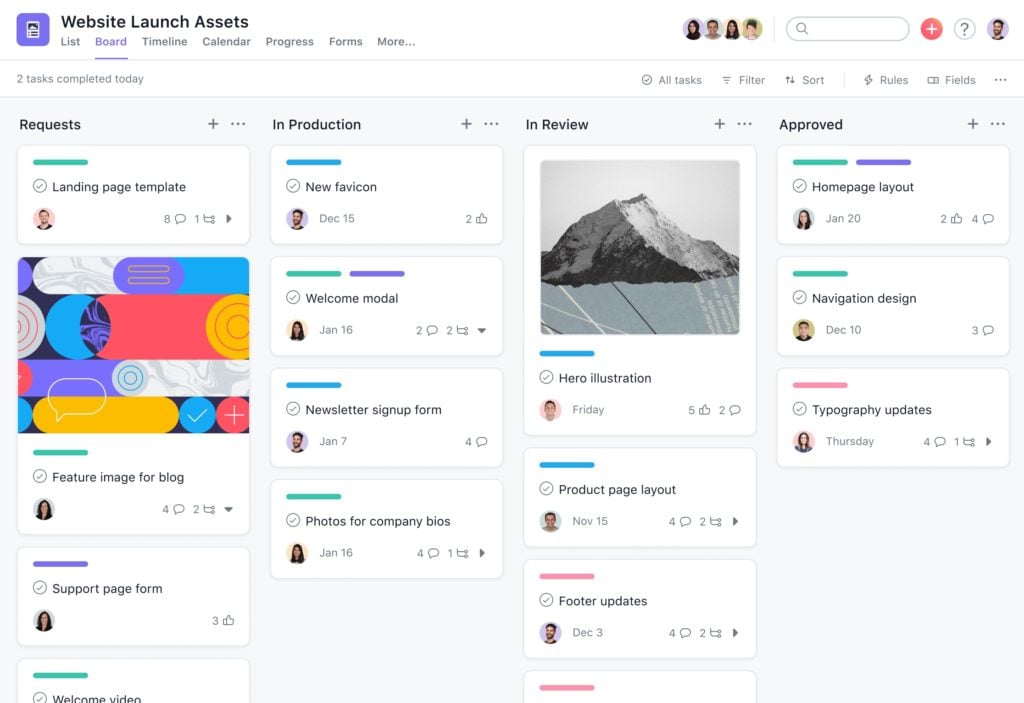 Views and reporting
My tasks, timeline, workload, portfolios, goals, inbox, dashboard, etc., to quickly know what's happening across your team (who's doing what).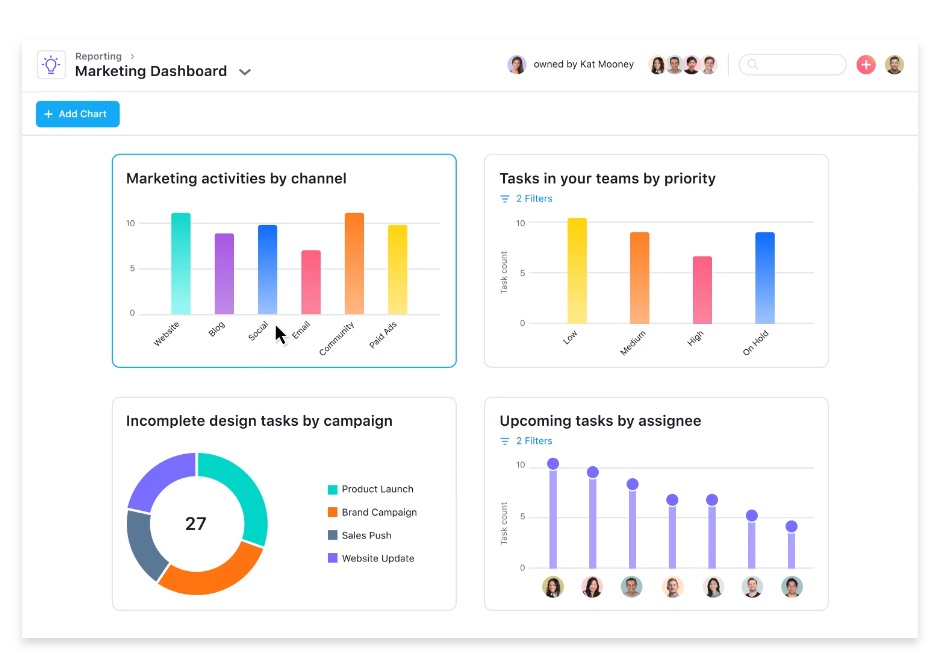 Admin controls
Permission setting and privacy controls, guest views to work with vendors and contractors, team management, etc., to ensure everyone has access to the correct information.
Communication
Task comments, followers, status, private messaging, team conversation, and project conversation to help you organize communications by teams, projects, and tasks.
Mobile
Both iOS and Android apps are available to help you stay up to date.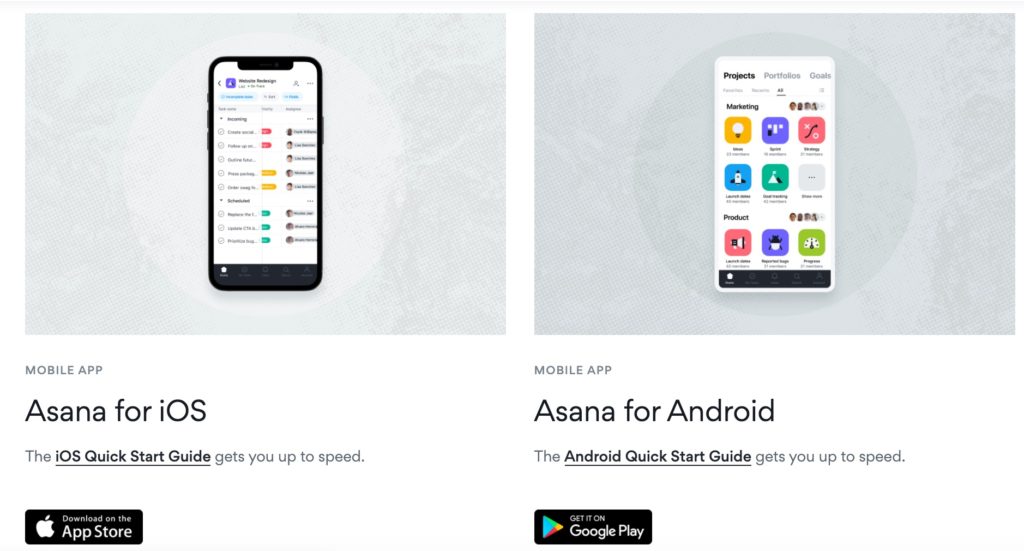 Integraties
Besides robust rest API, Asana provides integrations with many powerful tools and apps such as Microsoft Teams, Adobe Creative Clouds, Jira Cloud, Verkoopsteam, Asana time tracking from TimeCamp, and more.
In all, Asana provides pretty much all you need for managing and collaborating with small to big teams.
Get your 30-day free trial with Asana here!
Now, let's take a deeper look on maandag.com.
Lees verder:
Asana Review: Project Management Features, Pricing, Pros & Cons
What is Monday.com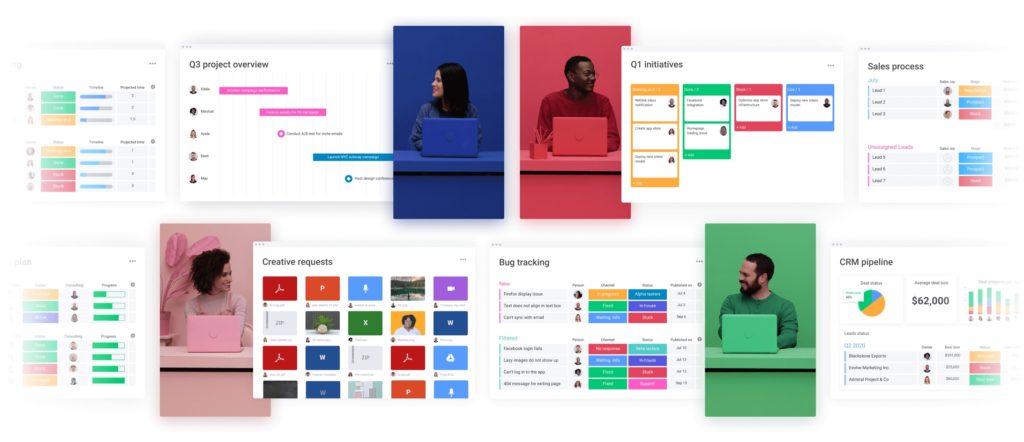 Monday.com prides itself as a 'Work OS' – the visual platform that manages everything. It offers 200+ templates of workflow for users to choose from, or you can create your ideal one from scratch. The most beautiful thing about it is its user-friendliness – it's visual, easy-to-use, and intuitive. Anyone can start using it with no training required.
Gebruik Monday.com hier gratis!
Project Management Templates
It offers all users access to their template library – where you can find templates tailored-made to suits different teams and workflow needs. Here are some of its featured categories:
marketing
Project management
Sales and CRM
Ontwerp
Software Development
Personeelszaken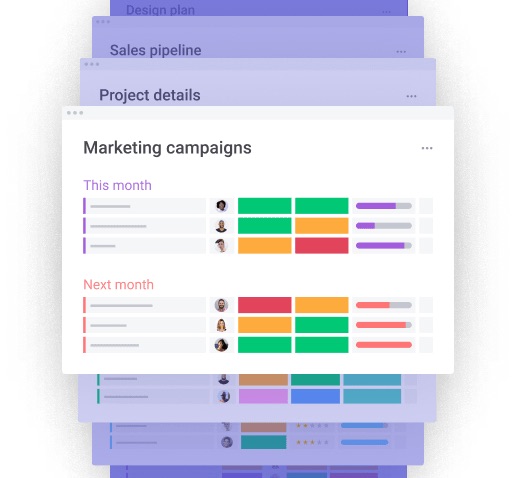 Some of its most popular templates include campaign planning, CRM, and project management. You can check out Monday.com Template Library here.
Automation
What I love about maandag.com the most is its automation feature. You can easily set up one in seconds by using its automation templates. You can do many things with it, such as receiving notifications, creating items in other boards, and assigning owners — all can be done automatically.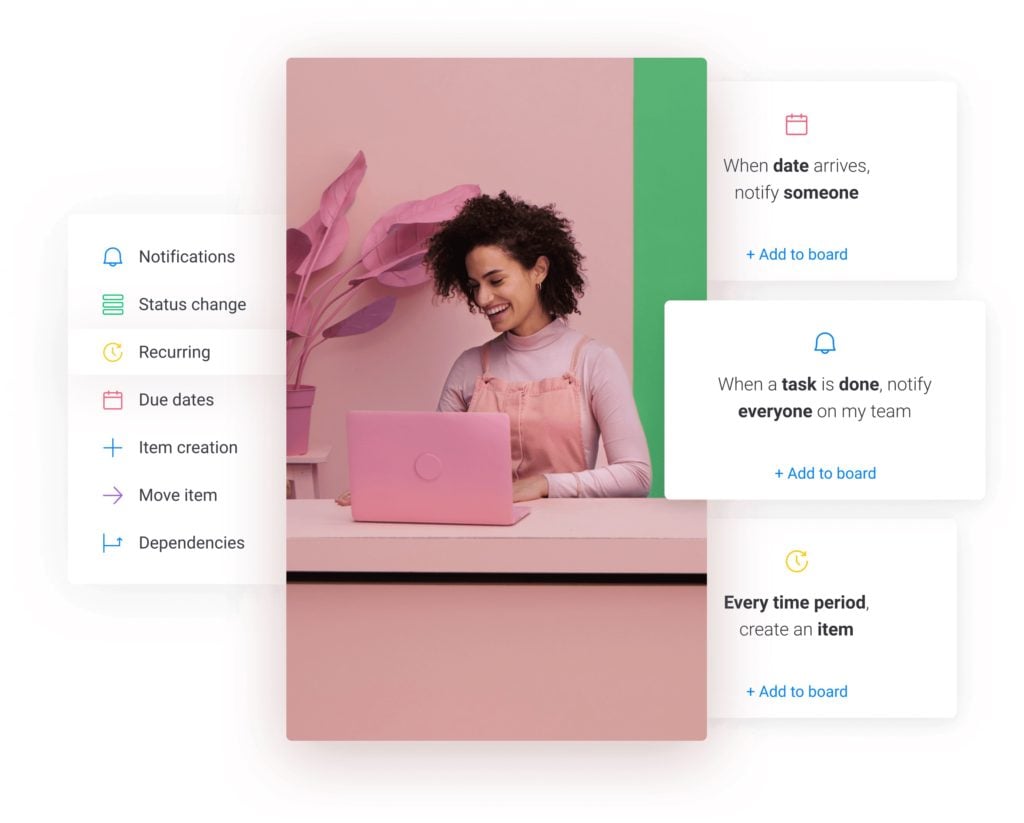 Dashboards
Monday's dashboards provide insights about how your teams work, which enable you to make data-driven decisions.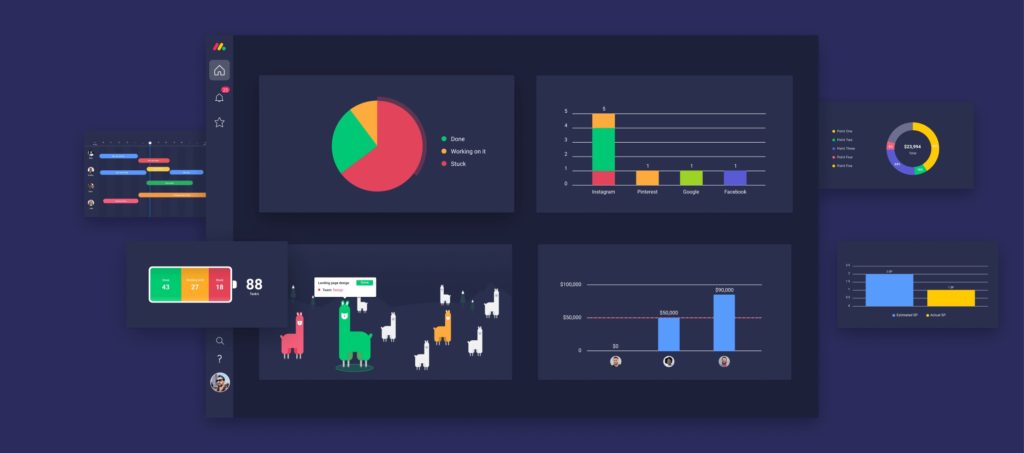 You can build and customize data dashboards, such as by adding counters, graphs, and project charts to visualize data. The dashboards come in handy to track costs, campaign results, project statuses, and more!
Mobile
Monday.com offers both iOS and Android apps to help you stay connected with your team.
Integraties
There are 40+ integrations that you can connect your Monday Work OS to. Some of the featured apps and tools are Freshdesk and PandaDoc. More popular integrations include HubSpot, Gmail, Typeform, en SurveyMonkey.
U kunt uitchecken Monday's apps marketplace here.
Gebruik Monday.com hier gratis!
If you're interested to learn more about monday.com, here's our detailed Monday.com recensie.
Asana vs Monday: Features Comparision and Reviews
Monday.com and Asana both offer similar features. However, they are presented slightly differently due to their differing approaches to task management, workflow management and visualization, templates, team management, and communications. These five main aspects of the platforms are outlined below:
Asana vs Monday: Task Management
Asana is the perfect solution for those who need to get work done fast. Monday's board interface provides a more detailed view of your tasks at once.
With Asana, you can assign tasks and set deadlines with a simple click. You don't have to worry about seeing the same task more than once because there is an option for notifications when other people are assigned or create new versions of that task. It's easy to attach documents and communicate directly while working on your project using @ mentions not to miss important information!
Monday.com boards are a great way to keep up with your projects and their progress. These boards show almost too much information at the task level, but you can choose which columns of data appear to get precisely what's pertinent for each project overview displayed on Monday.com.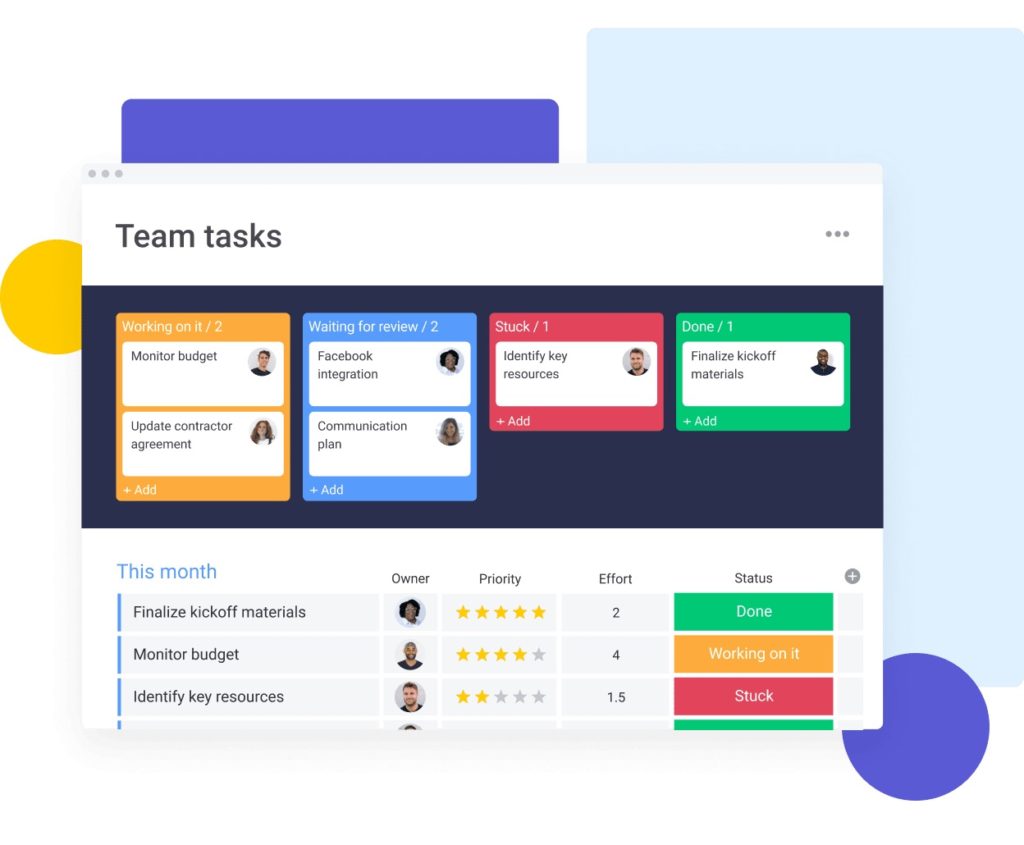 Monday.com is also known for its bright, friendly colors and the many features it offers to make your workday more enjoyable. From a glance at Maandag's boards, you can see who owns each task with color-coded updates displaying progress on those tasks. It also shows timelines that help keep track of deadlines or milestones and activity levels across teams – all without ever having to open up another app!
Gebruik Monday.com hier gratis!
Asana vs Monday: Workflow Management and Visualization
Asana makes it easy to visualize projects. It provides different views, including lists, Gantt charts, and Kanban boards, to help you see how your progress on existing tasks looks. As an additional feature, they have task dependencies and drag-and-drop functionality, so you can move tasks around as needed.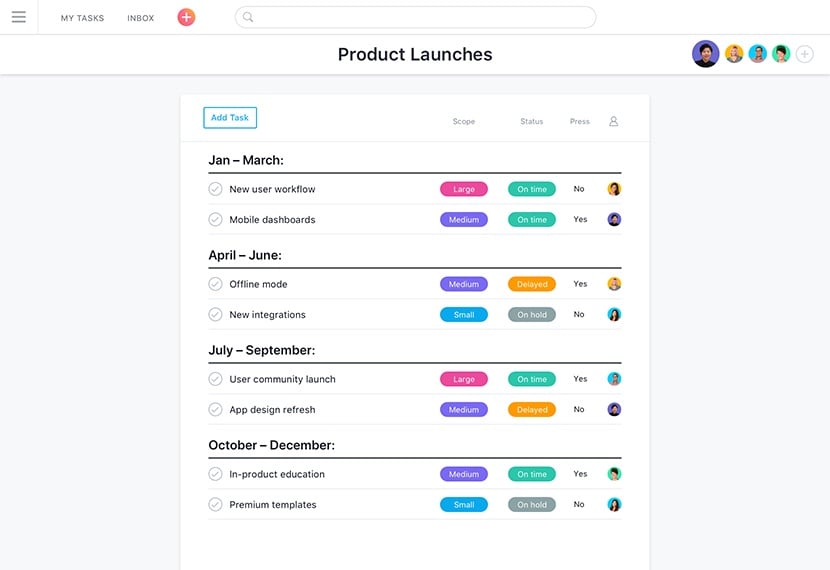 Monday.com is an excellent tool for project managers who are responsible for managing several projects simultaneously. This tool offers the ability to see different visualizations of your projects without switching between browser tabs or pages, saving time and being more efficient!
Monday's user interface (UI) always shows a list view of your projects with mini progress bars and displays any visualization you choose on top of the page display. All information about each project is shown in one place – just what busy executives need!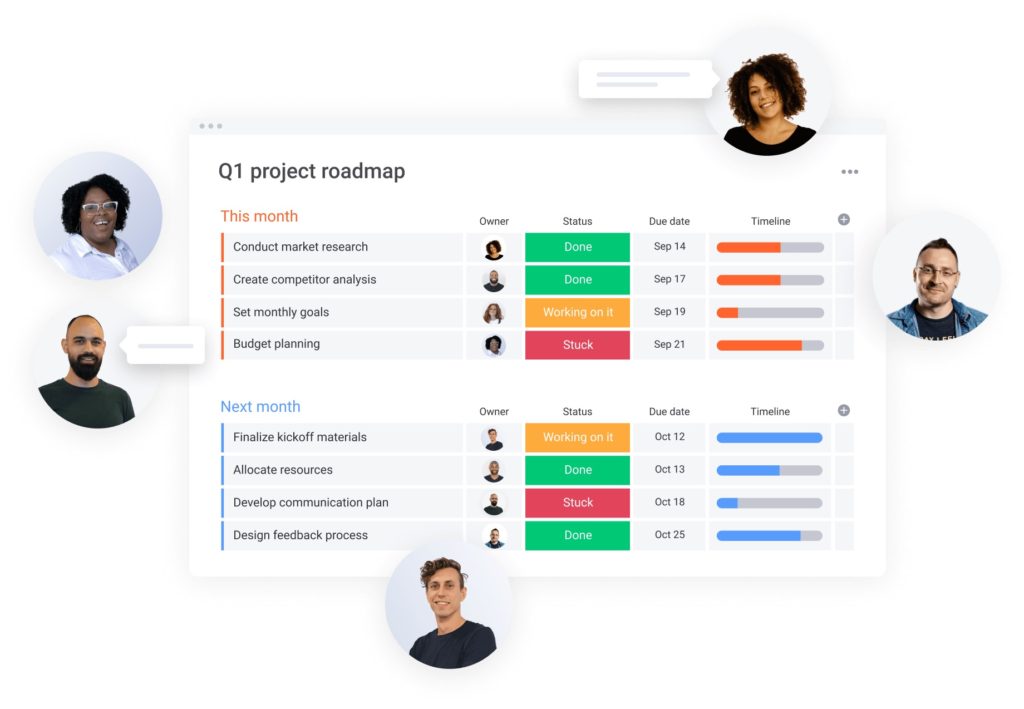 Asana vs Monday: Templates
Both apps indeed have templates, but Monday has a more robust selection of them. The real-life content examples they provide illustrate how to use and customize their format for various purposes, which is excellent when you first start with this type of project management tool!
Asana offers a plethora of templates to help you get started faster. As soon as an account is created, it will be set with industry-specific templates by default. Whenever one template has been selected from these dozens available, "read me" instructions are given along with brief example content to provide users with guidance before they begin work!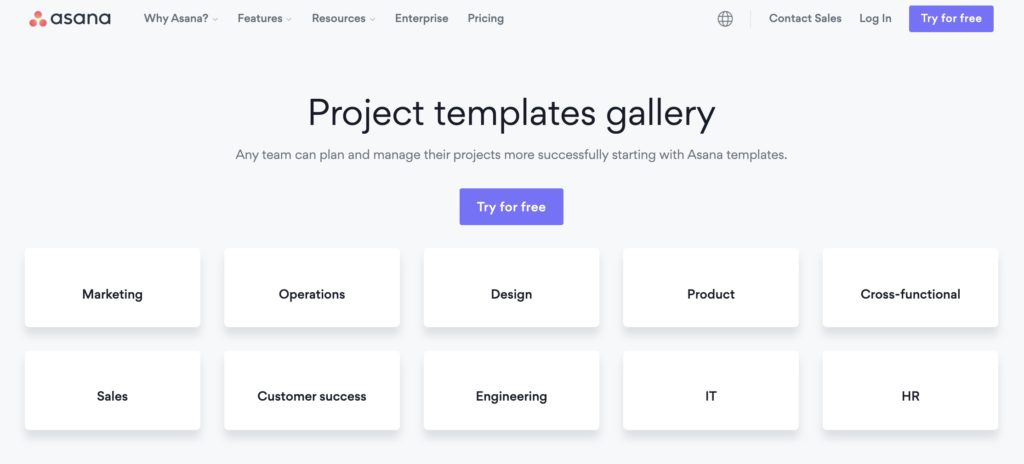 Monday is filled with templates that come to life. It offers templates that are well-suited for individual projects and workgroups. They mimic an actual project plan with real content, including the progress status of tasks from different team members. The design is intuitive to use as you can see at a glance which task has been completed so far in a long list of items. While Asana only provides a few examples of what could be done in the program, Monday gives you an entire project plan template including all fields and can immediately show how it works for your individual needs.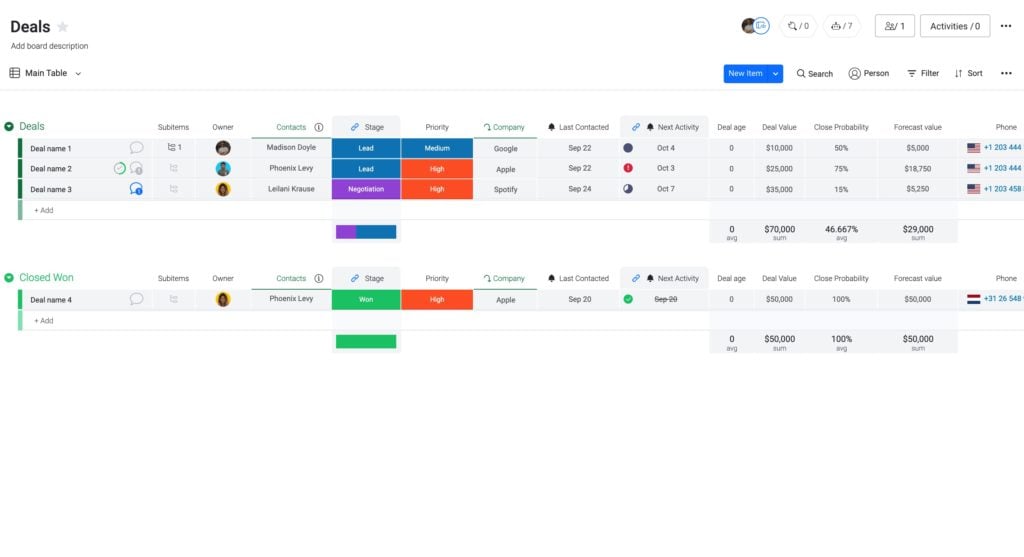 Gebruik Monday.com hier gratis!
Asana vs Monday: Team Management
Asana has a robust team management feature that is great for complex organizations, while Monday.com offers simple user management perfect for startups and agile teams.
Asana allows you to collaborate with your coworkers on projects and tasks. The most helpful feature of the app, in my opinion, is its Team Page which contains all conversations from within an organization as well as any shared calendars for teams needing more information about deadlines or meetings.
Get your 30-day free trial with Asana here!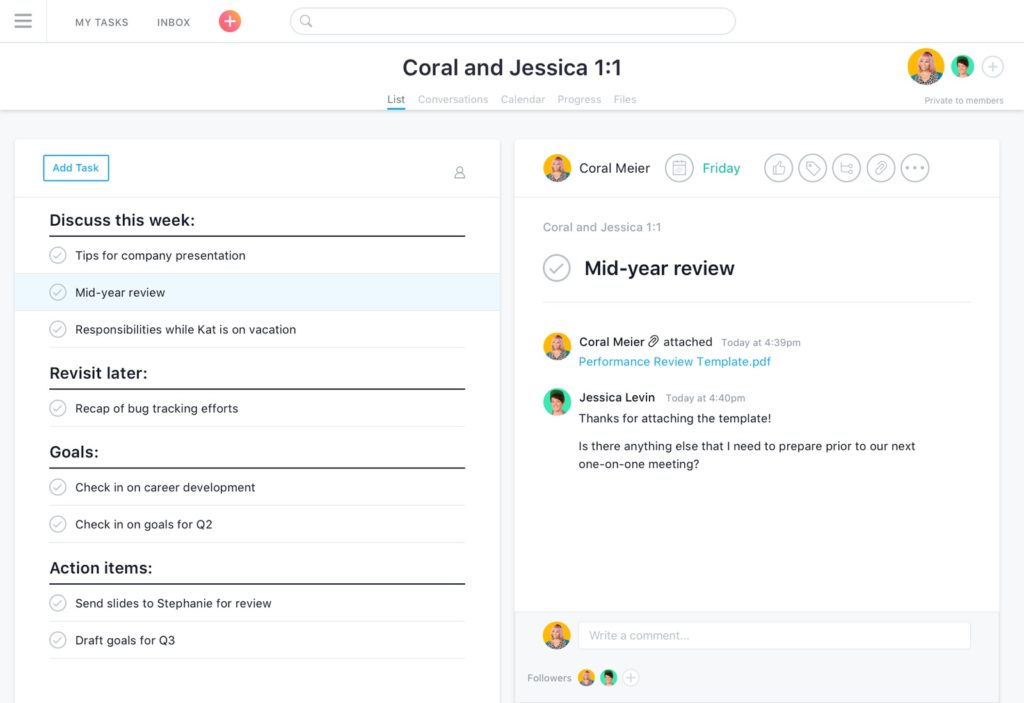 The Monday.com team management system can be accessed at the account level and provides basic controls for inviting members and viewers to either edit or read-only boards, respectively. If you're collaborating with vendors or clients outside your company, they will only have access to shareable data.
Asana vs Monday: Communications
You can comment at the task, project, and team levels, while with Monday.com, you can only comment on tasks.
Asana makes it easy for teams to communicate and collaborate on projects. You can comment directly on a task or start a conversation in the dedicated chat windows within the individual projects. You even have your team page that provides all-team discussions, announcements with their related deadlines, notifications from senders of messages to everyone involved, and more!
With Monday, you can always keep up with what your team is doing. When you click on any task in a project, the updates window will open on the right side. You can update other people with comments, mentions, GIFs, and files.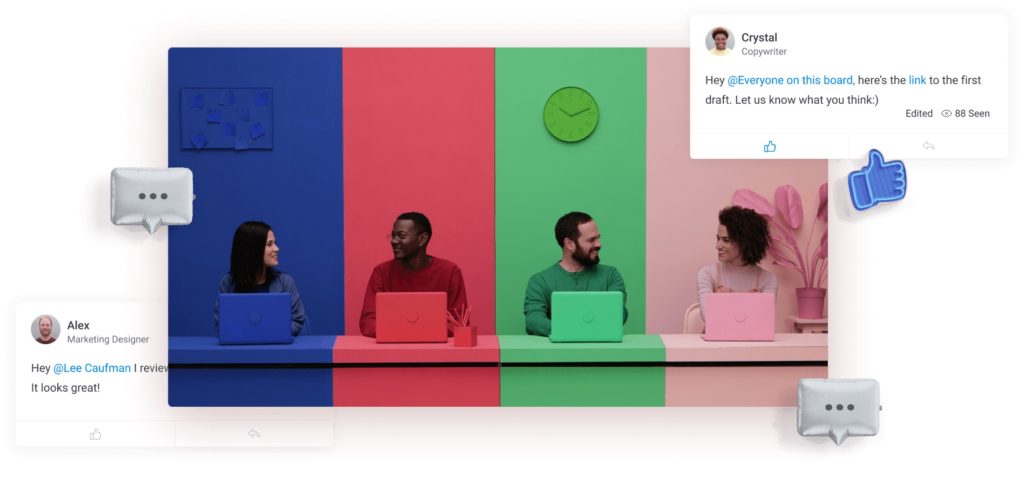 Asana vs Monday: Pricing
Both Asana and Monday offer free plans. With Asana, you get the essentials to manage simple projects with up to 15 people. Free versions of this project management software offer all that's needed for small teams and freelancers and solopreneurs alike.
Met maandag.com, free users will be able to access unlimited boards and over 200 template options. You're also allowed up to two team members. It's an excellent option for smaller teams looking for quality project management software without the cost.
Asana Pricing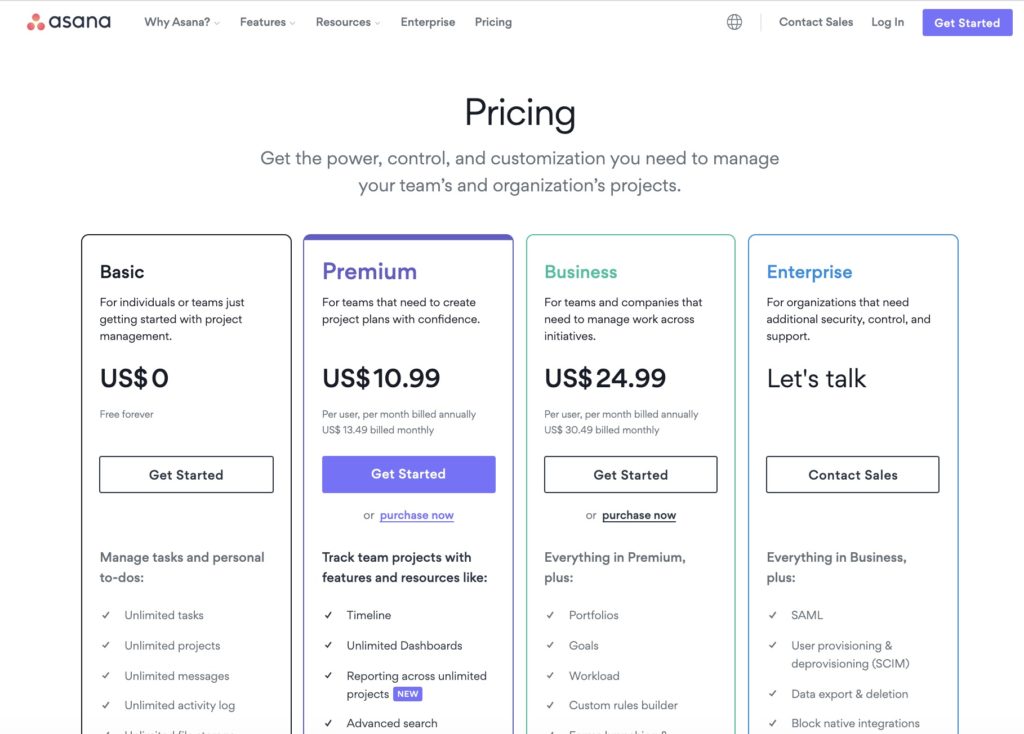 Asana's paid plan starts at $10.99 per user (Premium Plan) per month, including timeline, dashboards, custom fields, forms, milestones, etc.
Its Business Plan starts at $24.99 per user per month, including everything in Premium, plus lots more amazing features like workload, portfolios, approvals, custom rules builder, and more.
You can contact sales if you're an enterprise looking for custom pricing.
Get your 30-day free trial with Asana here!
Maandag.com Prijzen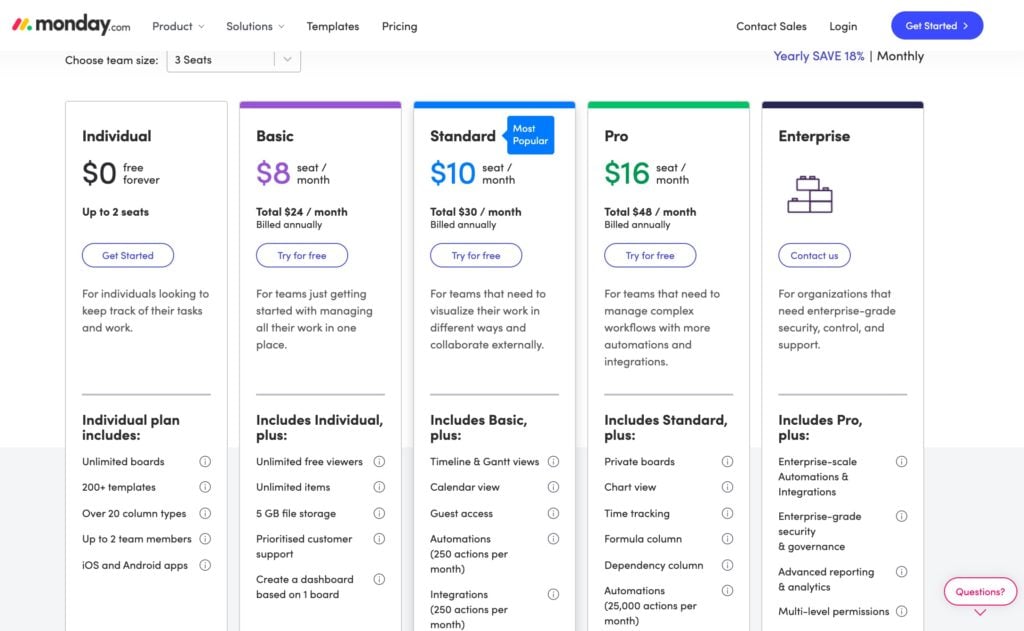 Monday.com paid plan starts at $8 per user (Basic Plan) per month, including all features offered in its free plan plus unlimited free viewers, items, 5GB file storage, dashboard, and prioritized customer support.
Standard Plan starts at $10 per seat per month, and Pro Plan costs $16 per seat per month.
You can learn more about Monday.com pricing here.
Gebruik Monday.com hier gratis!
Is Asana Free
Yes! You can use Asana for free under its Basic Plan. It's free forever, suitable for individuals and small teams to get started on project management.
Get your 30-day free trial with Asana here!
Is Monday.com Free
Yes! You can use Monday.com for free with its individual plan, which includes two users, unlimited boards, 200+ templates, 20+ column types, and mobile apps.
Is Asana cheaper than Monday.com?
In comparison to Asana, Monday.com is a little less expensive. Customers can choose from five different pricing tiers. Individual membership is free and includes up to two people, limitless boards, and over 200 templates. The monthly cost of the basic plan is $8 per seat.
Asana vs Monday: Which one should you use?
Asana and Maandag are two powerful management tools that will help you organize your work and collaborate with your team. Now we've explored the key differences between them; it's now up to you to choose which works best for you.
Since they both offer free plans – you can sign up for both maandag.com en asana to test their features before making your final decision.
Are you looking for project management tools? Here're more Asana-alternatieven en Monday alternatives.
Gebruik Monday.com hier gratis!
Get your 30-day free trial with Asana here!
Lees verder:
Clickup versus Monday.com
Clickup Review: In-Depth Reviews of its Features, Pricing, Pros & Cons
Asana Review: Features, Pricing, Pros & Cons for Project Management
Monday.Com Review: is dit de beste tool om uw team te beheren?