There are many different ways to do project management. Some people prefer to do everything themselves, while others rely on a team of project managers. But what if you don't have the money to hire a team? What if you want to use an app or software to manage your projects more efficiently? Project management software and apps can be great, especially for smaller teams.
Teamwork is undoubtedly one of the best tools for successful project management, but it does cost a lot of money in most cases. In this article, we will show you some of the best alternatives to Teamwork that you can use to manage your project and keep everything organized.
Why Teamwork?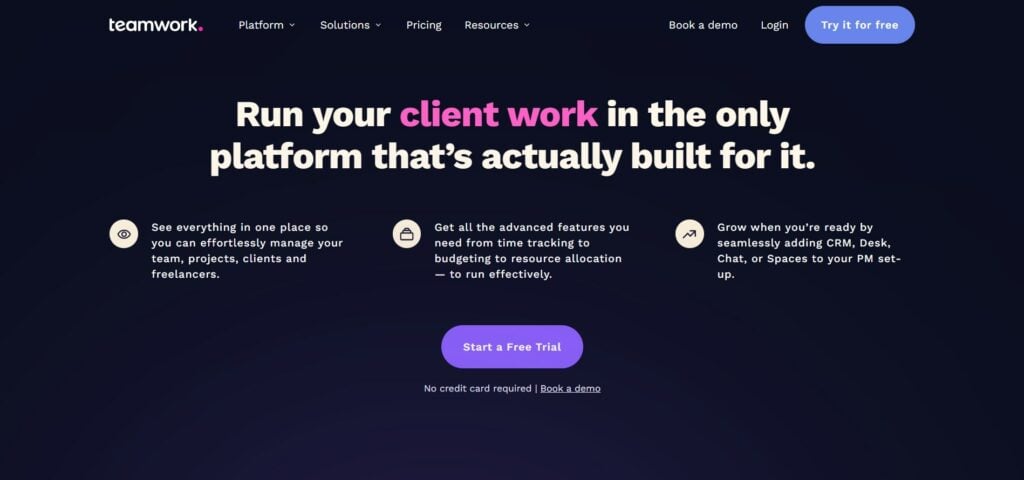 Many organizations choose Teamwork because it helps simplify project management issues, including assigning tasks, communications, creating schedules, and monitoring progress.
Teamwork Features
Automation
Gantt charts
Time tracking
Integrations
Unlimited free client users
While Teamwork is a decent tool for managing projects, it may not be the most affordable for smaller teams. It also has a relatively confusing interface and may lag when handling large teams.
Top Teamwork Alternatives and Competitors
Here's our list of the top 15 best Teamwork alternatives and competitors in 2023. Let's look at what each platform offers and why they might be a good fit for your business.
Below is a comprehensive look at each of the best Teamwork alternatives.
Monday.com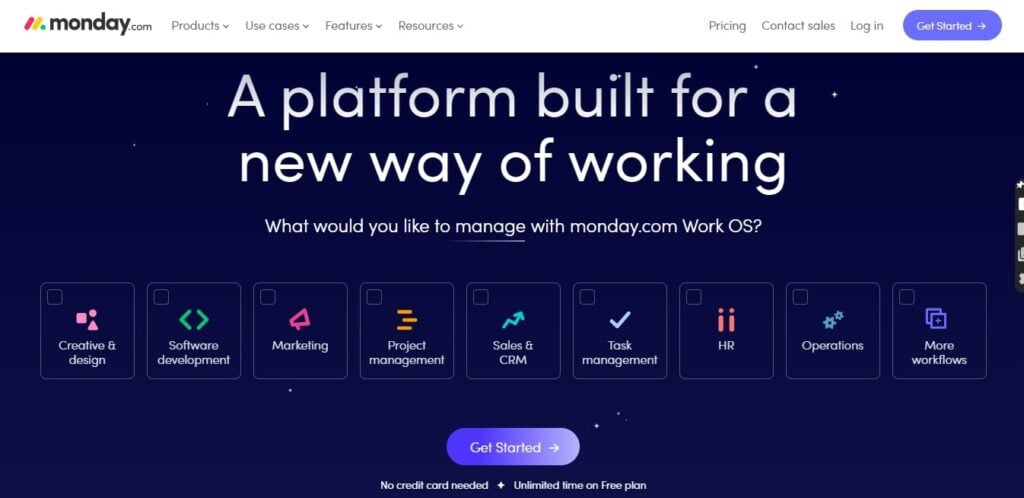 Monday.com is one of the best Teamwork alternatives for project management. It is a cloud-based application that allows teams to add tasks, develop new apps, and even boost workflows.
Monday.com Features
Integration
Project planning and tracking
Project dashboard
Exceptional file management
Automation
Monday.com Pricing
Individual account: always free
Basic: $8 per user per month
Standard: $10 per user per month
Pro: costs $16 per person per month
Enterprise: requires users to make contact
Teamwork vs Monday: Why is Monday Better?

Teamwork is limited concerning the scope of project management tasks it can handle. For instance, its reporting and analysis features are not as impressive as those available on Monday.com. Another difference is that monday.com offers budget and resource management features while Teamwork does not. Finally, new organizations on monday.com get live and in-person training as well as documentation and webinars.
Monday offers more flexibility in the team member count
Teamwork requires a minimum number of team members for every plan. On the other hand, Monday allows as few as two people to subscribe to any plan.
Monday has a better interface
Monday.com has a simple interface allowing users to get acquainted within a short time fully. Teamwork's interface can be confusing sometimes, especially for new users.
Who is Monday.com for?
Monday offers an array of features to suit different industries and projects. It is ideal for small, medium, and large teams.
ClickUp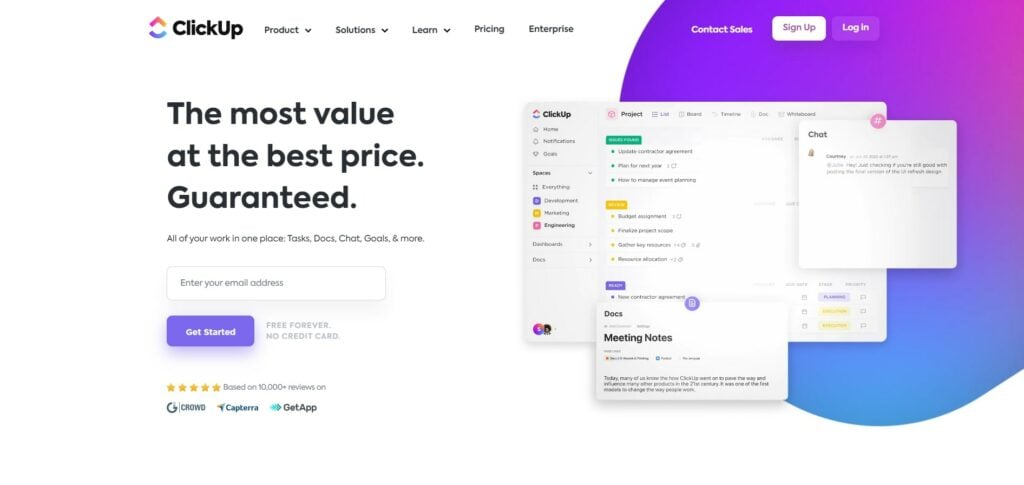 ClickUp is another excellent task management tool you can turn to. It is a cloud-based alternative to Teamwork, making it easy for you to log on and use it from any location.
ClickUp Features
Reporting tools
Collaboration
Time tracking and project progress monitoring
Various project templates
Integration
ClickUp Pricing
Free plan: available forever
Unlimited: costs $5 per person per month and is suitable for small teams
Business: costs $12 per user per month and is best suited for mid-sized teams
Business Plus: costs $19 per user per month
Enterprise plan: requires contact with the sales team
Teamwork vs ClickUp: Why is ClickUp Better?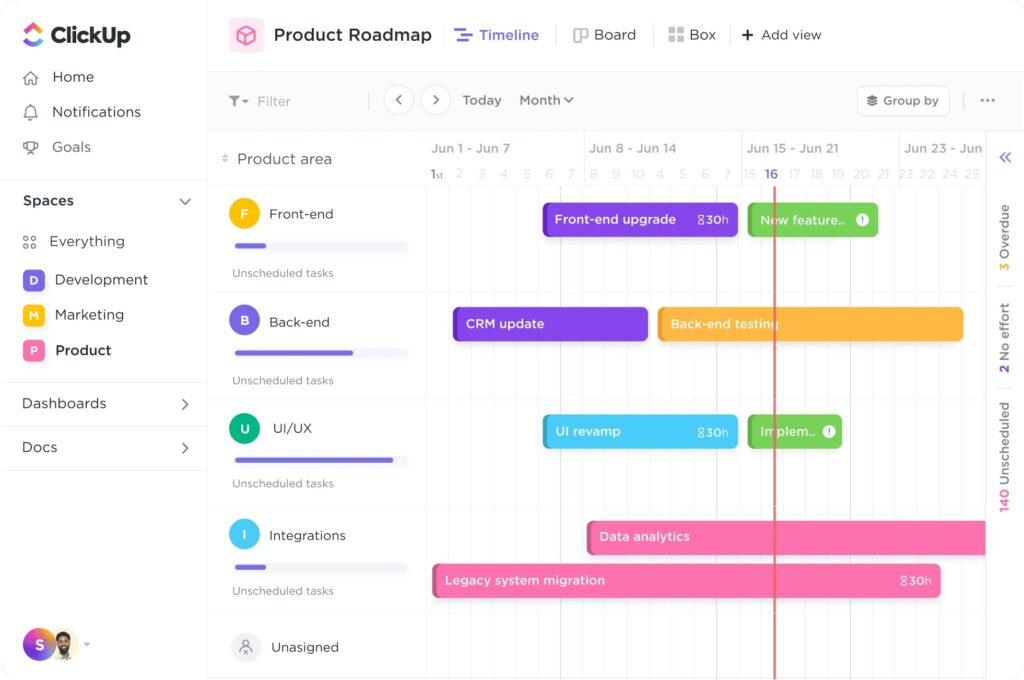 ClickUp offers a simple way for teams to manage projects. Its interface is relatively easy to navigate, while its tracking features offer an excellent way to monitor project progress. While both platforms offer a free forever account with limited features, ClickUp stands out because of its multiple pricing plans. This makes it possible for different teams to choose a plan that most suits their projects.
ClickUp offers exceptional collaboration tools
Teamwork is one of the best project management software because it offers a live chat option. That allows members of any in-house team to exchange ideas through real-time communication.
Who is ClickUp for?
ClickUp stands out as one of the best Teamwork alternatives because it is generally affordable and can be used by small, medium, and large teams.
Smartsheet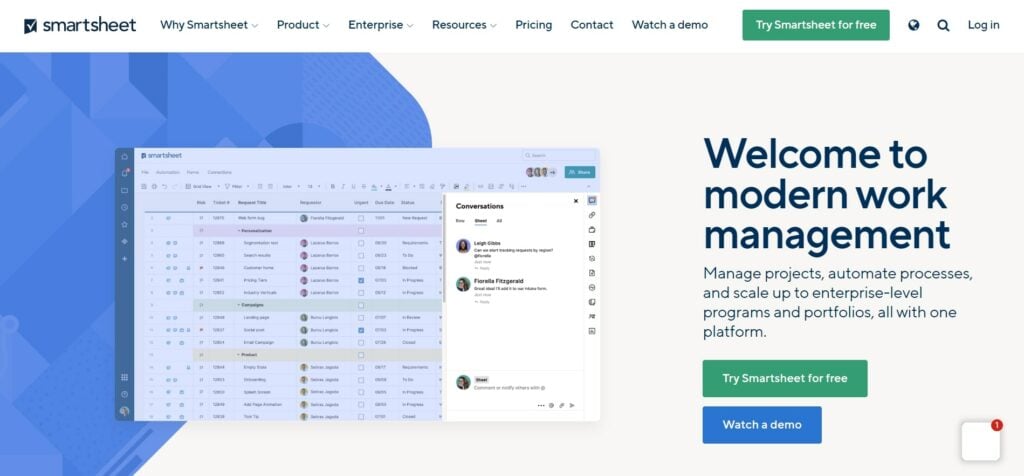 Smartsheet is a software-as-a-service that allows individuals and teams to manage their projects in an organized manner. This service allows project teams to assign tasks, track progress, and share documents.
Smartsheet Features
Productivity apps
Automation
File storage
Message notification alerts
Task templates
Smartsheet Pricing
Free Trial: Smartsheet offers a free 30-day trial
Pro: $7 per month per user and accommodates a maximum of 10 team members
Business: $10 per user per month and accommodates a minimum of three team members and an unlimited number of editors
Enterprise: requires direct contact
Teamwork vs Smartsheet: Why is Smartsheet Better?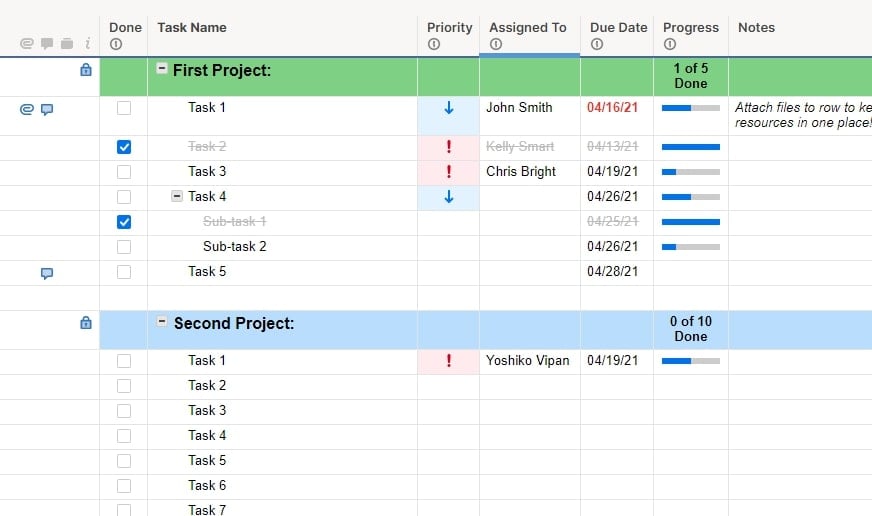 Smartsheet is a better alternative because its project management tools are geared toward simplified planning and resource allocation. Smartsheet is packed with features that various teams in small and large organizations can use. Its intuitive design makes it easier to work with. It is also a more versatile option making it possible for people in different industries to use it.
Smartsheet is better at project reporting
Smartsheet has advanced features and functions for project reporting and time tracking. This helps ensure that project managers can compile data that help speed up processes and cut down on wastage.
Who is Smartsheet for?
While small and medium-sized teams can enjoy the Pro and Business plans from this project management tool, it is best suited for organizations running projects at scale with enterprise-grade controls.
Wrike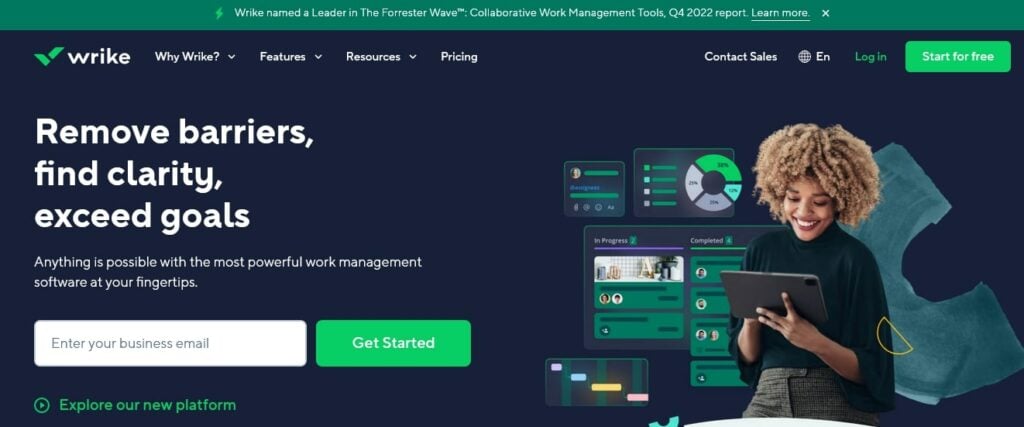 Wrike makes it to this list of the best Teamwork alternatives because of its array of project management features and functions. It is another cloud-based alternative.
Wrike Features
Task notifications
Integrations
Mobile and desktop apps
Innovative dashboards
Automation
Wrike Pricing
Free plan: available for teams that are getting started with project management tools
Team: costs $9,80 per user per month and is ideal for growing teams
Business: costs $24,80 per user per month and is suitable for any team
Enterprise: requires direct contact
Teamwork vs Wrike: Why is Wrike Better?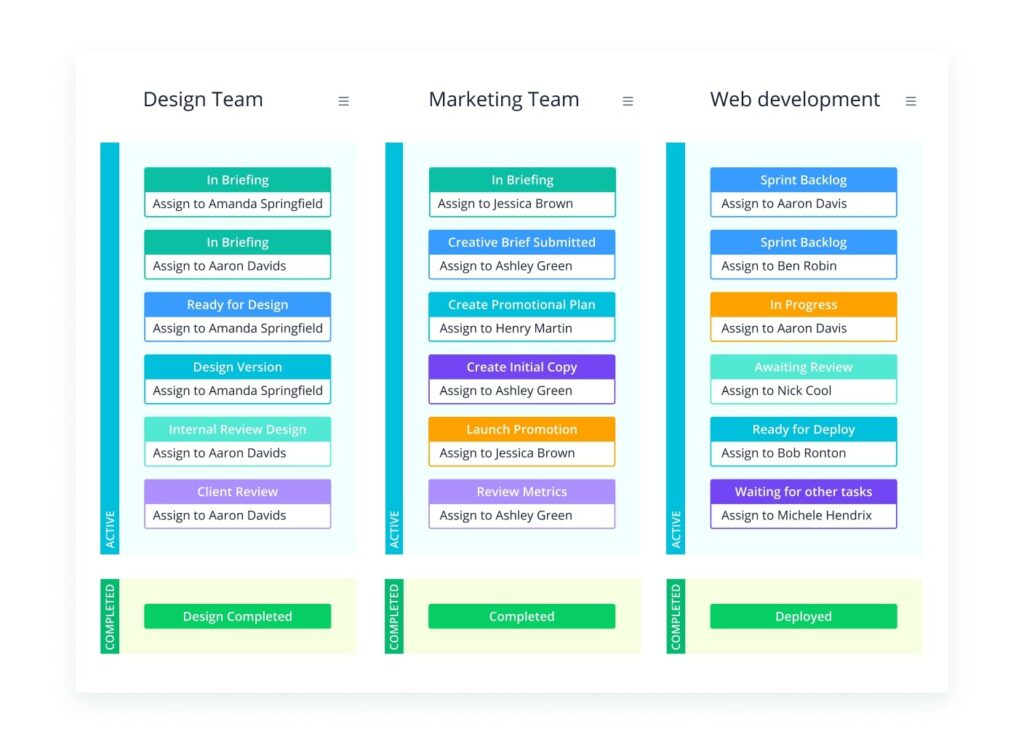 Wrike can handle different types of projects thanks to its diverse templates. It also provides teams a simple way to create tasks and enjoy time tracking through integrations. Wrike is one of the most efficient project management tools for in-house teams.
Wrike offers superior security
Wrike offers enterprise-grade security to ensure protection against hacking or loss of data.
Who is Wrike for?
Wrike is best suited for enterprises.
Zoho Projects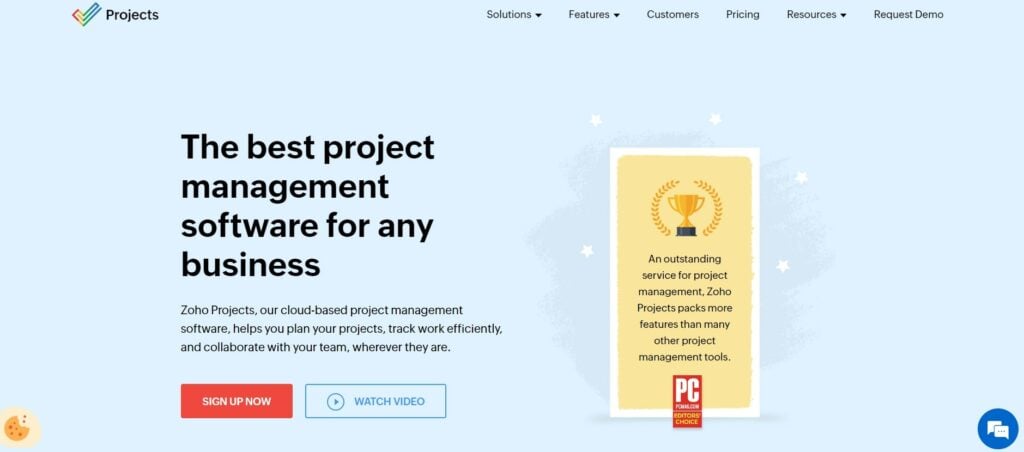 Zoho Projects is another Teamwork alternative that can work for teams that want to create tasks, assign tasks, measure performance, and stay within due dates. It is also one of the most reliable Teamwork alternatives for remote teams.
Zoho Project Features
Time tracking
Customizable charts
Task automation
Team collaboration
Integrations
Zoho Projects Pricing
Free: available forever and accommodates three users
Premium: costs $5 per user per month and is suitable for 50 people
Enterprise plan: costs $10 per user per month with no upper limit
Teamwork vs Zoho Project: Why is Zoho Better?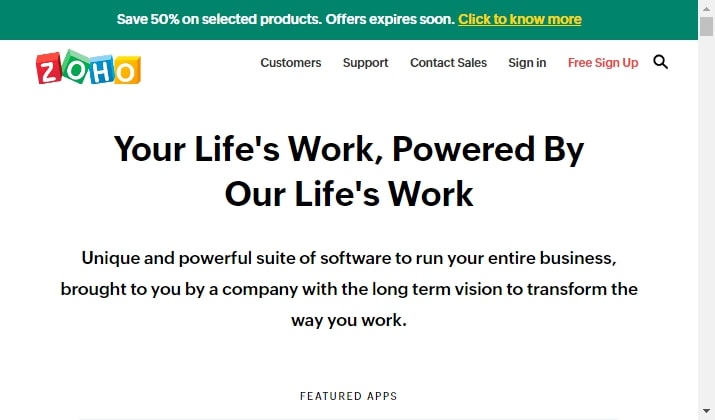 Zoho is a simple project management tool that allows individuals at different levels of any organization to collaborate easily. This tool allows users to break down tasks into smaller units or subtasks, making it easier for team members to work more efficiently. Zoho also features live online tutorials, which is something missing in Teamwork.
Zoho has an excellent project dashboard
Zoho features a simple dashboard enabling any project manager to get a glance at everything that is happening. On the dashboard, the manager can assign work and monitor progress.
Zoho has all the tools for collaboration
Zoho features boards that make it easy for team members to collaborate. It also allows users to communicate through chat features and email notifications.
Who is Zoho Projects for?
Zoho is suitable for small and medium teams.
WorkOtter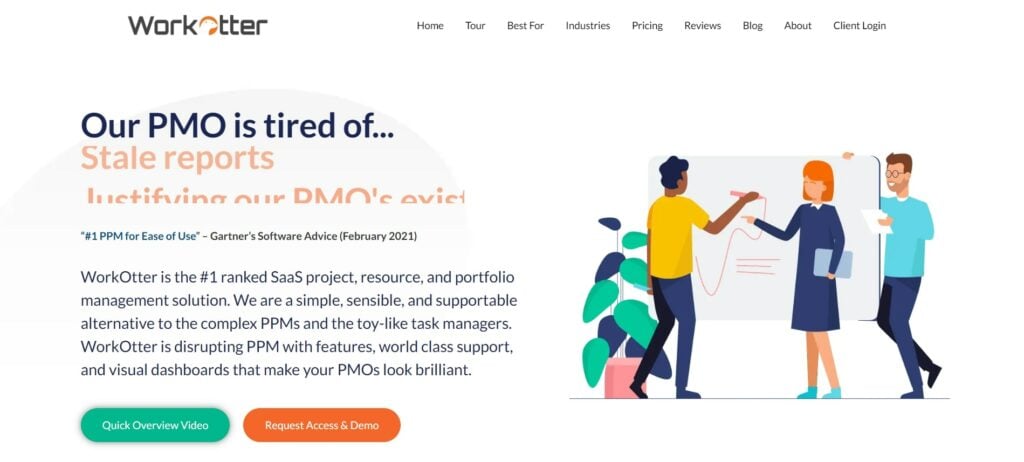 WorkOtter is a project management software that allows organizations to improve their portfolio and resource management. It is one of the simplest Teamwork alternatives thanks to its basic build.
WorkOtter Features
Email and dashboard reports
Live chat
Project templates
Workflow automation
Integration with third-party apps
WorkOtter Pricing
Free version: available forever but with limited functions and features
Member License: $10 per user per month
Team License: $20 per user per month
Manager License: costs $35 per user per month
Teamwork vs WorkOtter: Why is WorkOtter Better?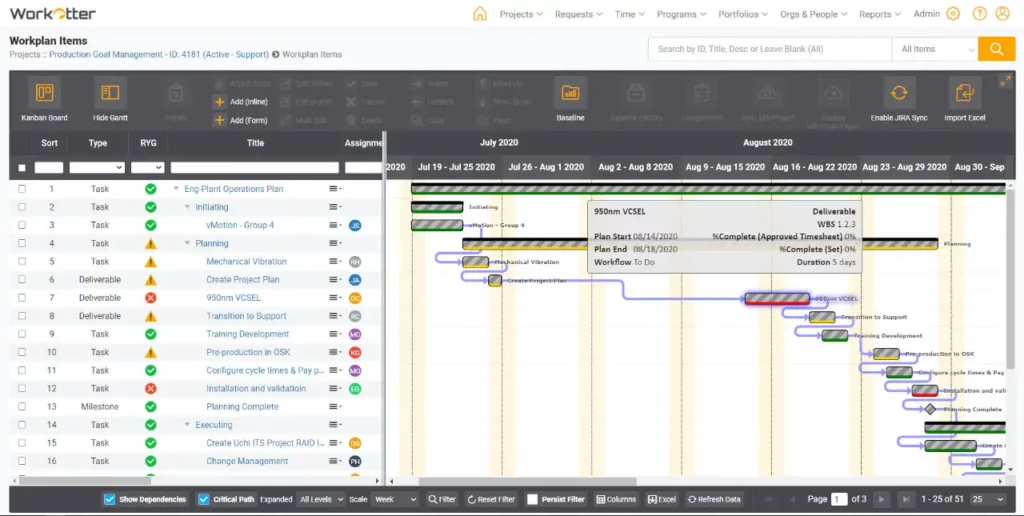 WorkOtter features comprehensive reporting tools and allows users to communicate in real time through live chats. With this tool, project managers can collect data regarding multiple projects and use it to forecast possible outcomes. Its reporting features also help managers to carry out a comprehensive post-project analysis.
Exceptional customer support
WorkOtter has one of the most responsive customer support departments.
Who is WorkOtter for?
WorkOtter can be an excellent tool for professionals in various industries. It is suitable for teams of up to 200 users.
Asana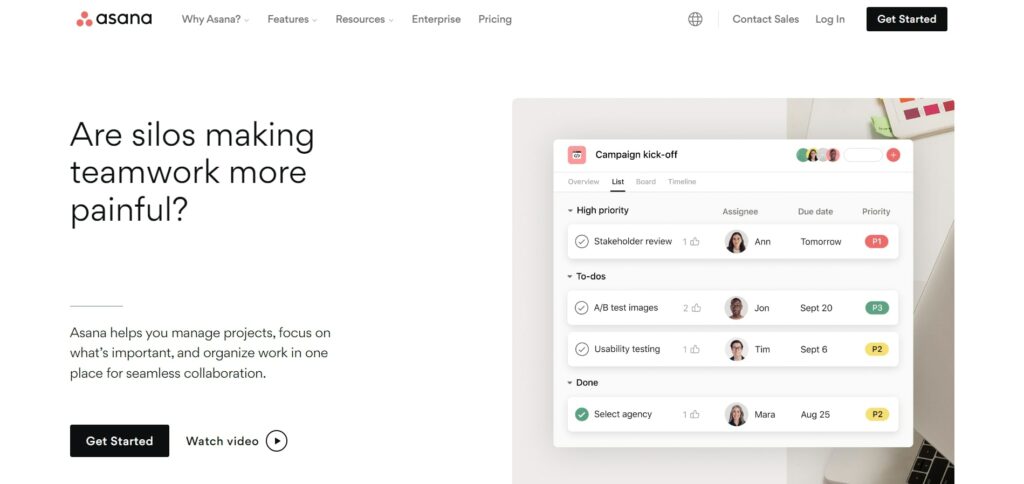 Asana is a project management tool available for both mobile and desktop devices. It helps teams organize, monitor, and manage various tasks.
Asana Features
App integrations
Kanban boards
Workload monitoring
Automation
Workflow builder
Asana Pricing
Teamwork vs Asana: Why is Asana Better?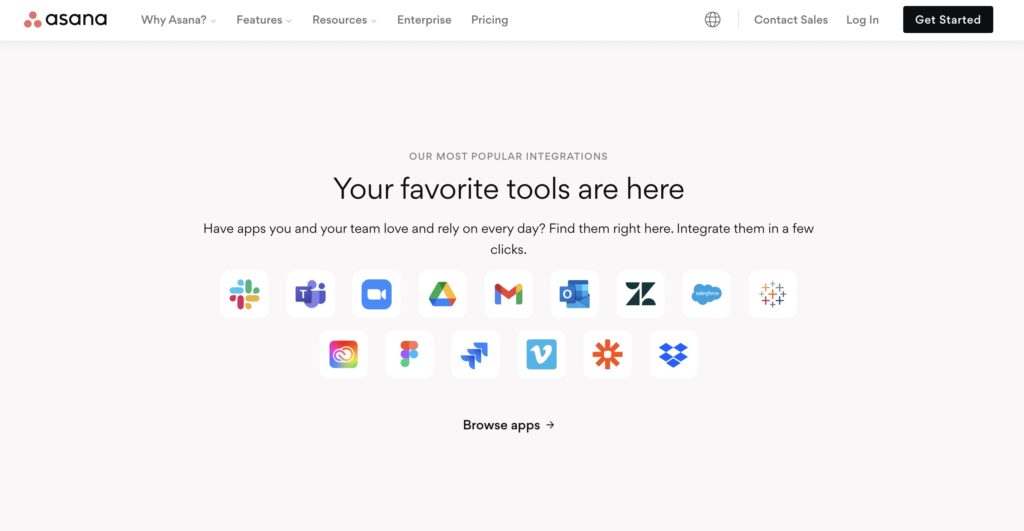 Asana allows users to integrate many SMB tools into the system. This integration process helps small businesses gain specific advantages when collaborating or handling customer issues. Remember that such businesses may not yet have enough resources to get the necessary SMB tools to ensure success.
Highly customizable
Asana is highly customizable, enabling individuals and teams to use it easily.
Who is Asana for?
Asana features tools for small and large teams.
Notion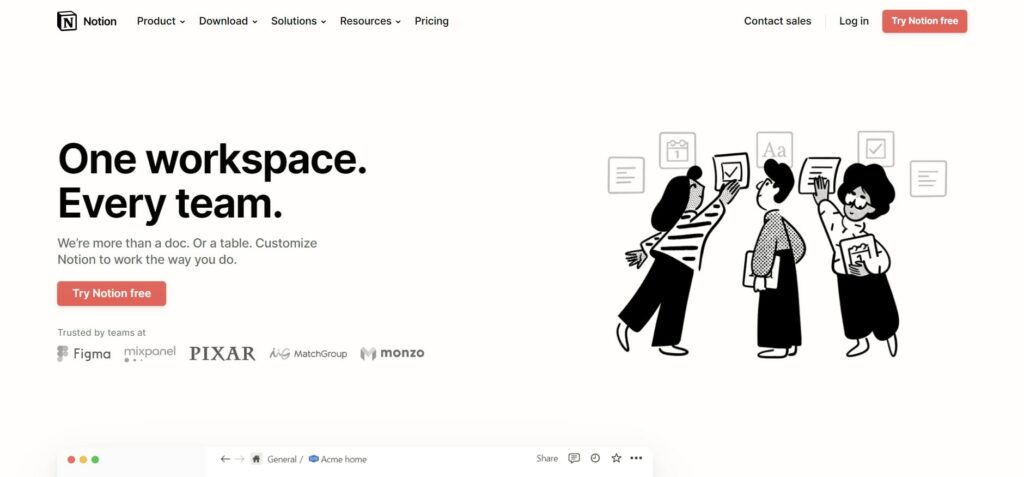 Notion is another excellent project management software that teams use to improve productivity. This tool allows users to create schedules, assign work, monitor task progress, and communicate with team members.
Notion Features
Templates
Integration
Automation
Dashboards
Scheduling tools
Notion Pricing
Personal: free forever and is suitable for individuals
Plus: costs $8 per user per month when charged annually
Business: costs $15 per user per month, charged annually
Enterprise: requires direct contact for pricing
Teamwork vs Notion: Why is Notion Better?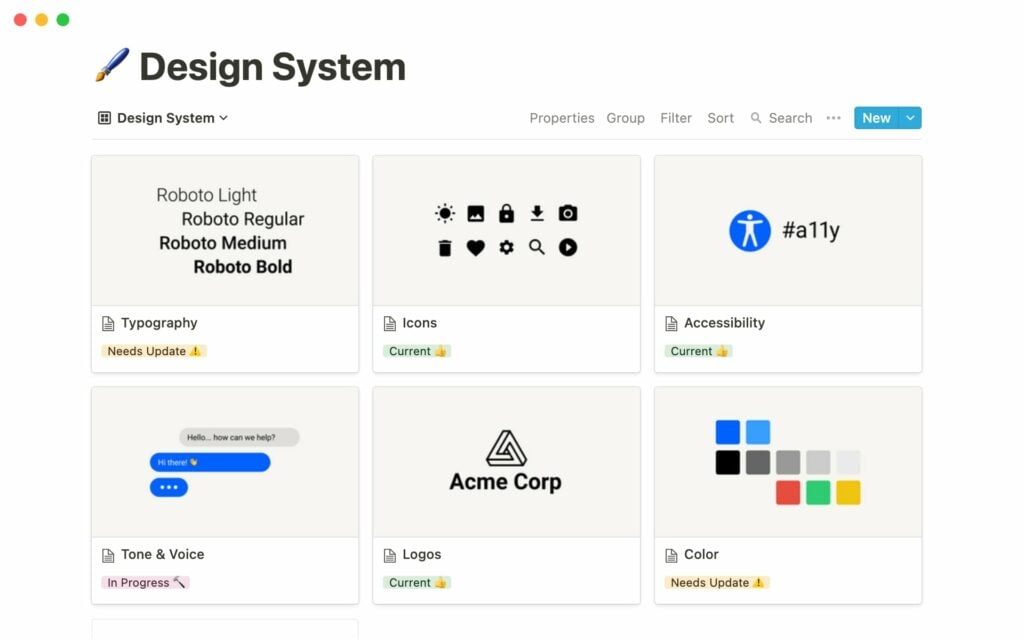 Notion features a simple and customizable interface making it one of the best Teamwork alternatives for every industry. It is one of the best options for projects requiring documents, wikis, and task templates. Notion also has a search feature allowing you to retrieve items through simple keyword searches instead of clicking through hundreds of pages.
Notion is cheaper
Notion is a cheaper alternative to Teamwork. While the difference may seem small, it becomes quite significant when considering that teams can be made up of up to 50 or 100 people.
Who is Notion for?
Notion accommodates small teams that want an affordable management solution.
Airtable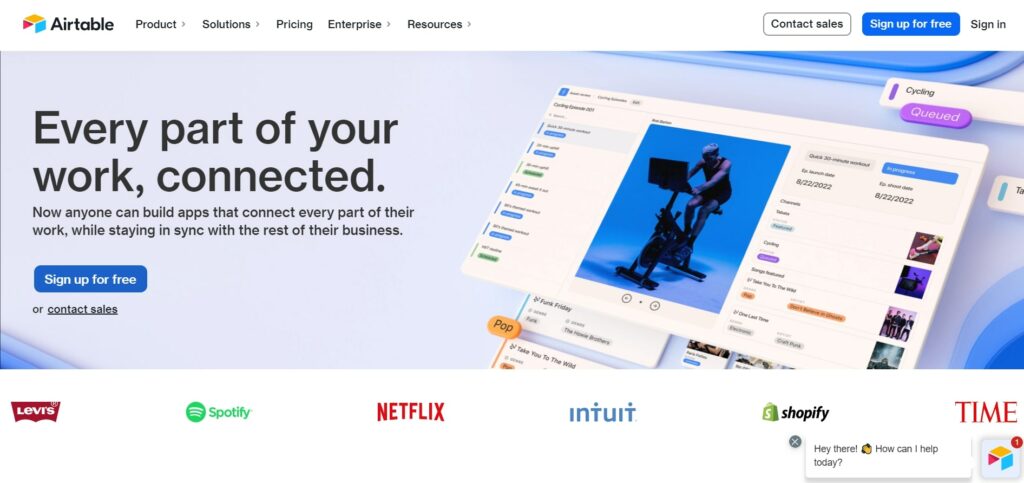 Airtable is a cloud-based collaboration service that teams can use to work smarter and build new apps.
Airtable Features
Tools for building apps
Automation
Reporting features
Integrations
Collaboration tools
Airtable Pricing
Free: available forever
Plus: $10 per user per month billed annually
Pro: $20 per user per month billed annually
Enterprise: requires users to get in touch for pricing
Teamwork vs Airtable: Why is Airtbale Better?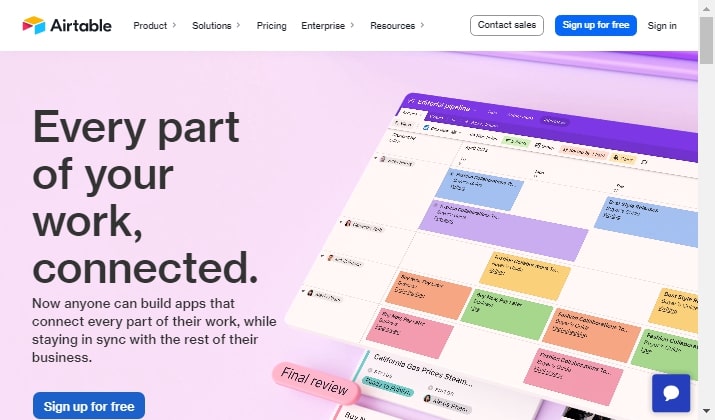 Airtable features a simple UI and comes with tutorials that make it easy to get acquainted with. Airtable also brings together functions or features in spreadsheets and databases. This makes it a balanced project management tool for just about any industry.
Allows for app development
Instead of just project management functions, Airtable also includes tools to help teams build new apps.
Who is Airtable for?
Airtable is best suited for small to medium teams that want to scale their projects over time.
Jira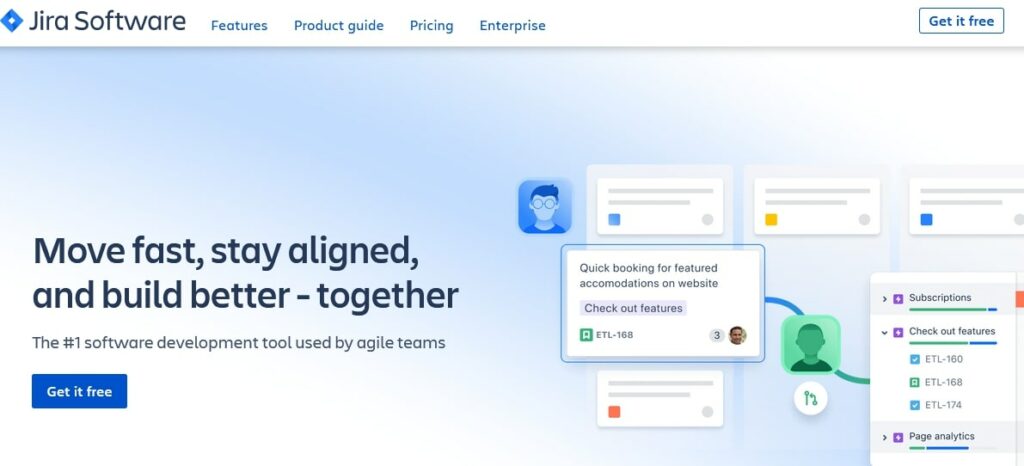 Jira is a work management software available for desktop and mobile devices.
Jira Features
Reports and insights
Scrum and Kanban boards
Automate workflows
Integrations
Open DevOps
Jira Pricing
Free: always free and available for up to 10 users
Standard: $7,75 per user per month
Premium: $15,52 per user per month on average
Enterprise: $134,000 per year for teams of up to 801 people
Teamwork vs Jira: Why is Jira Better?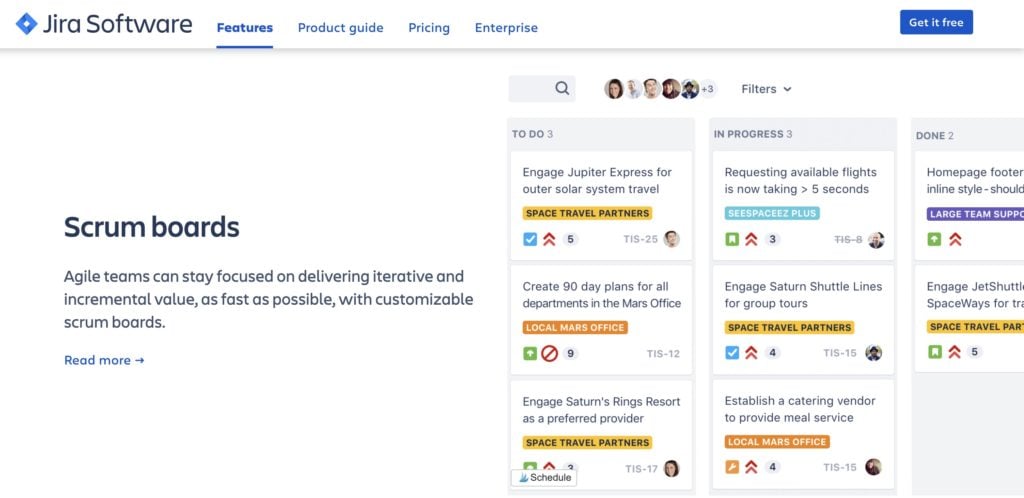 Jira upholds the values of an agile environment, mainly encouraging different team members to work together to achieve a common goal. It also encourages such members to be innovative and open-minded. Jira is also relatively affordable and easy to use.
Jira offers exceptional security
Jira is an excellent project management solution for teams that want to protect sensitive data and manage work effectively.
Who is Jira for?
Jira is an ideal solution for enterprises or large teams.
Celoxis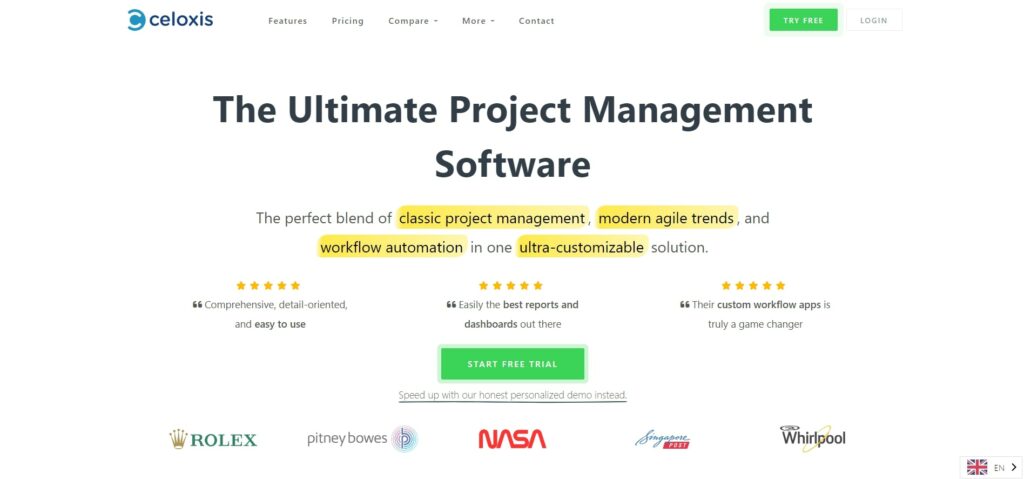 Celoxis is a resource and project management solution to help teams collaborate easily and improve productivity.
Celoxis Features
Project request tracking
Project planning
Project accounting
Portfolio management
Resource management
Celoxis Pricing
Free: 30-day free trial for all users
Cloud: $22,50 per user per month billed annually
On-Premise: requires users to get in touch for pricing
Teamwork vs Celoxis: Why is Celoxis Better?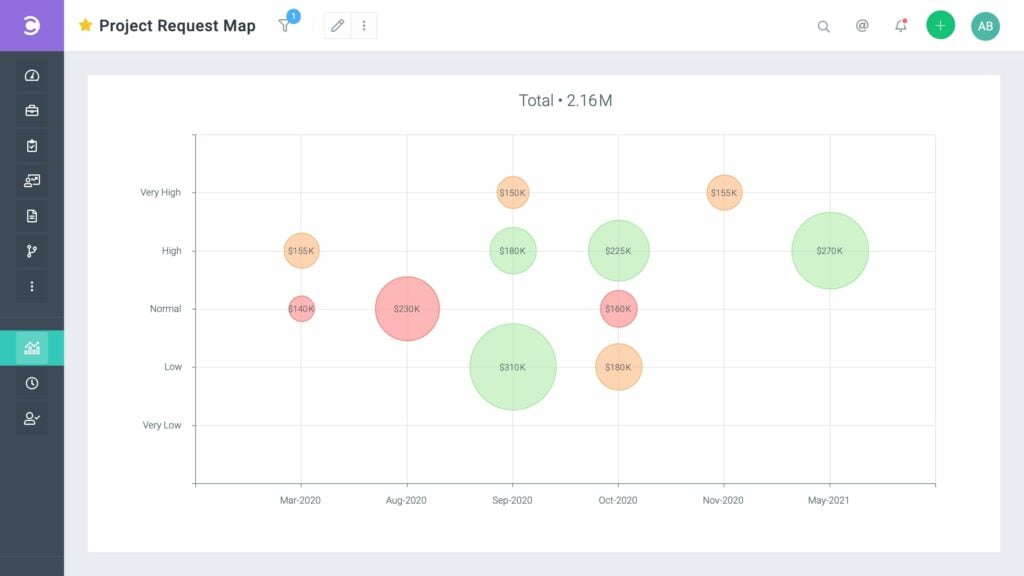 Celoxis has features that are extremely helpful to decision-makers and business owners. This tool also has budgeting features that help different organizations create accurate budgets for each project they undertake. Celoxis is also exceptionally easy to set up and use.
Comprehensive reporting
Celoxis incorporates tools that simplify reporting and data analysis. This makes it a helpful resource for those who need to assess project strengths and weaknesses.
Who is Celoxis for?
Celoxis is best suited for medium and large organizations.
ProofHub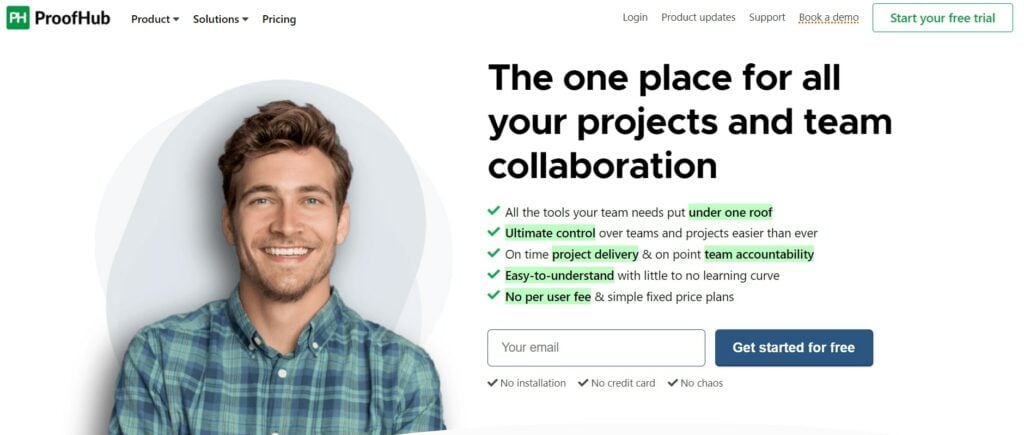 ProofHub is a project management software with plenty of tools for collaboration.
ProofHub Features
Templates
Time tracking
Calendar
Workflows
Project manager
ProofHub Pricing
Free: trial version lasts for 14 days
Essential: $45 per month billed annually
Unlimited Control: $89 per month billed annually
Teamwork vs ProofHub: Why is ProofHub Better?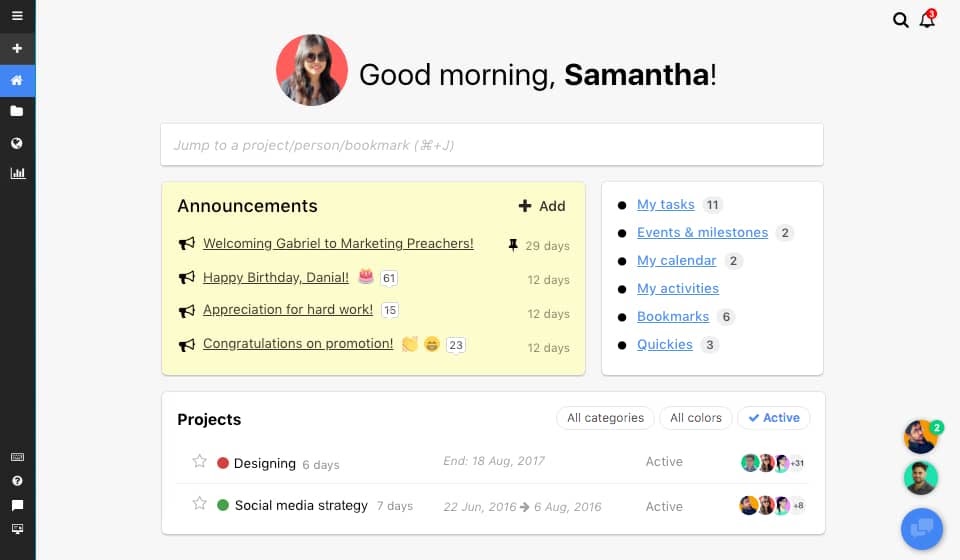 ProofHub does not have a per-user billing structure, making it a relatively cheaper alternative, especially for large teams. Another thing that makes ProofHub a better option is its multilingual design making it possible for people of different nationalities to use it with greater ease.
No learning curve
ProofHub is designed to be simple and therefore doesn't have a learning curve.
Who is ProofHub for?
ProofHub is ideal for large teams that require an affordable alternative.
Trello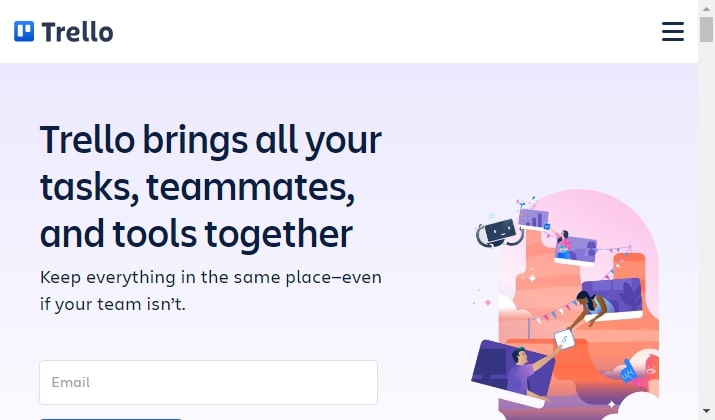 Trello is a simple web-based project management tool for collaboration by teams of varying sizes.
Trello Features
Unique templates
Automation
Integrations
Power-Ups
Views
Trello Pricing
Free: available forever
Standard: $5 per user per month billed annually
Premium: $10 per user per month billed annually
Enterprise: $17,50 per user per month billed annually
Teamwork vs Trello: Why is Trello Better?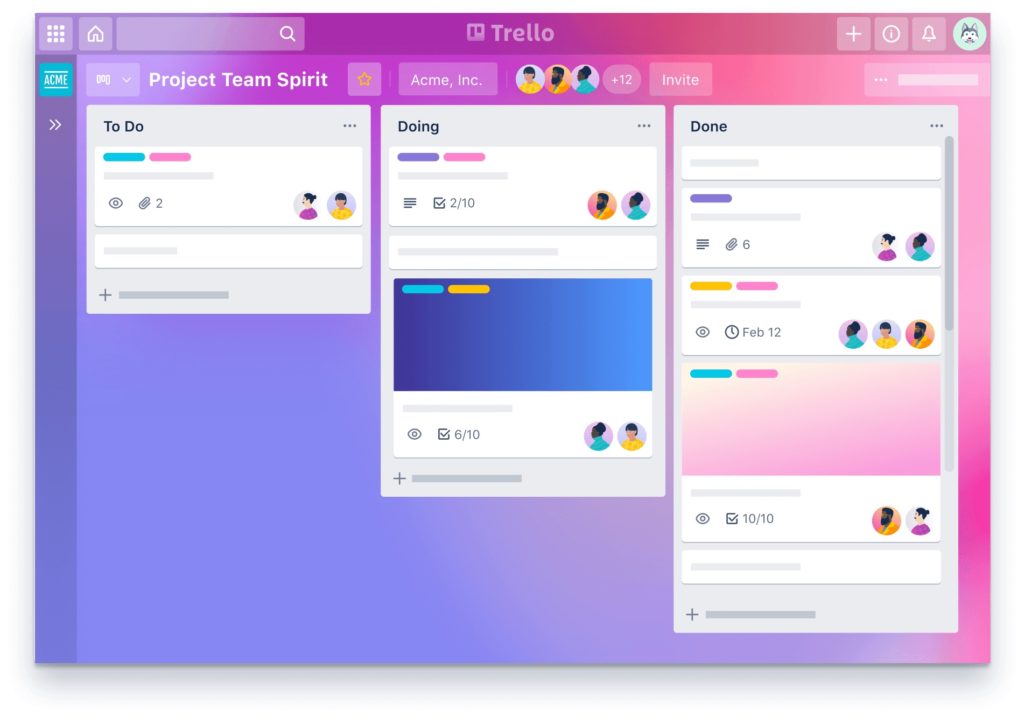 Trello offers a simple board view so everyone can monitor outstanding tasks and new assignments. Trello is another platform that integrates English, German, Spanish and more. This makes it more accessible to people of different nationalities. It's worth pointing out that Trello's free plan affords users more features and functions than Teamwork's free plan, which has many restrictions.
Excellent boards
Trello has visually-appealing templates and work boards for simplifying tasks.
Who is Trello for?
Trello is best suited for teams of up to 100 members.
Workzone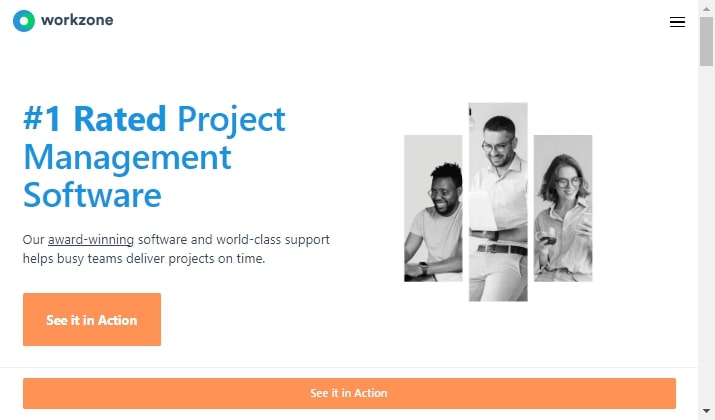 Workzone is a project management solution that allows teams to share ideas, create schedules, and track tasks.
Workzone Features
Dashboard
Templates
Built-in workflows
Customizable interface
Free training
Workzone Pricing
Team: costs $24 per user per month
Professional: costs $34 per user per month
Enterprise: costs $43 per user per month
Teamwork vs Workzone: Why is Workzone Better?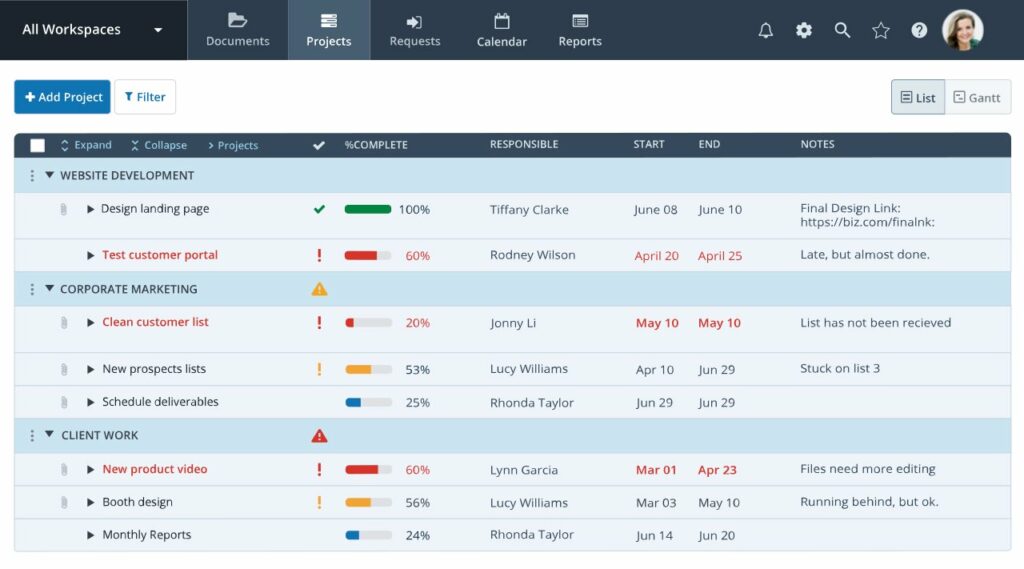 Workzone offers some of the best tools for customizable reporting and document sharing. It also incorporates the subtasks feature, which helps teams to break down complex tasks into manageable units. That is something that does not exist in Teamwork.
Workzone excels in scheduling
Workzone offers a simple way to schedule tasks and send out reminders to keep everyone aware of their responsibilities.
Who is Workzone for?
Workzone is ideal for small, medium, and large decentralized teams.
Basecamp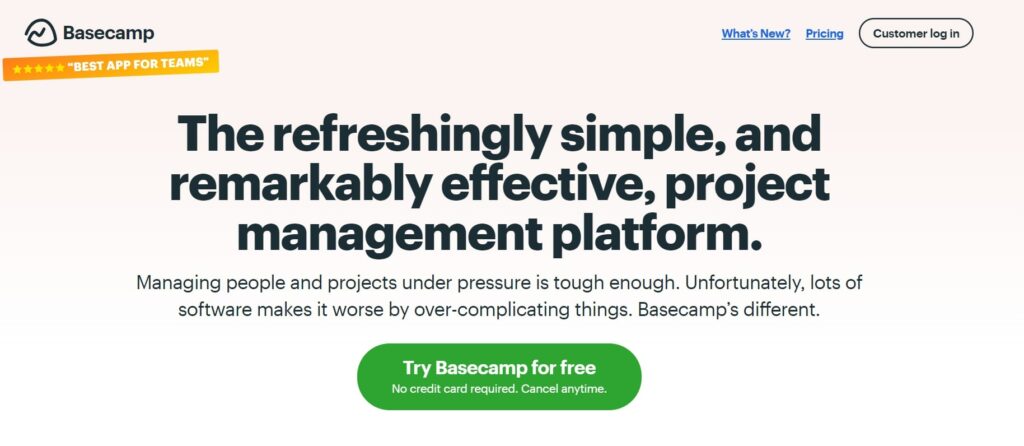 Basecamp is a task management tool for online collaboration by teams and clients.
Basecamp Features
Message board
Scheduling tools
Integrations
Automation
Task tracking
Basecamp Pricing
Free 30-day trial
Full version costs $11 per user per month
Teamwork vs Basecamp: Why is Basecamp Better?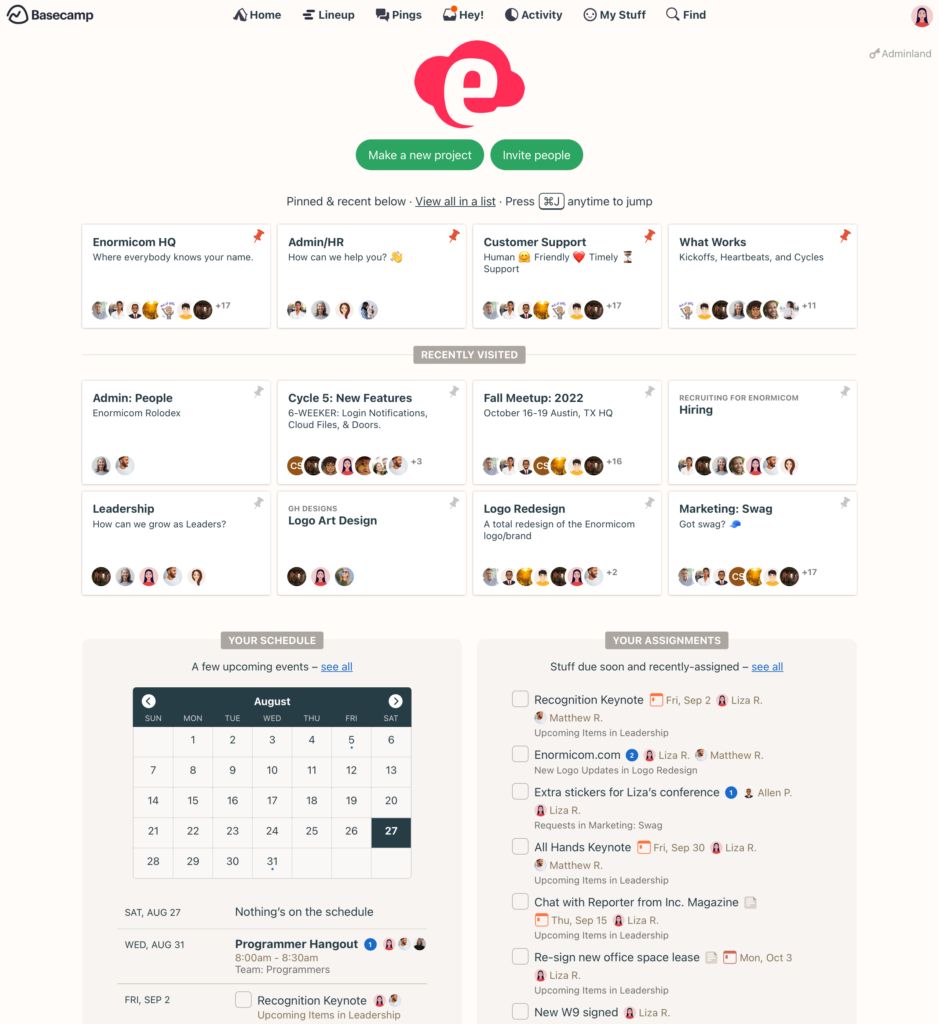 Basecamp offers a simple way to manage projects, while Teamwork seeks to provide as many features as possible. Basecamp is a good option for teams that want a simple yet straightforward project management solution. You'll also be pleased to know that Basecamp does not have a complex learning curve.
Basecamp is simple and affordable
Basecamp provides the most important features for project management only. It is also more affordable than Teamwork.
Who is Basecamp for?
Basecamp is suitable for both small and large teams.
Top Teamwork Competitors: Conclusion
The above-mentioned Teamwork alternatives offer the best solutions to project management. They are packed with features and functions to simplify various tasks.
To find the ideal Teamwork alternative for your needs, consider your organization's budget and the number of team members. That information should help you determine the most suitable Teamwork alternative to pick.