There are a lot of project management tools on the market these days, and it can be difficult to decide which is the right fit for your organization.
One popular option is Wrike, and another is Smartsheet. Each offers its benefits, so it's important to consider the features of each tool before making your decision.
In this blog post, we will compare these two project management tools to see how they stack against each other. We will also look at how they are used in managing projects and what their best features are. Ultimately, you should be able to determine which option is best for your business.
Also, find the 15 Best Marketing Project Management Software.
Wrike vs. Smartsheet: Similarities 
Wrike and Smartsheet have a lot in common. These are some of the similarities between the two platforms.
Both offer Gantt charts and Kanban boards to give users a visual idea of their projects' progress, allowing them to make any necessary adjustments.
Smartsheet and Wrike allow users to set up customizable workspaces, enabling team collaboration to organize reports, dashboards, sheets, and templates for specific clients while keeping them safe from unwanted access.
Both tools have calendar management functionality allowing users to sync all their calendars. To better manage their schedules, users can then use the calendar view to see all their assignments and appointments.
To access their accounts, both Smartsheet and Wrike allow users to log in using a single sign-on method which enhances identity protection and minimizes password weakness.
Both Platforms have a built-in time tracker feature to guarantee precise timekeeping. This aids in accurate customer billing and prevents payroll issues.
Wrike vs. Smartsheet: Differences 
While Smartsheet and Wrike have some similarities, they differ in various aspects. These are some of the differences between the two platforms.
Smartsheet can be adaptable and customized to match diverse professional services and business niches. Smartsheet fits GDPR, CCPA, and HIPPA, while Wrike doesn't.
Smartsheet offers a longer 30-day trial period compared to Wrike's 14-day trial period, which gives users sufficient time to try out all the features and understand them better before committing.
While Wrike's business plan allows only up to 200 users, Smartsheet, in its plan business plan, allows unlimited users making it a great fit for enterprise users.
Smartsheet comes with an RFI(Request for Information) and submittals feature, simplifying product sourcing and supplies for businesses. With RFI, users can get access to potential suppliers to make sure that the goods and services are following company standards.
 What is Wrike?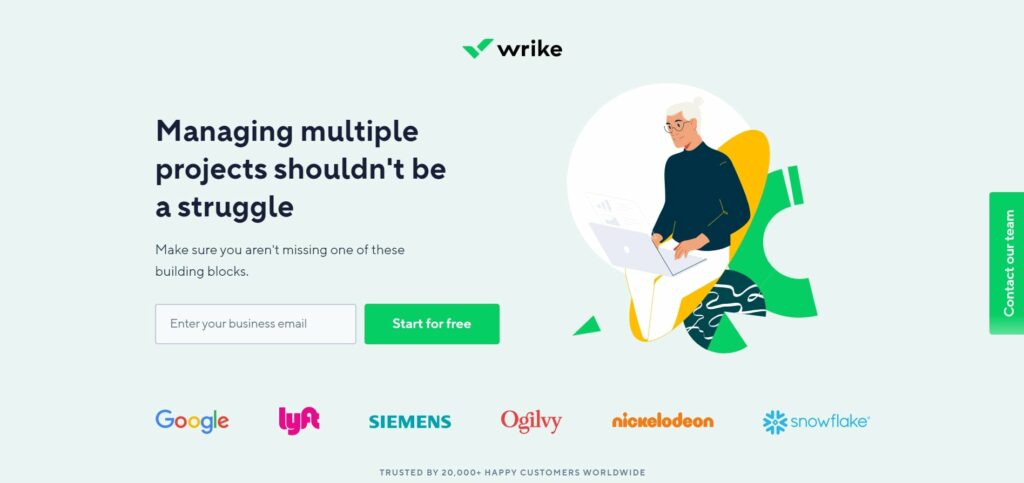 Wrike is a project management software designed to help businesses of all sizes organize projects, collaborate with teams, and track work progress. The tool provides users with task, portfolio, and resource management tools that are represented on aesthetically pleasing dashboards and reports keeping all team members up to date.
Wrike Key Features 
These are the most notable Wrike features:
Dashboard
Calendar
Three-pane view
Analytics
Task tool
Also, find 15 Best Wrike Alternatives For Project Management software
What is Smartsheet?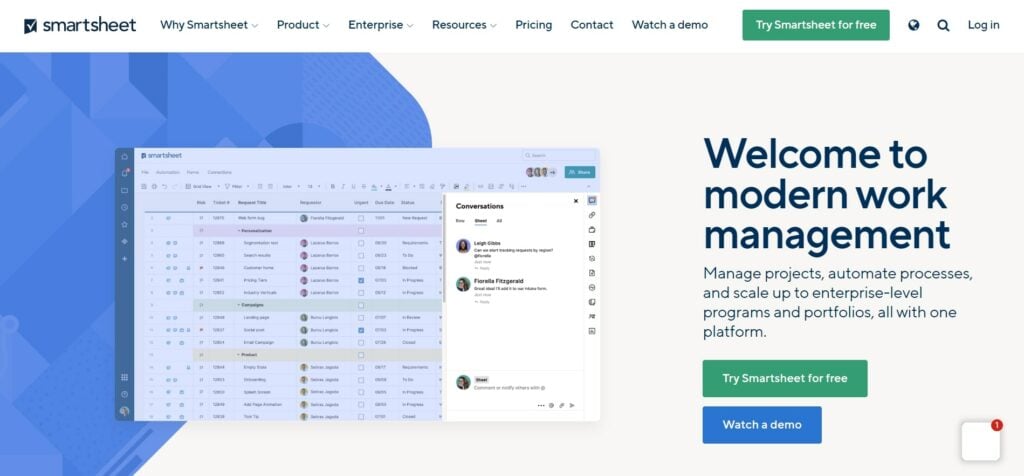 This cloud-based project management tool enables teams of all sizes and technical skill levels to plan, visualize, and communicate easily about tasks and projects using a recognizable spreadsheet-style user interface.
The platform offers spreadsheet management, automated workflow, file sharing, and interactive meetings. With its powerful customization abilities, Smartsheet allows users to modify every workflow, spreadsheet, and project funnel.
Smartsheet Key Features 
These are the top features in Smartsheet:
Track the critical path
View data in multiple ways
Collect information using forms
Also, read the 15 Best Smartsheet Alternatives & Competitors
Wrike vs. Smartsheet: Features 
Smartsheet and Wrike are among the top project management software available today. Both come with various features to help you in organizing tasks and projects. This is a detailed comparison between the two platforms on various aspects.
Project & Task Management
Being project management software, both Smartsheet and Wrike have a rich set of task and project management features.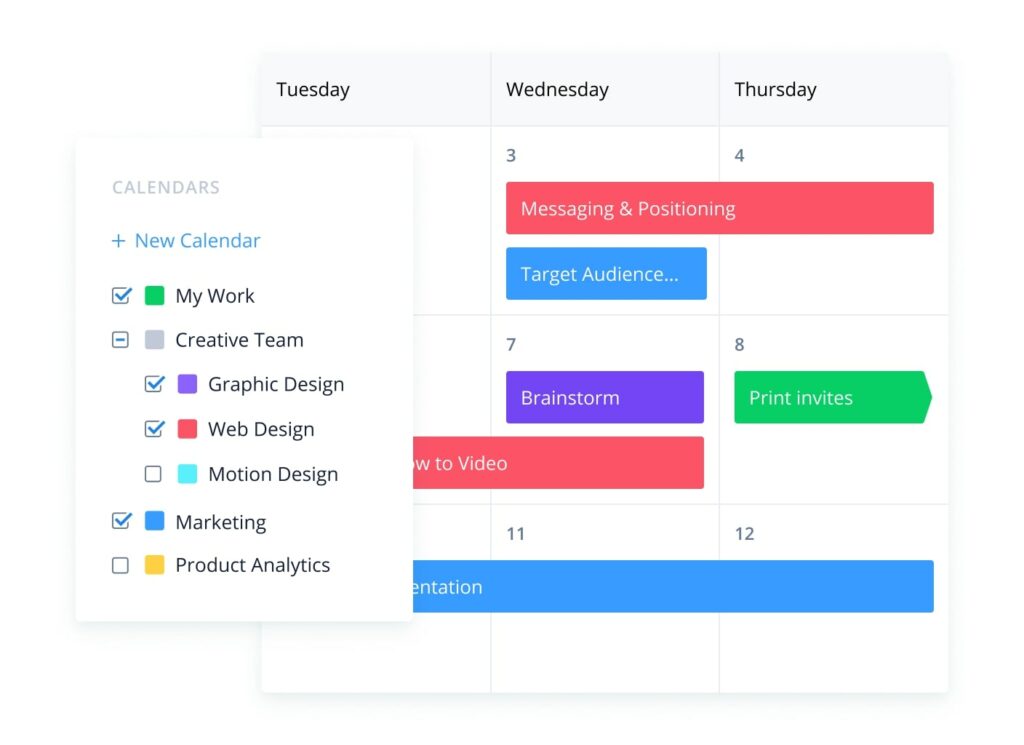 Wrike provides only the features you need to manage tasks and projects. It allows you to divide large tasks into subtasks, adding dependencies and other useful information. It offers a Gantt view, automated reports, and time tracking to enable you to view your project and team's progress.
Additionally, Wrike offers different ways to visualize project and task progress. You can use the Gantt chart, table, board, and stream views to see and track your tasks.
With its interactive Gantt charts, Wrike allows users to build and visualize project plans, dependencies, and progress with a drag-and-drop interface. It also provides Kanban boards to enable agile teams to organize and track tasks.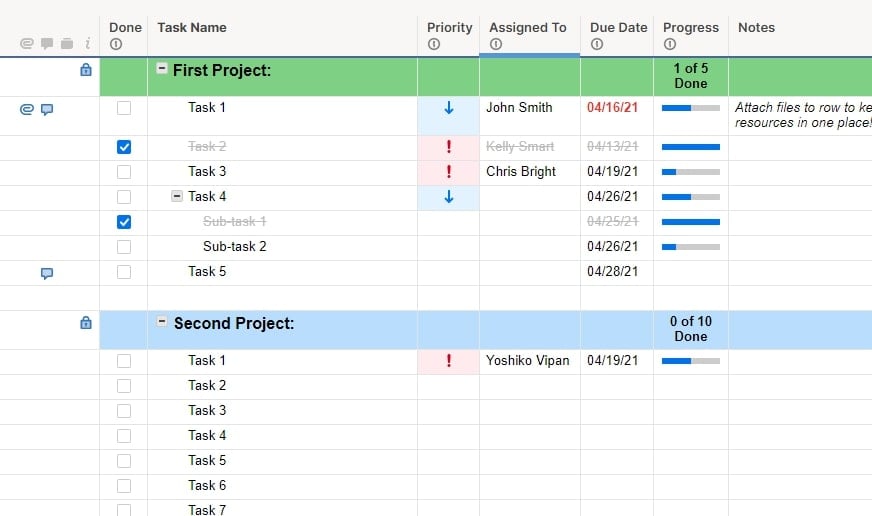 Smartsheet also has excellent task management features. Just like Wrike, it offers various ways of visualizing the progress of your projects and tasks. You can choose from Gantt chart, card, grid, and calendar views to sort and arrange information in a single location.
With this platform, you can assign multiple users to one task, which is important if several people are responsible for the outcome. You can also use the timeline view to assess progress and make new plans.
Generally, it offers more advanced task and project management features than Wrike.
Workflow Automation
Automating repetitive tasks saves time and increases efficiency. Both Smartsheet and Wrike have workflow automation features.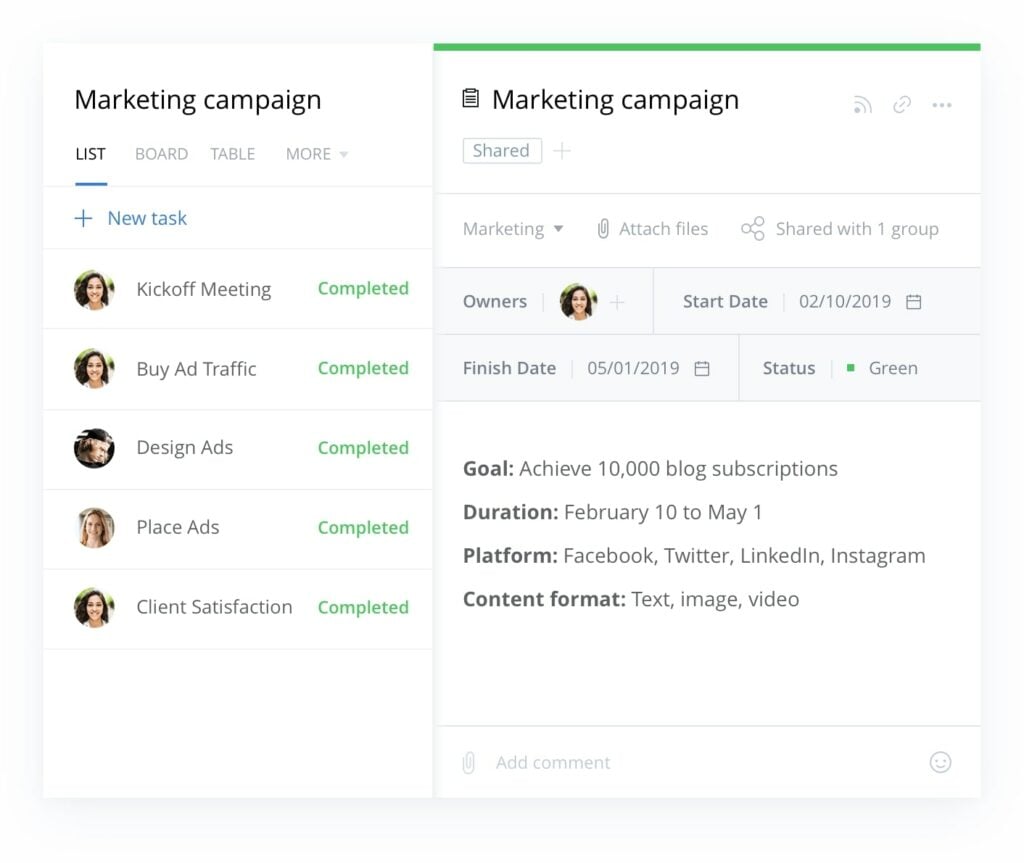 Wrike offers several workflow automation features. With Wrike's rule-based Automation Engine, you can set up ''if''…'' Then''….rules to automate repetitive tasks, minimize human mistakes, and boost efficiency. Each rule can have a single ''if'' and various ''Then'' statements. Every team member receives a notification from the automation bot in their stream whenever an automation rule is activated.
Wrike also gives you the ability to create task dependencies to automate workflows. When setting up a project, you can establish dependencies between tasks so that the beginning of one task depends on the end of another. Rescheduling a task that has dependencies will result in the automatic rescheduling of dependent tasks and subtasks.
In addition, blueprints are another way of automating workflows in Wrike. You can create project blueprints to simplify organizing projects, folders, or related tasks that recur often. These do not appear in dashboards and are unaffected by any ongoing work.
Smartsheet automation, on the other hand, allows you to substitute manual, repetitive tasks with flexible automated workflows. The tool's automation button allows users to design workflows from scratch or use pre-built templates to simplify frequent and important workflows. Some common workflow templates in Smartsheet include sending notifications and reminders, sheet changes, approving and updating requests, and sheet-to-sheet workflows.
Users can send alerts to team members, request updates and approvals, record a date, change cell value, set reminders about upcoming deadlines, and assign tasks easily with Smartsheet's automation feature.
While both Smartsheet and Wrike have great automation capabilities, Smartsheet offers more advanced automation features.
Verdict: Smartsheet wins in Features
While both platforms are rich in features that enable users to manage projects and tasks effectively, Smartsheet has more advanced features. Wrike, on the other hand, prides itself on having more features than Smartsheet.
Smartsheet vs. Wrike: Ease of Use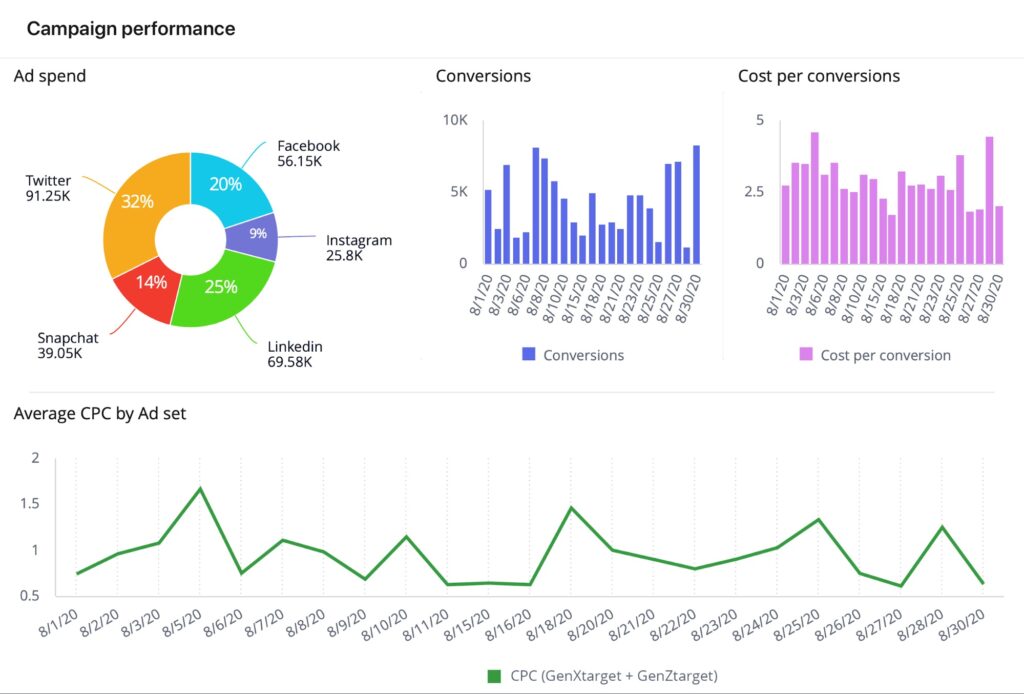 Wrike comes with a clean and user-friendly interface that gives you control over how your data is displayed. The tool's easy-to-use interface makes it possible for users to access everything in a single glance.
To help you quickly set up your first project, Wrike uses the information you provide while creating your account to fill your workspace with proper spaces, templates, and sample projects.
To enhance ease of use, Wrike offers interactive Gantt chart and list views, allowing you to drag and drop components to rearrange tasks and modify their start or due dates. Better still, the tool provides pop-up prompts that guide you through the basic steps.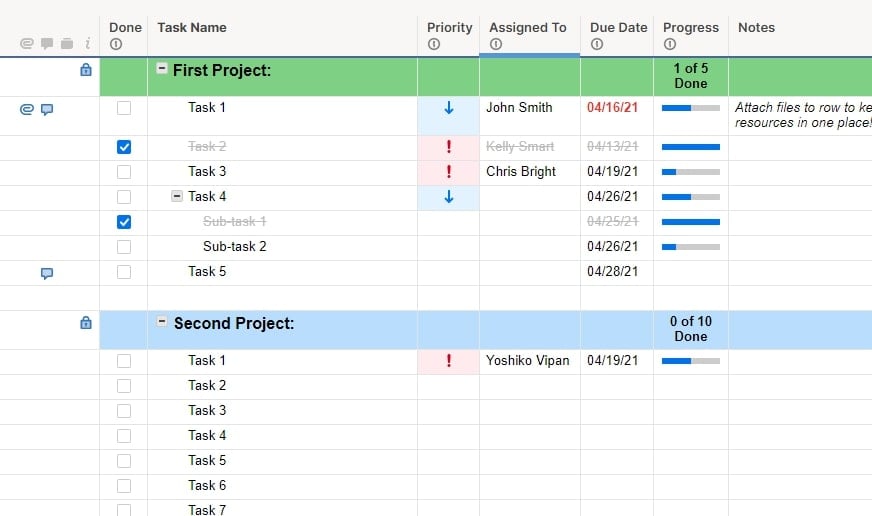 Smartsheet, on the other hand, comes with an excel-like structure which can be complicated for first-time users. Everything in Smartsheet starts with sheets. It also offers pre-built templates to help you get started quickly, or you can create new blank sheets, reports, or dashboards from scratch.
However, Smartsheet offers limited customization capabilities and allows users to edit their dashboards via drag-and-drop widgets.
Verdict: Wrike is Easier to Use
Wrike wins in terms of ease of use. The tool comes with a user-friendly interface that's easy to navigate. Smartsheet's excel-like structure calls for some learning curve and can take time to master.
Smartsheet vs. Wrike: Integrations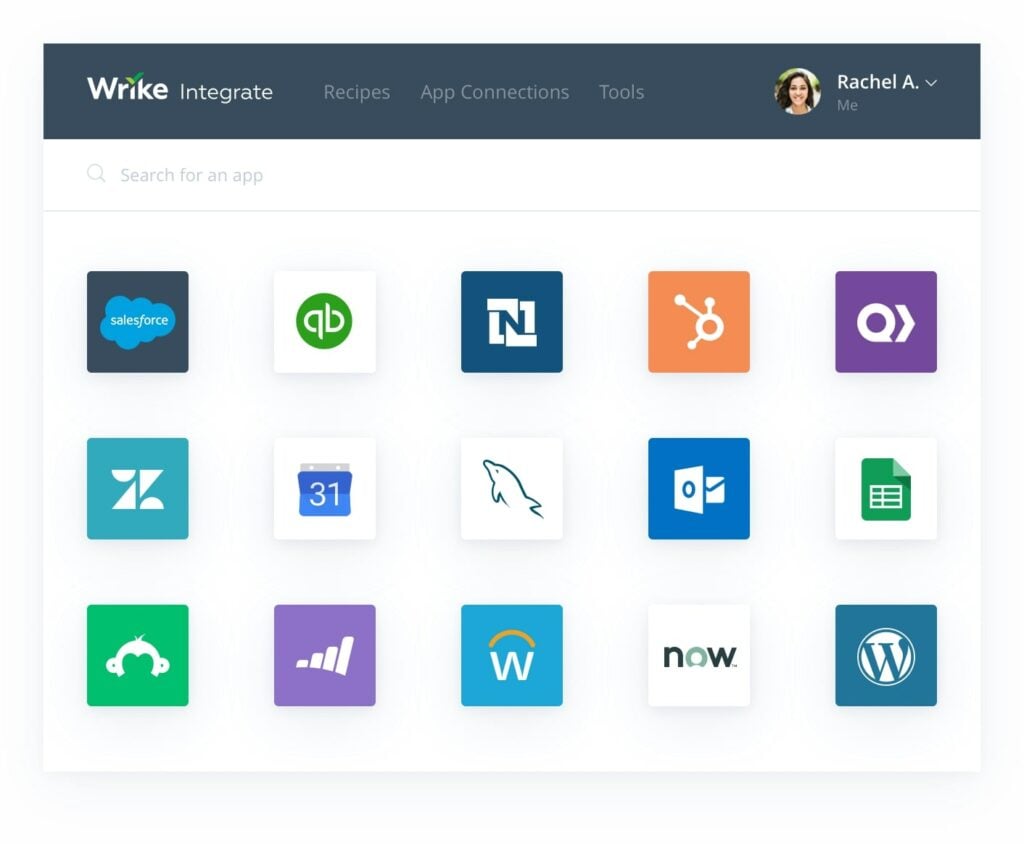 Integration with third-party apps can help save time and boost productivity. Both Smartsheet and Wrike integration capabilities.
However, Smartsheet offers basic integrations with tools like Slack, Zapier, Box, Microsoft Project, Google Drive, Git Hook, Harvest, Klipfolio, and Google Calendar. These integrations focus on making collaboration within teams easier.
Users in Smartsheet's Business and Enterprise plans have access to more tools like Adobe Creative Cloud and Tableau, while only premier users have access to Salesforce and Jira.
Wrike, on the other hand, offers integration with over 400 third-party tools. However, these are available for users with Business plans or higher. It offers custom integrations with Gmail, Microsoft Teams, Jira, Microsoft Outlook, Microsoft Project, and GitHub.
Verdict: Wrike wins in Integrations
While both platforms have integration capabilities, Wrike shines over Smartsheetit and connects with over 400 third-party apps. However, users have to pay extra for more integrations with tools.
Smartsheet vs. Wrike: Pricing 
Smartsheet and Wrike come with a free trial plan plus paid plans, with each different offering features for each price tier.
Wrike Pricing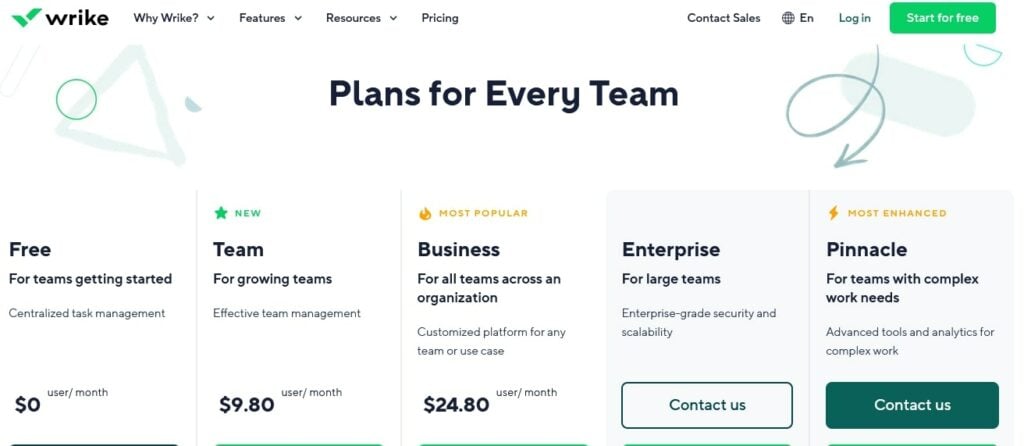 In addition to a free plan, Wrike offers 4 paid plans as follows:
Free plan: At no cost, this base plan is ideal for small teams starting out with up to 5 members. With this plan, you'll get file sharing, a board view for task management, and basic integrations like Google Drive.
Team plan: Costing $9.80 per user per month, this plan is a good choice for growing teams with up to 15 people. The plan offers a shareable dashboard, Gantt chart views, and enhanced integrations.
Business plan: This costs $24.80 per user per month and is suitable for teams with 5-200 members. In addition to all the features in the team plan, this plan includes a calendar view, request forms, request templates, and integration with tools like Salesforce.
Enterprise and Pinnacle plans are most suitable for large teams and call for custom pricing based on business needs.
Smartsheet Pricing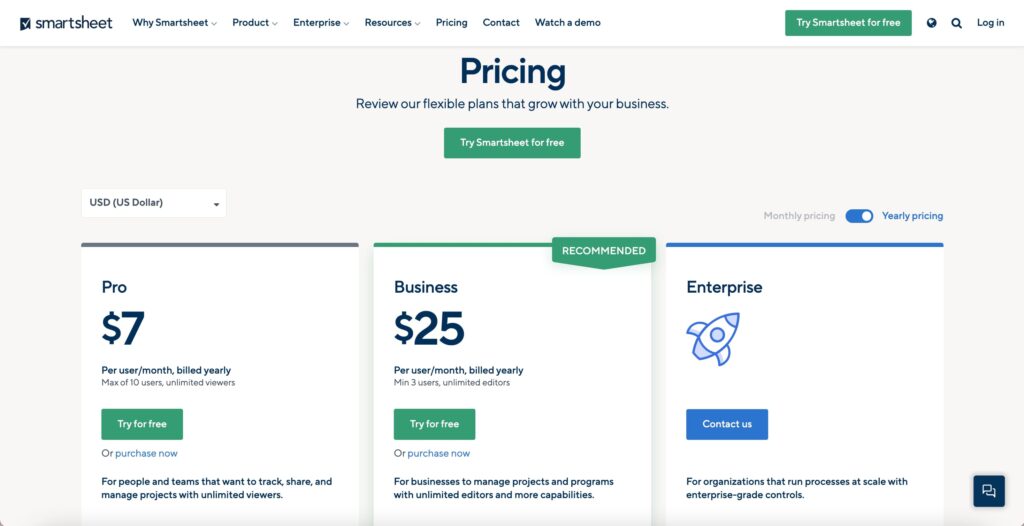 Smartsheet offers a straightforward pricing policy to suit the needs of different businesses. It has a 30-day free trial plan plus 3 paid plans as follows:
Pro plan: This tool's basic plan costs $7 per user per month, billed annually. The plan allows a maximum of 10 users and unlimited viewers.
Business plan: This costs $25 per user per month and accommodates a minimum of 3 users. It also offers more customization, reporting, and user management options.
Enterprise plan: With custom pricing, this plan offers all the features in the business plan plus unlimited sheets, premium add-ons, support, and integration with Tableau and Adobe Creative Cloud.
Verdict: Smartsheet wins in Pricing
Besides being cheaper, Smartsheet offers a more straightforward pricing plan than Wrike. With its plans, Smartsheet provides more value for your money.
Smartsheet vs. Wrike: Customer Support 
Customer support is an important consideration when choosing a project management solution. A good customer support system will come in handy if you encounter difficulties setting up or using a platform.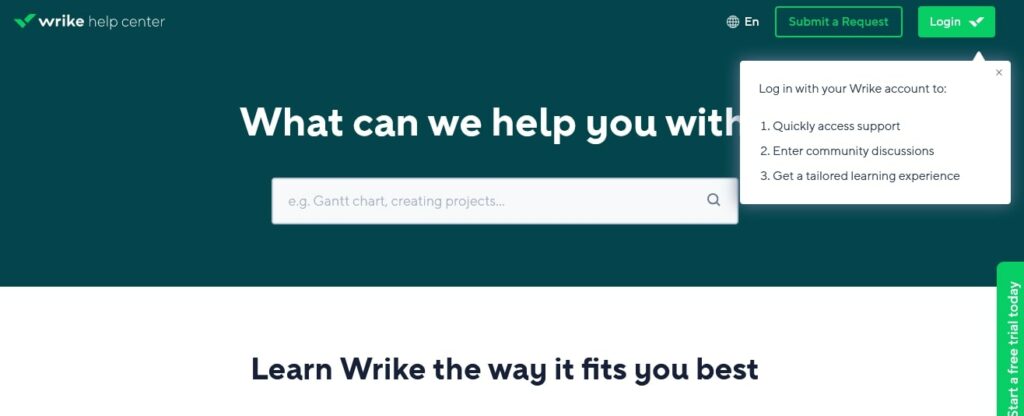 Wrike uses different channels to offer support for different plans. The users in the free plan have email support as the only available channel for support 5 days a week.  Users in the paid plans get support via chat, phone, or email with a 24-hour response time. It also offers premium 24/7  phone and chat support at an extra cost with a one-hour response time. 
Additionally, Wrike offers a user forum and comprehensive documentation to answer common questions.
Smartsheet's customer support is not impressive. The free plan users can access Smartsheet's customer support via email, learning center, online ticket, or community forums. Users in the enterprise and Premier plans can access phone support and instructor-led training, while those under the business plan need to pay to access these.
Verdict: Wrike wins in Customer Support
While both Smartsheet and Wrike offer extensive knowledge bases with numerous comprehensive articles and tutorials plus active community forums, Wrike has more responsive and comprehensive customer support than Smartsheet. It offers various options for users to reach out for support. Smartsheet has limited options.
Smartsheet vs. Wrike: Conclusion 
Both Smartsheet and Wrike are excellent project management software. Each has its strengths and weaknesses. Your choice between the two will depend n your specific needs and the features you are interested in.
However, Wrike is more suitable for individuals and small teams looking for a project management solution with great collaboration features. Smartsheet, on the other hand, offers advanced features making it suitable for large companies with large teams. Smartsheet will make a better fit if you are looking for automation. But if you are looking for user-friendliness, customization, and a feature-packed tool, Wrike is the right choice.