As the world becomes increasingly digital, there is a growing demand for tools to help manage and track your data. Project management software is a useful tool that can help you plan, organize and manage all aspects of a project – from to-do lists to Gantt charts and expense reports. Large and small enterprises can benefit from using a project management solution to streamline workflows and increase productivity.
Hundreds of project management tools are available today, but many are either too basic or too expensive for most businesses.
While Smartsheet is still one of the most popular data management solutions on the market, several alternatives can also do many of the same things for a fraction of the cost.
In this article, we'll look at some of the 15 best alternatives to Smartsheet and explain what makes them unique.
Basic Project Management Features
Now, let's examine some of the basic features of most project management software.
Task management
This is the most common feature available in most project management solutions. It allows you to break down tasks into smaller steps so your team can work on each step individually. Each task can be assigned to a specific team member, and you can keep track of the progress using a task timeline.
Calendar management
This feature allows you to create visual calendars to help you manage your project schedule. You can assign dates to tasks and milestones and generate notifications to remind you when certain tasks need to be completed.
Time tracking
This feature allows you to track how much time you and your team spend on different tasks so that you can identify any bottlenecks and make adjustments where necessary. It can also help you see where your resources are being spent so you can optimize your workflow and be more productive.
Collaboration
This feature allows you to collaborate with your team in real-time using online chat rooms and private messaging. It also allows you to share files, notes, and other documents with your team so everyone can access the latest information.
Reporting and analytics
This feature helps you track and report on the progress of your project so you can identify problem areas and make improvements as needed. It also allows you to generate reports on various aspects of your project, such as costs, profits, expenses, and revenue, so you can see which projects are performing the best and which are not.
With those basic project management features ranging from time and calendar management to collaboration tools, project management solutions can help your business stay organized. Next, let's see how Smartsheet stacks up against its competitors.
Why Smartsheet?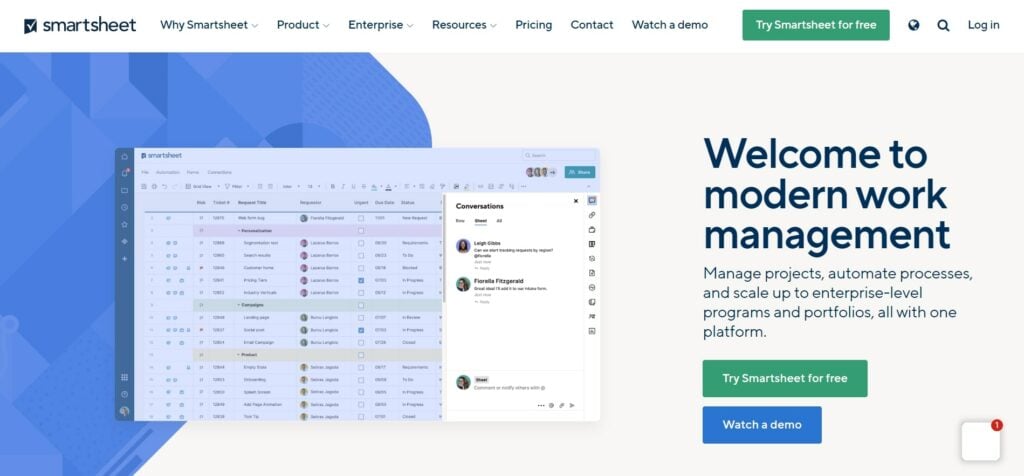 Smartsheet is a project management, teamwork, and crowdsourcing tool offered as a SaaS solution. Users of Smartsheet can create, manage, and share projects, tasks, and processes with permission. With everything you need in one place, Smartsheet lets you plan, monitor, automate, and report on projects. Additionally, by having a comprehensive view of all projects, you can quickly assess the state of your company and accurately forecast outcomes.
Smartsheet has the following features:
Reminders and alerts: You can receive daily or instant notifications of changes and approaching deadlines.
Send and receive email updates: People who update your sheet via e-mail do not need to log in.
View the change history: View any cell's previous data and who made the change.
Manage and share any type of work with shared sheets. You can invite an unlimited number of people to view and edit your sheets or publish them online.
Shared workspaces: Collaborate securely with your internal team, clients, and partners. Make it easier for others to get started by using shared folders and sheets.
While Smartsheet offers a 30-day free trial, you'll have to start paying immediately after the first month. Individual plans cost $14 per month, while business plans cost $25 per user, which is quite expensive.
Furthermore, Smartsheet does not have its own integrated time-tracking system. Many organizations require time tracking to be effective, which may be a deal breaker for some users.
Top Smartsheet Alternatives and Competitors
Here are our top picks for the best Smartsheet alternatives:
Below is a detailed look at some of the best Smartsheet alternatives available today.
Monday.com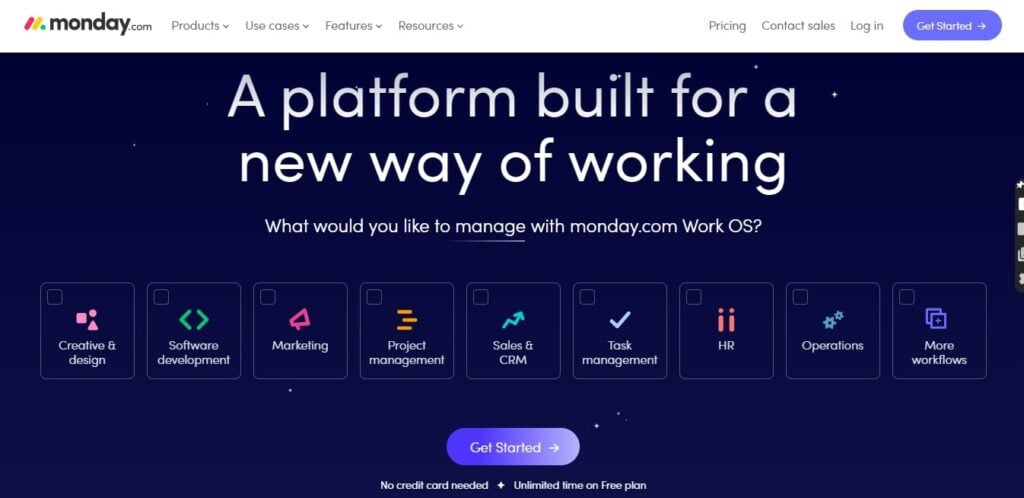 Monday.com is one of the most popular project management tools. It is a cloud-based resource that allows users to access it from any location as long as they are connected to the internet.
Monday.com Features
Gantt boards
Automation
Integrations
Real-time collaboration
Dashboards for project overview
Monday.com Pricing
Individual: free forever and accommodates up to two users
Basic: $8 per person per month (annually)
Standard: $10 per person per month (annually)
Pro: $16 per person per month (annually)
Enterprise: Users have to make direct contact for customized pricing
Smartsheet vs Monday.con: Why is Monday Better?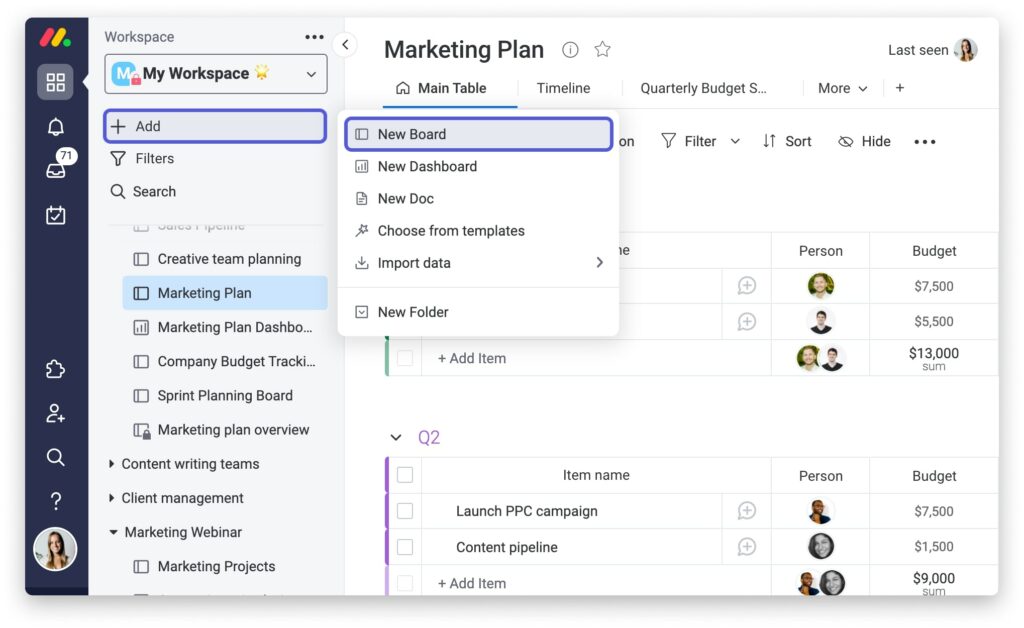 Monday.com offers more features for users who want increased productivity and better resource management. Smartsheet also has a limited pricing range, which can disadvantage users who would like to enjoy flexibility regarding the plan they choose.
Software development
Monday.com is a better alternative to Smartsheet because it allows users to develop more productive apps using low-code tools.
Monday.com is relatively cheaper
Monday.com has a free version that lasts forever, while Smartsheet only offers a free trial version for 30 days. Additionally, Monday.com's pricing is generally cheaper, making it a better option for managing projects.
Who is Monday for?
Monday.com is ideal for small, medium, and large teams. Its diverse pricing plans make it accessible to almost anyone that wants a solution to managing projects.
Wrike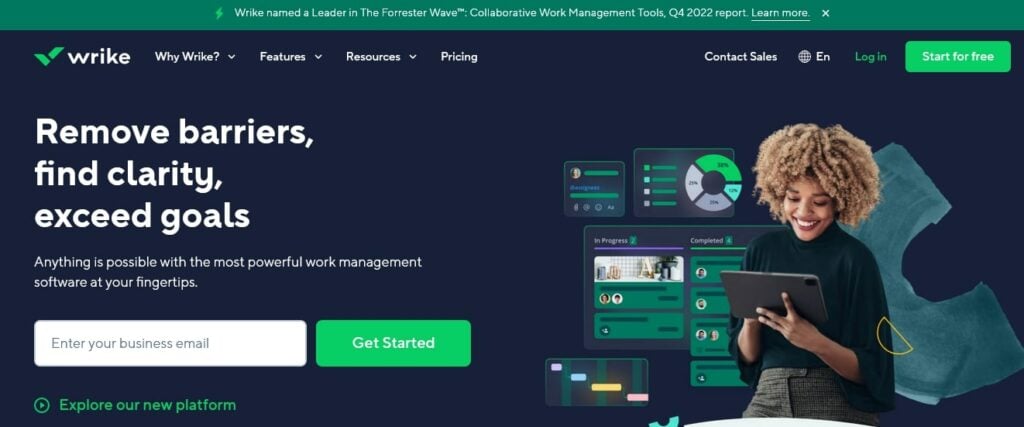 Wrike is a task management tool that allows teams to assign tasks, customize workflows, report, and automate processes. Wrike also makes it easier for teams to collaborate through Kanban boards and Gantt charts.
Wrike Features
Mobile and desktop apps
Integrations
Custom item types
Cross-tagging
Streamlined proofing
Wrike Pricing
Free plan: available to teams that are new to project management software
Team: $9,80 per user per month and is available for teams that are growing
Business: $24,80 per user per month and is customizable to fit any team
Enterprise: users must contact sales to get pricing
Smartsheet vs Wrike: Why is Wrike Better?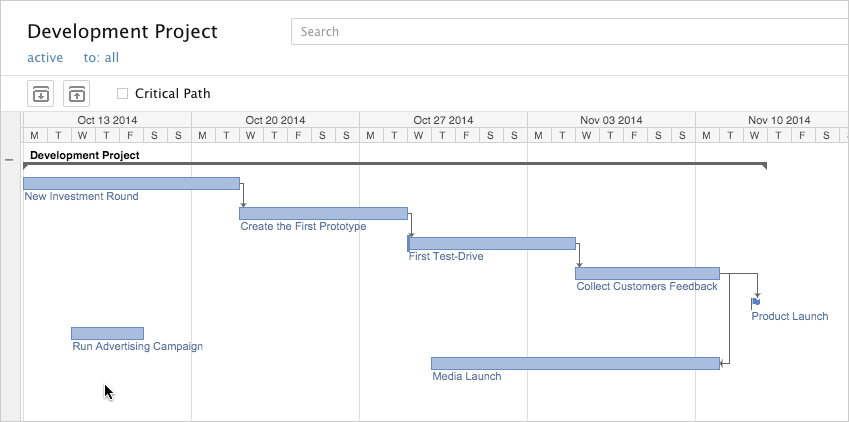 Wrike provides users with some of the best Gantt charts to ensure everyone on the team knows what to do and the deadline for each task or project. A significant difference between these two is that Smartsheet offers flexible solutions for different industries, while Wrike is more streamlined for particular industries and offers more personalized solutions.
And while Wrike offers a free version with unlimited users, Smartsheet does not.
Wrike offers exceptional time tracking
Unlike Smartsheet, which does not have a built-in time tracking feature, Wrike has an elaborate time tracking feature that allows project managers to get helpful data regarding the period each task takes before completion.
Who is Wrike for?
Wrike is ideal for small and medium-sized marketing, project management, and professional service teams.
ClickUp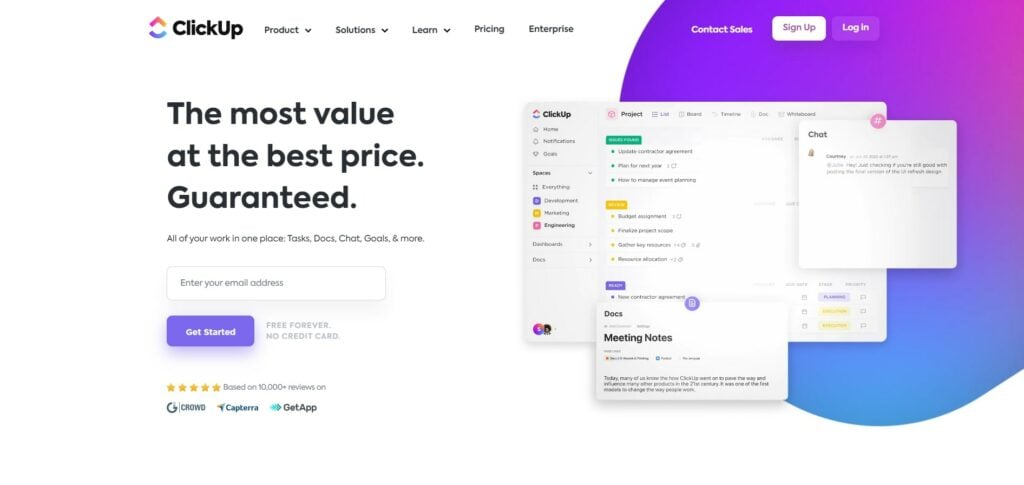 ClickUp is another popular task management tool teams can use to carry out a variety of things. It is available as a mobile and desktop app but can also work as a cloud-based project management solution.
ClickUp Key Features
Dashboards and whiteboards
Automation
Integration
Budget management
Real-time collaboration
ClickUp Pricing
Free: available forever and is suitable for personal use
Unlimited: $5 per member per month and is suitable for small teams
Business: $12 per member per month and is suitable for mid-sized teams
Business Plus: $19 per user per month and is suitable for multiple teams
Enterprise: requires direct contact for pricing
Smartsheet vs ClickUp: Why is ClickUp Better?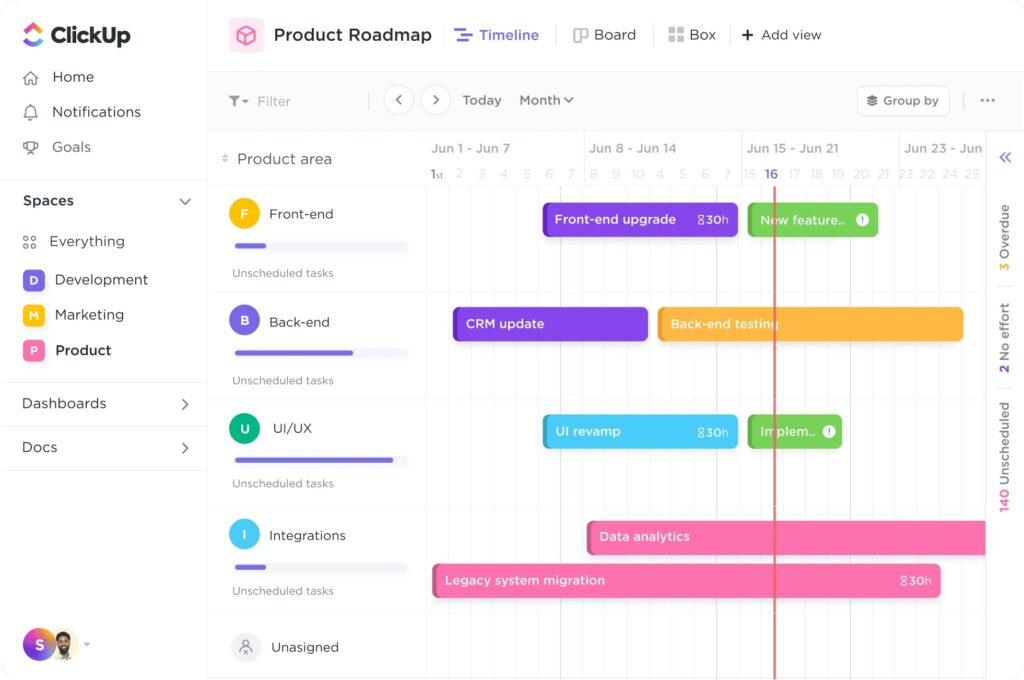 ClickUp offers one of the best options for collaboration thanks to its simple interface, live chats, and work boards. It also boasts of having more features than Smartsheet. Additionally, it incorporates an offline mode allowing users to continue enjoying task management convenience even when not connected to the internet.
ClickUp offers a better free plan
ClickUp is a good project management system because it offers a free version with exceptional features for individuals or small teams just starting with project management tasks.
Who is ClickUp for?
ClickUp can be used by small, medium, and large teams thanks to its range of plans and features. including those suitable for document management.
Teamwork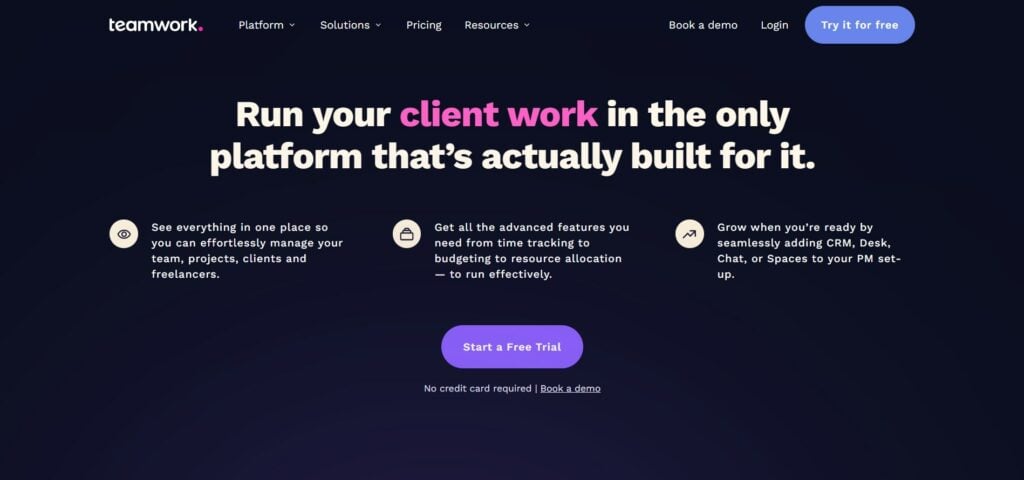 Teamwork is another project management tool that team members from different industries can use to streamline their work. It boasts a simple interface and various features to suit different project types.
Teamwork Features
Automation
Gantt charts
Time tracking
Reporting features
Unlimited free client users
Teamwork Pricing
Free plan: available forever and can be ideal for individuals or small teams
Deliver: $9,99 per user per month charged yearly, or 13,99 billed monthly
Grow: $17,99 per user per month charged yearly, or 24,99 charged monthly
Scale: requires users to make direct contact for pricing quote
Smartsheet vs Teamwork: Why is Teamwork Better?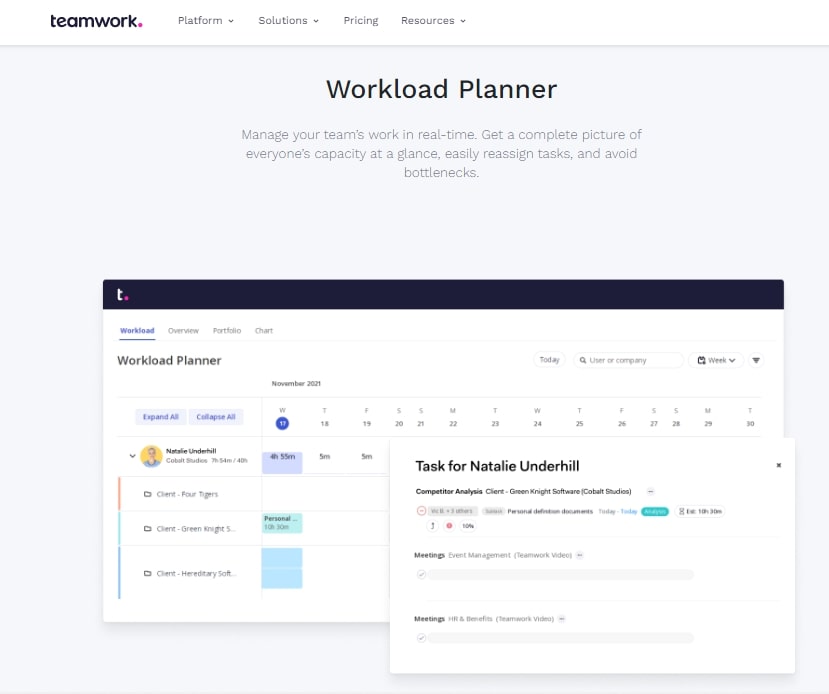 One of the best things about using the Teamwork project management tool is that it allows team members to invite as many clients as they like without incurring extra costs. That makes it possible for users to scale up their activities without moving to another project management alternative.
Teamwork is cheaper
Compared to Smartsheet project management software, Teamwork is a cheaper alternative.
Exceptional security
Teamwork incorporates data replication in real-time, which helps ensure seamless backup of important data for future reference. It also has a robust security infrastructure allowing organizations to set complex passwords and to use two-factor authentication. There is also the option to go for the Single Sign-On security feature.
Who is Teamwork for?
Teamwork features a range of plans to suit both small and large teams.
Zoho Projects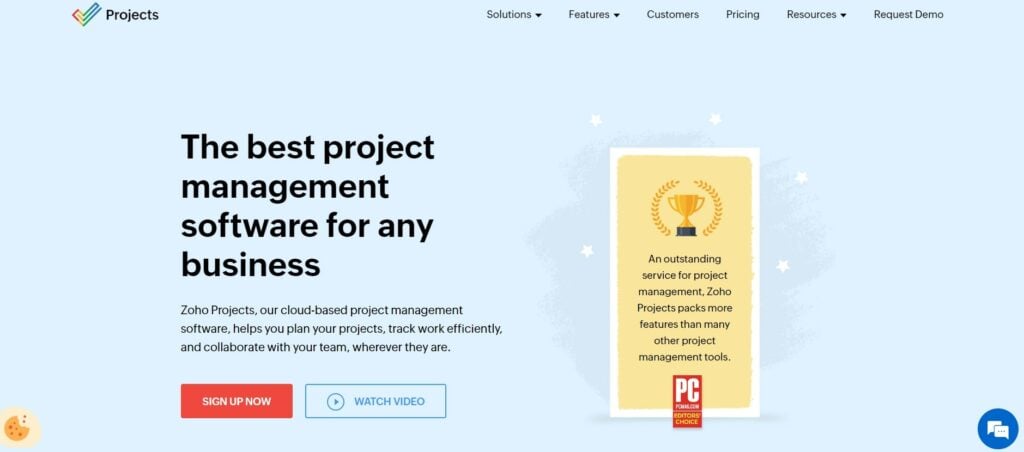 Zoho is a cloud-based platform that offers an array of tools to help boost productivity. Among its most popular offerings is Zoho Projects, a comprehensive project management tool used by teams worldwide.
Zoho Key Features
Online workplace
Remote Collaboration
Integration
Analytics
Automation
Zoho Pricing
Free: available forever with limited features
Premium: $4 per user per month billed annually, or $5 per user billed monthly with a capacity of 50 people
Enterprise: $9 per user per month billed annually, or $10 per user billed monthly with no upper limit for users
Smartsheet vs Zoho Projects: Why is Zoho Better?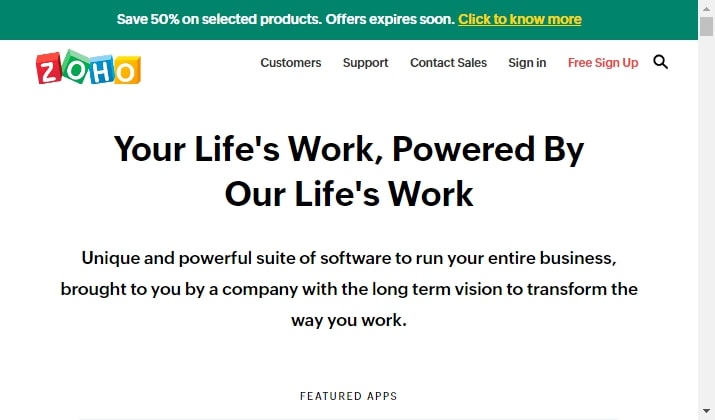 Zoho is an excellent Smartsheet alternative because of its relatively cheap pricing, regardless of your chosen plan. Zoho also excels in breaking down complex projects into smaller components or subtasks for easy management.
Superior collaboration tools
Zoho offers teams in remote locations the right tools to collaborate in real-time. It even features video conferencing and webinar setups. Its built-in group chat feature makes it easy for remote teams to quickly discuss and agree on issues.
Who is Zoho Projects for?
Zoho Projects is ideal for small and large teams alike, thanks to its affordable pricing and the variety of helpful project management features.
Oracle Netsuite Project Management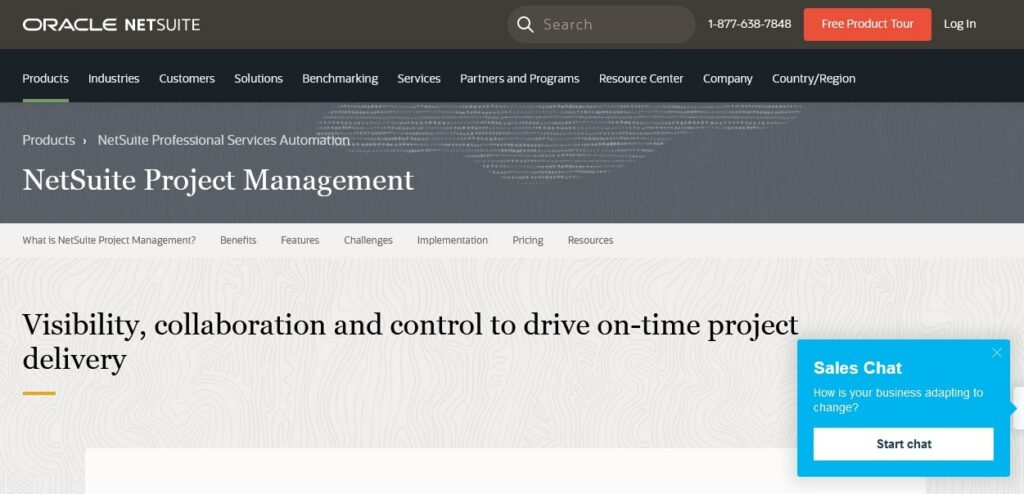 Oracle Netsuite Project Management is a cloud-based platform that offers teams the tools required to manage their work-related responsibilities while collaborating effectively.
Oracle Netsuite Project Management Features
Mobile app
Unique templates
Automation
Integration
Collaboration
Oracle Netsuite Project Management Pricing
This particular service does not provide specific pricing plans. That is because it targets large enterprises with varying demands. It, therefore, follows that users must get in touch to get a personalized pricing quote.
Smartsheet vs Oracle Project Management: Which is Better?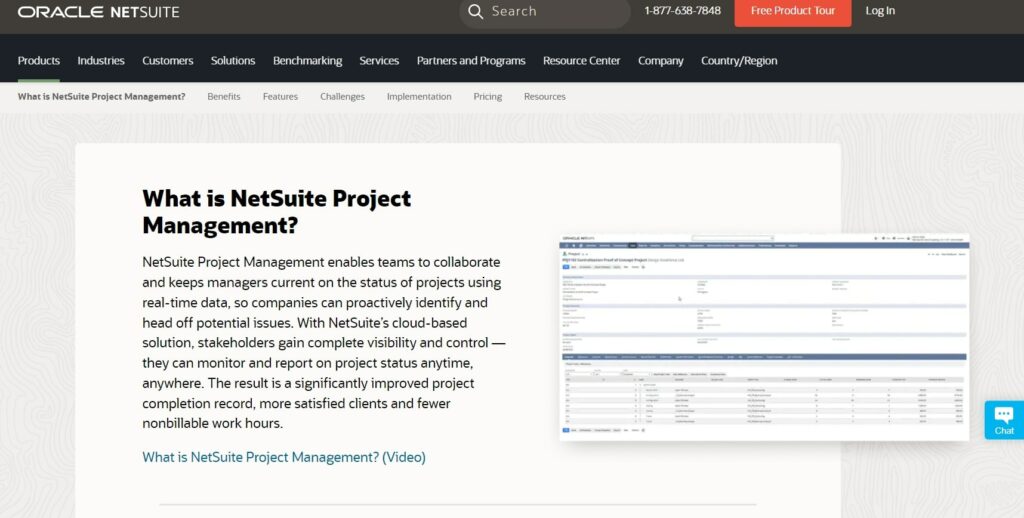 Oracle Project Management is an impressive Smartsheet alternative because it allows organizations to get in touch and negotiate a relevant pricing deal. Unlike Smartsheet, Oracle Netsuite provides marketing automations and performance metrics useful to any business.
Impressive inventory control
Oracle Project Management features tools that help different organizations manage inventory more simply and effectively. It achieves this by providing a single, real-time overview of inventory across departments and locations. As a result, organizations can optimize resources and provide better services while making more profits.
Who is Oracle Netsuite Project Management for?
Because of its flexible pricing, this particular project management software is suitable for medium and large teams. However, it is more recommendable for enterprises that want a project management tool at a bargain.
Asana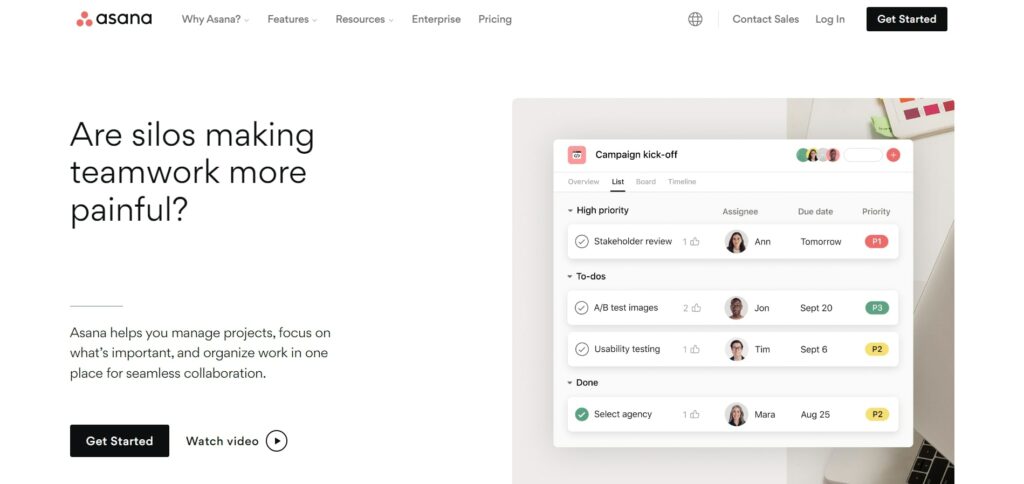 Asana is another popular project management tool for individuals and teams of different sizes. Because of its cloud-based design, unlimited users can access it from any location as long as they have an internet connection.
This particular tool is also available as a mobile and desktop application. This tool allows users to collaborate on projects through work boards, report progress, and monitor workloads.
Asana Key Features
App integrations
Automation
Work boards
Reporting features
Desktop and mobile apps
Asana Pricing
Basic: available for free indefinitely and is suitable for teams starting out
Premium: $10,99 per user per month charged yearly, or 13,49 per user billed monthly
Business: $24,99 per user per month charged yearly, or $30,49 charged monthly
Enterprise: requires users to make direct contact for pricing
Smartsheet vs Asana: Why is Asana Better?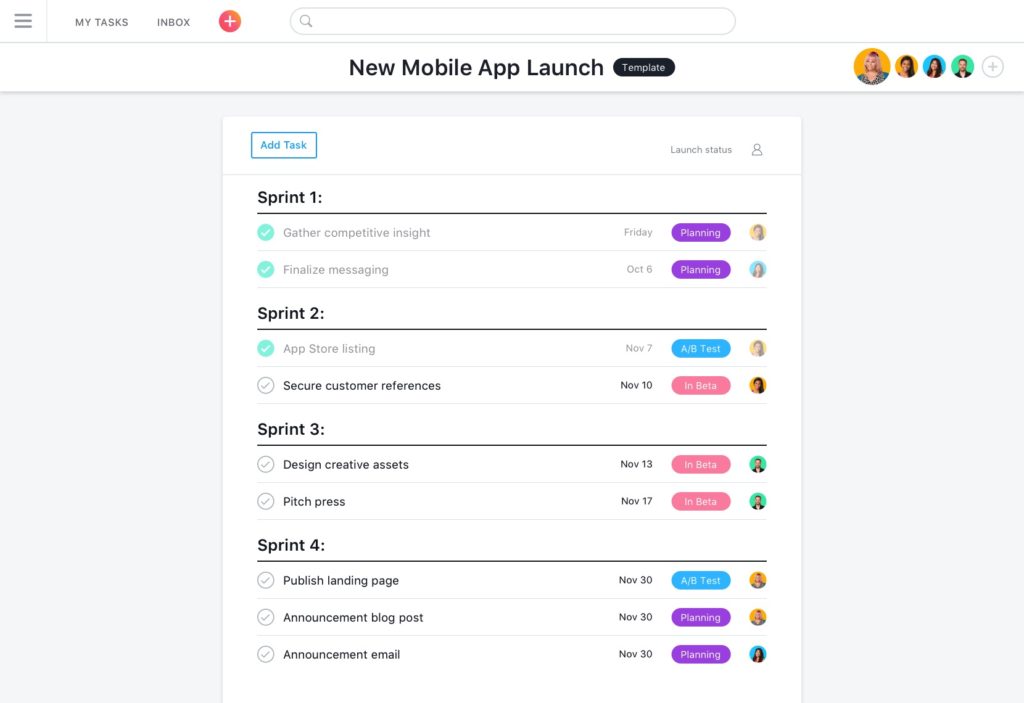 Asana is one of the best alternatives to Smartsheet because it simplifies communications. It offers a wide range of project templates, making it easy for teams to work on multiple projects without experiencing any complications. its diverse project views also simplify how teams work.
Some of the views available on this platform include lists, boards, charts, calendars, and timelines. Smartsheet only offers tubular, calendar, and board views. Asana project management is also fully customizable.
Asana offers SMB-focused integrations
Asana makes it possible for small and mid-sized businesses to incorporate important tools for the daily management of tasks and reports. Keep in mind that small and mid-sized businesses do not yet have the infrastructure and resources to handle advanced IT tools such as those frequently used by corporations.
Who is Asana for?
Asana is another project management option with various plans to suit the small, medium, and large teams.
Resource Guru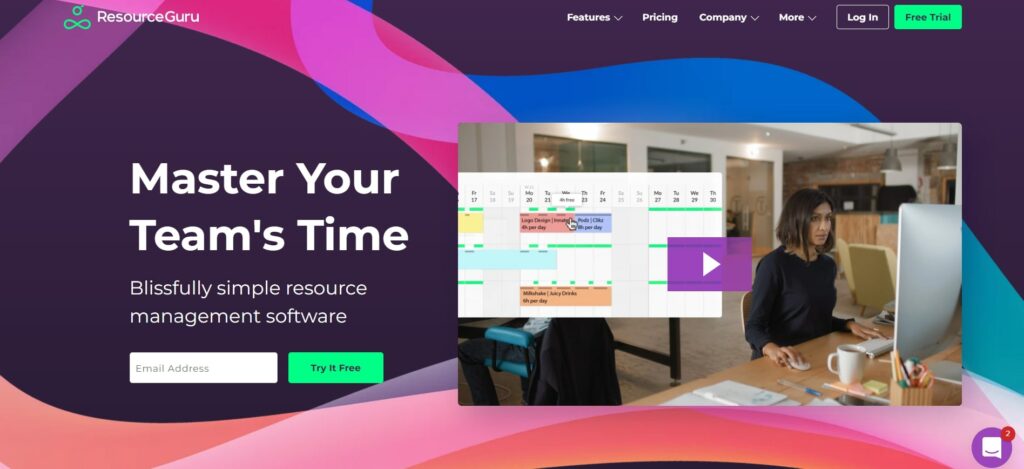 As the name suggests, Resource Guru is software built to help organizations manage their resources and projects. With this tool, users can track tasks, communicate with team members, compile reports, and get data regarding project progress.
Resource Guru Key Features
Resource management features
Equipment management
Capacity planning
Project forecasting reports
Leave management
Resource Guru Pricing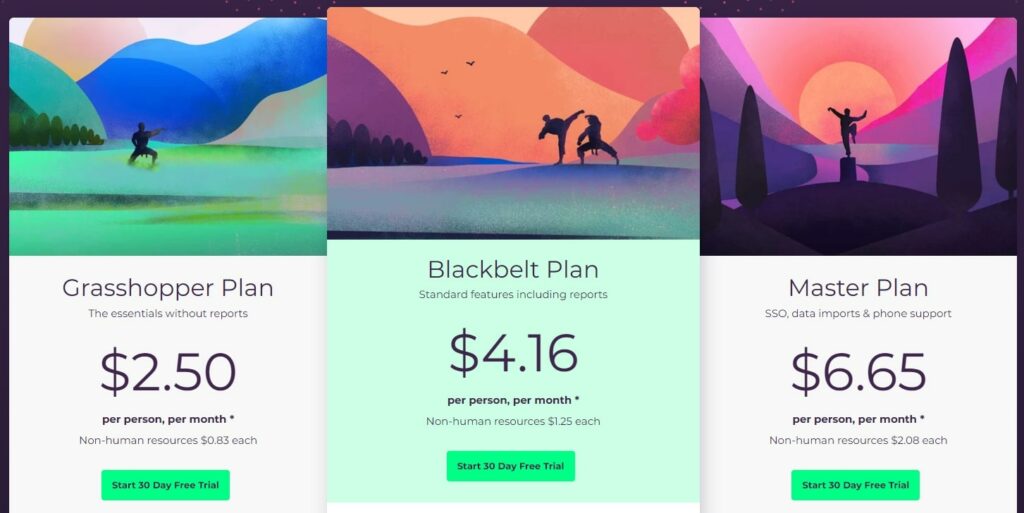 Grasshopper plan: $2,50 per person per month
Blackbelt plan: $4,16 per person per month
Master plan: $6,65 per person per month
Smartsheet vs Resource Guru: Why is Resource Guru Better?
Resource Guru is a better Smartsheet alternative because of its exceptionally cheap rates and all-encompassing resource and project management features. Resource Guru also incorporates a color coding feature so that you can sort out different tasks accordingly and avoid running into misunderstandings with different team members.
Comprehensive reporting
Resource Guru incorporates management features that help compile essential data for accurate reporting and project monitoring. Reports from this tool can be used to predict possible future outcomes and can, therefore, help in planning.
Who is Resource Guru for?
Resource Guru can be the best project management software for teams of all sizes thanks to its comprehensive features and cheap rates across the board.
Notion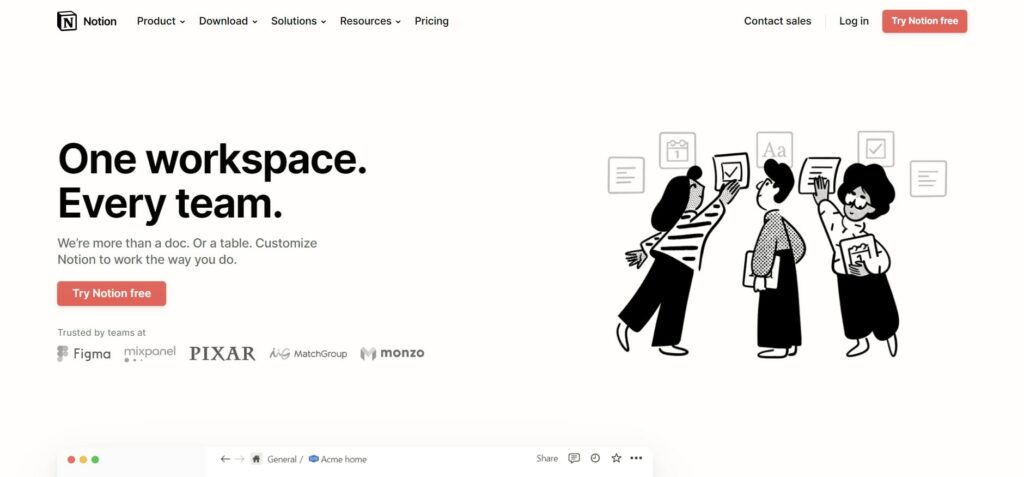 Notion is a web-based collaboration and project management platform for professional teams. This platform allows users to create tasks, monitor progress, create reports, and stay updated with the latest schedules.
Notion Key Features
Customizable templates
Team collaboration boards
Integration
Automation
Smart notifications
Notion Pricing
Personal: available to use free of charge
Plus: $8 per person per month charged annually or $10 per person charged every month
Business: $15 per user per month billed annually or $18 per user paid every month
Enterprise: requires users to get in touch for pricing quotes
Smartsheet vs Notion: Why is Notion Better?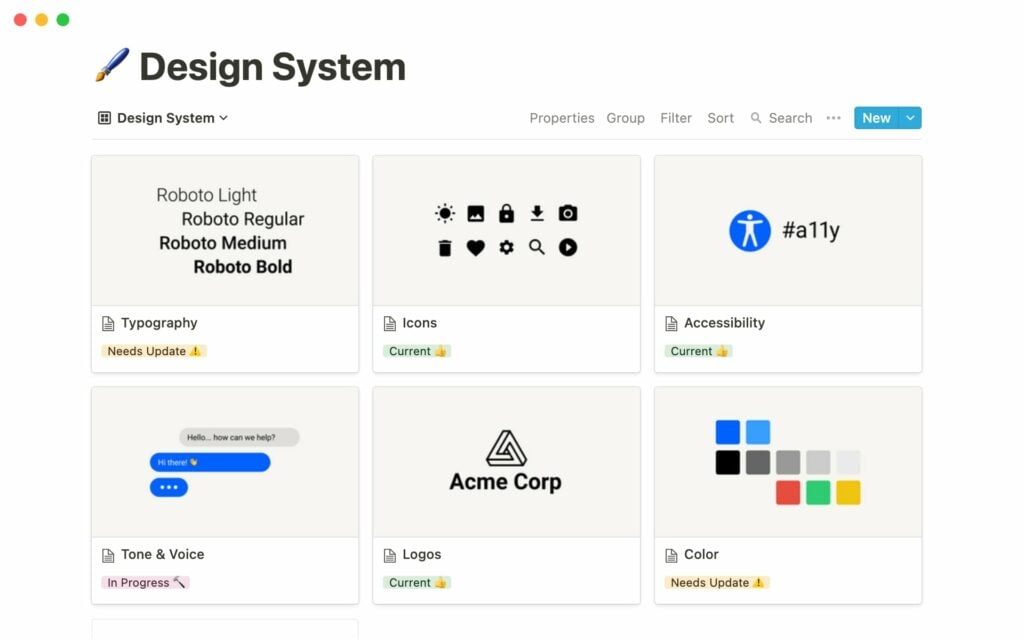 Notion has one of the simplest interfaces making it easy for different team members to navigate from one point to another. This tool incorporates a feature known as Notion Wikis or document directories where you can curate all the information regarding your company, project, and goals so that everyone can always access and align their workings accordingly.
It's worth pointing out that Notion's features can be accessed from any platform, including the mobile app, Chrome extension, desktop app, and web browser.
Relatively cheaper
Compared to Smartsheet, Notion comes across as a cheaper alternative. It also has a free version with helpful features for individuals or small teams.
Good customer support
Notion stands out as one of the best alternatives to Smartsheet because of its active customer support department. The support team is active from Monday through to Friday. You can reach it through multiple channels, including social media, email, live chat, telephone contact, and ticket submissions. Live chat and telephone support is instant and often elicit rapid resolution of any problems.
Who is Notion for?
Notion is a good task management option for individuals and small teams that want to work more efficiently.
Airtable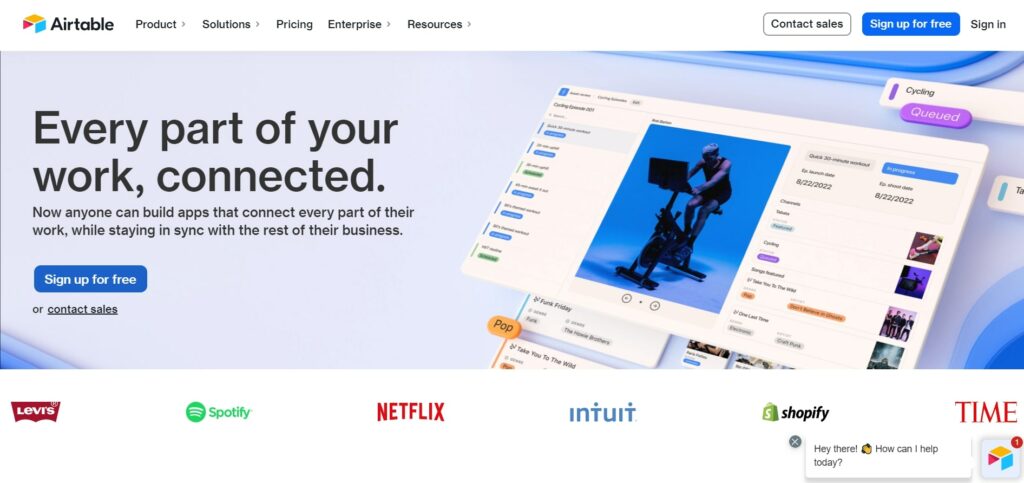 Airtable is another cloud-based platform that allows teams from different organizations to gain better insights into project and resource management. This platform allows users to create tasks, track time, monitor project progress, and collaborate.
Airtable Key Features
App building features
Integration with other software or tools
Team collaboration tools
Reporting
Dashboards and Gantt charts
Airtable Pricing
Free: available forever and is suitable for small teams of up to 10 people
Plus: $10 per user per month when charged annually or $12 per person when billed monthly
Pro: $20 per user per month charged annually or $24 per user per month charged every month
Enterprise plan: interested organizations must get in touch for personalized pricing
Smartsheet vs Airtable: Why is Airtable Better?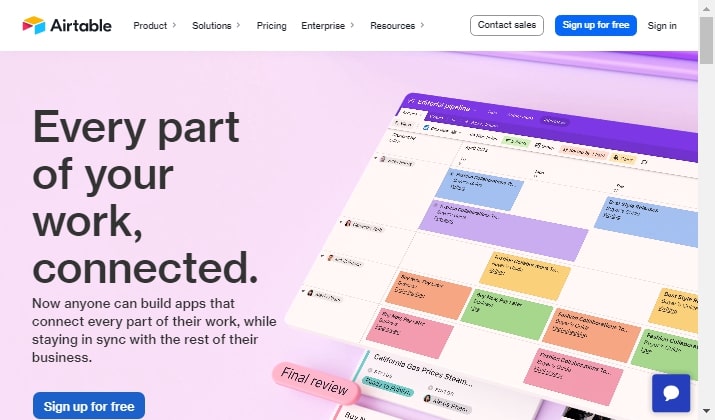 One of the things that distinguish Airtable from Smartsheet is that it has tools that help developers come up with new apps. Airtable is another project management tool that easily customizes solutions for every project or task.
Airtable offers seamless growth
Small organizations with a handful of team members are more likely to benefit from Airtable's design because it allows for progressive growth. Small teams can subscribe to the basic plans and gradually upgrade as their resources increase.
Impressive free version
Airtable offers a free version that can accommodate up to five users. On the other hand, Smartsheet does not have a free version but only offers a free trial for 30 days.
Who is Airtable for?
Airtable is a good Smartsheet alternative for small and medium-sized teams that want to scale up their projects over time.
ProofHub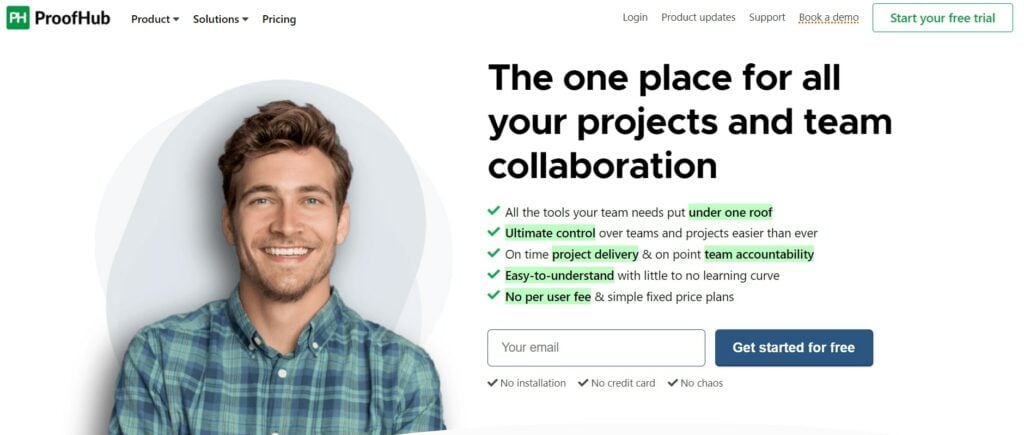 ProofHub is a project management platform that doubles as a project planning tool. This platform allows users to create assignments, assign tasks, share schedules, track tasks, articulate rules and regulations and even communicate through chats and boards.
ProofHub Features
Admin dashboards
Collaboration
Integration
Automation
Time tracking
ProofHub Pricing
Free trial: ProofHub allows new users to enjoy its features free of charge for a trial period of 14 days
Essential: $45 per person per month when billed annually and $50 per person per month billed monthly
Ultimate Control: $150 per user per month but may change depending on a variety of factors
Smartsheet vs ProofHub: Why is ProofHub Better?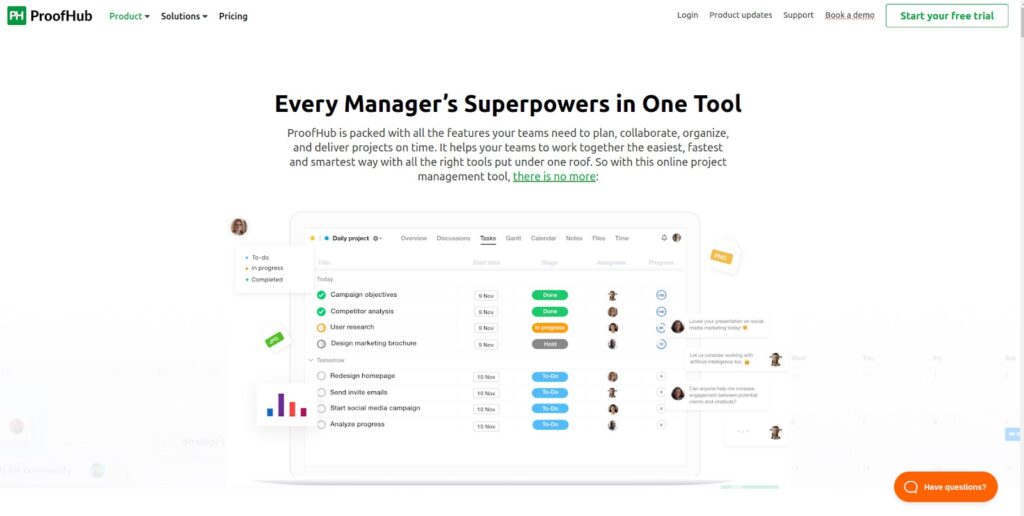 ProofHub is an ideal Smartsheet alternative for large or enterprise teams. That is because it offers a flat rate for as many team members as possible so long as they use the Ultimate Control plan.
ProofHub's native features
ProofHub incorporates a lot of important native features. That eliminates the need for teams to look for third-party integrations constantly. Users enjoy time tracking, chat boards, reporting, document sharing, and many other activities within the system. Proofhub is also unique because it lets users import tasks, use email to add tasks, and also allows them to mark their progress in percentage terms.
Who is ProofHub for?
ProofHub boasts many native features to help handle multiple complex projects. Its pricing plans favor large or enterprise teams.
Jira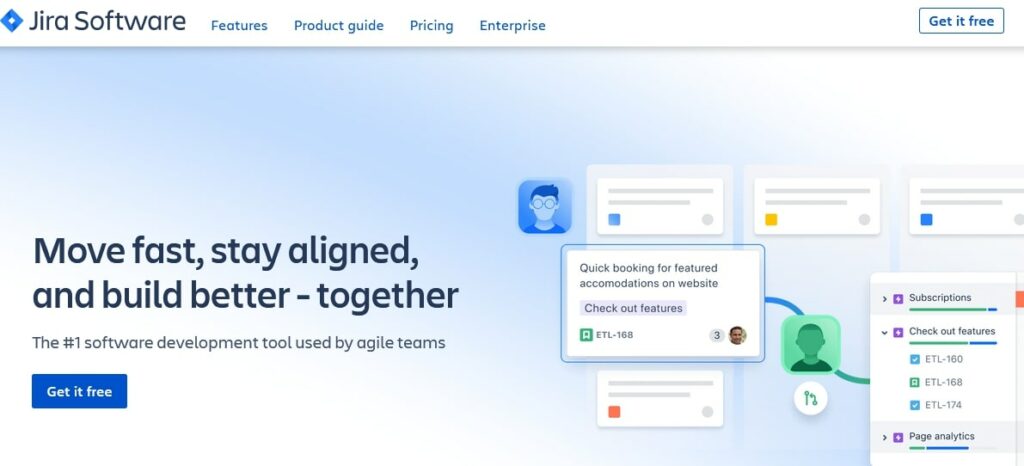 Jira is a task management tool that doubles up as a software development platform. It incorporates various features to ensure that remote teams can collaborate seamlessly.
Jira Features
Insights and reports
OpenDevops
Integration
Automation
Security
Jira Pricing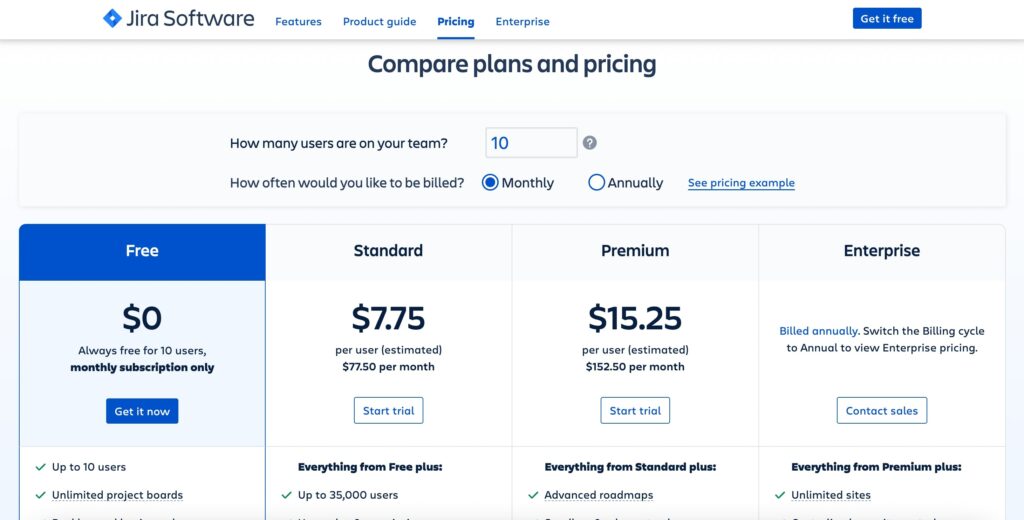 Free: available forever and can accommodate up to 10 people
Standard: $7,75 per user per month
Premium: $15,25 per user per month
Enterprise: contact Jira for more details
Smartsheet vs Jira: Why is Jira Better?
Jira excels in providing state-of-the-art security for project managers and their teams. Therefore, it is one of the best options when working in a secure system.
Jira upholds agile values
Jira is one of the few project management tools that are designed to uphold the core values of agile environments or teams. Agile teams are often co-located and dedicated to completing a specific project before moving on to another.
Who is Jira for?
Jira is best suited for agile project management or large teams and enterprise-level entities that dedicate their time to completing specific projects sequentially rather than concurrently.
Basecamp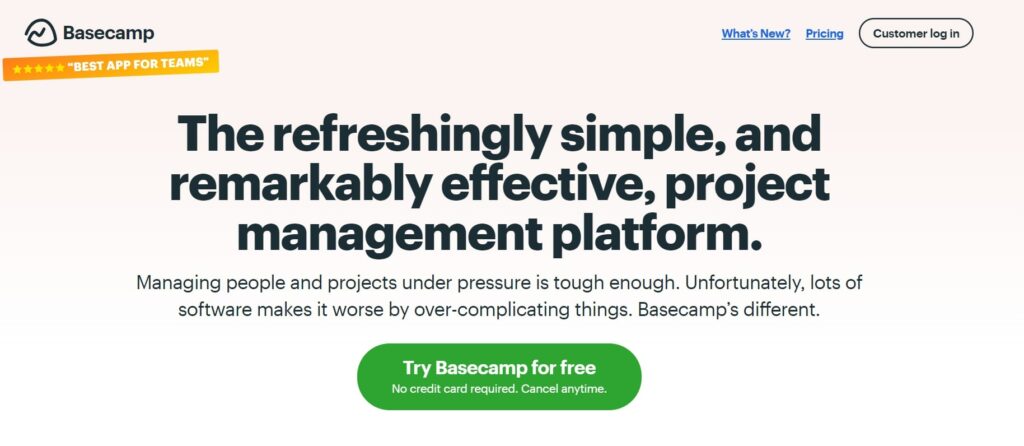 Basecamp is an online project and planning tool for teams in different industries. It allows users to create assignments, monitor task progress, and communicate.
Basecamp Features
Team collaboration
Schedules
Task tracking
Automation
Integration
Basecamp Pricing

Free: Basecamp offers new users a 30-day free trial
Basecamp's full version costs a flat rate of $11 per user per month and hosts unlimited projects
Smartsheet vs Basecamp: Why is Basecamp Better?
Unlike many management software, Basecamp does not seek to bombard teams with hundreds of features and add-ons. Instead, it only focuses on providing the most important project management features.
Basecamp offers simplicity and affordability
Instead of having a fancy yet complicated interface and thousands of features, Basecamp offers users a simple alternative to project management. It is also relatively cheap.
Who is Basecamp for?
Basecamp is suitable for small, medium, and even large teams alike.
Celoxis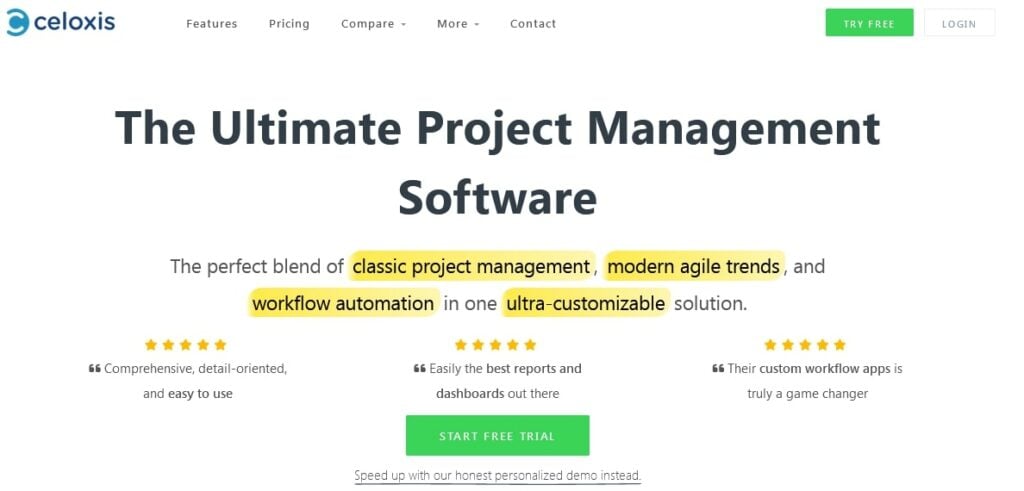 Celoxis Features
Project request tracking
Project planning
Project accounting
Portfolio management
Workflow apps
Celoxis Pricing
There is a 30-day free trial offer
Cloud: $22.50 per user per month billed yearly
On Premise: requires direct contact for quotes
Smartsheet vs Celoxis: Why is Celoxis Better?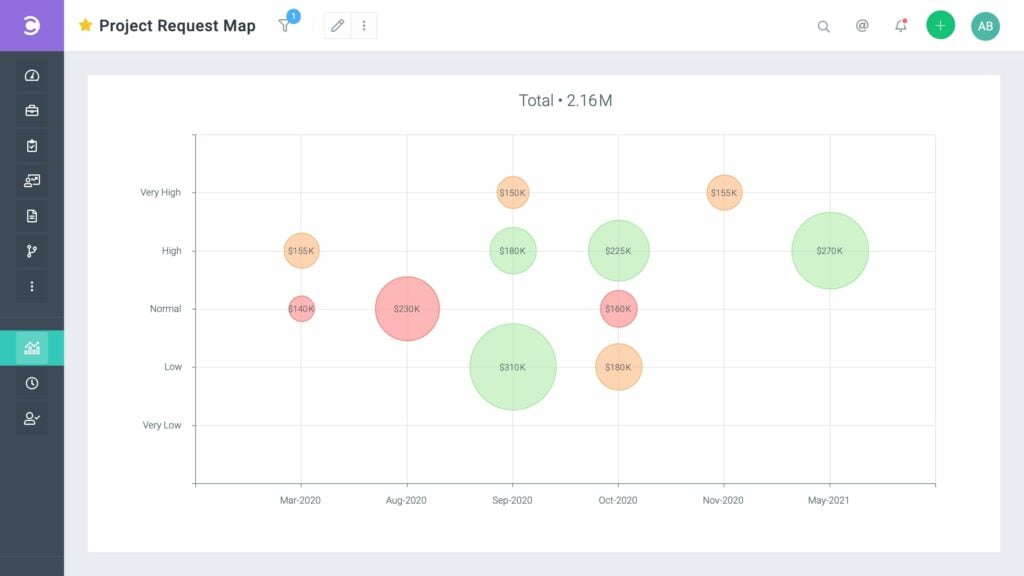 Celoxis is one of the best tools to use when creating an exceptional plan for your projects. It is also relatively easier to deploy when compared to Smartsheet.
Good reporting
Celoxis is packed with features that help in data compilation and reporting. With this tool, you can get task attributes such as hours, costs, and revenue. You can also compile reports regarding discussions, activity logs, user details, and file sizes or types, among other things.
Who is Celoxis for?
Celoxis's flat rate arrangement makes it ideal for small and large teams.
LiquidPlanner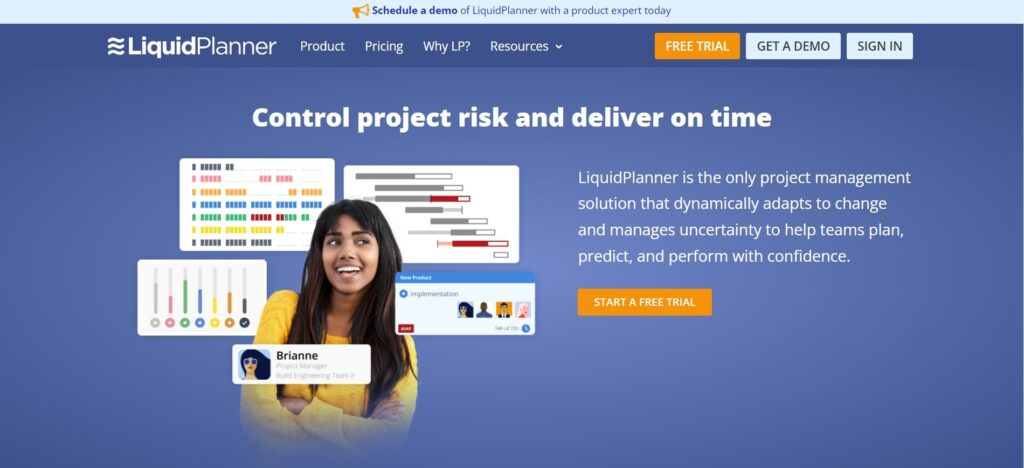 LiquidPlanner is a work and resource management tool that allows users to get a general overview of everything about the project. Its features allow project managers to plan, facilitate team collaboration, and predict possible outcomes.
LiquidPlanner Features
Time management
Intelligent insights
Ranged estimations
Work boards
Automation
LiquidPlanner Pricing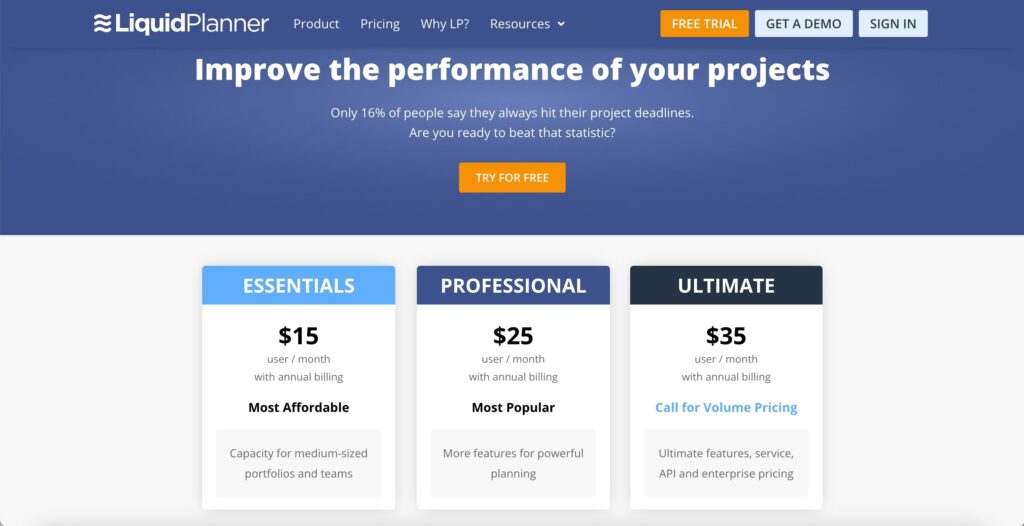 Free plan: available for teams of three people and can only handle 10 projects
Essentials: $15 per user per month (annually)
Professional: $25 per user per month (annually)
Ultimate: $35 per user per month (annually)
Smartsheet vs LiquidPlanner: Why is LiquidPlanner Better?
LiquidPlanner provides teams with the right tools to create schedules and monitor member workloads. Compared to Smartsheet, LiquidPlanner offers large teams a more effective solution for handling numerous or recurring tasks. It also automates schedules and ensures each member deals with priority tasks fast.
Workload views
LiquidPlanner gives the project manager an overall view of each member's workload and estimated completion time. This helps ensure that every team member gets adequate time and that no one is overburdened with work.
Who is LiquidPlanner for?
LiquidPlanner can be ideal for small, medium, and large teams.
Top Smartsheet Competitors: Conclusion
Finding the best Smartsheet alternatives for project management is key to ensuring success for yourself or the team. That is why it is important to look at the options above and settle on something that fits your budget, caters to the size of your team, and has the features and functions you need the most.
The good news is that the project management tools and platforms noted above offer free trials and free versions, so you can test them out before you decide on the most fitting.