Project management software can help businesses streamline their workflow and keep track of projects. One such software is ClickUp, a widely applauded project management tool for its user-friendly interface and efficient project and task management features.
ClickUp has recently added several new features to enhance the user experience and make it even more convenient to manage projects effectively.
But can ClickUp compete against the well-established market leader Smartsheet?
This article compares and reviews ClickUp and Smartsheet, two of the most popular project management software options.
Both offer a wide range of features to help you manage projects and collaborate with your team more effectively.
Smartsheet vs. ClickUp: Similarities
Here are the main features of Smartsheet and ClickUp:
ClickUp & Smartsheet utilize collaboration tools to help team members to connect, share and discuss project progress.
They have mobile apps for Android and iOS devices, so you can manage projects and share files from the go.
They utilize Kanban boards, Gantt charts, and Mind Maps to organize ideas, projects, and existing tasks to construct visual outlines.
Both promote tracking dependencies so that you can track changes, schedule tasks, and monitor project performance.
Smartsheet vs. ClickUp: Differences
The key differences between Smartsheet and ClickUp include the following:
Smartsheet lets users select from multiple views to visualize their projects and share reports, while ClickUp allows users to choose from nine predefined views.
Smartsheet offers options for users to update and approve requests, delays, and changes to project plans, while ClickUp does not have this built-in feature.
ClickUp supports social media integration within the program, but Smartsheet requires you manually post on social media platforms such as Twitter and Facebook.
ClickUp has a native messaging functionality that allows users to send group messages, polls, and files, but Smartsheet requires you to use external messaging programs like Slack.
What is Smartsheet?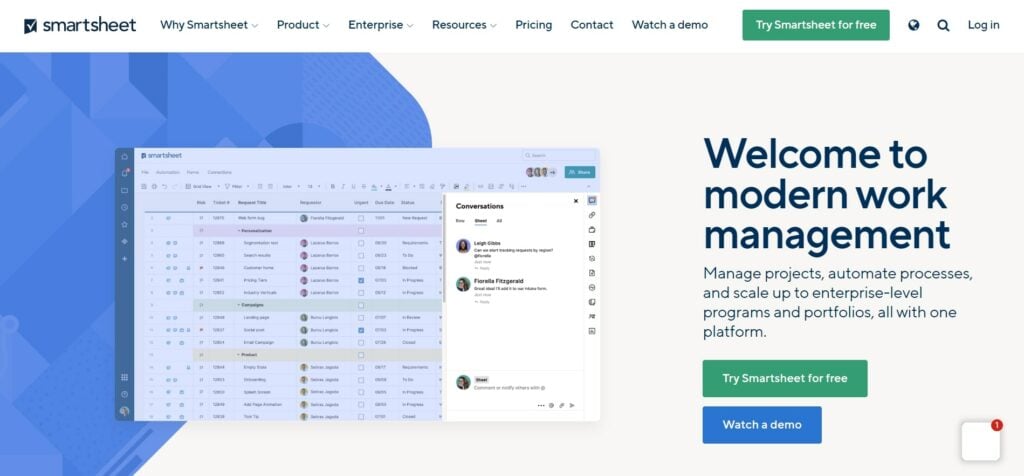 Smartsheet is an online project management software that lets users collaborate with team members and manage project workflow.
It launched in 2006 and has almost 9 million users. Approximately 100,000 organizations, including Google, Netflix, and the US General Services Administration, use the tool.
Smartsheet is a SaaS program that offers customer resource management (CRM) features and powerful budget tracking features.
Smartsheet Key Features
Here are the key features of Smartsheet:
Content management features allow users to create, edit and manage project documents in an online wiki.
The project resource management feature allows users to plan, manage, budget, monitor resources, and report on performance.
The seamless team collaboration feature lets users share files, discuss project progress with team members, and track action items.
The task automation feature allows users to schedule tasks, track progress, seek approval and move rows to various sheets, locked or unlocked.
Powerful integrations and add-ons for third-party applications such as Google Drive, Zapier, DocuSign, and Outlook.
What is ClickUp?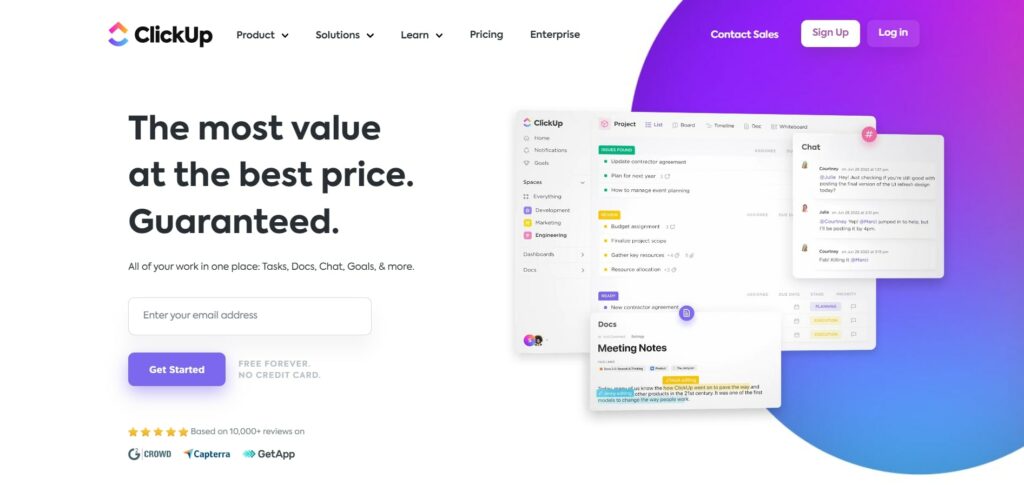 ClickUp is a cloud-based collaboration and project management software that allows users to manage projects, delegate tasks, and communicate with team members.
It's a relatively new platform launched in 2017 and has been gaining popularity due to its user-friendly interface and easy-to-use features. The platform can be customized for each project and team.
The beauty of ClickUp is that it offers a forever-free plan that lets users try the product before they invest in a paid plan. It seamlessly integrates with other platforms, such as Slack, GitHub, and Dropbox. 
ClickUp Key Features
The following are the features of ClickUp:
Time tracking and time estimating features show users how long it will take to complete given tasks.
Relationship features allow users to sync data between various sources and visualize project relationships and dependencies.
The goals feature allows you to plan for future activities, manage your current goals, and get notified about the progress.
The workspace views features allow users to customize the software according to their preferences and visualize task dependencies using Gantt, Board, Calendar, and Box views.
The task priorities feature helps you to identify high-priority tasks that need immediate attention.
ClickUp vs. Smartsheet: Features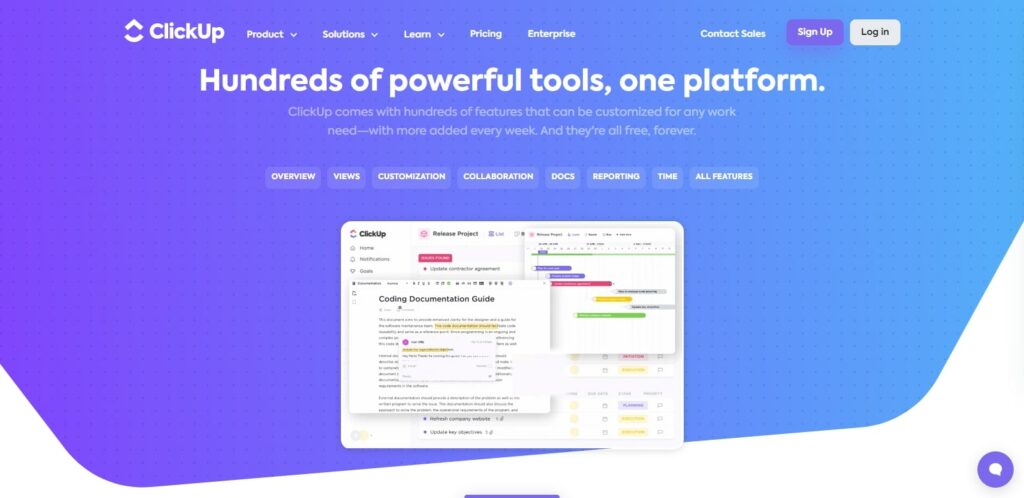 Smartsheet and ClickUp have powerful task management features consisting of Gantt charts and Kanban boards that help you set deadlines, brainstorm, track time, assign and prioritize tasks, and build reports.
Here's how the two compare in terms of features
Task Management
ClickUp helps you plan, collaborate, and organize tasks on any project. You have 35+ ClickApps to help you customize your tasks for any work need.
Smartsheet also allows you to plan, review, and manage the production process of any task. You can also use automated reminders to keep designers on schedule.
Brand Assets Feature
Smartsheet has more brand assets, including branding and logos, that you can incorporate into your project plans.
ClickUp does not have any brand assets.
ClickUp wins in Features
ClickUp seems to lead over Smartsheet regarding social media integration, native email integration, and its free forever plan.
Smartsheet has a no-code-building platform to help you build intuitive web and mobile apps to streamline collaboration.
ClickUp vs. Smartsheet: Ease of Use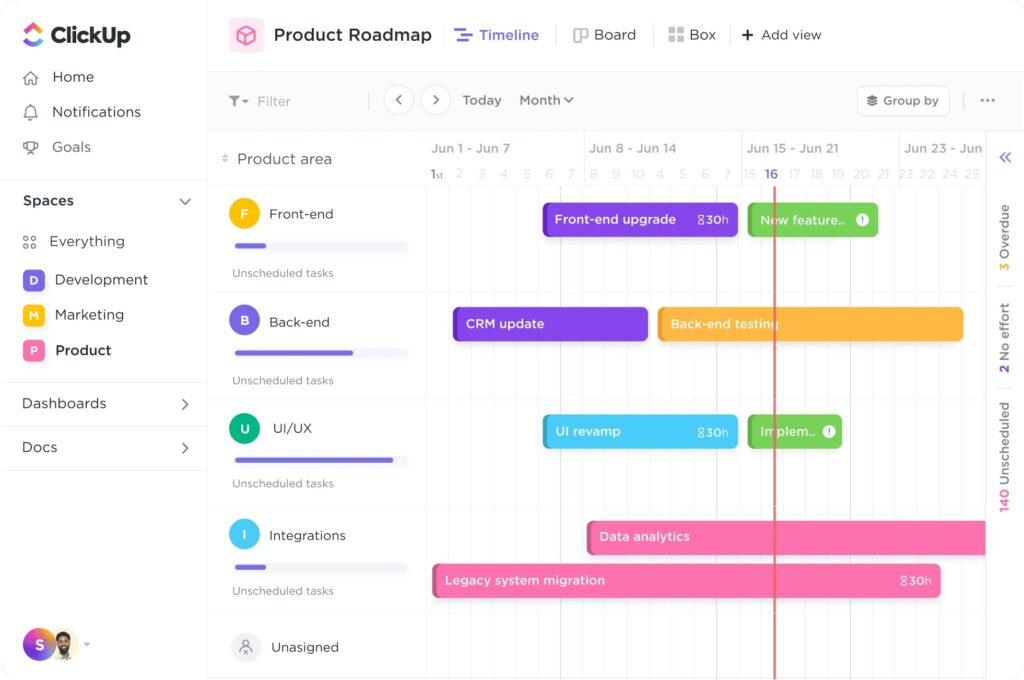 While ClickUp is more contemporary and has fewer users, it has a cleaner interface and more intuitive features.
Smartsheet offers more advanced features like a drag-and-drop functionality to build custom pdfs and a more complex interface.
ClickUp is Easier to Use
ClickUp wins in ease of use, enabling users to track and deliver on their promises. Smartsheet has many more features that may take time and effort to master.
Smartsheet vs. ClickUp: Integrations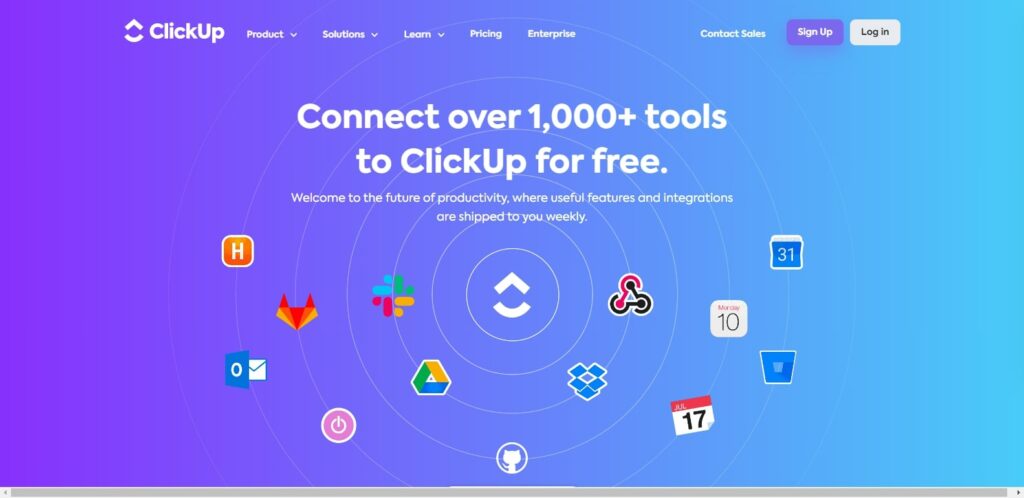 ClickUp integrates with popular platforms such as Airtable, Harvest, GitLab, and Trello. It also has native email integration for team communication, allowing you to send and receive emails directly from the platform.
ClickUp integrates with all top cloud productivity tools like Microsoft Office 365, Adobe Creative Cloud, Workplace Chat, and more. However, you must utilize a separate social media application to post social content.
ClickUp Wins in Integrations
ClickUp wins in third-party integrations as it offers more apps to sync data between multiple platforms, making it easier for users to track the progress of their projects.
To add this, ClickUp integrates with popular social media platforms making it easier for users to share information with their networks.
Smartsheet vs. ClickUp: Pricing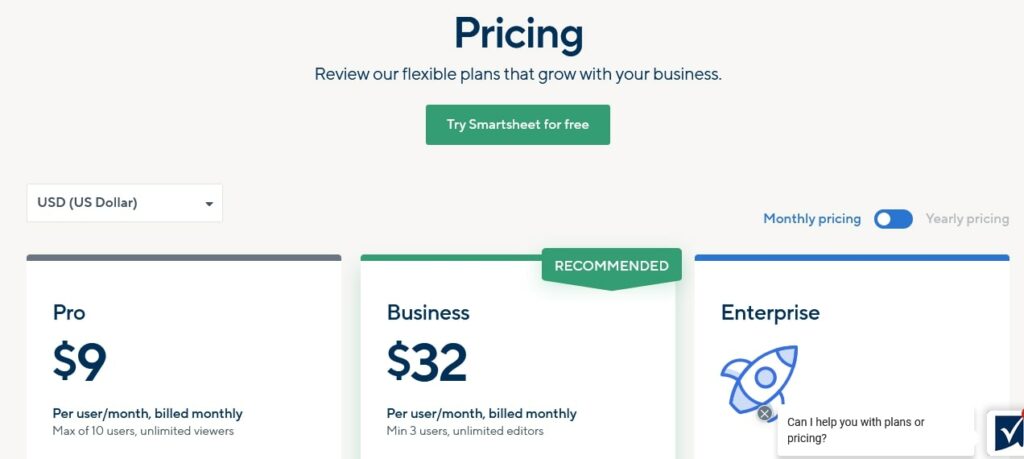 ClickUp & Smartsheet offer different pricing plans for customers to choose the most convenient for their budget.
Here is the pricing plan for Smartsheet:
Pro: $7 per user monthly billed yearly. It accommodates ten users, offers issue tracking, dashboards, reports, and forms, and allows integrations with other tools like Microsoft 365 Teams, Google Calendar, Slack, and DropBox.
Business: $25 per user monthly billed per year. It allows 3 users with unlimited editors and includes baselines, forms with conditional logic, timeline view, and integrations.
Enterprise: Contact customer support to get a custom quote for Enterprise plans. It offers chargeback reports, domain validation, professional authorization, and access to Smartsheet Advance.
Here is the pricing plan for ClickUp: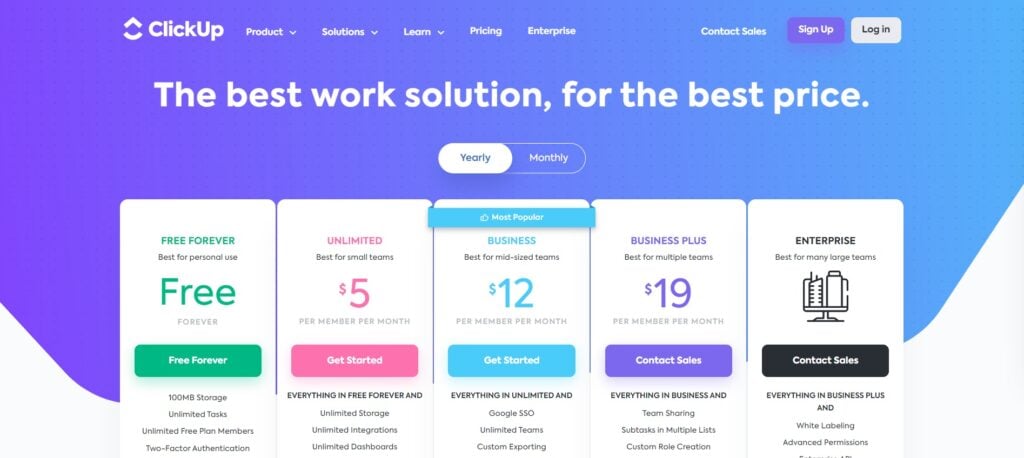 Free Forever: It is the best for personal use. It allows unlimited new tasks, collaborative documents, recurring tasks, real-time editing and chat, whiteboards, and time tracking.
Unlimited: $5 per user monthly. It's suitable for small teams and offers unlimited storage, dashboards, integrations, and custom fields.
Business: $12 per user monthly. It's suitable for mid-sized teams and offers advanced automation, time management, workload view, granular time estimates, and goal folders.
Business Plus: $19 per user monthly. It's the nest for multiple teams that offer specific tasks in various lists. It supports customizable templates, role creation, team sharing, admin training webinars, and priority support.
Enterprise: Contact customer support to get a custom quote. It is suitable for large teams and offers enterprise API, white labeling, live onboard training, and personal views like a table view, board view, workload view, and other ways to visualize work.
Smartsheet wins in Pricing
ClickUp is not too expensive, and businesses can use the free forever plan to manage their projects more efficiently. However, Smartsheet is more affordable when you consider the number of users.
Smartsheet vs. ClickUp: Customer Support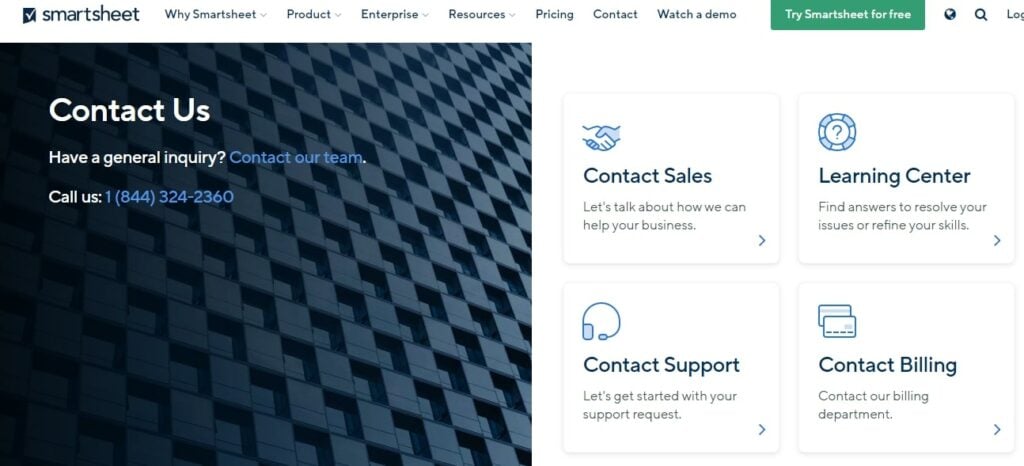 ClickUp has a help center, video tutorials, and a community. You can access all information by clicking the question mark on your dashboard. The support is offered via web chat and is very helpful.
Smartsheet offers excellent customer support. If you select a higher price tier, you get priority support. With the basic plan, you get dedicated email support and instant responses.
Smartsheet wins in Customer Support
Smartsheet customer support is more effective than ClickUp's as it has dedicated support. It's more efficient and faster than ClickUp and takes less time to respond.
Smartsheet vs. ClickUp: Customization

ClickUp offers 35 ClickUp apps and 40 integration options, allowing users to track and monitor their progress and manage resources effectively.
It also offers many customizable templates and a visual editor that comes in handy for users to add data quickly and easily.
Smartsheet offers more advanced options, such as adding custom fields and icons throughout the report.
Its features include conditional logic, automated tagging, bug reports, list sorting, baselines, and advanced reports.
ClickUp wins in Customization
ClickUp & Smartsheet offer advanced customization features that make project tracking easier.
However, ClickUp has more visibility tools making it easier for other team members to track and monitor their progress.
Smartsheet vs. ClickUp: Mobile App Access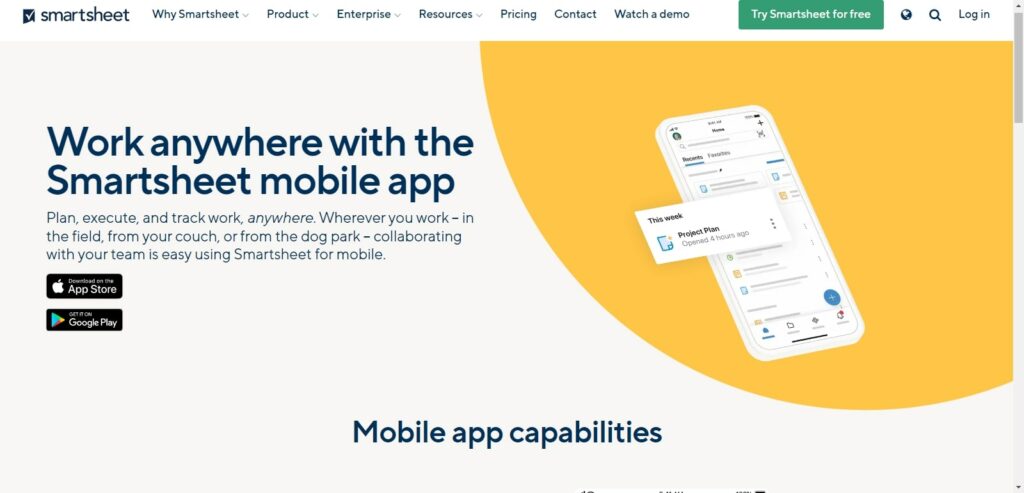 Smartsheet and ClickUp allow users to access their project management platform from mobile devices. The Smartsheet mobile app allows you real-time access to all your information remotely.
The ClickUp app will enable you to customize your project and manage your tasks easily. It also has custom fields that allow you to track data and monitor your progress.
Both win in Mobile App Access
It's a draw between the two regarding mobile app access. You can access information on mobile devices and customize your project management app. The two have similar and equally effective options.
Related: ClickUp vs Wrike: Expert Comparison & Reviews 2023
Smartsheet vs. ClickUp: Pros and Cons
Below is a brief comparison of the two platforms:
Smartsheet Pros
It allows more customization, making information tracking, reporting, and managing easier.
It offers many integration tools, allowing you to manage resources easier.
The customer support is very responsive and helpful.
Smartsheet Cons
It has a steep learning curve.
Sometimes pages do not update in real time, making it difficult for users to get updated information.
The dashboard is too crowded, making it hard for the entire team to focus on one activity.
ClickUp Pros
It has unlimited cloud storage space allowing users to share documents and files.
The collaboration and reporting features make project management and group tasks easy.
It allows users to customize the comprehensive view and how they manage their projects.
ClickUp Cons
Projects that require robust time tracking and monitoring may take a toll on the projects, causing delays and confusion.
Sometimes there are server issues that lead to delays in work progress.
Some customers have complained about issues with a delayed response from customer support.
Smartsheet vs. ClickUp: Conclusion
Smartsheet and ClickUp offer high-end features to help users easily manage their projects more efficiently.
The project management software you select depends on the project you want to manage.
Smartsheet is most suitable for large businesses with extensive needs since it offers many features to enhance smooth project management.
ClickUp is suitable for small businesses and freelancers with recurring tasks since it offers efficient tools to manage tasks and has a more user-friendly interface.
To find out what features each software provides, visit their official websites for more information.