ClickUp and Asana are two popular project management tools that offer excellent features. However, when choosing between ClickUp vs Asana, which one should you choose? In this review, we'll compare their features, pros, and cons to help you pick the one that best suits you!
ClickUp, the workplace collaboration tool founded in 2017, is already a unicorn thanks to $100 million raised in their Series B funding in 2020 and, of course, its feature-laden workflow.
As it stands, more than 100,000 teams across marketing and financial sectors use ClickUp's project management features such as task management, resource management, automated financial reporting, etc. This includes the likes of Google, IBM, and Webflow.
The gamut of facilities allows the tool to cater to individuals and teams alike, which is precisely why its customer size distribution looks like this — 35% individuals, 60% SMEs, and 5% large-scale enterprises.
Asana, the more traditional of the two, is currently valued at $11.20 billion and has been revolutionizing the work management arena since its conception in 2008. Asana's primary focus is on catering to the computer software industry, with marketing and advertising, IT services, Edtech, and retail also being its target industries.
Much like ClickUp, Asana spans across enterprise-grade task management and resource allocation features with a slight edge in UI minimalism. When it comes to facilitating hybrid workflows in the new normal, the features might be relatively limited. However, the tool can manage the tasks required for today's diverse, complex workloads — from D2C client workflows to B2B processes.
All in all, both the tools capably cater to a gamut of needs and can be used for personal use (like maintaining shopping lists, mapping goals, habits, etc.) and business use cases alike. To that end, let's profoundly look at each tool's features and see which comes out on top for your needs.
Sign up for ClickUp for free here!
Få en Asana 30-dages gratis prøveperiode her!
ClickUp vs Asana — The Giants of Project Management, Literally
Because the projektstyringssoftware is a notoriously difficult market to break into, with many established players dominating the scene, ClickUp's meteoric rise is nothing short of impressive. Much can be attributed to the tool's high customizability.
For instance, ClickUp's "custom views" feature allows for customizing the entire project management dashboard to suit the team's needs and preferences. They further enable a unified view of different widgets, timeline boards, and dashboard tabs. On the other hand, Asana makes the statement with manifold app integrations across sectors like IT, marketing, finance, sales, communication, HR, etc.
From a holistic standpoint, both the tools (as per our usage) are very similar. Both are built around teams and leveled users with varying permissions; both help users create tasks and move them through different project "stages"; both aid in collaboration by listing out all ongoing tasks and their progress, among others.
However, their executions of these features differ, not to mention the differences that unearth themselves from the UI, CX, and feature-laden standpoint. To that end, let's dive into what ClickUp and Asana do differently.
ClickUp vs Asana — The Things They Do Differently
Workspace Options and Optimization
Both the tools help people customize their app usage preferences in their own specific way.
ClickUp helps users define what in-built apps they want to add to their workspace. In doing so, the tool provides several options from tags to custom fields and time tracking to sprints that help users determine which tools are right for them.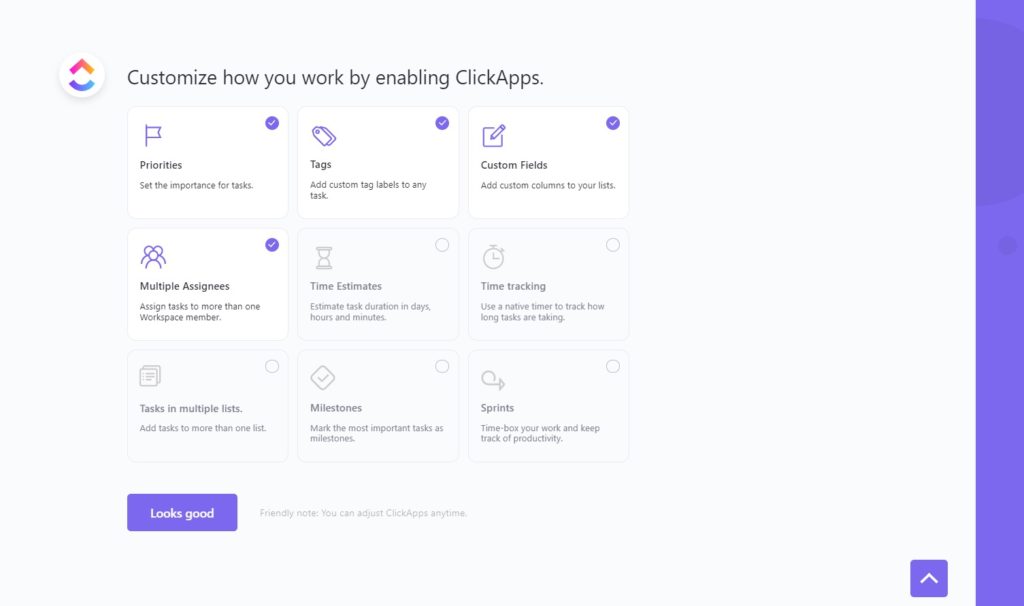 Asana does something similar with their workspace customization. The app has a list of pre-made templates for people to base their workspaces on, which eliminates the need for users to describe their workflows from scratch. For instance, the "project and process management" dashboard is different from the one that's prepared for "personal task management."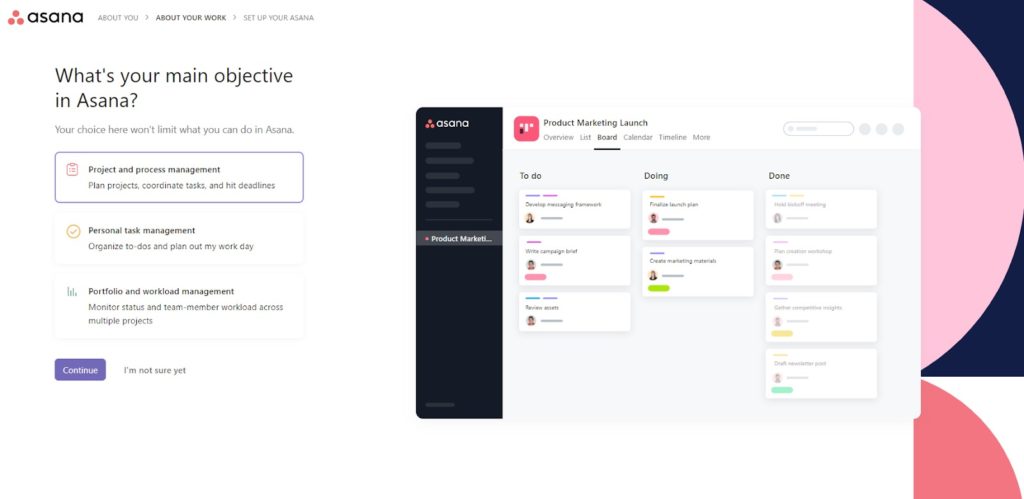 While both options are helpful, the difference lies in how long it takes users to get used to these tools and how well they work. In that light, ClickUp is better at handing control to the user, and Asana is better at getting users started with their projects right off the bat.
Sign up for ClickUp for free here!
Få en Asana 30-dages gratis prøveperiode her!
Navigation & UI
From UI and UX perspectives, Asana is elegant and minimalistic, focusing on simplicity. It's clean and intuitive, making it a pleasure to use. ClickUp, on the other hand, is more bright and playful – perhaps the best way to describe their UI would be "fun."
More profoundly, Asana's UI leans more towards the masculine – it has a fundamental, clean, and kind of sterile feel to it. It's more focused on how you can use the tool once you've got it set up — from making easy customizations to the homepage to personalizing your profile.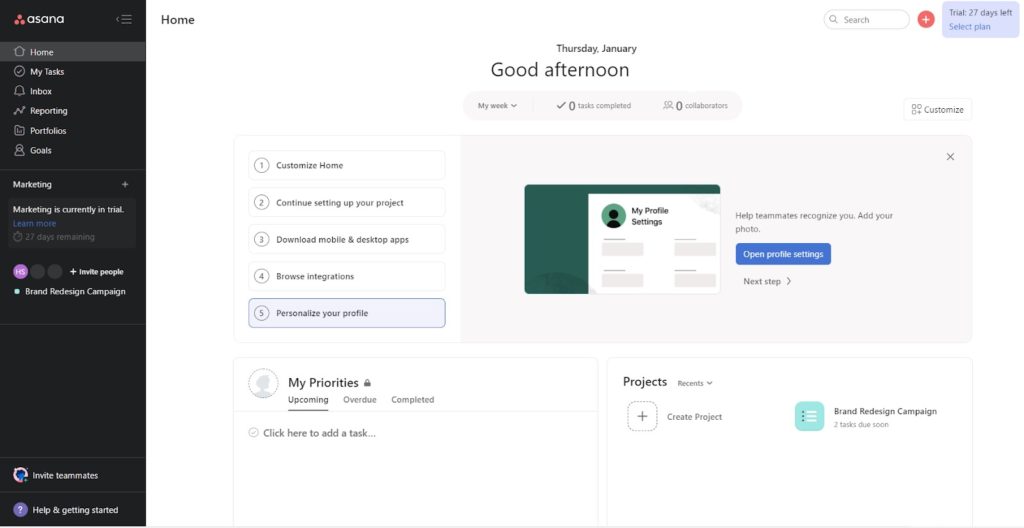 ClickUp, on the other hand, focuses more on "fun" – they don't foreground any of the features in their UI and make their app more creative and fun-loving. This means that users can have even better time spent in their workspaces. An example would be the mind map view illustrated below.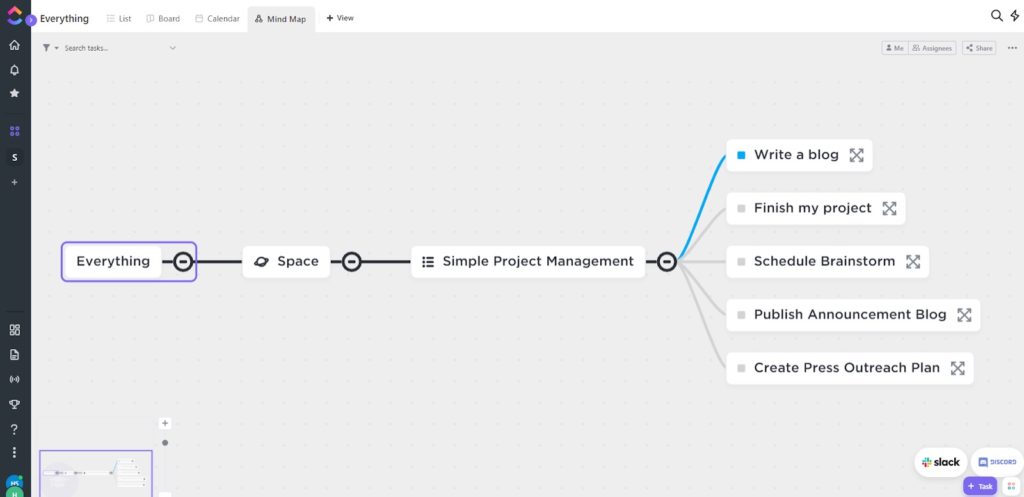 An experienced professional would be comfortable with both; however, for someone who hasn't used a project management tool before, Asana might be a better choice.
First off, the basic theme of the tool makes it easier to understand and learn, easing users into the concept.
Secondly, the workspace customization options and "flexibility" would be a better choice for someone who's not tech-savvy and doesn't want to spend more time learning how to operate the tool.
Sign up for ClickUp for free here!
Få en Asana 30-dages gratis prøveperiode her!
Tasks & Calendar
Clickup and Asana have a very similar calendar view. The difference lies in the task view – where Asana focuses on visualizing projects. The tool has many different views for you to look at – from an outline, to a calendar, to milestones, and so on.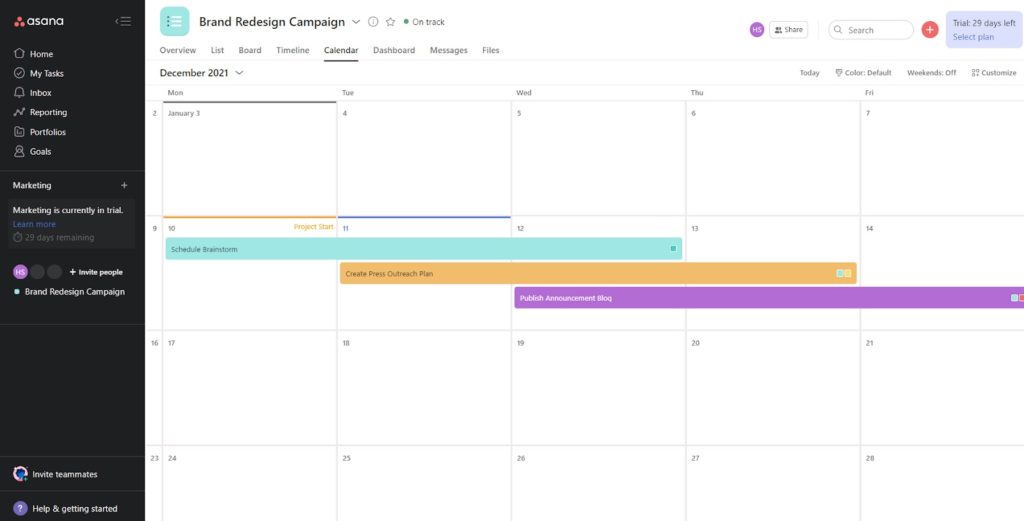 ClickUp, on the other hand, goes into a lot more detail. Upon viewing tasks, you can view the tasks in your list and the tools that hold each of those.
Every task has its own mini-dashboard with its own set of details and status indicators. This supports an extensive list of features that would make a user's work easier.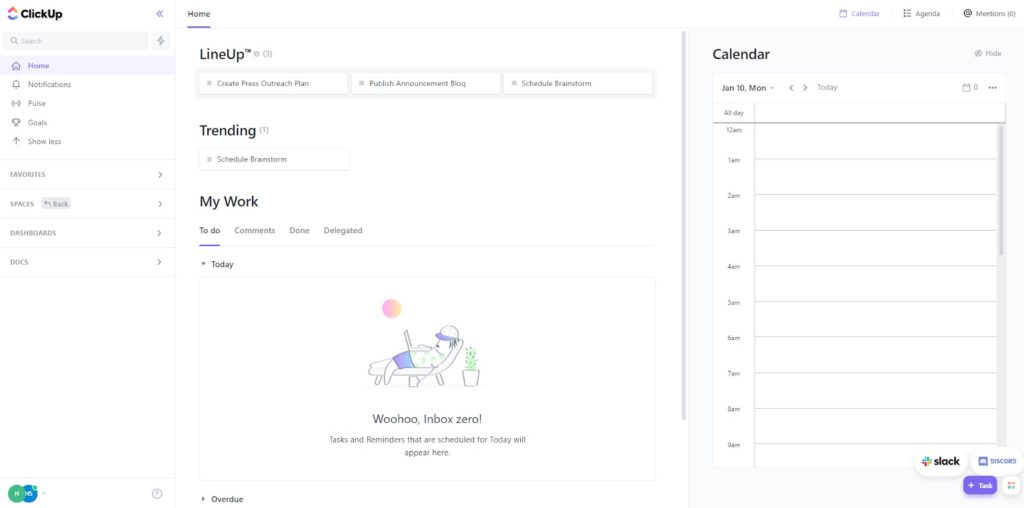 Contrarily, Asana's mini-dashboards are a bit less feature-laden; however, the simplicity remains intact — again making a case for someone just starting or someone who doesn't want to spend extra time learning the nuances of their tool.
Project Management Paradigms
When it comes to this aspect, both tools are very similar and at par with what one would expect out of a great project management tool.
For example, both follow a task-oriented approach to project management, where projects are broken down into several stages, and each task has its place in the process.
Moreover, both have a status indicator to help users understand how much work they've completed and what's still left.
What about managing projects remotely?
Amidst the COVID-19 pandemic, one thing's for sure that managing projects would be more or less a hybrid process, with remote work being at the center of almost every organization of every size.
In that light, one of the features that stands out in both tools is the "Goals" feature. Asana's goals work much the same way as ClickUp's, with both of them helping users better visualize their projects and chart out a plan to achieve them.
However, Asana does offer an additional benefit of linking the goal to a parent goal, thus, helping users better visualize and organize their projects.
ClickUp goes a step further with its "Pulse" feature that helps organizations or project managers, for that matter, know what people are doing and when they are online. This, in turn, addresses the need for monitoring amidst the "new normal," which again is guided by an inclination towards remote working.
Sign up for ClickUp for free here!
Få en Asana 30-dages gratis prøveperiode her!
ClickUp vs. Asana — Cost
Both ClickUp and Asana follow the freemium model with the former being more feature-intensive.
Asana's most recommended and the cheapest plan allows one seat per user for $10.99 per month when billed annually.
The business plan provides access to additional features like custom rules, forms branching, approvals, proofing, and salgsstyrke integration also allows one seat per user for $24.99 per month when billed annually.
Furthermore, their enterprise plan, which can be customized according to the requirements, facilitates additional functionality that constitutes custom branding, cross-regional backups, and data export and deletion.
Få en Asana 30-dages gratis prøveperiode her!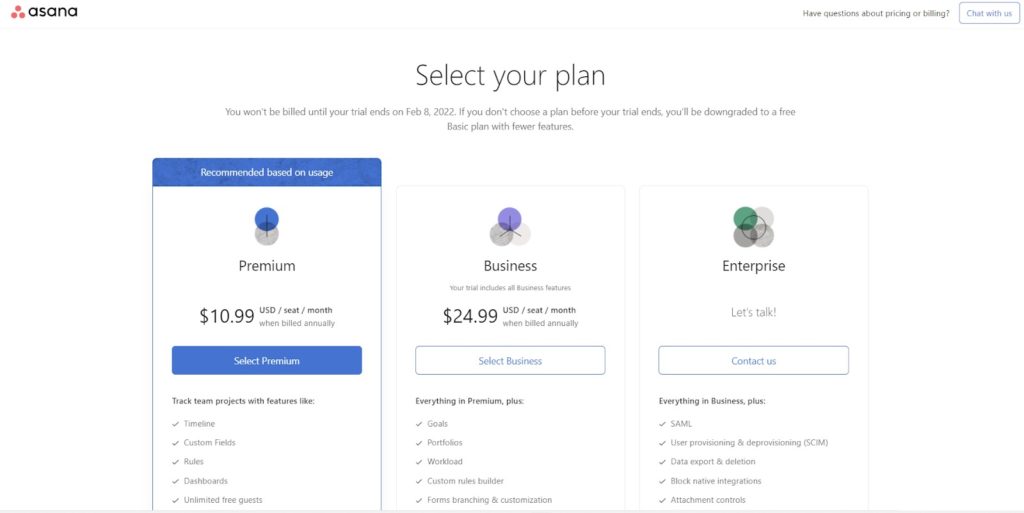 Contrarily, ClickUp is a bit economical with its free plan allowing unlimited users with 100 MB storage.
The most popular, albeit recommended, plan is annually billed for $5 per month.
As for the business plan, it goes to $9 per month and the business plus plan, which is billed at $19 per month — all billed annually.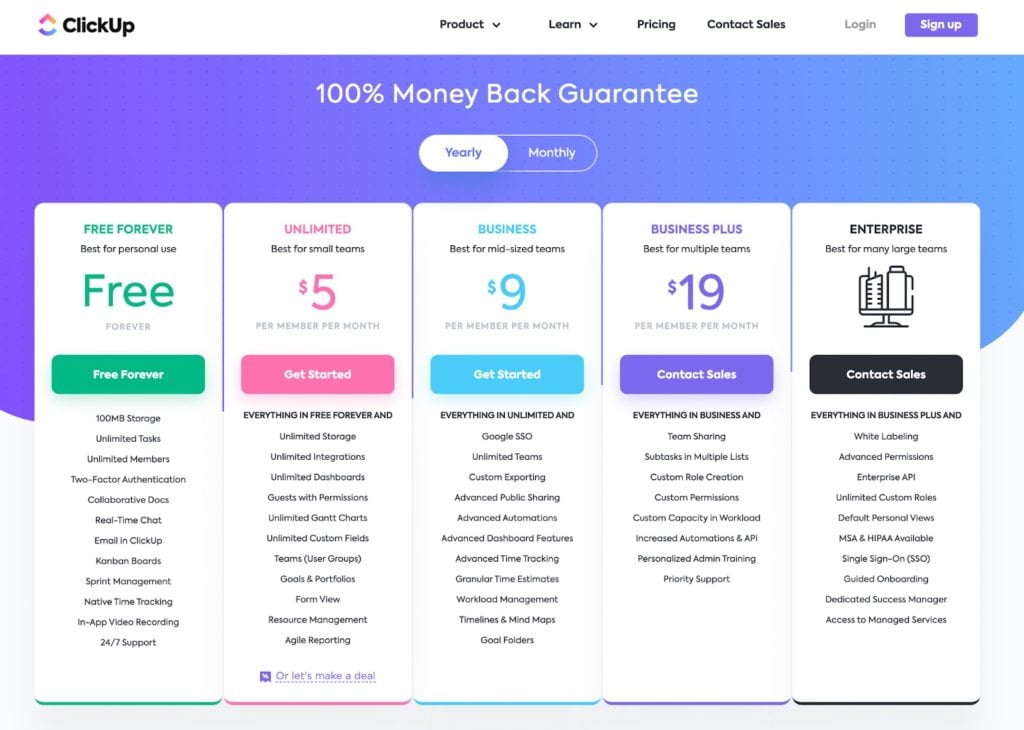 Much like Asana, ClickUp, too, offers an Enterprise plan that can be leveraged if an organization wants to customize the delivery and the workspace, and a huge team has to be on board at the same time.
In essence, ClickUp is more affordable than Asana, which is a plus for managing small to medium-sized projects or organizations in the same range. Plus, it fairs better for individual users like freelancers and consultants.
Sign up for ClickUp for free here!
ClickUp vs. Asana — Pros and Cons
With regards to the aforementioned aspects, both tools are pretty much on par with what an ideal project management tool should look like and focus on.
However, based on the functionalities and the way they deliver them to users, there are several features where ClickUp edges out Asana and vice versa. That makes it essential to understand how they complement businesses' endeavors.
Asana Pros
User-friendly layouts
Asana's user-friendly messaging and reporting layouts are a plus for both individuals and businesses. Some people might have different work styles and work habits. These layouts allow users to manage their work flexibly and build a productive workspace. They further make Asana's workflow more efficient, expediting the process of managing one's work effectively.
Extensive integrations with third-party apps
Asana features 400+ integrations with the likes of Microsoft 365, Salgsstyrke Cloud, GitHub, Dropbox, Google Workspace, etc. The ability to work seamlessly with other tools is a big plus for Asana users as it enables them to use the same tools and programs in their workflow that fall under those platforms.
Unified display of data
Asana's single pane of glass approach, which helps with a unified display of data and reduces departmental fragmentation, is a boon for the business. The benefits of a single pane of glass are many. For one, it reduces the cost of maintaining several pieces and provides users with a centralized hub where they can store all their project-related information.
Streamlining the flow and organization of projects is vital for a business, and Asana makes it easier to facilitate that. The modality in which Asana organizes teams and their work is quite beneficial. It eases the organization's workflow, promoting seamless communication and collaboration, not to mention the ease of onboarding and UI comprehension that it facilitates.
Få en Asana 30-dages gratis prøveperiode her!
Asana Cons
Lack of brand customization option
The lack of customization in Asana might be a con to one working on a small scale or individual projects. For example, companies who want the freedom to use their branding and templates might find that Asana's limited customization options do not meet their needs.
Free plan offers limited features
The free plan is limited, and it might find itself in a disadvantageous position, especially for large organizations. Most vital features, including custom fields, templates, timelines, and task dependencies, are only available with premium plans. This is to say that while Asana might be the best option for some, it might not be great for others who want to customize their work and the tools they use.
ClickUp Pros
Affordable pricing and free plan offers more features
ClickUp's free plan offers a whole lot more than what Asana offers. It can match users' personal needs, especially regarding the size of projects organizations want to handle. Plus, it can be customized and accessed across multiple devices. ClickUp also caters to freelancing and independent workers.
The premium pricing is very competitive and affordable. The business and business plus plans are, in fact, one of the cheapest project management solutions in the market.
Enable easy monitoring for remote working
The Pulse feature of ClickUp enables businesses to monitor their team closely and how they are doing — even if they are not directly working with them. By monitoring their activities, companies can ensure that their projects run smoothly alongside keeping tabs on an individual's performance. Undeniably, ClickUp makes for a perfect solution in the wake of hybrid working getting all the attention.
Centralized hub for business information and activities
Another benefit of ClickUp is its versatility. The solution offers much more than just a project management tool, and it can serve as a centralized hub where businesses can store all their vital information, not to mention the time tracking, project tracking, and real-time messaging and chat features.
Sign up for ClickUp for free here!
ClickUp Cons
Disorganised dashboard
Some users might complain about the cluttered and disorganized nature of ClickUp's dashboard. This is the direct effect of the comprehensive features that have been incorporated into the program. However, those who are used to this layout and are comfortable with it would likely love its appeal.
Integrations not as extensive compared to Asana
ClickUp does not come with extensive integrations. At present, it only features 91 integrations with the likes of Microsoft Excel, Microsoft 365, Salgsstyrke Cloud, and SharePoint missing. This is one of the critical aspects that could have brought it to the same level of success as Asana, considering its pricing and features.
ClickUp vs. Asana – The Bottom Line
Altogether, both tools have a lot to offer for anyone looking for a great project management tool. They're both mature and intuitive, and the fact that they've been around for a few years makes them even better.
Both tools share quite a few features. However, the different ways that they go about their designs make them unique and fun to use.
ClickUp is more of a creative and fun-loving project management tool – it's got great features to show off and comes with a colorful and playful UI. On the other hand, Asana is more conservative and features a minimalistic UI that doesn't have quite as many bells and whistles. It's clean, simple, and a breeze to use.
If you're looking for a tool focused on helping people get started and learn how to use it right away, Asana is a great choice. On the other hand, if you'd like more customization and are more of a creative person, then ClickUp would be a better choice.
Sign up for ClickUp for free here!
Få en Asana 30-dages gratis prøveperiode her!
And don't forget to check out more project management tools reviews!
Yderligere læsning: