Are you looking for a project management tool that can help streamline your work and improve communication within your team? Or are you considering switching to a new tool altogether?
Today, we'll take a closer look at two of the most popular project management tools on the market — Teamwork and ClickUp — and see which one comes out on top! You'll understand which is right for you and your team based on features, pricing, customer support, and more. Ready to dive in? Let's get started!
Teamwork vs. ClickUp: Similarities
Both project management platforms offer a free version
These project management solutions offer mobile and desktop apps
Both offer integration with other tools
Both offer exceptional team member collaboration
Teamwork vs. ClickUp: Differences
What is Teamwork?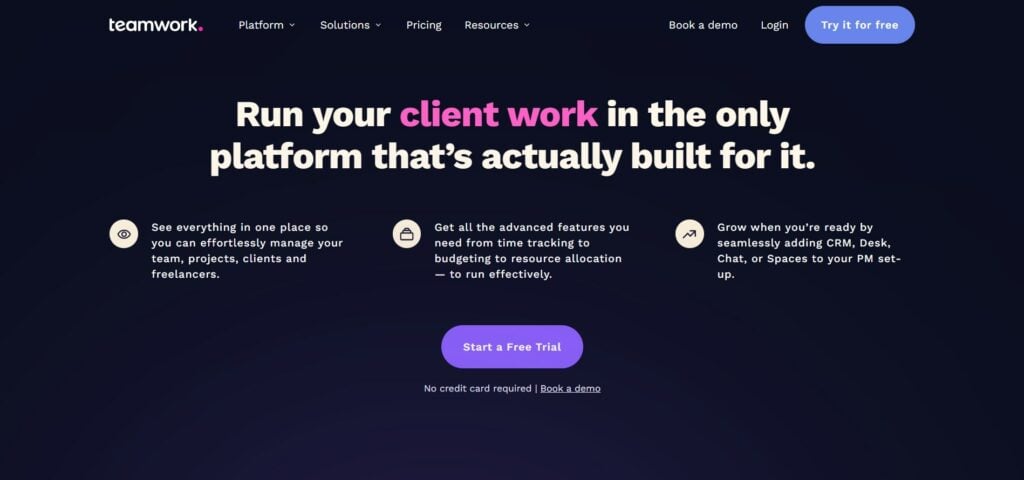 Teamwork is a project management software designed to simplify various actions or tasks. It is packed with features ideal for handling client-related work or relationships.
It was founded in 2007 by a small team of individuals who found it necessary to develop a simple solution to complex work-related needs.
Over the years, Teamwork has become quite popular and a go-to solution for organizations that want to manage projects efficiently.
Teamwork also helps different teams collaborate on multiple projects at the same time. Note that it is a cloud-based application that allows users to log in from any location.
Teamwork comes with mobile and desktop apps to ensure users enjoy convenience. It also incorporates a Chrome extension so that you can access it with a simple click of a button.
Teamwork Key Features
Integrations
Reporting tools
Time tracking
Billing and invoicing tools
Looking for Teamwork alternatives? See this article: 15 Best Teamwork Alternatives For Project Management 2023
What is ClickUp?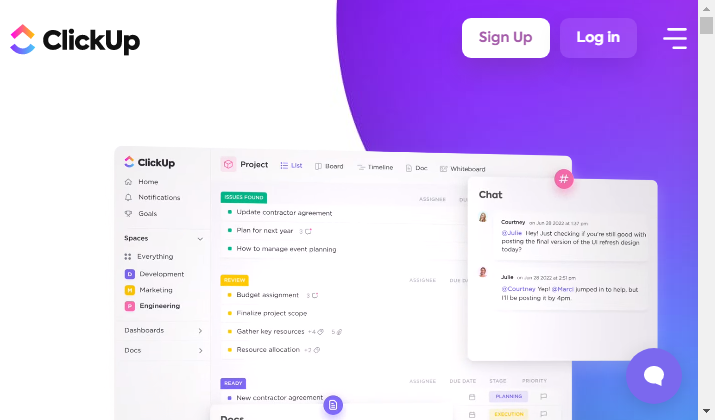 ClickUp is an all-in-one suite to help organizations manage people, resources, and projects. This project management platform is designed to be simple enough to accommodate people from different industries and levels of the organization.
This project management software was founded in 2017 by Zeb Evans, who initially used it for managing projects and his close associates or team members.
Today, ClickUp has become an important productivity tool used by over 200,000 teams across the world.
Like Teamwork, ClickUp also offers mobile and desktop apps for convenience. It incorporates a Chrome extension and also works with Alexa and Google Home.
ClickUp Key Features
Time tracking
Real-time editing
Team collaboration
Seamlessly integrates with other productivity tools
Workload view
Teamwork vs. ClickUp: Features
Because ClickUp and Teamwork are project and task management software, they tend to have a lot of common features. For instance, both platforms allow users to track time and get different views depending on the type of project they are undertaking.
In both cases, you can find Gantt charts to help you visualize tasks. Another similarity in features comes from custom fields that allow project managers to input personalized information regarding projects or tasks.
The next similarity comes in the form of team collaboration options. In the case of these two platforms, team members can collaborate through boards and live chat options.
Regarding security, you'll also realize that both platforms enable single sign-on.
While there are such similarities, a closer look at a few features can reveal a slight difference, and that can be all it takes for you to decide which of the two is best suited for your needs.
Project & Task Management
One of the things that make ClickUp stand out is that it allows organizations to keep each team member aware of their tasks and responsibilities in a visualized manner.
Each team member can view board information regarding their assignments, objectives, and deadlines.
At the same time, this project management software automatically tracks progress. With this platform, team leaders or managers control spaces and onboard new members as they deem fit.
Unlike ClickUp, Teamwork incorporates invoice and billing features. These can be ideal when an organization is keen on improving how it handles its workers and clients.
Teamwork offers resource management features allowing organizations to estimate team member availability and allocate tasks accordingly. This feature also makes it easy to track resources and optimize their use.
Workflow Automation
Workflows can be challenging, especially when they take place over a long period and involve intricate tasks and human labor. That is why project management platforms can be handy for any team or individual.
ClickUp makes it easy for organizations to automate repetitive processes, removing the need for administrators to do it manually.
It also allows administrators to understand the workload of each team member and, therefore, avoid overworking some while underworking others.
Teamwork also allows organizations to create workflows for greater productivity. However, it slightly differs from ClickUp because it utilizes Integromat to enhance its efficiency.
Integromat helps organizations connect their Teamwork accounts with other apps at no additional cost.
Once apps have been connected to the Teamwork account, project monitoring, time tracking, task list creation, and estimated time options can be triggered effortlessly.
ClickUp and Teamwork tie in Features
Both platforms offer exceptional features for project and task management. However, each platform has unique advantages, especially when you view it from the perspective of specific industries or sectors of society.
For instance, organizations that want to improve their budgeting, invoicing, billing, and resource management will find Teamwork an ideal choice.
On the other hand, organizations that want to boost team collaborations and enhance project monitoring will find ClickUp an ideal pick.
ClickUp vs. Teamwork: Ease of Use
ClickUp is one of the project management options that come with a simple user interface. It has a straightforward design and allows users to customize it to use it easily.
ClickUp also includes color coding features to ensure users do not get mixed up.
Teamwork is another project management tool that boasts a simple interface. However, it can become sluggish when many users are active simultaneously.
It is also entirely customizable, making it easy for users to tweak it as they wish. This platform also incorporates certain aspects of color coding.
ClickUp is Easier to Use
ClickUp has a relatively simple design, making it easy for people of all levels of an organization to become acquainted quickly. It also includes excellent color coding options and loads relatively fast, regardless of the number of team members that are currently active.
ClickUp vs. Teamwork: Integrations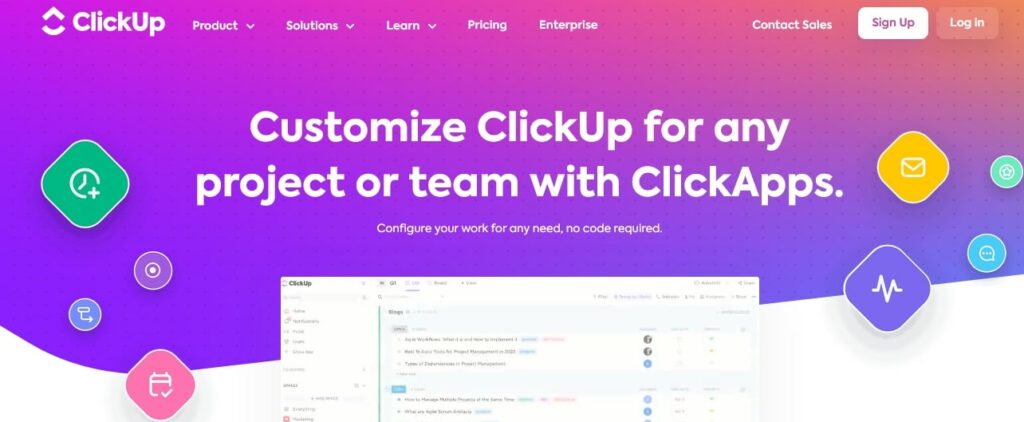 Integrations can help individuals and teams save time, communicate effectively and even cut down on costs.
Teamwork
One of the best things about using Teamwork is that it can integrate with over 2000 productivity tools and applications. This makes it easy for you to work on multiple platforms seamlessly.
Some of the apps that integrate with Teamwork at no additional cost include,
ClickUp
ClickUp offers a simple way for small businesses and even their larger counterparts to integrate over 1000 applications and productivity tools. This makes it possible for such entities to continue working on multiple platforms.
Some of the native integrations available with ClickUp include,
Teamwork wins in Integrations
While both platforms make it easy for individuals and organizations to enjoy native integrations with other tools, Teamwork utilizes state-of-the-art technology to simplify the process. It also allows integration with over 2000 apps, while ClickUp accommodates just over 1000.
Mobile Apps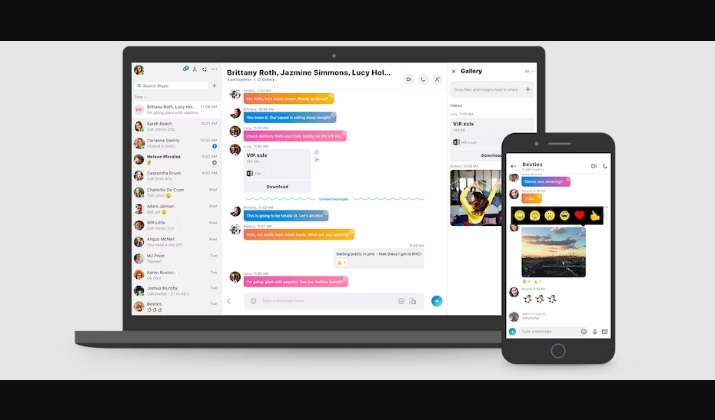 Both platforms offer mobile apps. However, they may differ slightly in certain aspects.
ClickUp
ClickUp offers mobile apps for iOS and Android users to ensure they can maintain team collaboration and task management on the go. You can also stay connected on desktop devices that run on different systems, including Windows, Linux, and Mac.
If that is not enough, you can download and install a Chrome extension or even get the ClickUp email add-on for efficient communications.
ClickUp mobile and desktop apps allow you to create and monitor active tasks, add reminders, communicate with other members, monitor estimated time, and utilize customization options.
Teamwork
Like ClickUp, Teamwork also comes with mobile apps for both iOS and Android devices. It also has a desktop version for Windows and Mac systems.
On the mobile and desktop apps, users can view the latest activities on projects and active tasks, upload files and photos, read and reply to messages, and enjoy convenient time tracking,
ClickUp wins in Mobile Apps
ClickUp offers mobile or remote connectivity on more platforms than Teamwork. For instance, Teamwork does not offer desktop apps for Linux nor includes Chrome extension or email add-ons.
It is, therefore, easy to understand why ClickUp emerges on top when it comes to mobile and desktop app comparison.
ClickUp and Teamwork: Collaboration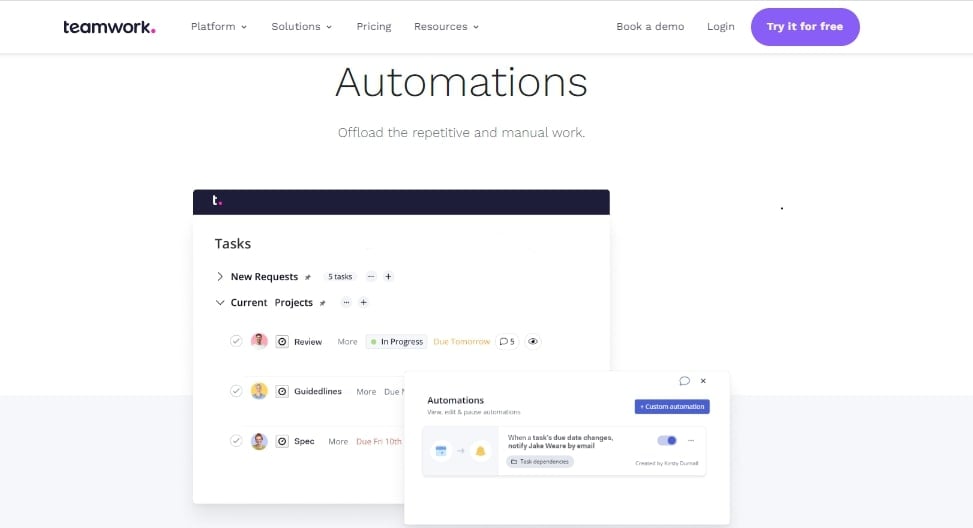 Both platforms facilitate better communication between individuals and other team members. The platforms are also meant to boost customer communications and collaborations of projects and objectives. However, they may differ slightly in the approach they take.
Teamwork
Teamwork incorporates a variety of things to create effective collaborations and communication. One of these comes in the form of boards.
Users can easily access boards and find project, task, and timeline information. They can go ahead and make comments on the boards for others to view and respond accordingly.
Dashboards also provide users with a central place to find notifications, make updates and even monitor the calendar. Teamwork spaces and chats also allow members to share ideas and upload files.
ClickUp
ClickUp is one of the best tools to pick to ensure effective collaboration within organizations. This platform lets users tell when others are active on the same board. It even animates each member's typing action so that others can know what is happening in real time.
This work management platform also allows multiple people to edit a document in real time without the danger of getting mixed up. ClickUp also integrates with Zoom to facilitate live video meetings.
ClickUp wins in Collaboration
ClickUp takes a modern approach to collaborations, making it an excellent platform for individuals and organizations that want to do things faster and more efficiently. Real-time updates and video meetings make it hard to dispute this platform's high score.
Related article: 15 Best ClickUp Alternatives & Competitors Of 2023
Teamwork and ClickUp: Customer Relationship Management

Customer management is key to ensuring that any business makes profits and thrives. That is why including CRM functions and features in both platforms is crucial.
Teamwork
Teamwork has a comprehensive list of CRM features to help any individual or organization boost its customer relationship. The platform lets users easily overview all their sales processes across departments.
They also visualize sales pipelines and categorize deals and opportunities they can take advantage of. This particular feature also ensures that organizations can stay within the project budget since they can retrieve accurate sales data and forecast possible outcomes for the future.
ClickUp
ClickUp also offers a variety of features and functions to promote better customer relationship management. On this platform, users can get an accurate overview of their sales pipelines, enjoy account management features, and even access convenient communication options to eliminate silos and misunderstandings between the organization and its customers.
ClickUp and Teamwork tie in CRM
Both software options offer exceptional CRM features and functions to help individuals and organizations to build better relationships. These features and functions simplify communications, generate helpful analytics and capture customer data that benefits the service or product provider.
Teamwork vs. ClickUp: Pricing
Although ClickUp and Teamwork prices fall within the same range, they differ slightly if you consider the overall costs you may incur when dealing with significantly larger teams.
Below is a look at each of the pricing plans for each software.
Teamwork Pricing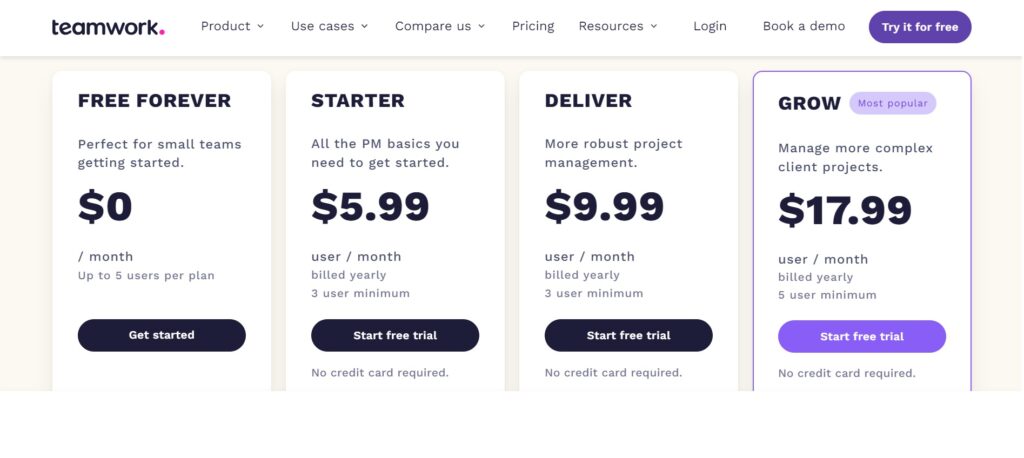 Free forever: accommodates up to five users and is ideal for new teams or freelancers
Starter: costs $5,99 per month per user charged yearly and is ideal for team members with advanced experience
Deliver: costs $9,99 per user per month, charged yearly and is ideal for more robust project management needs
Grow: costs $17,99 per user per month, charged yearly and is ideal for complex project management
Scale: this plan requires direct contact with the Sales team for elaboration and is ideal for agencies that are growing larger
ClickUp Pricing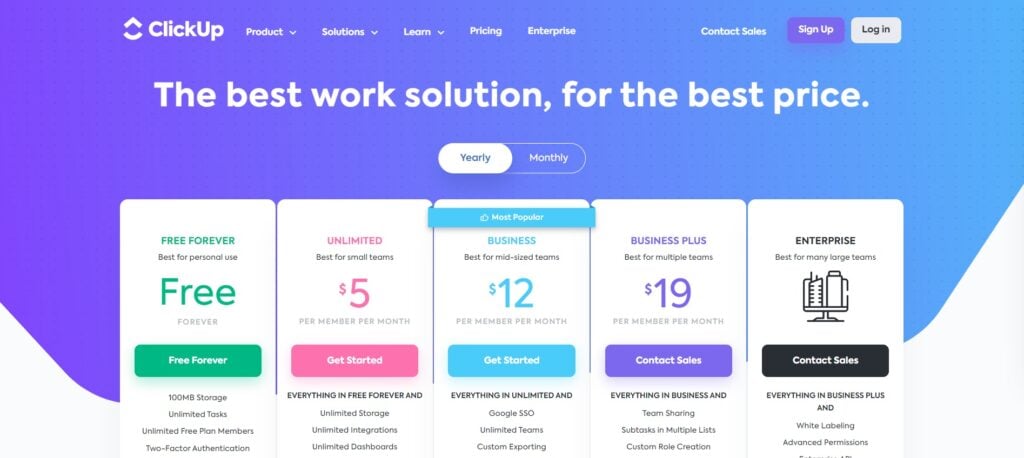 Free forever plan: this plan is most suited for personal use though it has a lot of features including two-factor authentication, native time tracking, real-time chat, and unlimited free team members, among other tools
Unlimited plan: costs $5 per user per month and is ideal for small teams getting started
Business plan: costs $12 per user per month, paid annually and is suitable for mid-sized teams
Business Plus: costs $19 per user per month, paid annually and is suitable for multiple teams and multiple project and task management
Enterprise plan: requires direct contact with Sales and is suitable for multiple large teams and offers exceptional solutions to simplify project and task management
Want to know more about ClickUp? See ClickUp Pricing & Costs: ClickUp Plans Explained 2023
Teamwork wins in Pricing
Both services offer a free version that lasts forever. Comparing these plans shows that they offer an almost similar amount of native integrations and features.
However, looking at each project management software's premium plans reveals that Teamwork is relatively cheaper. That becomes even more apparent if some organizations have many team members who must be included in the system.
ClickUp vs. Teamwork: Customer Support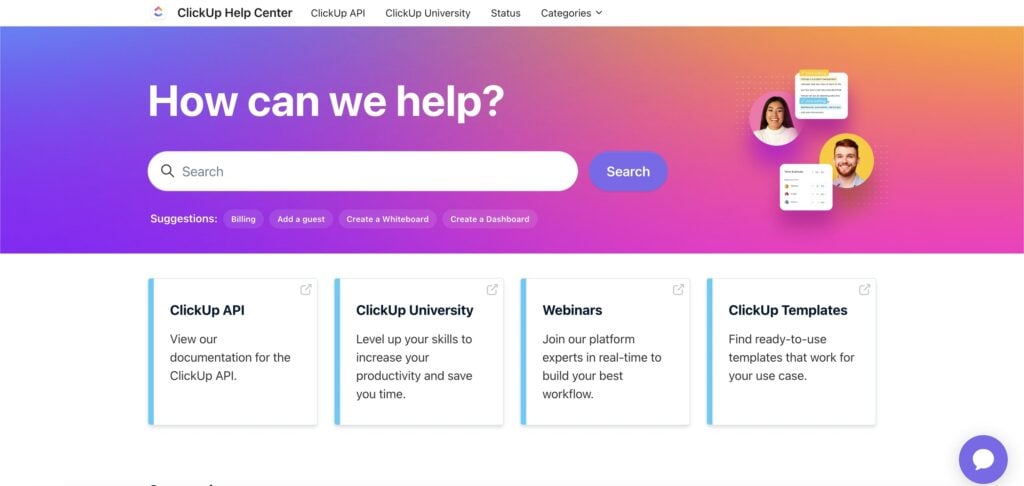 ClickUp offers 24/7 customer support to all its customers, including those who subscribe to the free plan. However, those who hold premium subscriptions are likely to get priority support.
This platform offers support through a help center where you can explore different subjects and get pre-recorded solutions. You can also get in touch by filling out a form with the details of the issues you want them to solve.
Teamwork also offers multiple channels for users to get in touch. It has a form submission option to raise your concern quickly. You can also get online and phone support from Monday to Friday from 7 am until 12 am.
Teamwork and ClickUp tie in Customer Support
If you are looking for a platform that offers continuous support so that you never have to worry about dealing with prolonged downtime, you may want to go for ClickUp.
However, if you want a service that responds to your needs almost immediately, thanks to its phone and online support options, you may want to go for Teamwork. Keep in mind that Teamwork does not offer 24/7 customer support.
Teamwork vs. ClickUp: Pros and Cons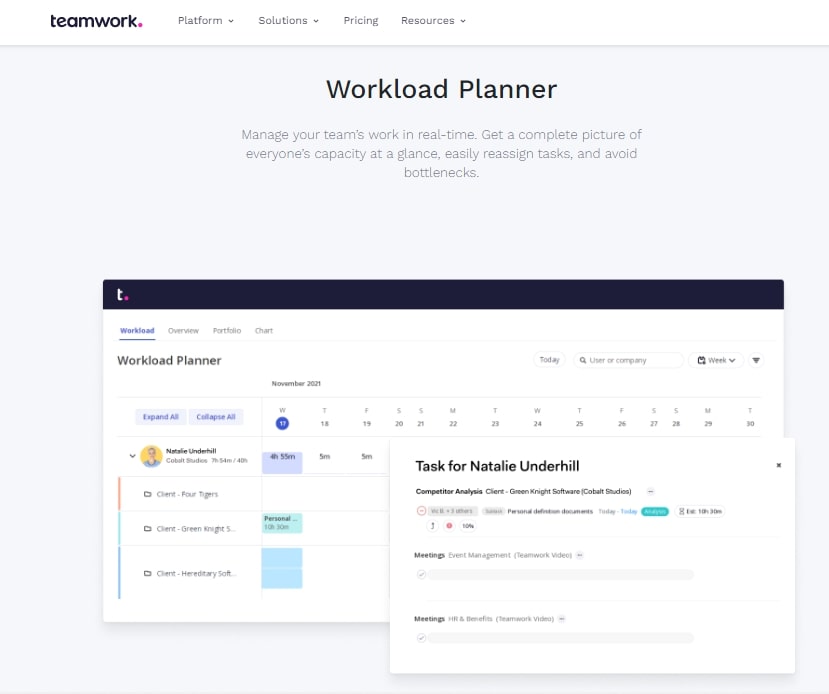 Before you make up your mind and pay to gain full access to these platforms, it is prudent to look at their advantages and disadvantages.
Teamwork Pros
Can easily manage tasks for multiple projects
Incorporates task prioritization features
Comes with mobile applications for convenience
Includes features to help create and monitor project budget
Teamwork Cons
The interface may become sluggish if multiple team members are active at the same time
Exporting reports may prove a bit challenging
Teamwork does not have an offline mode
ClickUp Pros
Offers excellent tools to track time automatically
Simplifies the process of creating and exporting reports
Has multiple views, including Gantt charts and workload view
Offers 24/7 customer support even for the free version users
ClickUp Cons
Relatively more expensive than Teamwork and a few other competitors
The app version has a confusing interface, especially for new users
Notifications can become overwhelming
Teamwork vs. ClickUp: Conclusion
Overall, Teamwork and ClickUp have impressive user ratings. However, it is up to you to look closely at each aspect of the two projects and task management platforms before deciding which is the best for your or your organization's needs.
If you are looking for a cheaper project and task management platform with all the basic features, you may want to go for Teamwork.
However, if you are looking for a project and work management platform that offers simple solutions, accommodates many free plan members, and promotes CRM, ClickUp may be the right choice.
Want to know more about ClickUp? See ClickUp Pricing & Costs: ClickUp Plans Explained 2023