Project and task management software is essential for any team in a business or organization. It helps to keep track of deadlines, monitor the team's work, and assist with communication. However, not all project management software is created equal.
Before making a purchase, it is essential to compare different options to find the best one for your business or project. This article will compare the market's most popular project management platforms today: Notion and Asana.
We will discuss the features that each program offers as well as the pricing structure for each option. Finally, we will provide a detailed comparison of the two programs so that you can decide which one will be best for you.
Notion vs Asana: At a Glance
| Feature | Notion | Asana |
| --- | --- | --- |
| Free Plan | Yes | Yes |
| Integrations | Fewer than 100 | Over 100 |
| Note-taking options | More | Less |
| Real-time team editing and commenting | Yes | No |
| Personal plan features | Limited | Comprehensive |
| Price (per user per month, billed annually) | $8 (Plus), $15 (Business) | $10.99 (Premium), $24.99 (Business) |
| Mobile app | Yes | Yes |
| File storage | Unlimited | Unlimited |
| Kanban boards | Yes | Yes |
| Workflow automation | Yes | Yes |
| Customer support | Email, form | Email, form, live chat |
Notion vs Asana
Notion and Asana are both project management tools with unlimited file uploads, Kanban boards and free plans. Notion allows for real-time team editing and commenting, has more note-taking options and a cheaper pricing structure, while Asana offers over 100 integrations, comprehensive personal plan features and better customer support. Asana is more traditional in its approach to project and task management, while Notion offers features beyond project management.
👉 Did you know that Notion AI is out? Try Notion AI for free here to 10x your productivity!
Supercharge Your Work with Notion AI
With Notion AI, you can type in plain language and have it write articles and emails, formate your content automatically, analyze data to find trends and insights, and automate routine tasks like sending reminders and updating databases. Notion AI can help you make the most of your information and focus on what's most important.
Pros:
Automate routine tasks

Analyze data to find trends and insights

Format content automatically

Write articles and emails

Summarise content

and more

Notion vs. Asana: Similarities
Both Notion and Asana offer a free version for new users
Both Notion and Asana integrate with popular tools for productivity
Notion and Asana offer unlimited file uploads for team members
Notion and Asana allow team members to tag and comment on boards
Both project management tools have Kanban boards
Notion vs. Asana: Differences
Notion allows real-time team editing, commenting, and presence on pages, while Asana doesn't.
Notion has more note-taking options compared to Asana.
Asana offers integrations with over 100 apps, while Notion integrates with fewer than 100.
Asana's personal plan has more comprehensive features than Notion's free plan.
What is Notion?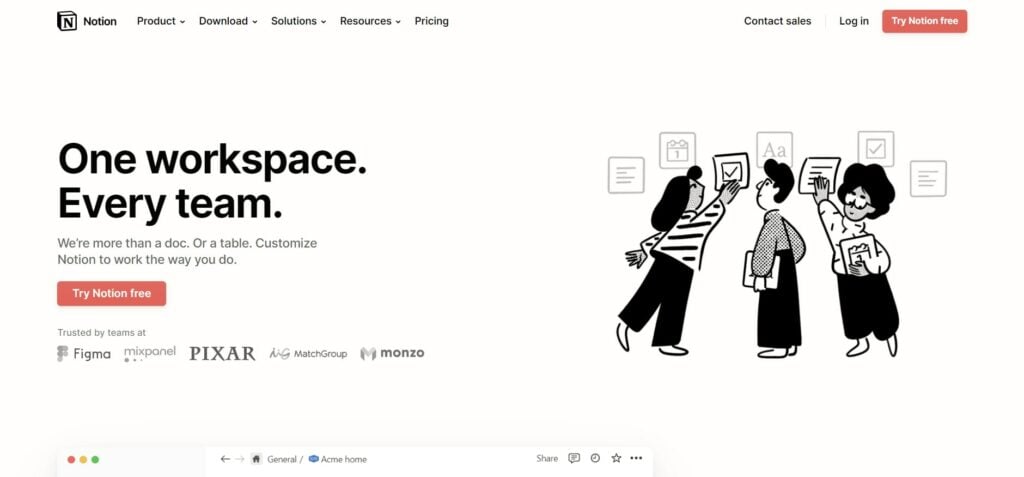 Notion is a cloud-based workspace designed to help teams or organizations to simplify or organize projects and tasks. The platform has various features and functions to help team members create projects, assign tasks, compile reports, collect data, and even collaborate.
Users can access Notion online and log in through their favorite web browser. Alternatively, individuals can download and install the Notion app for mobile devices.
The mobile app features a simple interface and makes it easy to use the platform on the go. Individuals can also download and install the Notion app on their Mac or Windows systems.
Notion Key Features
Connection with other productivity tools
Data and file storage
Template gallery
Customer stories
To-Do lists
👉 Want to take a more in-depth look into Notion? Read our Notion guide here.
👉 Wonder if it's worth it upgrading to a Notion paid plan? Read our opinions towards Notion pricing plans here.
What is Asana?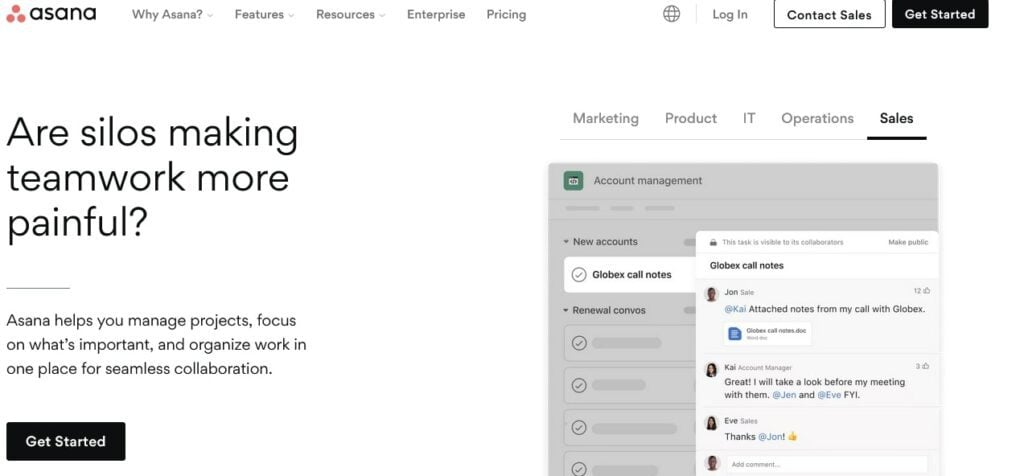 Asana is a project management tool that can come in handy when organizations or teams want to simplify various processes.
This project management tool allows organizations to view projects, assign tasks, manage data, enjoy file storage, and integrate with other tools for enhanced productivity.
One thing that makes Asana stand out as an exceptional project management tool is its simple interface allowing just about anyone to get acquainted fast. Asana is a web-based platform, so you can access it from anywhere as long as you have an internet connection.
This project and task management solution also comes with a mobile application making it easy for team members to log in and use it on the go.
Check out Asana vs Teamwork: Project Management Tool Comparison
Asana Key Features
Asana integrates with other tools
Collaborative features
Dashboards and Kanban boards
Workload data
Workflow builder
Notion vs. Asana: Features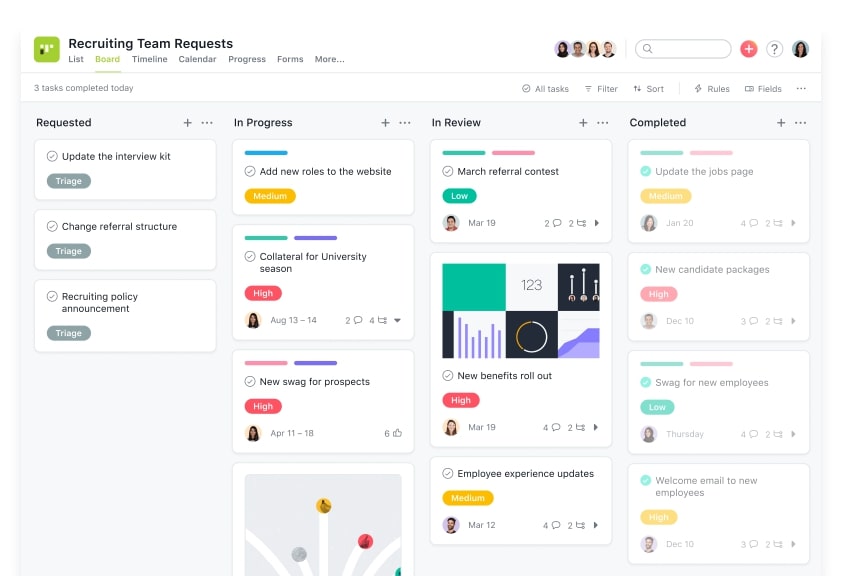 Asana is mainly a projects and task management platform and therefore tends to have limited features.
Notion, on the other hand, is a workspace and, therefore, has features that do more than handle project management needs. Below are some of the features you can expect to find on both platforms.
Mobile apps
Notion comes with a mobile app for both iOS and Android devices. This makes it easy for users to stay productive regardless of their device. You can also install a desktop app on your Windows or Mac system.
The mobile and desktop apps have a simple layout and allow users to do just about anything they can do while using the web-based version of Notion. Asana also comes with a mobile app for both Android and iOS devices.
There is also a desktop app for Windows systems. However, Notion differs from Asana because the latter does not offer an app for Mac systems. You can access things on both Asana and Notion apps, including a calendar, kanban boards, collaboration functions, board options, and table views.
Project & Task Management
Asana's features make it easy for managers to organize tasks and share important information regarding each. Teams can then log into the system and view the tasks available and what is expected of them.
Asana's projects and task management tools allow users to collaborate and report their progress. Notion also allows project managers to organize tasks, give work, and monitor progress.
In comparison, both platforms offer exceptional project and task management features.
Workflow Automation
Because specific work-related processes repeat on a daily or weekly basis, it is always an excellent idea to automate them rather than have someone do them repeatedly. Asana has a work graph that helps organizations create unique workflows.
The work graph consists of three stages: planning, execution, and review. Asana's workflows can be customized to suit different projects and industries.
Notion also simplifies automating workflows, so you don't have to deal with repetitive processes.
Like Asana, Notion's workflows are also customizable and can ensure that teams and project managers get an overview of every stage of their projects. They also allow each team member to access tasks and communicate with others.
Notion wins in Features
Undoubtedly, Asana offers plenty of features and functions to ensure that your project management needs are taken care of. However, Asana requires some integrations to ensure you get the best experience.
On the other hand, Notion offers features beyond project management. It includes features and functions that facilitate note-taking and collaboration.
The good news is that Notion has plenty of native features, eliminating the need to integrate with external tool options.
In this category, Notion and Asana are compared quite closely. Both platforms are excellent and, therefore, tie regarding the quality of features available.
And because there is little to no need for integrations in the case of Notion, it comes across as the best option for the number of native features it offers.
👉 Now that Notion AI is out, it definitely wins Asana in AI capabilities. Learn more about Notion AI here with our first-hand testing results.
Asana vs. Notion: Ease of Use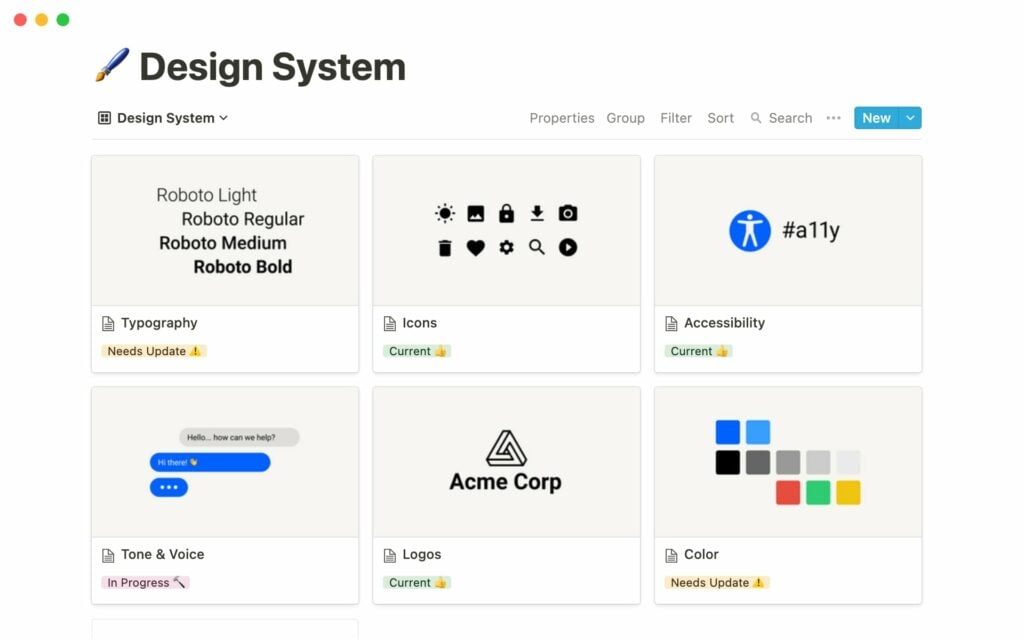 Asana and Notion have almost similar layouts. However, Asana's layout takes a minimalist approach. That means you won't find a lot of sections or details on the homepage or layout.
Notion tends to have more details, which can confuse new users with little or no knowledge of how work management apps function.
Asana is Easier to Use
Because of its simplicity when it comes to interface, Asana tends to be easier to get used to and work in. The platform also features resources such as its forum, FAQs, and the Asana Guide, making it easy for users to learn the ropes. Its board and table views also look similar to traditional task management software.
Notion vs. Asana: Integrations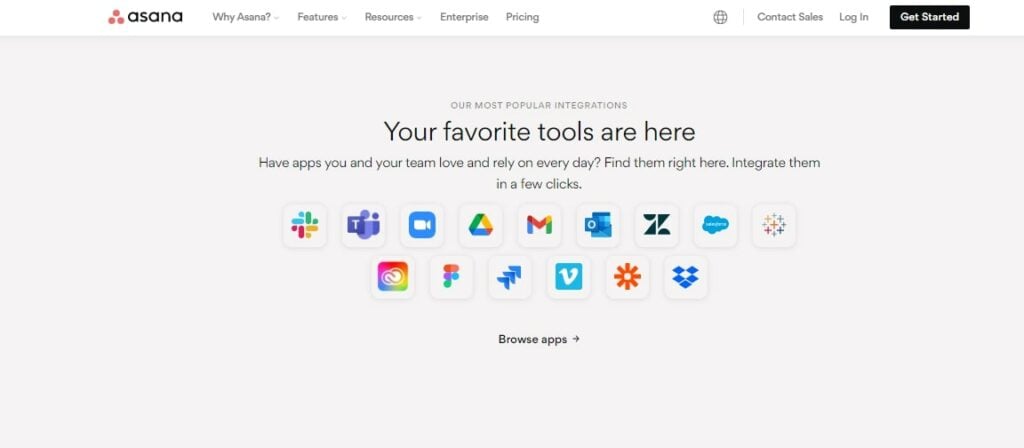 Asana
Asana offers integrations with over 100 other apps, making it an ideal choice for those who want to connect to popular tools. Some of the tool options that integrate with Asana include,
Check out our guide on How to Use Canva? Canva Tutorial for Beginners to Graphic Design Online
Notion
Notion tends to have a lot of helpful native features and functions, which is why there is a lesser need to integrate with other apps. However, it does support integration with a few:
Best Form Builder
Typeform | Sign Up Free
Typeform is an online form builder that allows users to create interactive and engaging surveys, quizzes, and forms. The output of Typeform is a customizable and visually appealing form that can be embedded on websites or shared via a link. Responses are collected and can be viewed in real-time, making it easy to analyze and act on the data collected.
Pros:
User-friendly interface for creating surveys and forms

Customizable design options to match brand identity

Ability to collect and analyze data in real-time

Integration with various third-party tools and platforms

Option to automate workflows and send personalized follow-up messages.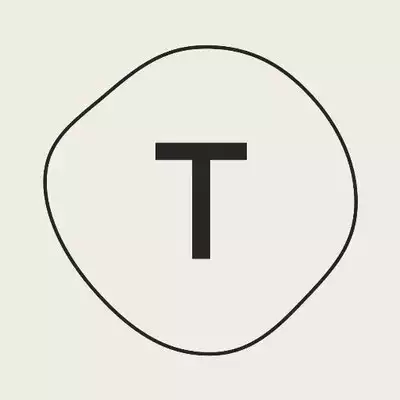 Asana wins in Integrations
Asana connects with hundreds of apps, making it an excellent option for team members or organizations that want to work with other tools to achieve their goals.
Notion vs. Asana: Pricing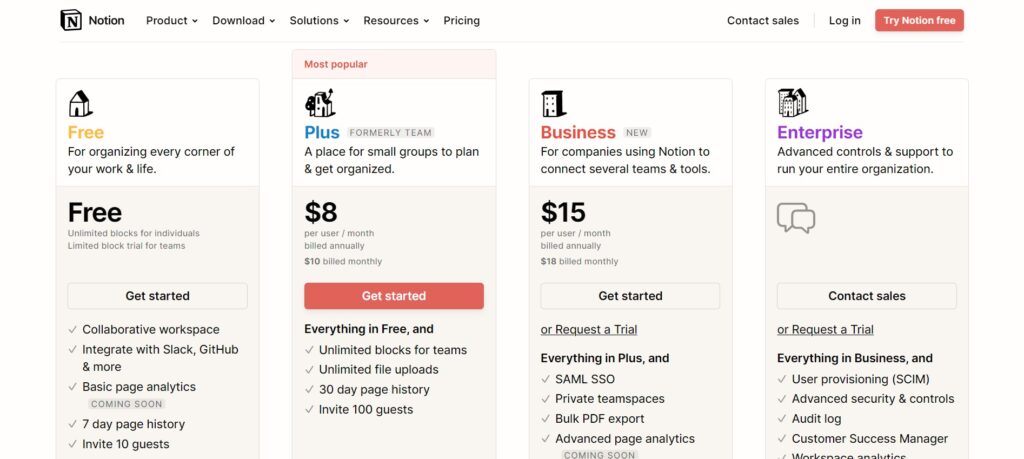 Notion and Asana offer a free plan for individuals or team members just starting with project management. However, Asana's free plan offers significantly more features and functions than Notion's free version.
Asana's lowest-tier plan is Premium, which costs $10.99 per user per month, billed annually. Notion's lowest-tier plan is known as Plus, which costs $8 per user per month, billed annually.
Notion's next plan is known as the Business plan, and it costs $15 per user per month billed annually, while Asana's equivalent is also referred to as the Business plan, and it costs $24,99 per user per month billed annually.
Both tools offer an Enterprise package, but customers need to communicate directly with the Sales team to get a relevant quote.
It's worth pointing out that both project management tools are relatively cheaper when you pay annually rather than monthly.
Notion wins in Pricing
As noted earlier, Asana's free version is the best option for those just starting with project management. It has numerous helpful features and functions to organize simple projects and tasks.
On the other hand, if you are looking for a cheaper project management solution, Notion should be at the top of your list. All its paid plans are cheaper when compared to those of Asana.
Notion vs. Asana: Customer Support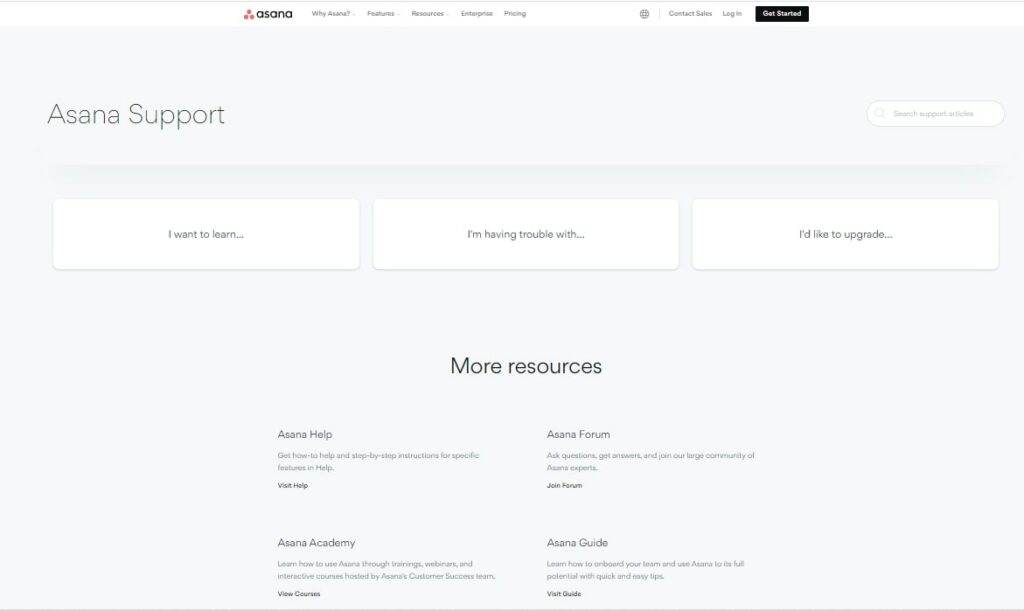 Individuals can reach Notion's customer support by writing and sending an email to the address provided on the website. Alternatively, they can submit a form with details of their query.
Asana allows people to get in touch by submitting a form containing their queries and contacts. They can also get in touch through a live chat feature. However, interaction with staff is limited to business days and hours only.
Asana wins in Customer Support
Asana's live chat feature makes it stand shoulders above Notion because it makes it easy for people to find solutions almost instantly.
Asana also has a massive database of resources to help you find solutions to any difficulties.
For example, you can head over to Asana's forum and read people's discussions. You can also head to the FAQ section to find answers to commonly asked questions.
Notion vs. Asana: Conclusion
Both Notion and Asana are excellent work management tools. They offer some of the most helpful features to create tasks, report, collect data, organize projects, and collaborate with different team members.
However, if you want a traditional project and task management solution, Asana provides just that. It also integrates with hundreds of apps, so you'll enjoy convenience.
Notion, on the other hand, is a cheaper alternative to Asana and can be the ideal pick for those who also want a note-taking application. If you are still unsure of the best tool to pick, go ahead and sign up for the free version or personal plan and test them out to get a feel for yourself.
Related article: ClickUp vs. Notion: Best Project Management Tool Comparison